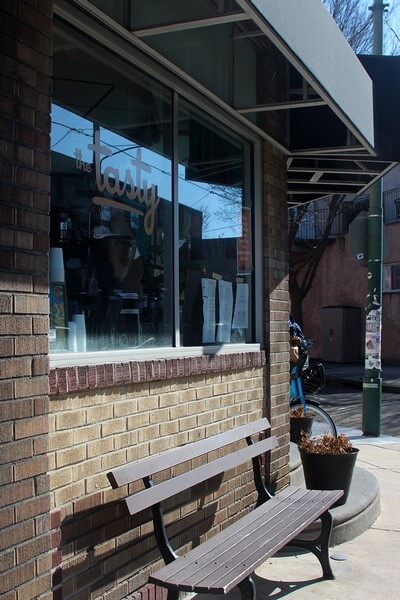 The Tasty
1401 South 12th Street, Philadelphia, PA 19147
website | facebook | instagram | twitter
Awhile ago I talked about the divide in vegan restaurants in Philly. They are either for rich people with fancy cocktails or healthy eats. The other restaurants are greasy fast-diner food owned by punks. Although the gap is filling in (I also ignored to mention all the Asian owned vegan places), this restaurant falls into the greasy punks camp. In fact, I am told that many of the employees are actually part of bands, I won't name them to protect the privacy of the individuals.
BUT I will mention the owners. Their names are all over the fucking place. I remember there being quite a few article being written about the store opening up, I am not sure if it is because local papers thought the new owners were famous enough, or if the original store was a legendary favorite (once Atlantic Pizza), or perhaps this always happens when a new restaurant opens and I just don't notice. The owners are Kate Hiltz (manager & producer of The Bouncing Souls, and runs the label Chunksaah), Sofia Baltopoulos, and Ben Pierce (guitarist/keyboardist for Restorations). If you want to learn more about the owners, I suggest reading this interview.
The Tasty is pretty far south. Most of their crowds are locals, maybe some suburbinites (hello me!), but I doubt they get any tourists with a capital T since you need to drive to get here. Sure you can walk, but it might take awhile (it's as far south as Grindcore House) expect to walk for 20 minutes from Center City. But I will say it is worth the trek, the food is amazing!
I went with my vegan friend Justine. she loves this place, and frequents The Tasty on weekends, particularly the day after a show. She says the place gets packed on weekends, so she was thrown off when we were one of the few people there. The place is designed to order at the front, then to take a seat. They'll call your order up, and you pick up.
The atmosphere of this place is awesome. There are nice teal walls, mix and match plates, and tons of novelty mugs for your coffee or tea. They also have booster seats for children, which weren't terribly amazing, but were incredibly clean. The shape of the place is unique as the building it located at a very sharp corner, making the place feel even more quaint AF. Yup, the place is just oozing adorable-ness.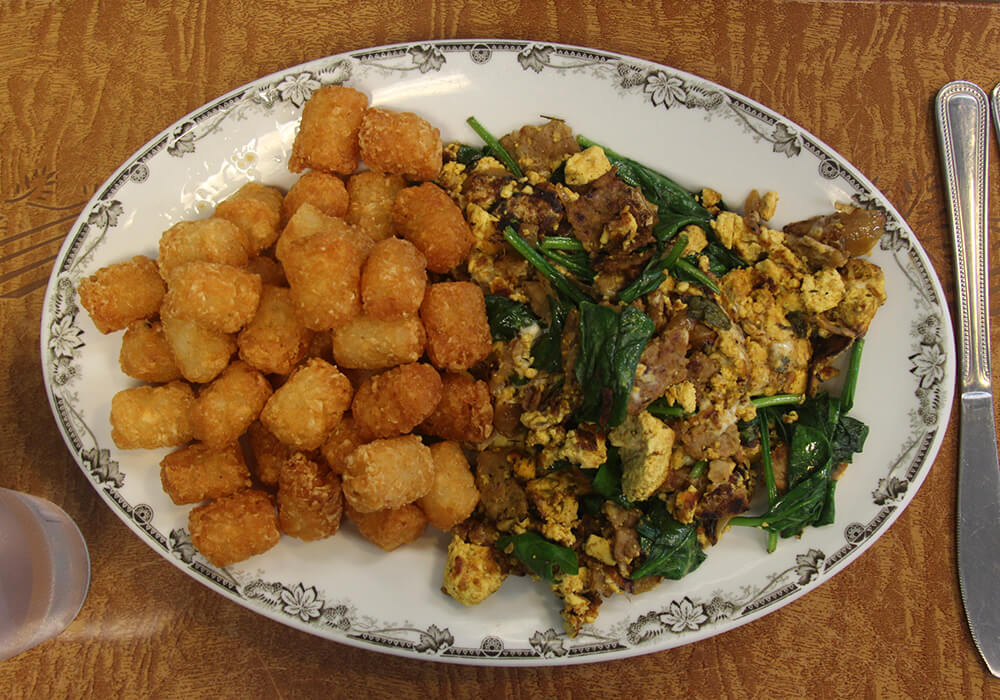 So what did we get? This place is predominantly breakfast/brunch/lunch. They are opened between 7am-4pm weekdays, 7am-3pm weekends. There has been rumors that the owners would like to be open later, but nothing yet. So the menu has lots of sandwiches, pancakes, and scrambles. Justine got the spinach and soysage. She ate a good portion and seemed to get it often (maybe?) So I am going with it tasted awesome, even though I didn't have a bite of it. Basically it is a tofu scramble with their soysage, spinach, caramalized onion, and some vegan mozzerella cheese.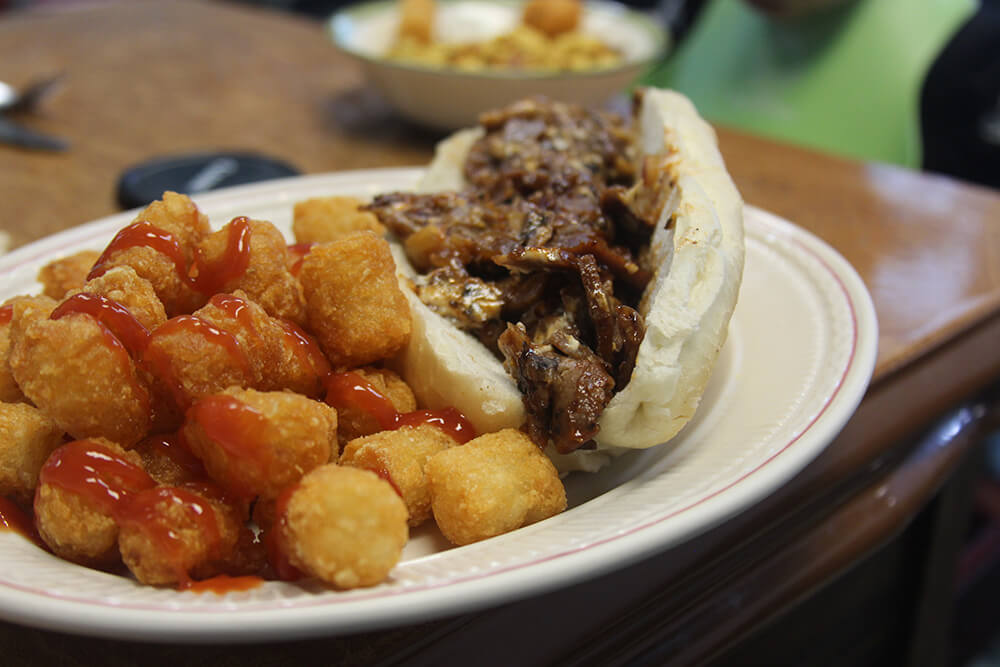 As for me? Well, I had something that I don't see on their online menu. I got their cheezsteak, but I am 99% sure they had a specific option where it was covered with BBQ sauce. Their online menu has something similar with mushrooms, but no cheese. I liked my version best, so much seitan and yummy gooey cheese. Yum! All the sandwiches have an option of waffle fries, tater tots, or a salad. I went with the tater tots.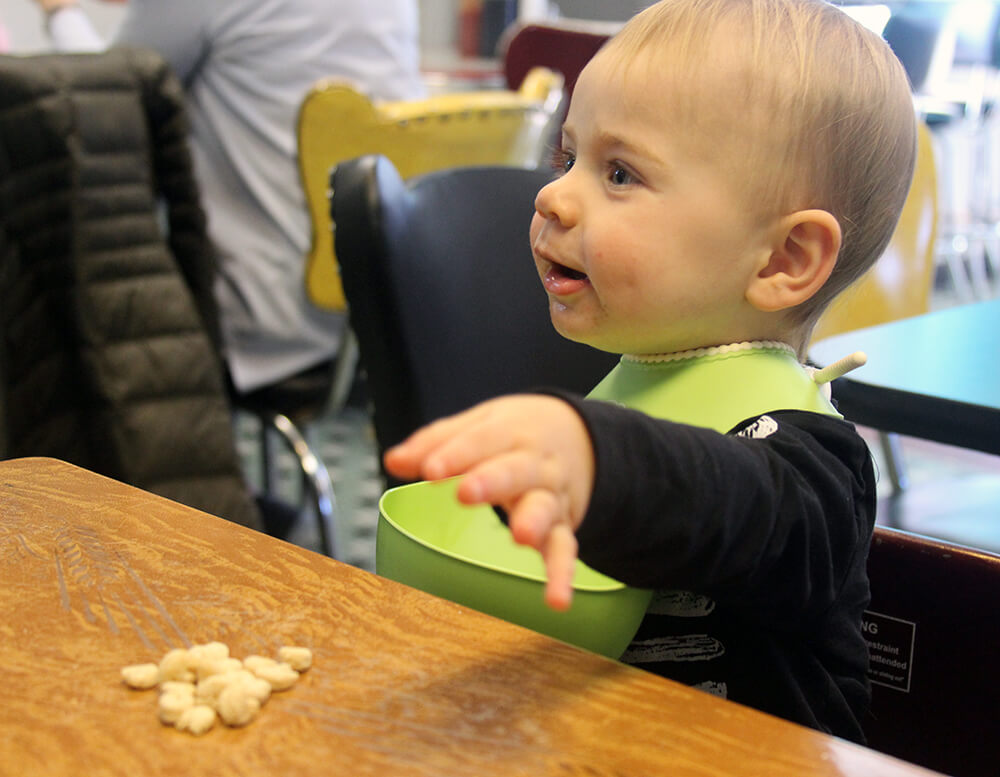 Is the place baby/kid friendly? I mean I assume so. Wolfie was way too distracted by his spoon to actually eat any of the food, but we got him a side of scrambled tofu and he ate my tater tots. Sadly the tater tots were fairly crispy so he had a hard time biting into them (he had only oven baked ones in the past.) He ate some of the scrambled tofu, but it was a little dry and not in big clumps so he had a hard time eating it with his hands. It shouldn't be much of a problem for older children.
If you are visiting Philly with a car, I strongly recommend checking this place out. There is a wide range of prices you can spend in here. You can grab breakfast sandwiches for less than $5, or you can get a big spread like were did for $10. If you get a big spread there is a good chance you will have extra leftovers that you can save for the next day. So, come and make the trip, you'll be happy you did. Greasy vegan breakfast foods can be hard to find in restaurants.