Bar Bombón
133 S 18th St, Philadelphia, PA 19103
website | facebook | instagram | twitter
May is a busy month for me – having a birthday in May pretty much means you are used to your birthday thunder being stolen. I remember once being invited to two different weddings on my birthday one year (one being my uncle, the other being my grade school teacher.), as well as there being school graduations, Mother's Day, and copious other birthdays. This year we celebrated Mother's Day, my birthday, and my 4th wedding anniversary all in the same week. So when Jon told me one Saturday that he was taking me out for a surprise I really didn't know what to expect. Turns out we were going out for a big birthday dinner with my sister and friends (apparently I am turning 30 this year and that's a big deal)!
Jon got his parents to watch Wolfie as we got dressed up and got into the car. At this point I didn't know yet that what was going on. I tried not to speculate since Jon has a poor history of keeping surprises (I'd already found a wrapped gift in the closet). I noticed we were getting off at the exit for the train so I start pulling out my PATCO card… and then we drive right past the station….
"We need to stop by your sister's house. We split a gift for your birthday and she forgot to bring it into work so we'll need to pick it up!"
That sounded plausible, so I thought no big deal. She also lives next to a different station so it made sense. As we start pulling to my sister's house I see a car, one I've never seen. So I asked who's car was that- or rather "Who the fuck did that shitty park job?!" Jon said that it MUST have been a friend of my niece's – and at this point if I wasn't sleep deprived I would of gotten suspicious. When we got inside I was surprised by Alexa and both my sisters! That shitty park job was Alexa!!! In her defense there wasn't much she could of done, it's just the shape of my sister's driveway.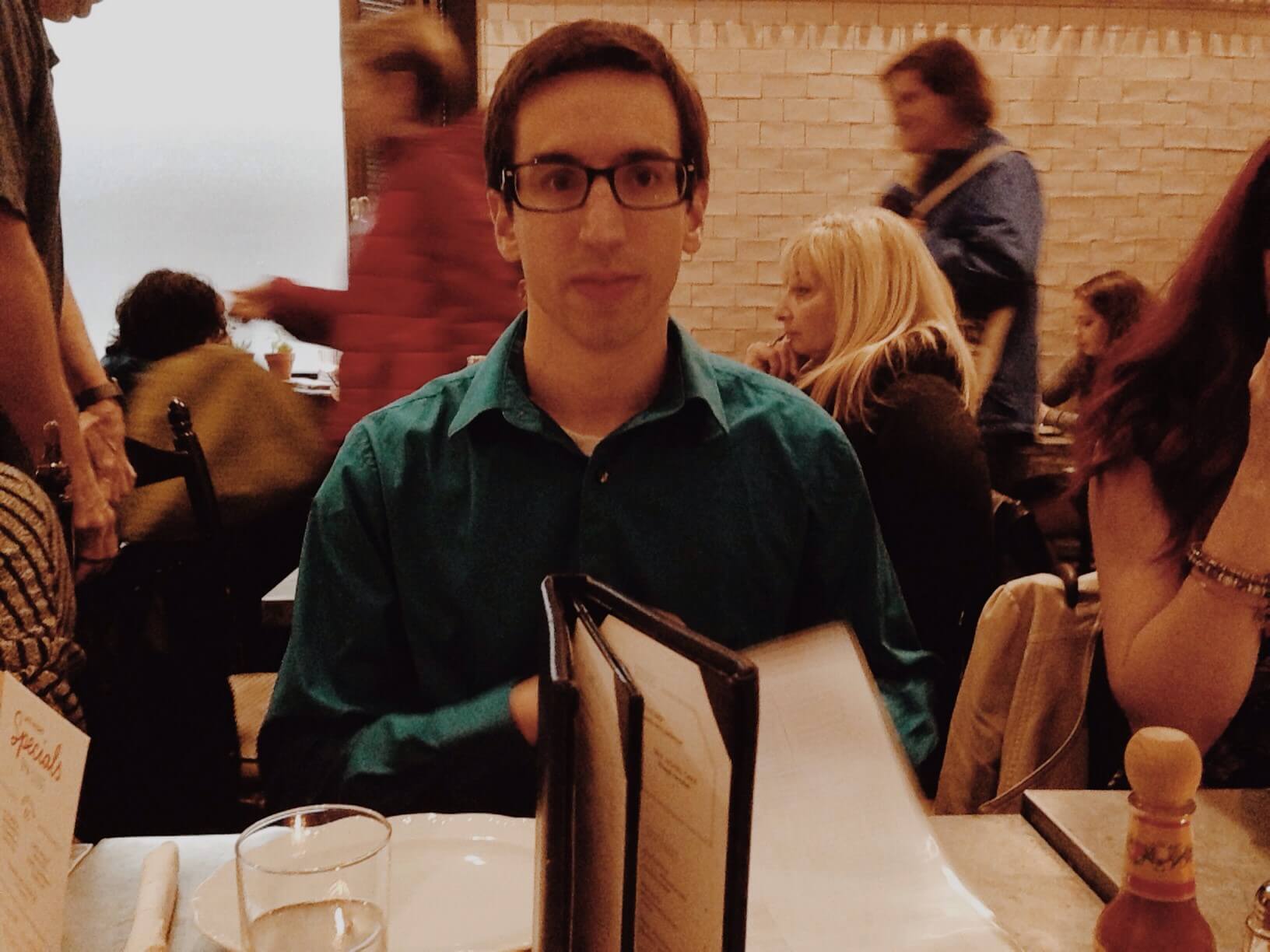 So we all got on the train and met up with my friend Justine in the city to eat at Bar Bombon. It is a Puerto Rican/latin tapas restaurant owned by Nicole Marquis. She worked at Vedge, and opened up Charlie Was A Sinner and HipCityVeg. There was a lot of hype when the restaurant opened and much has already changed. The restaurant moved from having a mix of burritos, arepas, and tacos to having more seasonal plates.
If you are thinking about coming to this place YOU MUST make a reservation. My goodness the place was packed! When you come in it is a little awkward as you immediately walk into the bar area. There is barely enough room to walk past the bar to the seating. There is also a few tables outside but it is next to alley, which isn't terribly charming. But the inside is awesome and very warm.
Alexa's note: At first glance I noticed that I really liked the decor of this place. I don't go out into Philly that often unless I'm with Jen, so I just love taking in the scenery of new restaurants and such. It was very crowded, but it was also a Saturday night around peak "let's go out" hour – I guess I was just surprised because it was also pouring rain (I've been out of the city for too long and apparently forget that rain stops almost no one from going out and being away from their apartments).

Overall I really enjoyed the food and drinks, they had an extensive list of cocktails that I did not partake in…unlike Jen I'm wary of liquor as opposed to beer because if I don't like it, it's not a pretty sight. This is a place that I would love to come back to and try more off of the menu.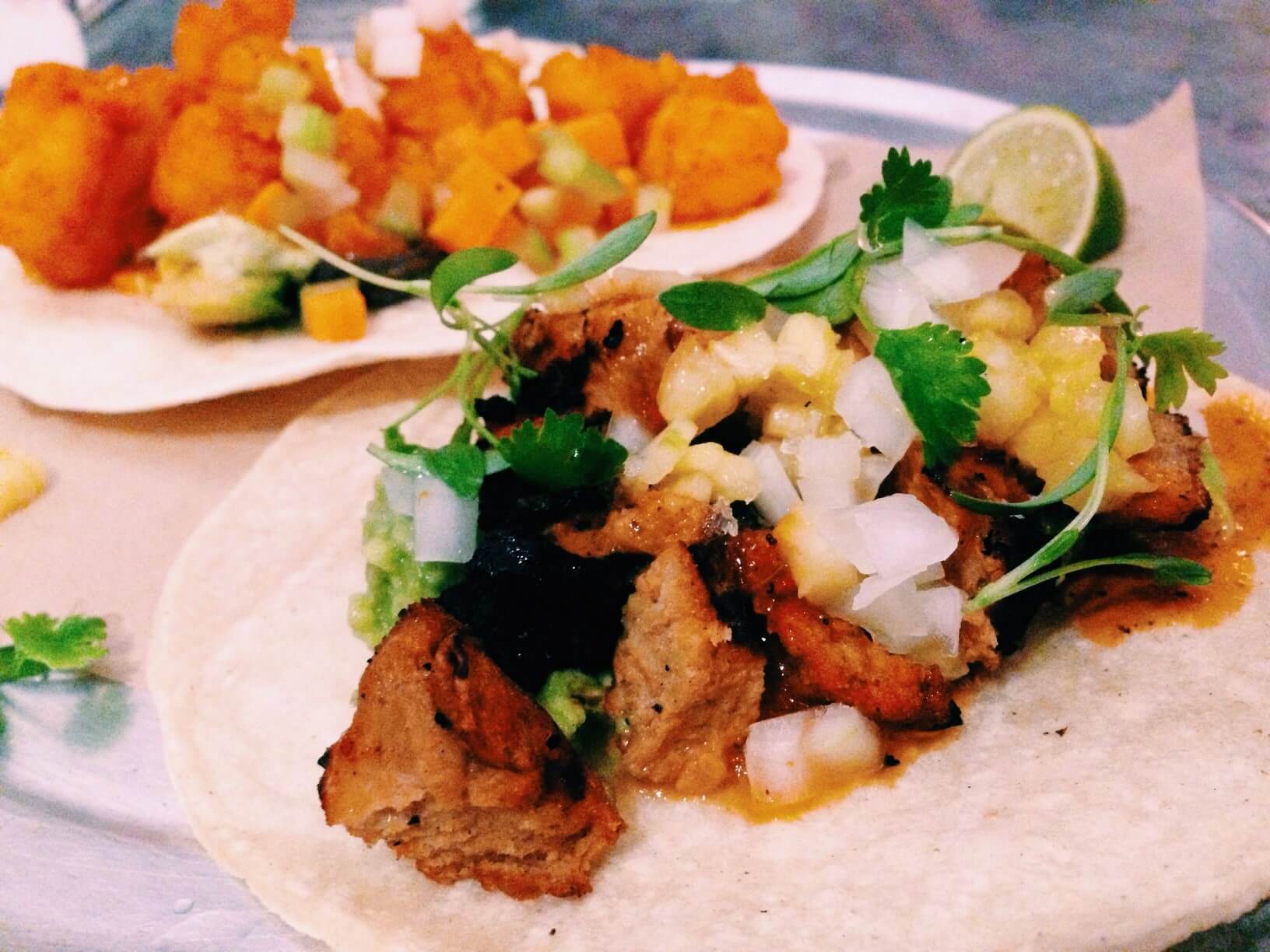 BUFFALO CAULIFLOWER
Avocado, green goddess, black bean puree, mirepoix
Alexa: One of the things I miss most as a vegetarian is good barbecue and food slathered in buffalo sauce. I love buffalo cauliflower for this very reason! Let me tell you – this taco DELIVERS. The cauliflower is slightly crisp and not soggy and the buffalo sauce isn't overpowering. While I would say that everything we ate that night certainly tasted fresh I especially felt that way about everything in this dish.
CUBANO CLUB
Blackend chick'n, smoked tempeh, avocado, dill pickles, lettuce, tomato, grain mustard aioli
Jen: This was my favorite of the dinner and it was FILLING. This is one of those confusing tapas how big/small are the plates moments as this sandwich I think was a lot more food than the tacos. The club comes with a side of fries, which makes it pretty much a stand alone meal. The club was amazing! Definetly the chick'n and tempeh make it stand out as a unique sandwich from the original cubano sandwich. The smoked tempeh was tasty, and the pickles and aioli give just enough tang. If I were to go back with hubby, I might get this again with a vegetable plate and probably would have enough to eat (with cocktails too duh)
GUACAMOLE FRESCO & PICANTE
I know it is possible to mess up guacamole, but it happens to rarely. I liked the guac here. They let the avocados speak for themselves. You can pick it "fresco" or "picante." The picante wasn't insanely hot, but if you want a more traditional route, get fresco. They give a good amount of guac to chips. I was able to use some of the guac with my yuca fries. The chips were pretty nice too, and clearly fried on location.
MUSHROOM EMPANADAS
Leeks, currants, pickled plantains
I had really high expectations for these empanadas and was a little disappointed. Not to say they tasted bad, I just envisioned something different. The flavor was soft, and the plantains were served on the side. The empanadas were fried to perfection though.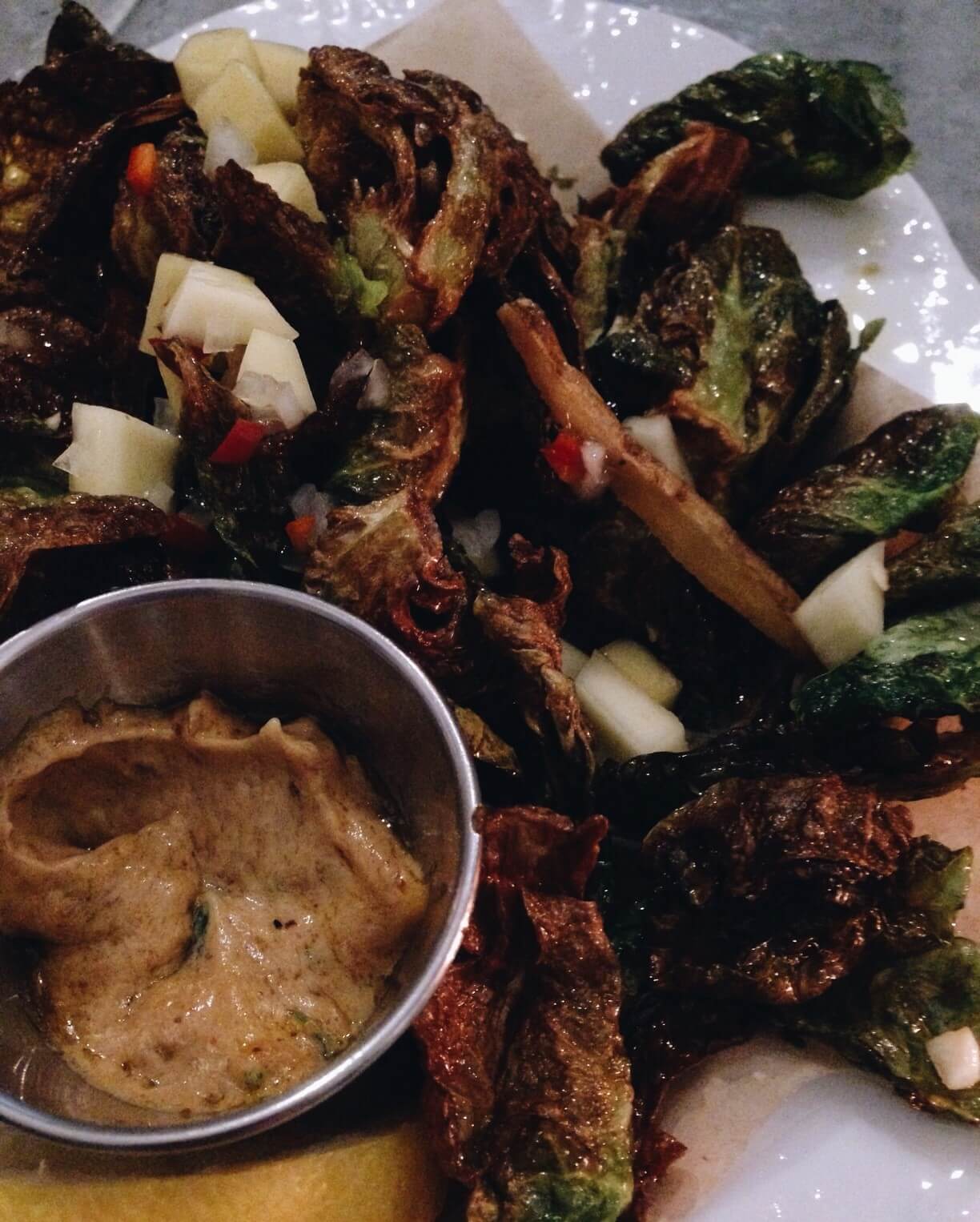 REPOLLITOS FRITOS
Brussels sprouts, peanut, mango, lemon
Jen: My rushed meals at home mean I don't eat enough veggies. So this night I was craving vegetables so Jon and I split the brussel sprouts. They were roasted to perfection with crispy leaves. There was a tasty peanut dipping sauce which was amazing. The annoying thing is that I tasted zero mango. I am guessing it was mainly in there as a sweetening agent?
Alexa: I love Brussels sprouts. Jen isn't exaggerating when she said these were cooked to perfection, I probably could have had that whole plate as a meal for myself! To be fair, I didn't know there was supposed to be any mango involved in the dish so I wasn't as let down, but the oil used to cook the sprouts did have a sweetness to it. So maybe she's not off on the "sweetening agent" idea!
SEITAN "AL PASTEUR"
Guacamole, onion, cilantro, pineapple
Alexa: I enjoyed this taco as well, but it wasn't my favorite of the two that I tried. I enjoy spicier foods, so the buffalo cauliflower was a huge hit. The seitan was cooked well and had a lot of flavor that was brought out more by the onion and pineapple. I would definitely recommend this if you're looking for a "meatier" dish.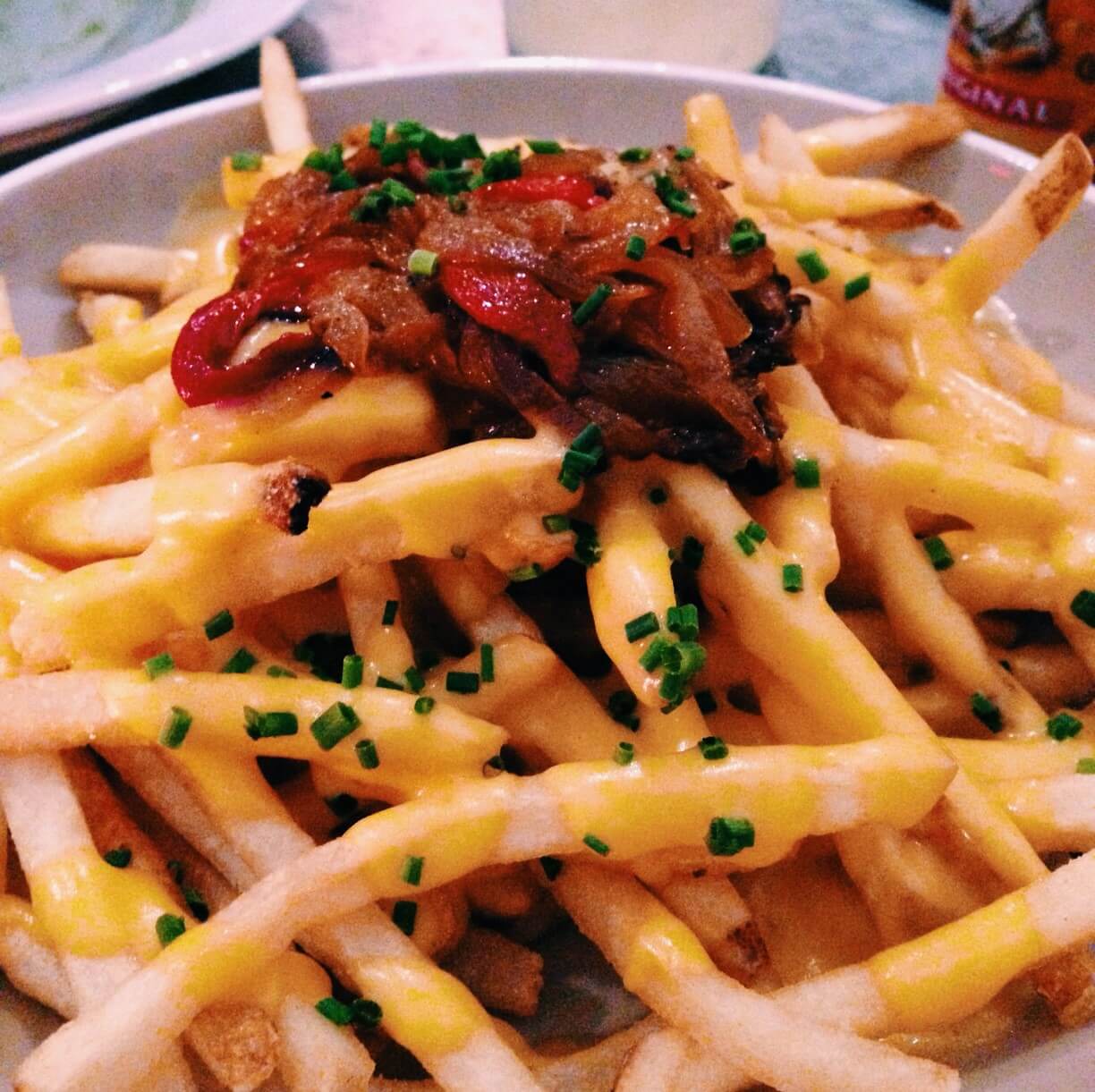 SPANISH FRIES
Roasted peppers and onions, cheese sauce
Jen: My sister seemed to be very concerned about what was in the cheese sauce. The wait staff was very hesitant to give any clue about what it was made of, but if I were to take a guess it was maybe a veggie based sauce? Whatever was in it ended up tasting great. The fries were thin and extra crispy. My only complaint is that it could of had more toppings.
Alexa: My only complaint was that these weren't bottomless because…
a) potatoes are a gift on this green Earth
b) potatoes cut into thin pieces covered in sauce and veggies are also a gift.
YUCA FRITA
Maduro sauce
I strongly recommend getting these yuca fries. They are light and fluffy but crispy on the outside. If you like handcut french fries, you will love these. They come with a sauce that made me think of the "special sauce" that my parents would get in Southern Utah. It was just ketchup and mayo, but this sauce tasted like it had a paprika kick.
BETTER & BETTER
aged rum, mezcal blanco, falernum
DUMMY GUIDE: rum, tequila (or something like it), spiced syrup
Hubby got this drink first. I am guessing the mezcal blanco means it is similar to tequila. Mezcal is pretty much an open ended category for drinks made from any type of agave plant. So this ended up being a strong "manly" drink served in a low-ball/old fashioned glass. The drink was very robust and nicely spiced. I question the purpose of the mezcal? I couldn't particularly pick up on any of it.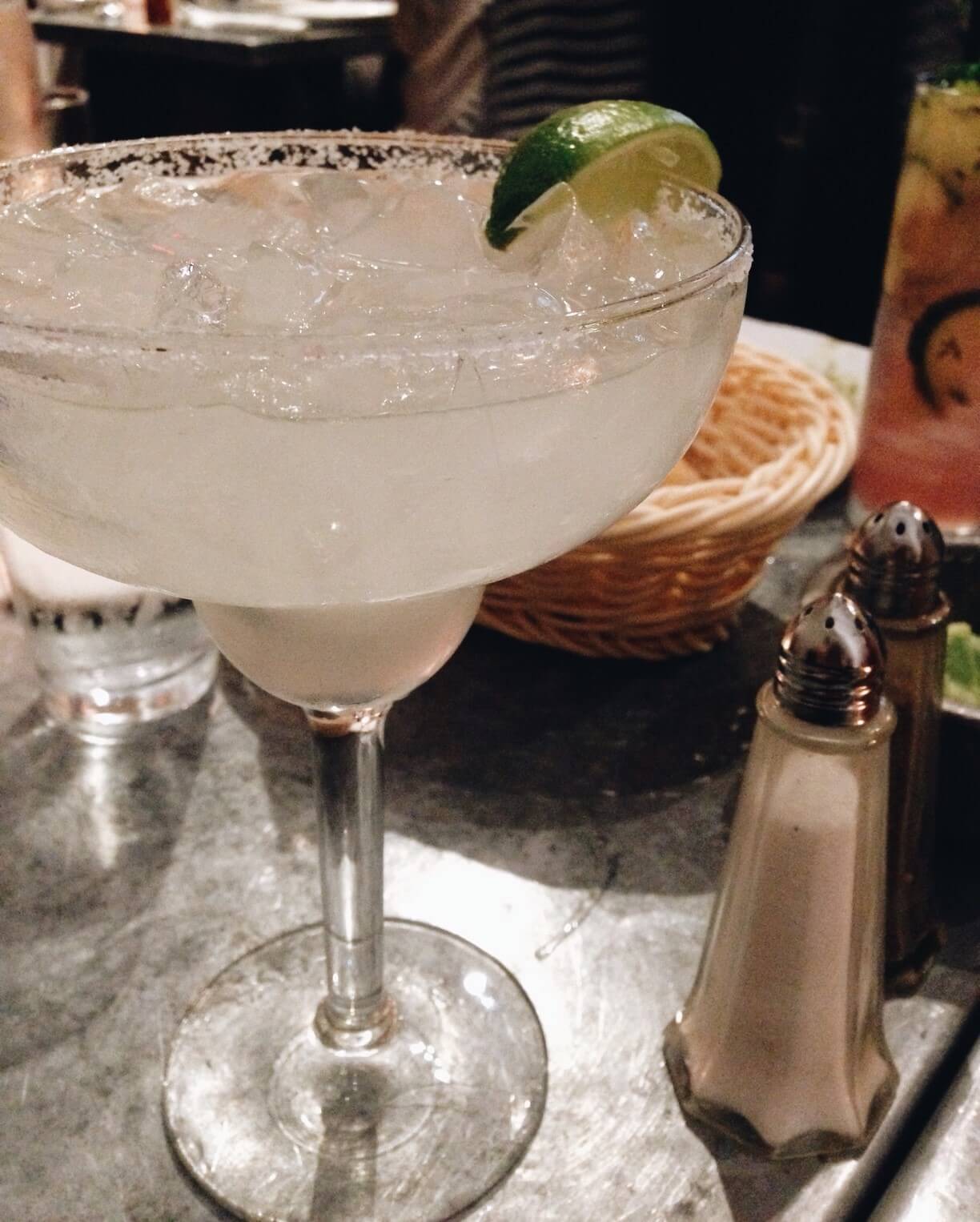 LA CLASICA
tequila blanco, orange liqueur, lime
This is a classic magarita- like a REAL one. No neon colors, no slushie ice, and all fresh ingredients. It was really refreshing and tasty. Personally I like less ice, but is perfect for people who don't like strong drinks.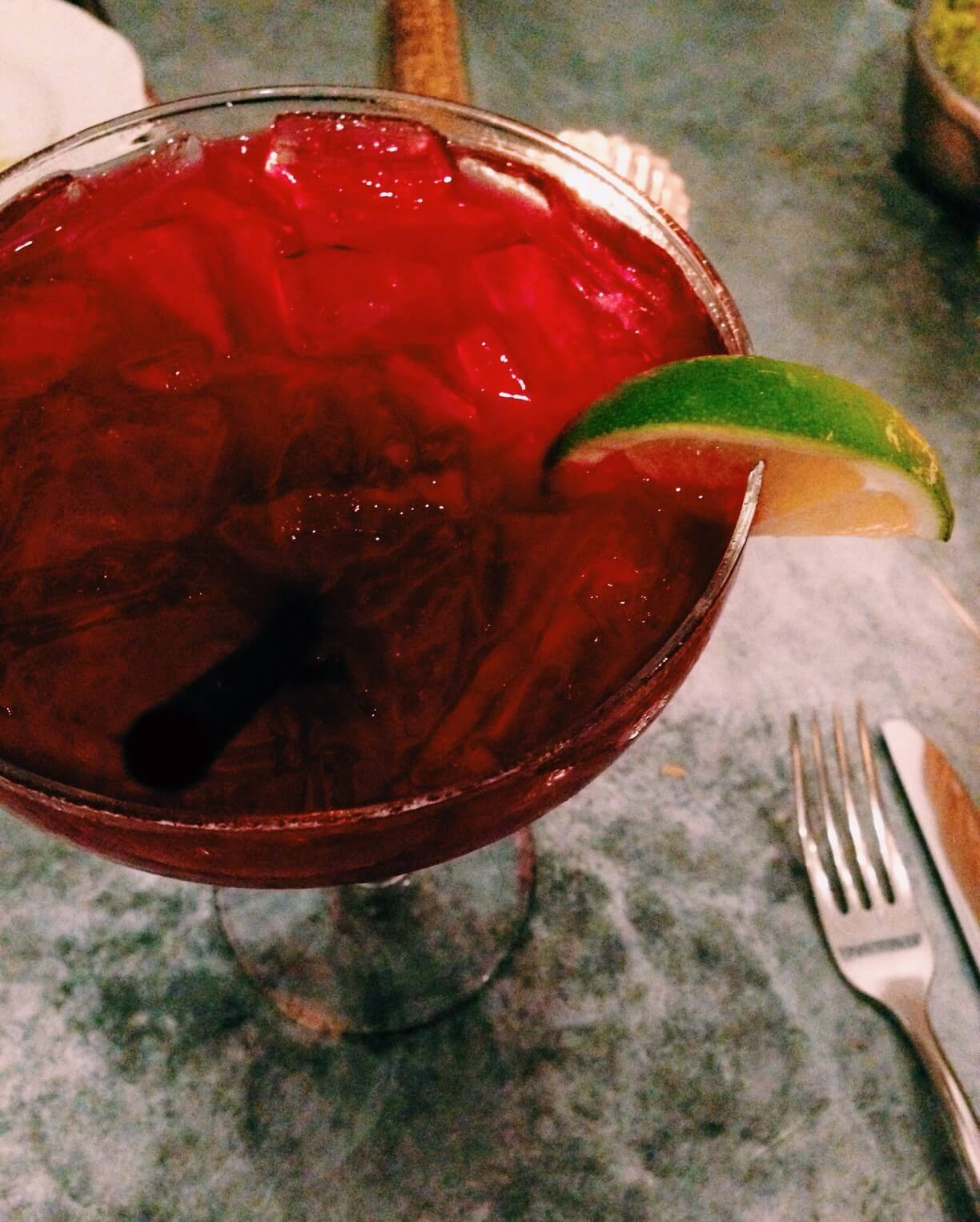 LA PREFERIDA
tequila blanco, beet, habanero, lime
This is a twist to a margarita. Alexa got this drink and it comes out looking pretty pink-red because of the beet juice in it. It had just enough habanero to give a wee little kick.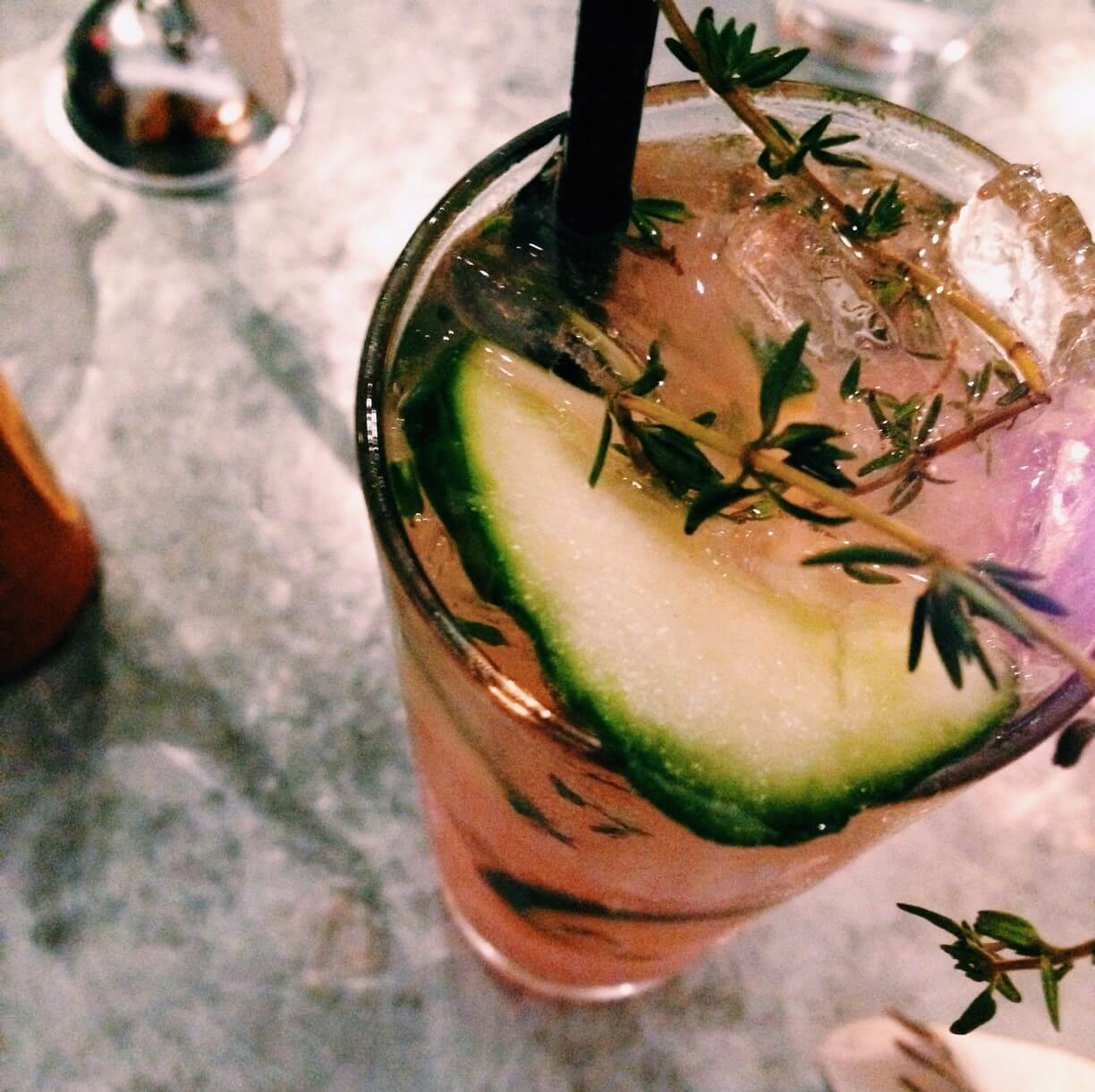 NO LOVE LOST
london dry gin, lavender, cucumber, thyme, lime
This was my sister's favorite drink, so much so she got it twice! I can see why. I found it super refreshing and you could taste all the different components. They worked all so well with each other. I strongly suggest this to anyone, but particularly to people who don't like strong drinks.
SMOKING DARTS
mezcal blanco, white rum, creme de violette, rose water
DUMMY GUIDE: a tequila like liquor, un-aged rum, sweet violet flavor liquor, rose water.
This was my drink of choice! I've been wanting to try creme de violette for some time but not many liquor stores sell the stuff. FYI it is creme because the sugar gives a creamy texture. It was really nice. It had nice floral notes but wasn't over powering. You don't taste much of the rum and mezcal but I think they helped prevent the drink from tasting too much like perfume.