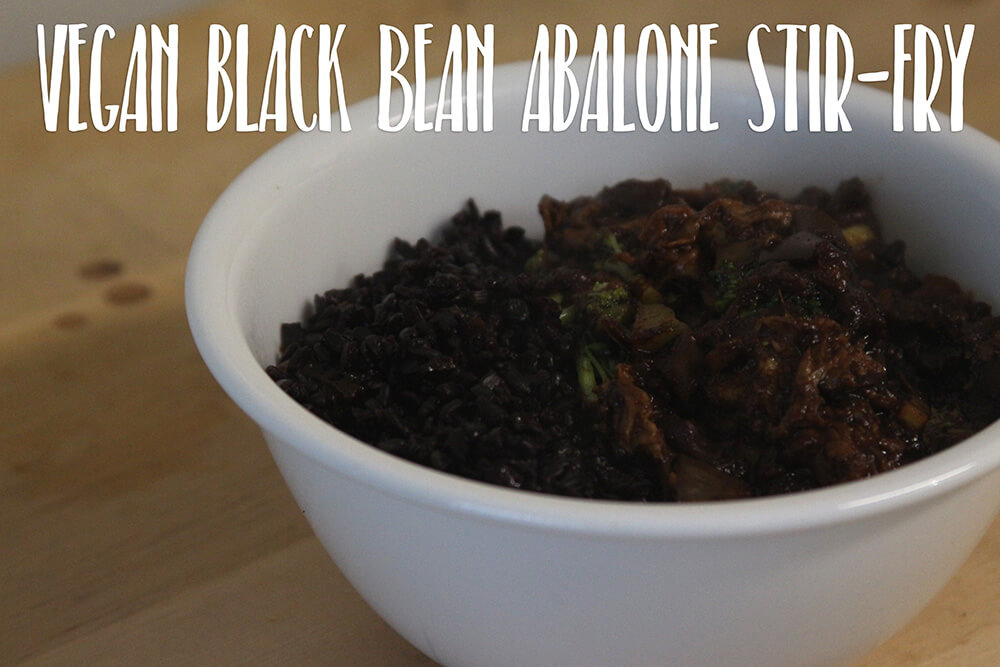 You might not be able to guess this- but I really like metal genre. Alexa and I have talked about music before (making best of lists for 2014, talking about our fav artists, or the concerts we've been to) and you would think we were all about mello music and pop-electronica. And you would be right. But I am still a sucker for some metal. In high school you would more likely be listening to Visual Kei bands and nerdy metal bands. If you are sitting here thinking what is nerd metal? And visual what?! Well come along friends and let me give you a small history.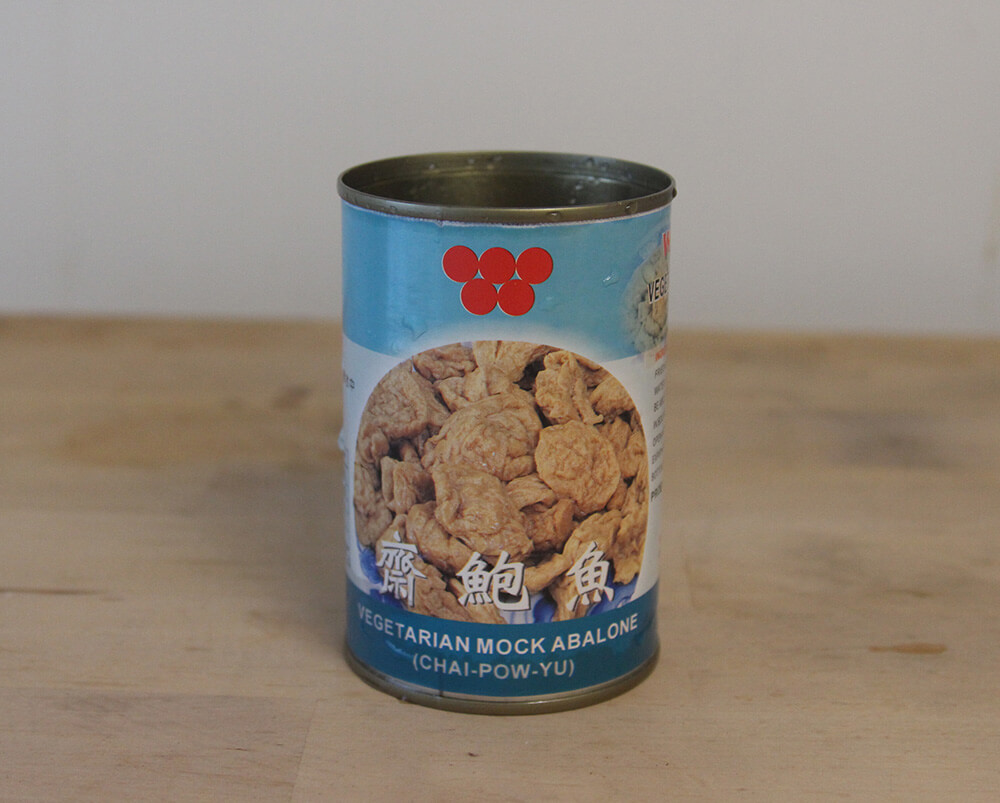 First off Visual Kei is a Japanese genre, that has less to do what the music sounds like and more about what the bands look like. The genre kind-of popped up in the 80s and was heavily influenced by 80s hair metal. The early music was influenced by glam rock, heavy metal, and punk music. I always thought the music was more pleasant than some of the "goth" bands in the states, leading to some of my favorites like Due Le Quartz, Vidoll, Dir en grey, MUCC, cali≠gari, and deadman. Hell, I have even been lucky enough to see some visual kei groups when they've toured the USA. I've seen +DéspairsRay+, MUCC, and L'arc~en~ciel (who were one of the early Visual Kei bands, who became more mainstream pop.) But like most genres they evolve and it became harder and harder to find groups that sounded different from one another. Then the genre branched off to Oshare Kei which sounded too much like the pop-punk movement in the states. I think I largely loved how feminine the genre was. I find lots of Americans/Westerns have the hardest time accepting the feminine aspects of the genre as men wear lots of make up, have tiny figures, and sometimes even wear dresses.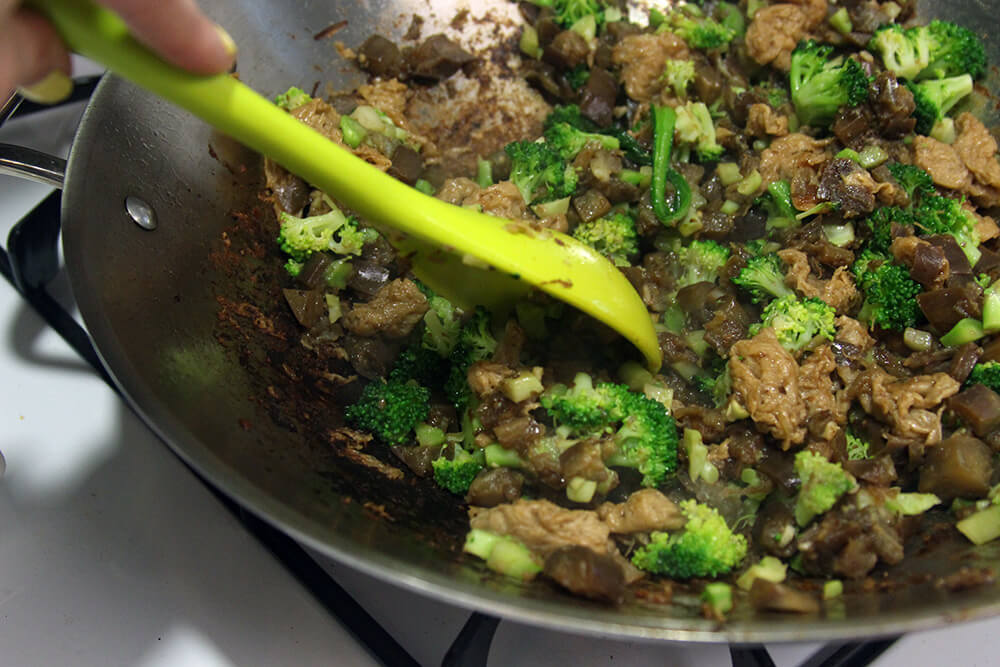 Now what am I talking about with nerdy metal? Ever heard of the genre math rock? According to wikipedia it's "Math rock is characterized by complex, atypical rhythmic structures (including irregular stopping and starting), counterpoint, odd time signatures, angular melodies, and extended, often dissonant, chords." (If you want to check out Math Rock try listening to toe, Maps and Atlases, Zazen Boys, Q and Not U, and Acidman) Well, to me nerdy metal isn't a real genre, just one that I use. But it is similar to math rock- it is characterized by the complexity of the music. Mostly it is for all the prog-alternative metal groups that were less goth and more about 20 minute guitar solos. I mean, just look at all these subgenres of metal on wikipedia. I can't even begin! I mean give me Sonata Arctica, DragonForce, and Dream Theater any day.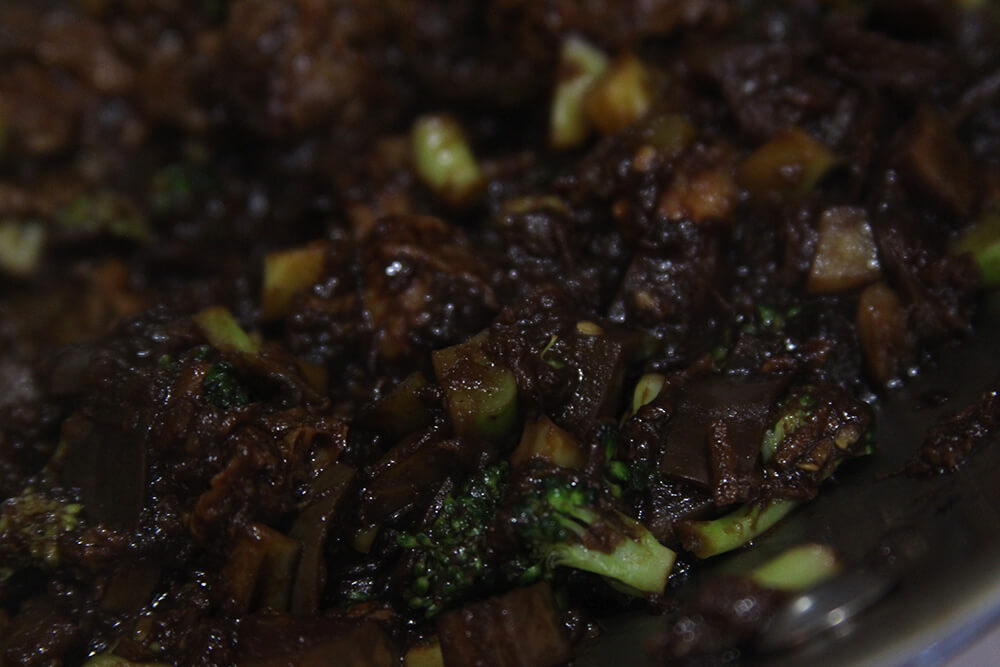 So what am I getting at? Well, when I saw the prompt of make the most Goth meal ever, it just made me think of my days in college and going to see Gwar. They have been listed at the third nerdiest metal groups, and you probably know them from the Beavis and Butthead video game where you go around town trying to get to the Gwar concert. I just remember freshman year, sitting around and news came out that Gwar was playing that night. My friend Kelli was super pumped but it was all sold out. So the next year we went, and it was awesome.
Truthfully, I am not a huge fan of Gwar's music. I could take it or leave it, except some random songs here and there. But given the chance to see full grown men paint abs on their beer bellies, chop the head off of political figures and other crude jokes. What you should expect from a Gwar concert is a lot of multicolor liquids flying at you and mosh pits. I think people are usually surprised that I love going to Gwar concerts since I like dressing girly, but there is such stage performance that I can never say no. I've been to three concerts, every year in college since that missed Freshman year concert.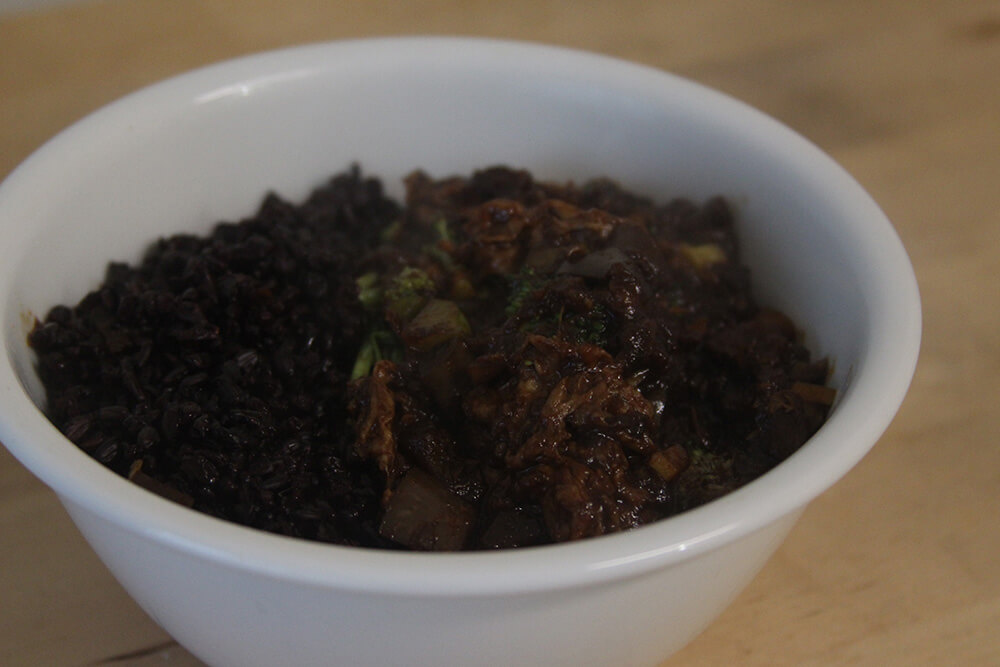 One of the most notable concerts was when they paired Gwar with Cradle of Filth. I've dabbled with Cradle of Filth, and most people probably know them from the IT Crowd. I think "It sounds horrible but it's actually quite beautiful" is a great way to describe them. It was an interesting mix of crowds. Gwar is a little more gritty and older crowd, while Cradle of Filth had younger goth kids wearing pleather. It was pretty easy to tell who came for which bands. Gwar goers wore white t-shirts, Cradle of Filthers wore black.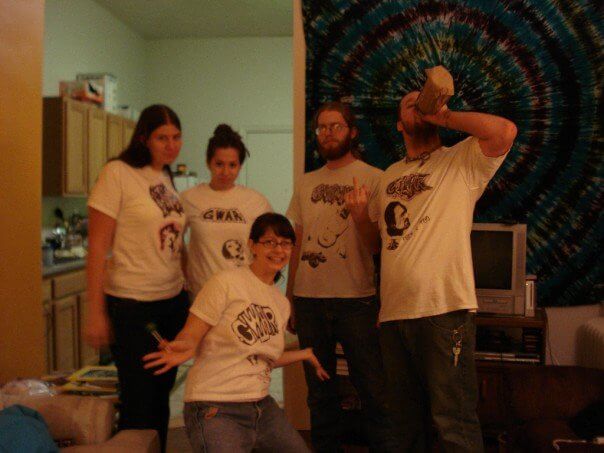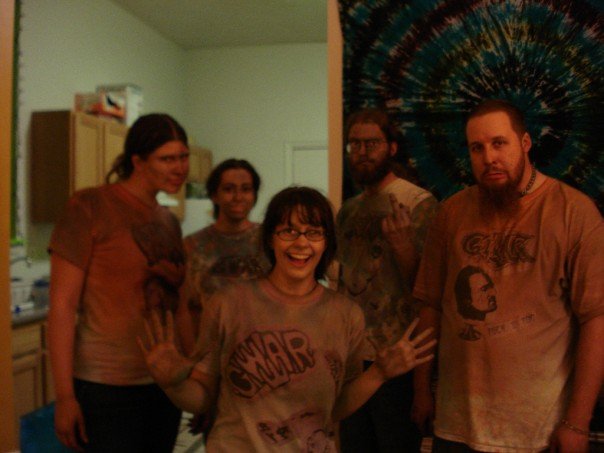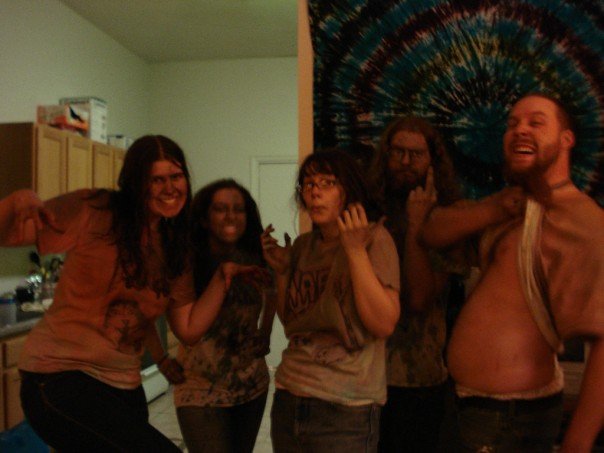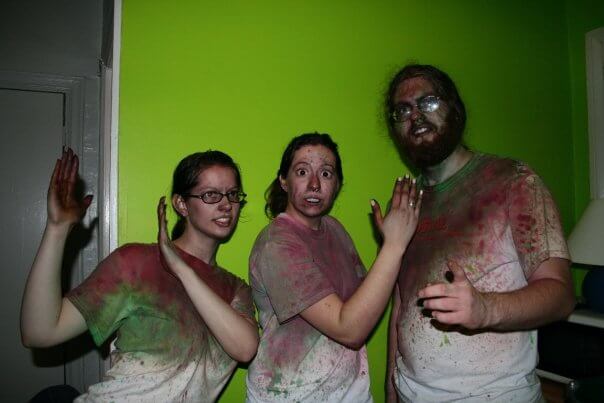 Perhaps I am extra nostagic of my Gwar concert going days since I always went with my rad friends- Kelli and John. The two are now happily married and are expecting a cute little dude. Do you think they make Gwar onesies?
Okay so let's talk about my most metal dark dish. Well, I love chinese fermented black beans. Douchi is pretty much the first fermented soy beans, and you've probably eaten it before with Chinese take out with any of their "black bean" dishes. I've written in detail about douchi, which can be called many different things depending on the country. I've made a recipe for Jajangmyeon, which is a Korean dish. I mean it is pretty dark, but I wanted to do something a little different for vegan mofo.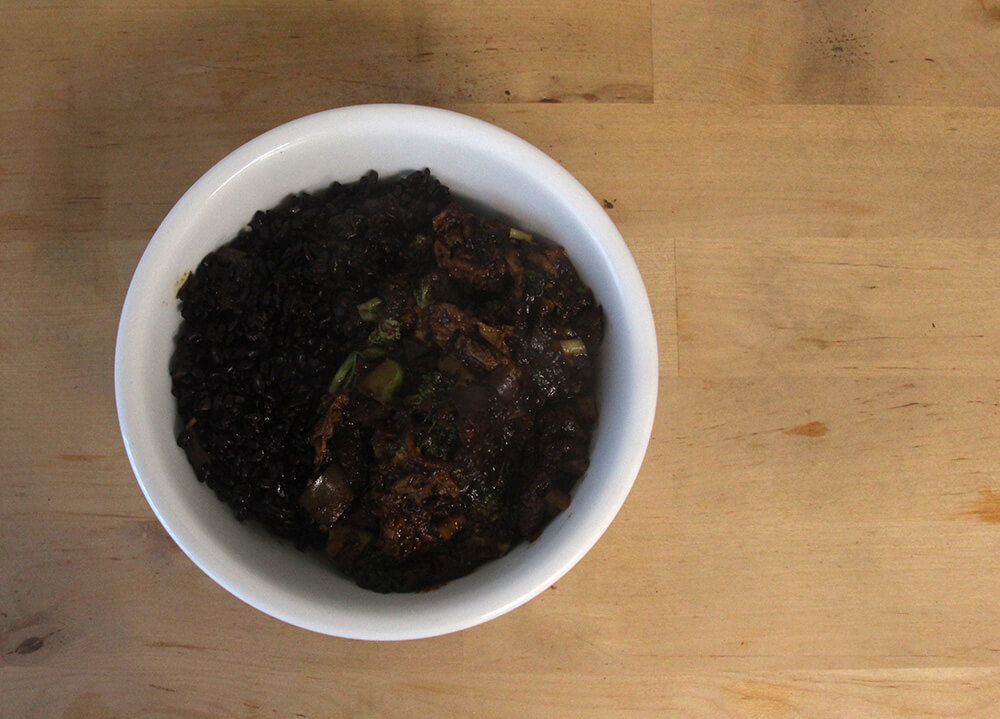 So I've tried to make a stir-fry with these black bean paste, with some yummy results. I sautéed some vegan abalone, eggplant, and broccoli. Don't worry guys, you can hardly see the broccoli in all that dark sauce. And I paired it all off with some black rice, which is so black it makes the rest of the dish look brown.
Funny thing is that after writing this post, I kind-of remembered why I've moved away from heavier music. One is that they can be misogynist, or super dude heavy (mean, there are lots of not so subtle phallic displays at a Gwar concert) but mostly it is because my husband HATES hard music. I was listening to Due Le Quartz while making dinner, and midway through he just asks "what the fuck are you listening to?!" Well, I left some videos below with some viewer warning when needed if you want to listen to some music of some the bands listed above.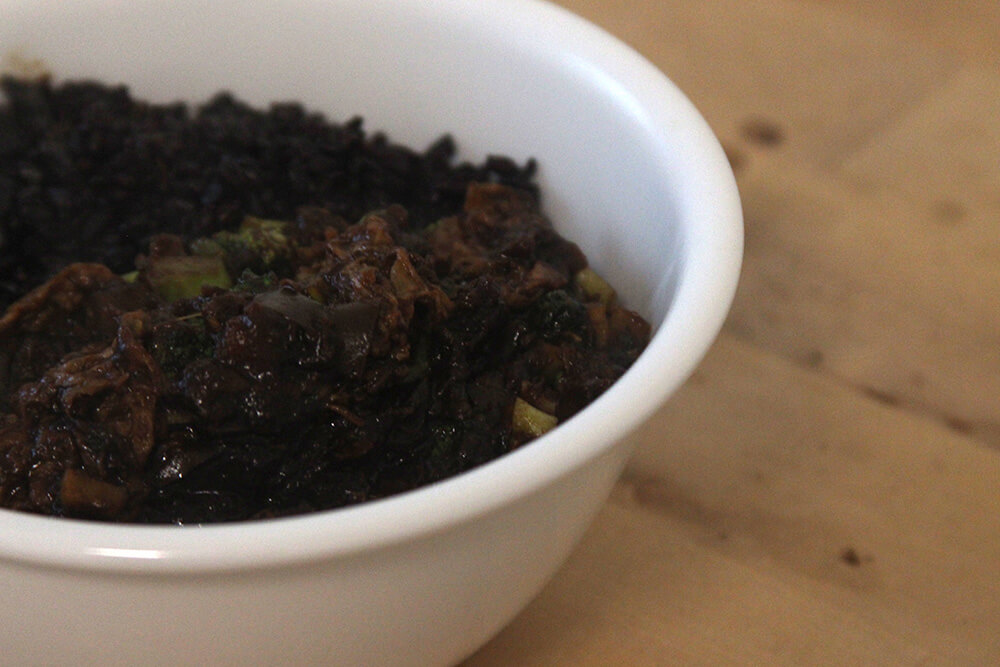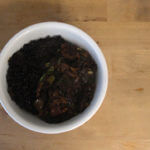 Blackest Vegan Abalone Stir-fry
2016-11-19 18:12:16
Ingredients
1 cup black rice
1 3/4 cup water
1 tbsp soy sauce
2 tsp brown sugar
2 tbsp black bean paste
2 tbsp rice vinegar
1 tsp sriracha
1/2 cup vegetable stock or water divided
1 can of vegan abalone, drained
3 Asian eggplant diced
1 tbsp minced fresh ginger
2 cloves garlic minced
2 cups broccoli florets
Instructions
1 Start the black rice. Bring the water to a boil and add the rice. Give a quick stir, and bring back to a boil. Cover with lid and lower heat to a simmer and cook for 35 minutes. Once the 35 minutes are up, turn off the heat, and keep the lid on, steaming the rice for at least 10 minutes.
2 In a small bowl, mix together the soy sauce, brown sugar, black bean paste, rice vinegar, sriracha, and 1/4 cup vegetable stock. Set aside.
3 In a large work, heat up some vegetable oil. Add the vegan abalone. Stir frequently so it doesn't stick. Cook for only 3-5 minutes, until there is some browning. Remove from the wok
4 Add more oil to the wok and add the eggplant. Saute for 6-9 minutes, until the eggplant starts to cook down. Add the remaining 1/4 of vegetable stock and add a lid. Cook the eggplant for an additional 5 minutes. Remove the eggplant, placing it in the same bowl as the vegan abalone.
5 Add more oil to the wok along with the ginger and garlic and saute for another minute. Add the broccoli florets and stir for another 3 minutes. Add the eggplant, vegan abalone, and premixed sauce. Saute and cook for an additional 5 minutes, letting the sauce coat everything evenly and thicken.
6 Serve with black rice for the most metal meal ever.
One Raw Bite https://one-sonic-bite.com/

Be forewarned- this is my favorite Vidoll video- but mostly because it is SOOO tacky and low-budget.

Warning- there are some man "bits" in this videos. Granted I don't think there is ANY Gwar video that doesn't have a penis in it to be honest.

This video cracked me up because it really made me feel old. Everyone is older, sitting down. Yup. I am listening to Dad metal.