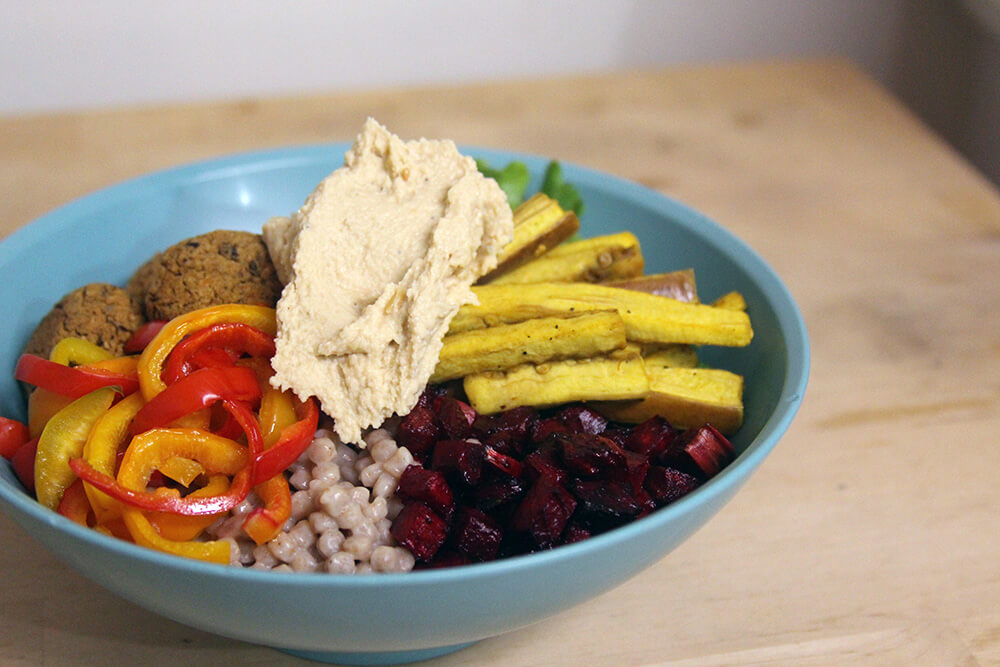 I love a good bowl. I don't eat them often, as I tend to be the type of person who just makes one big dish. Curries, chilis, soups, stir-fries, and casseroles are more up my alley. But truthfully a well balanced vegan bowl is easy to do, especially if some prep work is done before hand. For example, I use already prepared hummus, some frozen protein balls I've made earlier, and the eggplant was pickled a few days earlier. All I had to do was pop everything in the oven and cook the couscous!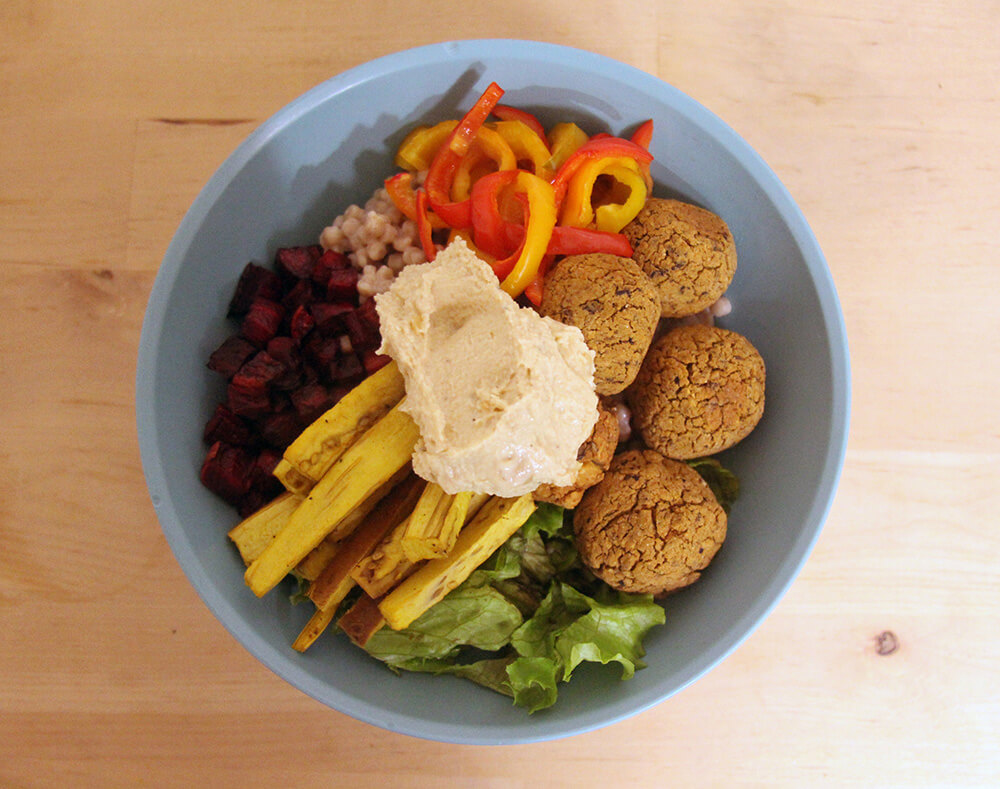 Funny thing is that making a dish with as many colors in the rainbow can be hard. But I tried my best here using all produce from my CSA. I love being able to eat a dinner that is almost all from the same place. So what is what in the rainbow?
Red & Orange: bell pepper, last of the season
Yellow: pickled turmeric eggplant (again last of the season)
Green: green leaf, arugula, and radish greens
Blue: the bowl- duh!
Purple: roasted beets
Brown: hummus & chickpea beanballs
White: Pearl Couscous tossed in soy yogurt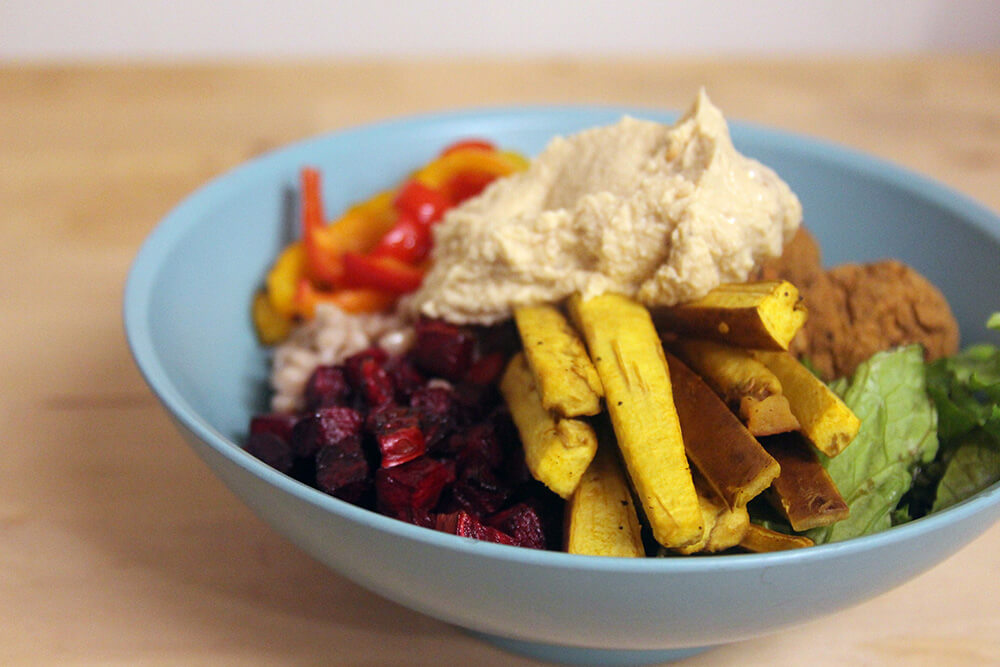 Overall, it took about an hour for dinner to cook, but there was a lot of down time. The beets that took the longest to roast. It might take longer than an hour if you choose to make your own hummus and beanballs/falafels. But I strongly suggest making doubles of a falafel/beanball recipe and freezing the extras for bowls like this.
For anyone who is wondering- you will need to prepare the eggplant two days ahead of time. I am a big fan of this refrigerator pickle recipe, and it is a great way to preserve some extra eggplant from the summer. If you aren't a huge eggplant fan, this really alters the taste and the traditional mushy texture. I personally used Wegman's brand hummus, just the good old classic hummus, though you could go for any flavored hummus if you like. And finally the balls were the Chickpea Eggplant Hemp Veggieballs from Protein Ninja. But there are lots of falafels now that you can find in the freezer section, like Trader Joe's.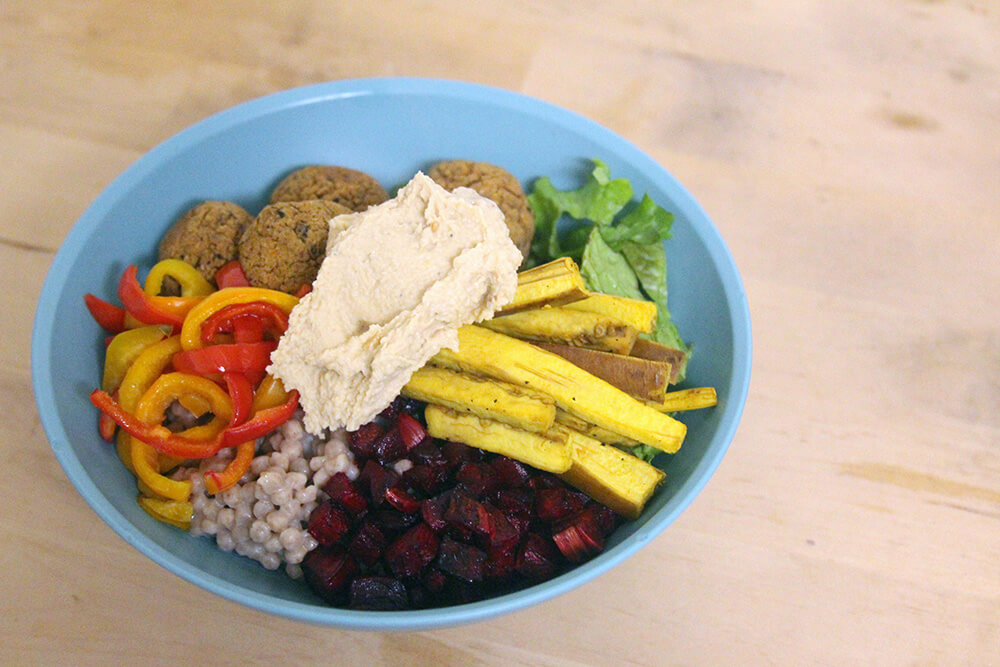 Pickled Turmeric Eggplant
2016-11-15 17:01:19
some yellow refrigerator pickled eggplant
Ingredients
1 eggplant
1 cup water
3/4 cup apple cider vinegar
2 tsp kosher salt
1 tsp peppercorns
1 tsp turmeric
Instructions
1 In a small pot boil the water, vinegar, salt, peppercorns, and turmeric. Boil for 5 minutes.
2 Slice the eggplant into long strips or cubes. Whichever style you choose. Place the eggplant in a clean mason jar
3 Carefully pour the boiled vinegar mixture into the jar with the eggplant. Add more water if you need to cover the eggplant and let it cool to room temperature.
4 Once cool put a lid on and keep in the fridge for at least 48 hours before using. Store in the refrigerator.
Adapted from Brewing Happiness
One Raw Bite https://one-sonic-bite.com/
Rainbow Hummus Bowl
2016-11-15 07:41:20
Serves 4
a bowl with a little bit of every color of the rainbow
Ingredients
2 beets 1/4 inch cubed
1-2 tsp olive oil
juice from one lemon - divided
1 turmeric pickled eggplant
1 small orange bell pepper in long slices
1 small red bell pepper in long slices
10-20 frozen falafels/vegan beanballs
1 cup whole wheat or regular pearl couscous*
1/2 cup plain unsweetened vegan yogurt
1/2 tsp salt
1/4 tsp cracked pepper
Lettuce greens of choice
Hummus of choice
Instructions
1 Preheat the oven to 400°F. Line two baking sheets or roasting pans with parchment paper or silpat liners.
2 Peel and chop the beets. Toss in a little bit of olive oil, juice from half a lemon, and some sprinkled salt. Spread over one of the trays. Roast for 20 minutes.
3 While the beets are roasting, place the eggplant on half of the second tray. On the other half the tray place the bell peppers, with some oil and salt sprinkled on them.
4 When the beets have roasted for 20 minutes, take them out of the oven and toss, and move them all on one side of the pan. Place the beanballs/falafels on the other half of the tray. Place both trays, with the eggplant, beets, beanballs/falafels, and bell peppers, all in the oven. Cook for another 20 minutes.
5 While the dinner is roasting, start cooking your couscous. Follow the steps on the package, which will vary if you are cooking whole wheat or regular couscous. When the couscous is cooked, toss in yogurt, juice from the other lemon half, salt, and pepper until even coated.
6 When all components are cooked, build your bowl. Place couscous and lettuce greens on the bottom of the bowl. Then add 3-5 beanballs/falafels, eggplant, beets, and bell peppers on top. Then add a large scoop of hummus.
Notes
* Never heard of pearl couscous? It is often called Israeli couscous.
One Raw Bite https://one-sonic-bite.com/