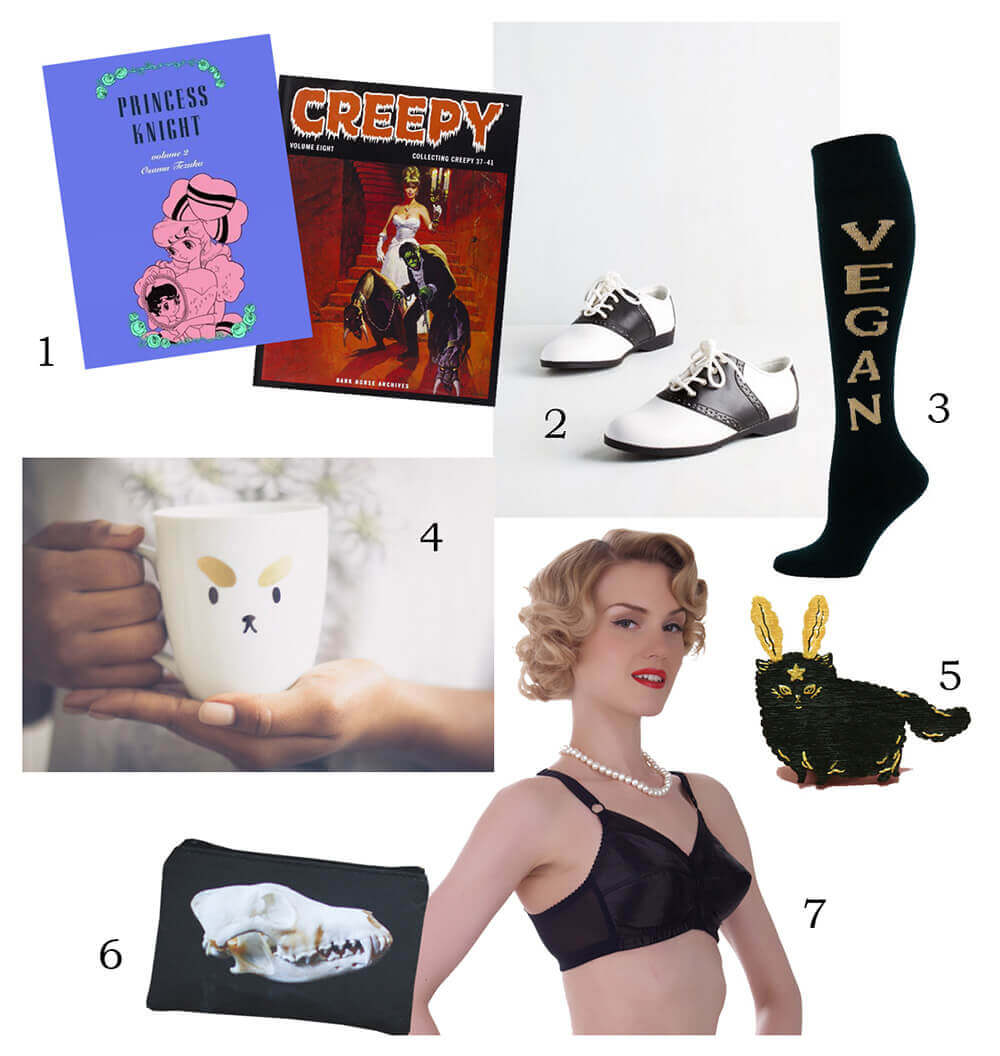 I have un officially decided I should make a wish list for my birthday every year on here. I think every year I want more abstract things in my life over materialistic ones. Like I just want to go for a long hike, a BIG layered cake, eat out with my hubby, a house to move into, and a say of a really long nap with my snuggle buddy.
But my friends and family can't gift me a nap. Sadly. So people give each other material things. So if I have to choose some actual things to get, these would be it. Some are bordering the line of stuff I like and stuff I NEED. I am truthfully a horrible person when it comes to buying things I need.
I'm a hard person to pin down with comics. I liked reading mangas but I never connected with the "manga" crowd since I loved scary mangas, or ones with different styles like Paradise Kiss. But as time went on, I expanded to American comics, but mostly from the indie scene. I just can't be normal huh? So I picked up Creepy during my bachlorette party with Alexa. It was recommended since I dug some horror comics. I love it since they are stories by various artists, different drawing styles, and different types of story telling.
Princess Knight I got for Christmas, and finished up reading it. The story was written by the manga master Osamu Tezuka. It is an interesting read since I've read most of his adult mangas, so picking up Princess Knight was a completely different point of view.
I still need shoes guys. Some of my shoes are starting to tear, and I am trying hard to hold out longer and longer till I buy my home, and start budgeting money for myself again… or until I can ask someone else to buy them for me. But these look super cute, vegan, and comfortable.
So I recently posted about Wharton State Park, and gave a warning about ticks. Well, I need some knee high socks to help protect myself from ticks. So why not say I'm vegan in the process?
I actually hate mugs. Or rather I hate how many cool mug options there are, because I don't need them all. In fact we have so many mugs that it drives me nuts how much space is wasted on them. But this one is pretty darn cute. I am sure there is a way I can do that to my mugs, so I can try that out.
There are so many cute pins and brooches on etsy. This guy randomly caught my attention. He would look super cute on some cardigans, dresses, or jackets.
The bra depicted above isn't what I'm actually looking for. I am trying to find some eco-friendly bras, which can be a tricky thing. Actually finding any fashion forward eco-friendly fair trade clothing can be tricky. I found a few cute ones from Faeries Dance.com, which may get an order from me in the near future.
I have a weird obsession with animals bones for a vegan. At least it is cool knowing the photographer never harms animals for the bones (she cleans them herself and usually finds or is gifted found bones). I don't really need a pouch, but I love the photo on it, and truthfully, I always find uses for little pouches and bags.
What do you guys want for your birthdays? I betcha it is just a big old cake. I haven't had one in such a long time!