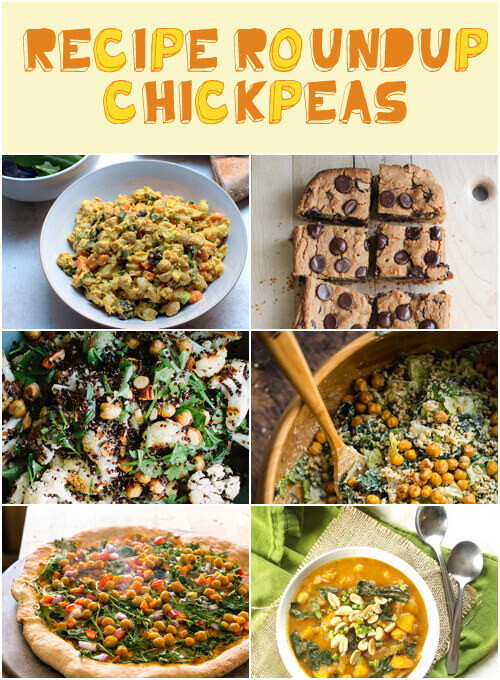 There aren't many vegan's who don't love chickpeas. They are so versatile and they even have been growing in popularity in their flour form- besan. But this chickpea round-up is all about chickpeas in their cooked bean form. We tried to give lots of options here, pizza, curry, sandwich, salad, and even blondies!
This grouping I am happy to report yummy findings with very different flavor profiles! So I recommend reading all these reviews and pick at least one to cook at home. We got a wide range of styles so you can't say there isn't anything you would like.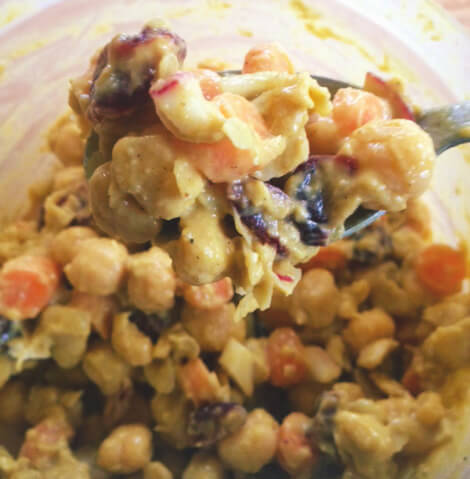 I made this recipe on a whim – I wanted to try something new in the kitchen and something that was easy and flexible. I tend to look at a recipe and will tailor it to my liking by either adding a vegetable or spice if I think it'll improve upon itself. This recipe only really asked for chickpeas, carrots, onions and the home-made curry sauce, but I added craisins to balance out the savoriness and add a little bit of sweet to it and the result was delicious! And it was nice because I was able to make enough to last me throughout the week for meals at work. It's a great light dish or summer dish to bring to barbeques as well, I would think.
Bottom Line: Good recipe, will make again, would recommend.
Funny thing is when I picked this recipe I had my doubts from the photos alone. The outside of the bar looks so nice and crunchy but the insides a little undercooked. My first instinct was to spread the batter out, but figured I would follow the recipe fairly strictly and kept with the loaf pan.
The dough was promising, in it's raw state it was sweet and yummy with a little hint of chickpea. I poured the batter into the pan and baked for a full hour. The end result for the first day is alright. The outside was so crunchy compared to the inside that it was hard to cut into squares. But once the bars sat in a container for a day, they are a lot more paletable. I think I still might try and bake these in a larger more spread out pan next time.
Bottom Line: Not bad for a dessert chickpea bar.
I made this dish thinking about my lunches for the week. I figured it would make two lunches, and it would be great. Not really. The dish was alright, and I had two things cross my mind. One was that the dish would of tasted better when the chickpea and cauliflower came fresh out of the oven. Then my second thought was that the the dressing was lacking. So if I would do this differently I would make this as a main dinner dish, and double the dressing.
Bottom Line: Yummy, best eat right away, needs more dressing
I made this dish a few times for family get togethers for this Christmas season. I can safely say it impressed everyone, vegans and omnivores alike. The dressing is creamy, garlicky, and salty. The crunchy chickpea croutons were different and added a unique twist to the dish.
There are only one major "issue" which can be a plus (depending how you view it). The portions are HUGE! So much that I had a hard time tossing the greens in the dressing. This could be problematic if you are making this dish for yourself, but perfect when serving a large party.
But most/all aspects can be prepared a day before hand, so if you are bringing the salad to dinner you don't have to sweat about cooking a dish while putting your hair up. I did have trouble storing the chickpeas, and they softened after a day. So if you are going to do something the day of, I would suggest roasting the chickpeas first thing that morning.
Bottom Line: Amazing, but large portions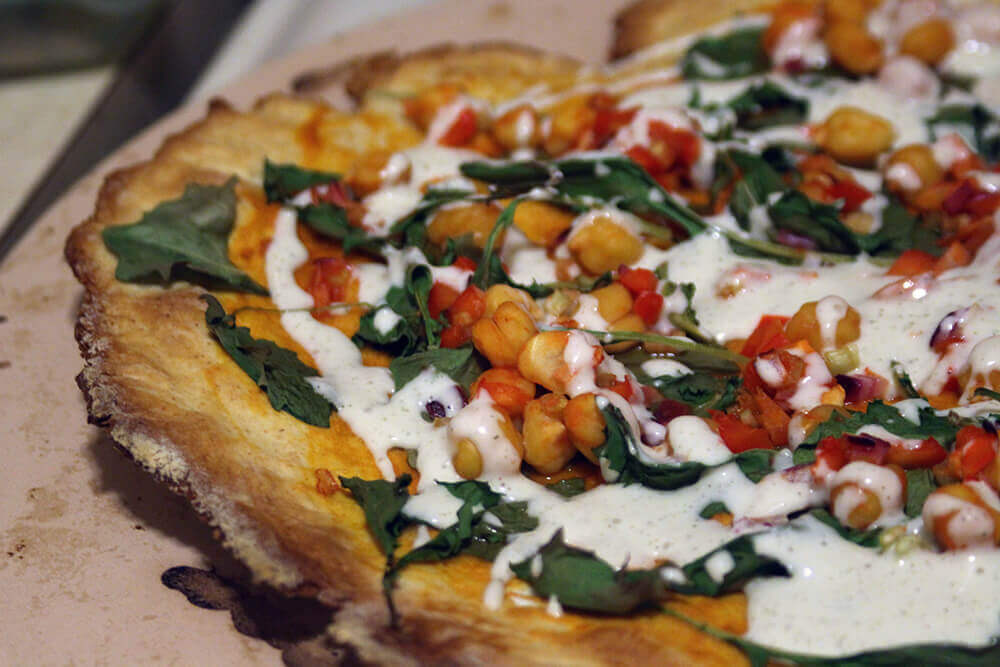 This pizza can be easy to make, if you prep a few things in advance. For example I prepped the ranch dressing the morning of so I wouldn't have to clean the blender again at night. Aside from that everything is easy to chop, coat, etc. The downside is the dough. I was not impressed by it. I got a tough and dense dough that I didn't really like. And her recipe calls for pre-baking the dough creating too crunchy of a crust, and I found it broke in odd places.
BUT ignoring the crust, this dish was awesome. My husband had doubts as I spread such a small layer of sauce on the crust. But he was asking for more. I think this dish would probably find it's way as a standard pizza in this household since it is so easy to make.
Bottom Line: Awesome, but I would use a different dough
This is a super easy dish to make, especially if you have the massaman curry already made. It takes about 30 minutes total and it is super filling. I jazzed the recipe up a little and served it over couscous instead of rice, but both would taste great. The only downside is that the dish largely relies on the curry paste of choice, so if you curry sucks, the dish will suck.
But the recipe given to make your own massaman curry at home was pretty good. I used that recipe to a t, with two exceptions, I didn't add any shallots and I used pre-ground chili powder. The curry was awesome but sadly doesn't freeze in solid cubes. Instead it is still soft in the freezer. Actually I am not sure if this is a bad or good thing.
Bottom Line: Quick to make.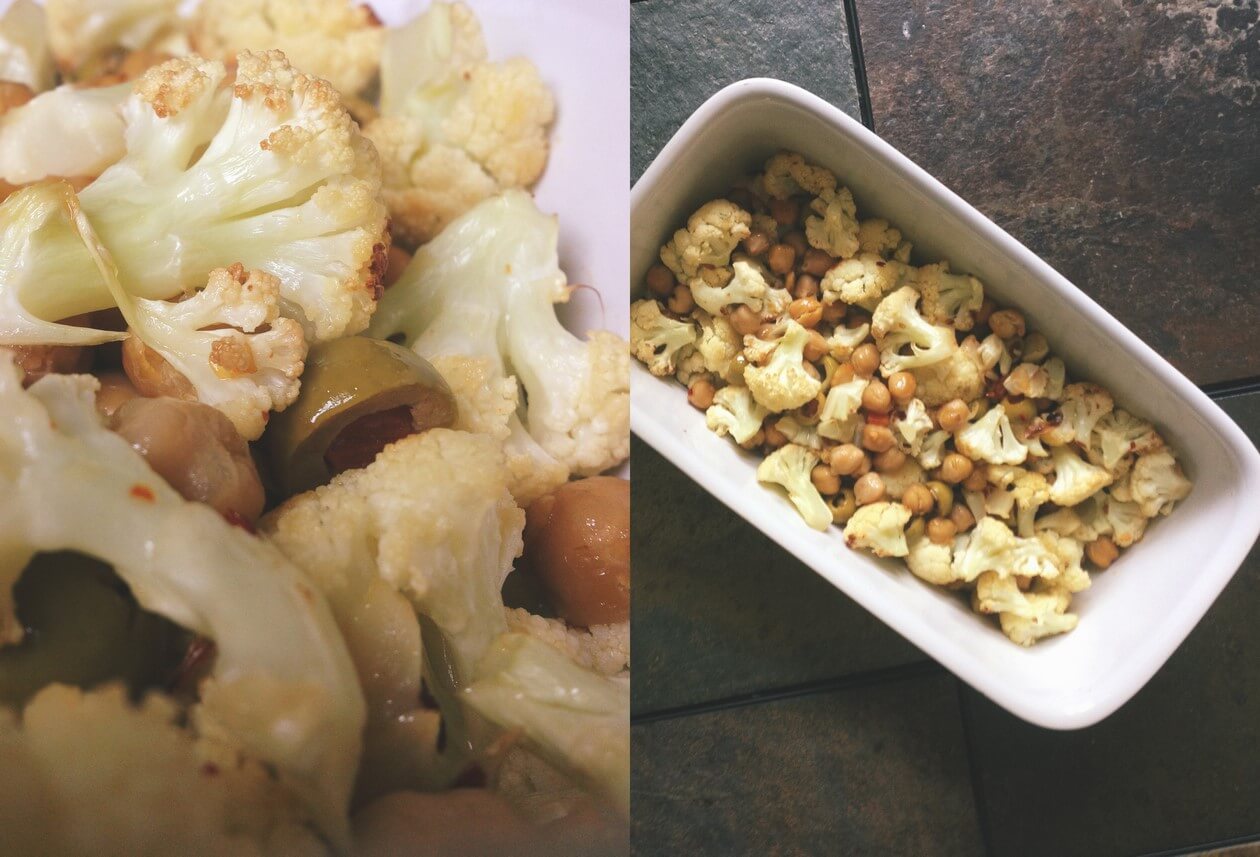 I made this Cooking Light recipe awhile ago. I remembered it being one of the few times I liked the taste of cauliflower without drenching it in curry. Something about roasting cauliflower brings out a whole new flavor profile. And the olives and red pepper flakes were a nice burst of flavor in the dish. I even found people who dislike olives enjoyed this dish.
The only downside to this dish is the pungent smell of the olives. This might scare off people, or leave a smell that works against your other dishes. The worst part was I made this dish and had to drive with it for 2 hours. It stunk, literally.
Bottom Line: Great- but not for long trips.
This dish is deceiving. When I made these burgers, I hardly tasted the sweet potato! I tasted mostly chickpeas and peanuts. That isn't bad, just not correctly named in my opinion. The burger was nice and crisp compared to the soft bun, and is served nicely with lettuce and tomatoes.
They are quick and easy to make, and can be crumbled for wraps. I can even imagine you can make balls and create "falafels" with them. The only thing I note is that you take precautions to PREHEAT the oven. This is not listed as a step and I stupidly finished up the patties only to find they were baked, not grilled.
Bottom Line: Easy Weeknight Dinner, Don't forget to preheat!