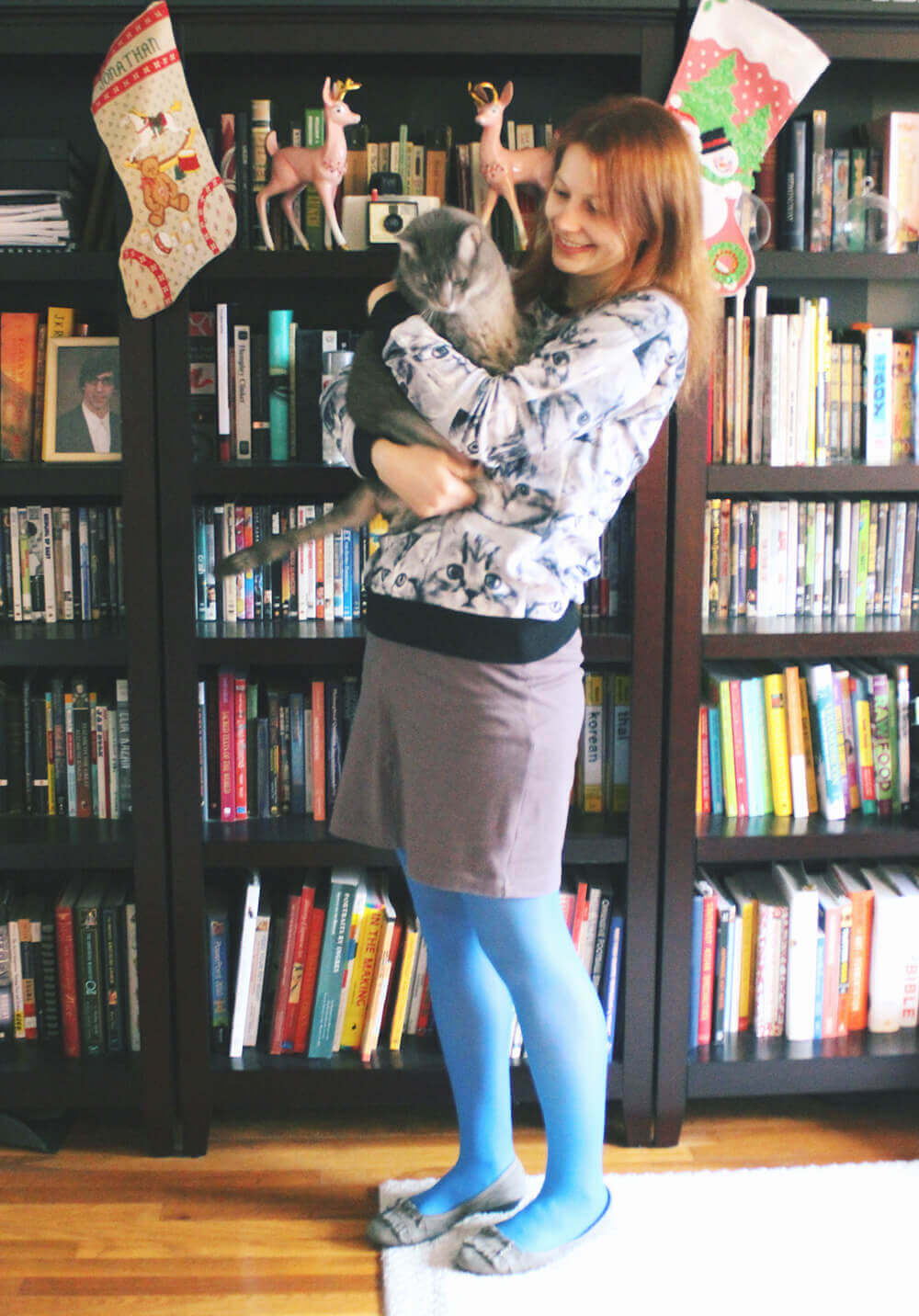 Sweater: Forever 21 | Skirt: Monteau via Modcloth | Tights: Unknown | Shoes: Thrifted
Who likes my new sweatshirt? It was a gift from my sister in law, which was a pleasant surprise since it is one of those things I like but wouldn't of bought on my own. I had my husband take a photo to wish everyone a happy New Years! I am sure everyone has their own New Year's Resolution, including me. My resolutions tend to be similar every year, but always slightly different.
Drink Less Booze
I've been drinking a lot lately, and honestly I am not really happy about the results. I've gain some weight, which isn't the end of the world. But I know it has a lot to do with drinking often, which are empty calories. I know there are actual health benefits to certain drinks, but let's face it, they are usually just excuses. My goal is to drink no more than two alcohol based drinks each week, excluding celebrations.
Run and Workout More Often
I got out of the habit of consistent exercise. I have lots of excuses, and I want to try and ignore them to do more. Maybe I will try and train for a race to give me the motivation.
Kick the Coffee Habit
Here's my problem with coffee, I don't drink it to wake up in the morning. I purely drink it for pleasure, which has slowly have grown from a weekly treat, to a daily drink. Some days I feel exhausted and I can't help but wonder if it is the coffee. To make things worse, I don't even drink good coffee anymore. I am not going to make coffee forbidden from my diet, but put it on the same level of a cupcake- very infrequent.
Read 16 Books (with less comics)
Anyone make a reading challenge on Goodreads? Last year I made the challenge for 15 books, and I finished it. BUT three of the books were cookbooks (which I REALLY did read) and six were graphic novels. Not saying there is anything wrong with graphic novels, but I would like to make the ratio a little less drastic next year.
Have a Cup of Tea Each Night
I use to have tea as a dessert every night. I miss this practice, and I have a large collection of tea sitting in my cabinet. This will hopefully also decrease the amount of "snack" foods I eat when I am not actually hungry. Not the worse thing I can do, but I always wake up not hungry which in turn postpones my workout.
Pay More Attention to Vegan Clothes and Beauty Products
I've been heading more and more down a consistent path to veganism as a lifestyle. But I am pretty sloppy when it comes to checking beauty products and clothing. I also want to get a handle on honey, as I tend to skim over that ingredient with foods.
Start taking a photo a day
One of my favorite blog features is The Dainty Squid's Project 365. She recently posted Project 365 + why you should do it too! I just recently got a very expensive camera. Although I've see a major difference between the photos from my old camera and my new one, I sometimes wonder if I will ever get total "use" of it. This project will force me to get out of the apartment and take some pictures!
Get Out of My Apartment
Part of the reasons why I made resolutions for drinking less booze, drinking more tea, and exercising more is that I feel awful. Almost everyday. My husband does too. We are pretty sure it is our apartment. It is really old, dusty, cramped, and we now have a neighbor who smokes right by our window. I don't want to write "buy a house" but that is our ultimate goal. Hell, I'll take moving in with parents than renewing the lease.