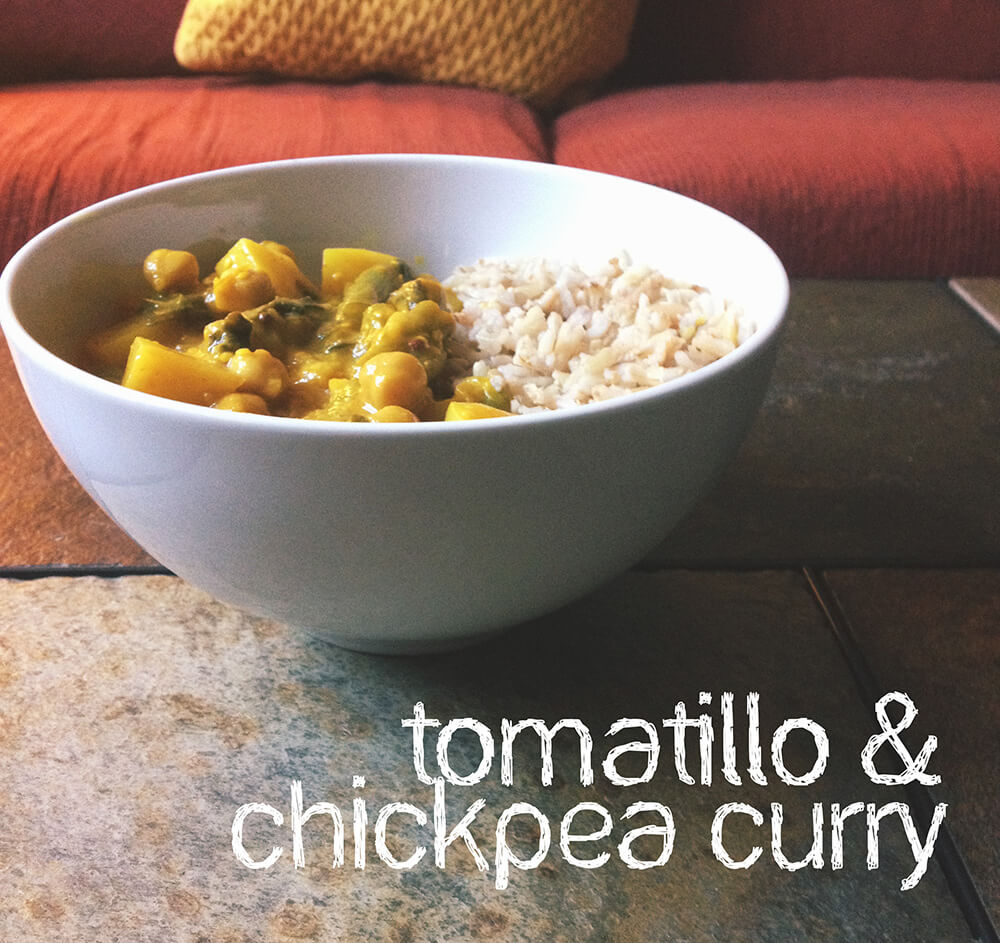 It has been a rough few weeks. My work schedule has been totally flipped upside down, and I found myself working mostly night shifts instead of morning. Which means that I've just been unable to make dinner for half of the week. Now, just the idea of cooking dinner feels like a chore. At the end of each day, I think about how someone has to cook otherwise our ingredients will go bad.
Luckily, I have the best husband who will cook dinner even though he gets home around 7pm at night. I become an early morning sous chef and pre-chop veggies to make it easier. I'll try to gather or bunch ingredients together in the fridge or cabinets, so he doesn't have to hunt them down. Sometimes all he has to do is toss a casserole dish in the oven and bake. But one night I wrote down a totally new recipe and let him work it out.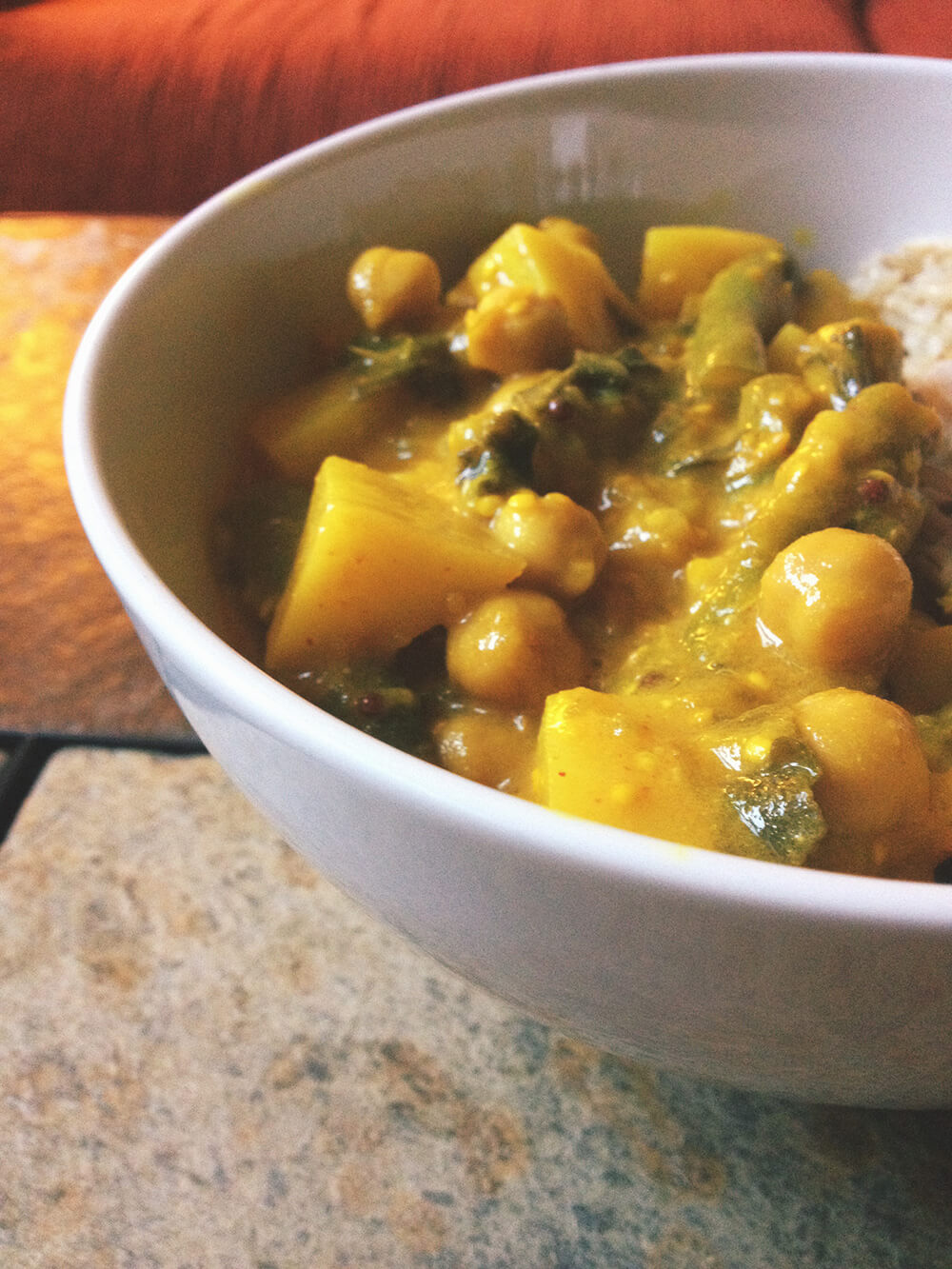 See, my CSA grows tomatillos and in past years the crop has been mediocre. They were sparse and never ripe. But they're flourishing this year, and I'm taking full advantage of them. Having already made some salsa verde, I wanted to try cooking the tomatillos. Salsa verde is yummy, but tomatillos have a lot more potential.
So I thought I would try a curry made with tomatillos instead of tomatoes. I drafted a recipe and handed it off to my husband. He did a wonderful job. Although I pre-washed and chopped the green beans and tomatillos, it took him an hour to do everything else. It should only take an hour for a seasoned cook, but if you're a novice, I would add an additional 15 minutes to the overall cook time. The beauty of the recipe is that it takes just about the same amount of time to cook the rice and the curry. So both parts of the dish will be nice and hot when serving.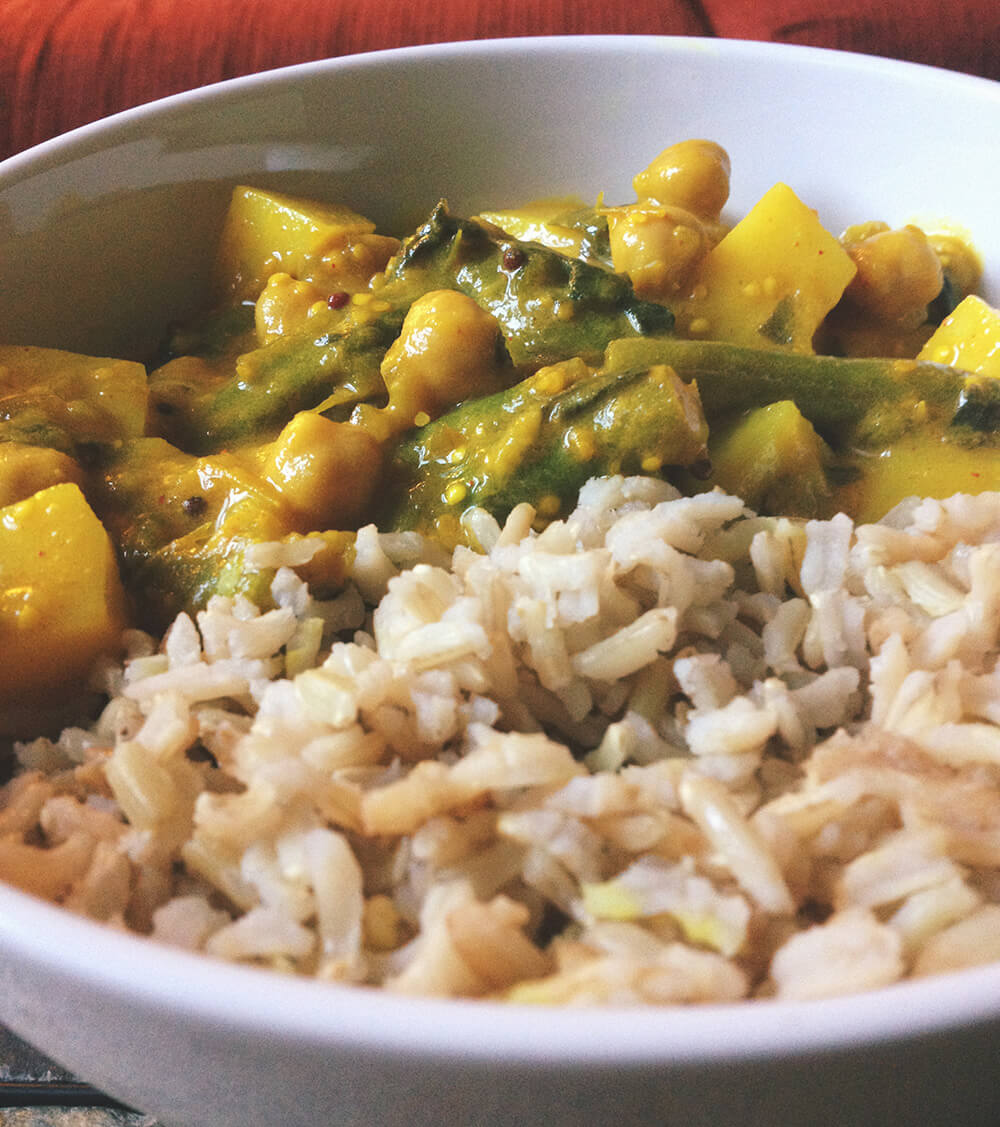 The end result is a sour and velvety curry dish. I called for more oil than I normally would use in a dish, but it cooks right into the tomatillos creating a rich sauce. The oil and coconut milk work well with each other and produce a full-bodied feeling on the palette. Brown rice's nutty flavors provides a perfect balance to the sour tastes from the mustard seeds and tomatillos. Because of this, I would stick with brown rice and not recommend swapping it for another such as white rice.
Tomatillo and Chickpea Curry
2014-08-14 06:41:07
Serves 4
An easy curry using fresh summer tomatillo and green beans.
Ingredients
3 1/2 cups vegetable stock or water
1 cup brown basmati rice
1/4 cup coconut oil
1 quart chopped tomatillos (about 4 cups)
1 1/2 tsp salt
1 tsp tumeric
1 tsp mustard seeds
1 tsp chili powder or flakes*
1 lb potatoes peeled in 1/2 cubes
1/2 lb green beans trimmed in bite size pieces
1 can chickpeas drained and rinsed
1/2 cup coconut milk
2 cups spinach chopped
1 tsp lime juice
Instructions
1 Place 2 1/2 cups stock or water and 1 cup rice into a pot with a lid. Heat until boiling. Turn heat on low and place lid on top. Cook for 40-50 minutes until rice is soft.
2 While rice is cooking, heat coconut oil in a pot. Add chopped tomatillos and cook for 3 minutes.
3 Add spices; salt, tumeric, mustard seeds, and chili flakes. Cook for another 3-4 minutes.
4 Add one cup stock and potatoes. Bring to a boil, cover, then reduce heat to low for 10 minutes.
5 Add green beans and chickpeas and stir in. Cover and cook for 5 more minutes.
6 Stir in coconut milk. Increase the heat and bring back to a boil. Add spinach and lime juice, cooking for one last minute or until spinach wilts.
7 Serve the curry over the finished brown rice.
Notes
* I used Korean pepper powder as I knew it was a heat level my husband could take. Use up to one tablespoon of pepper flakes for a spicier curry.
Adapted from Tree Hugger
One Raw Bite https://one-sonic-bite.com/