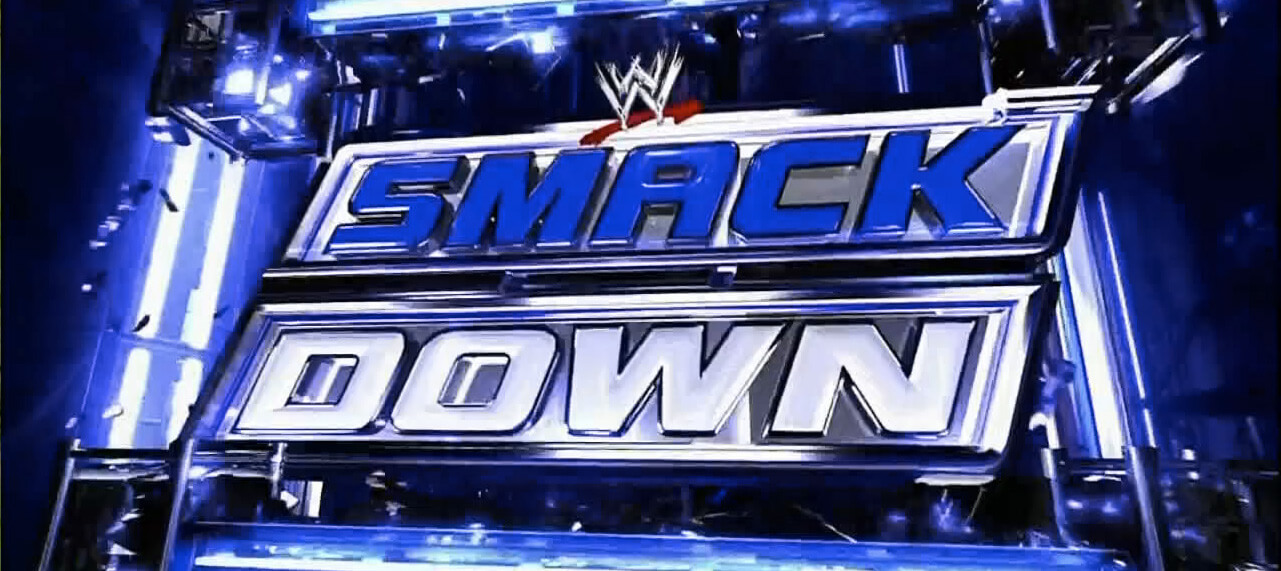 I had the pleasure of going to another live wrestling event a few weeks ago and it was just as amazing as the first few times I've been. I know I've said this before guys…but…man oh man do I love wrestling. We saw on TV that WWE was advertising a taping of their Friday night show "SmackDown" in Newark NJ, and since it's so easy to get to we decided that we probably had to go. Sadly – I didn't get a group selfie this time, I'll have to make that a tradition from now on. We hit a bump in the road on our way to the Prudential Center this time, the train heading that way which we had planned on taking was CANCELLED. At first it had been delayed and we figured it wasn't a huge deal but once the announcement came over the loud speaker we knew it was too late. Mr. Ian and I couldn't just hop into my truck and go – mostly because we were meeting Billy on the train and we would have to find parking for either us or him until after the show. The next train ended up coming on time, thankfully, we met up with Billy on said train and got to Prudential in one piece. It was then that we also met up with my friend Vinny! I got to know Vinny through working at Old Navy a year or so ago – and it wasn't until after we both stopped working there that I found out he also loved wrestling. We both happened to be going to the same live event (also at the Prudential Center) and met up briefly during the intermission. I was just super happy that he could make it to SmackDown with us this time! The trouble with being late to a taping though is that you miss some of the "dark matches" that may or may not happen before the show officially starts. We missed out on a match between two really awesome tag teams – The Ascension, who they seem to be bringing up from the developmental program and show NXT, and Goldust and Stardust. Mr. Ian was pretty bummed, he wore his brand new Ascension shirt and everything! I felt so bad but let's be real, we were all just happy that the second train wasn't cancelled too.
If I could just gush about the two men in black and yellow (urm…gold) for a moment. They are definitely two of my favorite wrestlers on the current roster – Cody Rhodes (Stardust) is a chameleon when it comes to wrestling in the ring. He's had several different gimmicks within the last few years, and his newest one does not disappoint. He changed his move set slightly to mirror that of his (real life!) brother's, Goldust (aka Dustin Rhodes). I don't want to rant on and on…but I love them SO much. They are both very talented and I love watching them work!
Highlights of the Night!
Damien "Bruce Springsteen" Sandow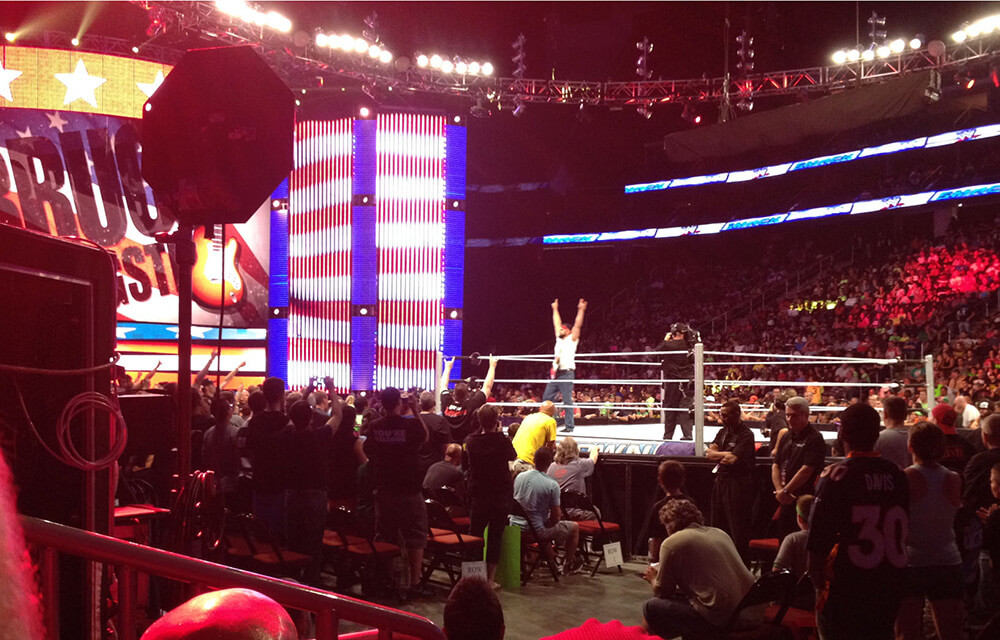 Damien Sandow's regular gimmick has been known as the "Intellectual Savior of the Masses", he would come out in a blue robe and hold the microphone as if it were a snifter while telling everyone in the audience about how much smarter he was. It was a great character! He has currently been coming out as different people to try and confuse his opponent…part of me thinks it can be clever and funny, while the other part is just frustrated that they seem to be dropping his original persona. I don't want Damien Sandow to turn into one of the wrestlers who just wears black trunks and gear and has almost no personality. I will admit though, this was hilarious! It was the week before 4th of July (…I told you this was a little while ago!) and WWE was in New Jersey – what better way to get a reaction out of the crowd than to have Damien come out as The Boss?
AJ LEE
I PUT THAT IN ALL CAPS BECAUSE IT WAS REALLY EXCITING. AJ had been out for a few months because of an injury and also because she was busy getting married to CM Punk (they are the MOST ULTIMATE couple!! Their power is maximum.), and I ended up getting worried that she may never be coming back. Rumors were spreading like wildfire over the internet that she was pregnant, and I truly had no idea how servere her injury had actually been. The Monday before we went to the SmackDown she made her come back and I was crossing my fingers that I would see her! Guess what…I DID. YAY. She had a match against Eva Marie that night, which surprised me only because she is still quite "green", or a newbie in other words. It wasn't a bad match, but it wasn't great. It didn't matter because I GOT TO SEE AJ.
SEEEEEEEETH ROOOOLLLIIINNNSSS
I put that in all caps and stretched it out because I AM STILL EXCITED. Seth was a member of "The Shield" , a 3-man-team, for over a year until recently. More importantly, he is one of my favorite wrestlers on the current roster. He is just so amazingly talented in the ring both physically and mentally. In the photo above he is fighting with Dean Ambrose, his used-to-be "Brother in Arms" from The Shield. Seth is currently the guy who hold the "Money in the Bank" case – which means that he gets to challenge the Champion for a match whenever he desires within the next year!
And speaking of The Shield…
Roman Reigns and Dean Ambrose
Both Roman and Dean were part of (what was) The Shield. I think they are both really talented as well, but they are going in different directions and story lines right now. Ambrose is feuding with Rollins for breaking up The Shield and betraying him and Reigns, while Roman is trying to make his way to the top and win the Championship Title. They came out after Dean had his match with Randy Orton and saved the day, like bros do.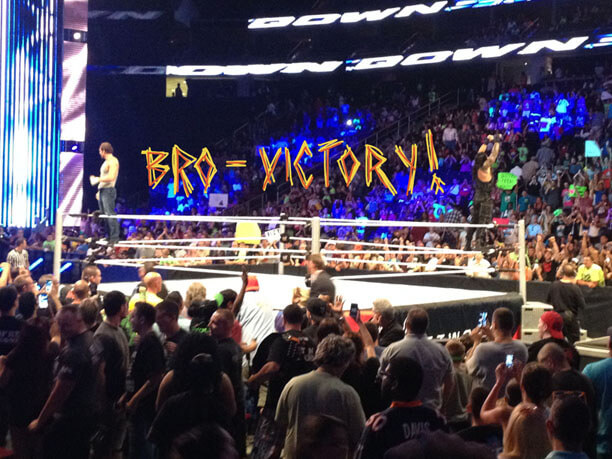 All in all – this was an awesome and really fun experience. It's my third wrestling event that I've been to and I really have no idea when or why I would ever stop going. Maybe when I am too old to leave my chair. Since I have gotten into wrestling I have started to understand what it feels like to be part of that "Special Club" like the rest of the sporting world. This is a bit different, but it's always fun to find someone who's interested in the same weird half theater show/half sport. 10 out of 10 will attend again.