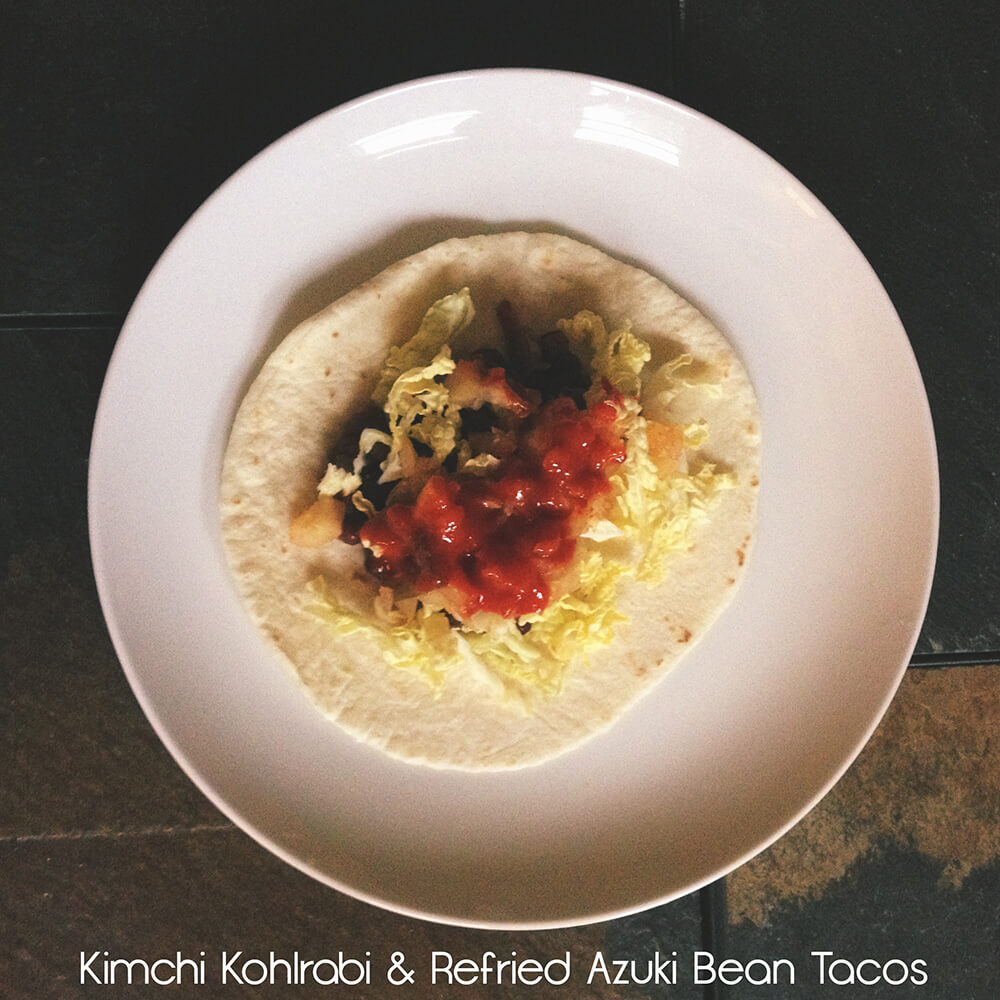 I've been terrible at posting lately! I've been busy. There has been some exciting news, as my mother is moving from Utah, all the was across the country, back to the east coast in New Jersey. It has been almost a decade of her living a 4 hour flight away, so it should be an interesting change. She is already planning embroidery and sewing projects with me.
I started to write this post last night and I had the hardest time. I am currently doing a detox, which I like to do them from time to time. I haven't done one in awhile since I have been eating so well. Writing this entry is hard since I see the photos and want to pull out the leftovers. It is a little painful.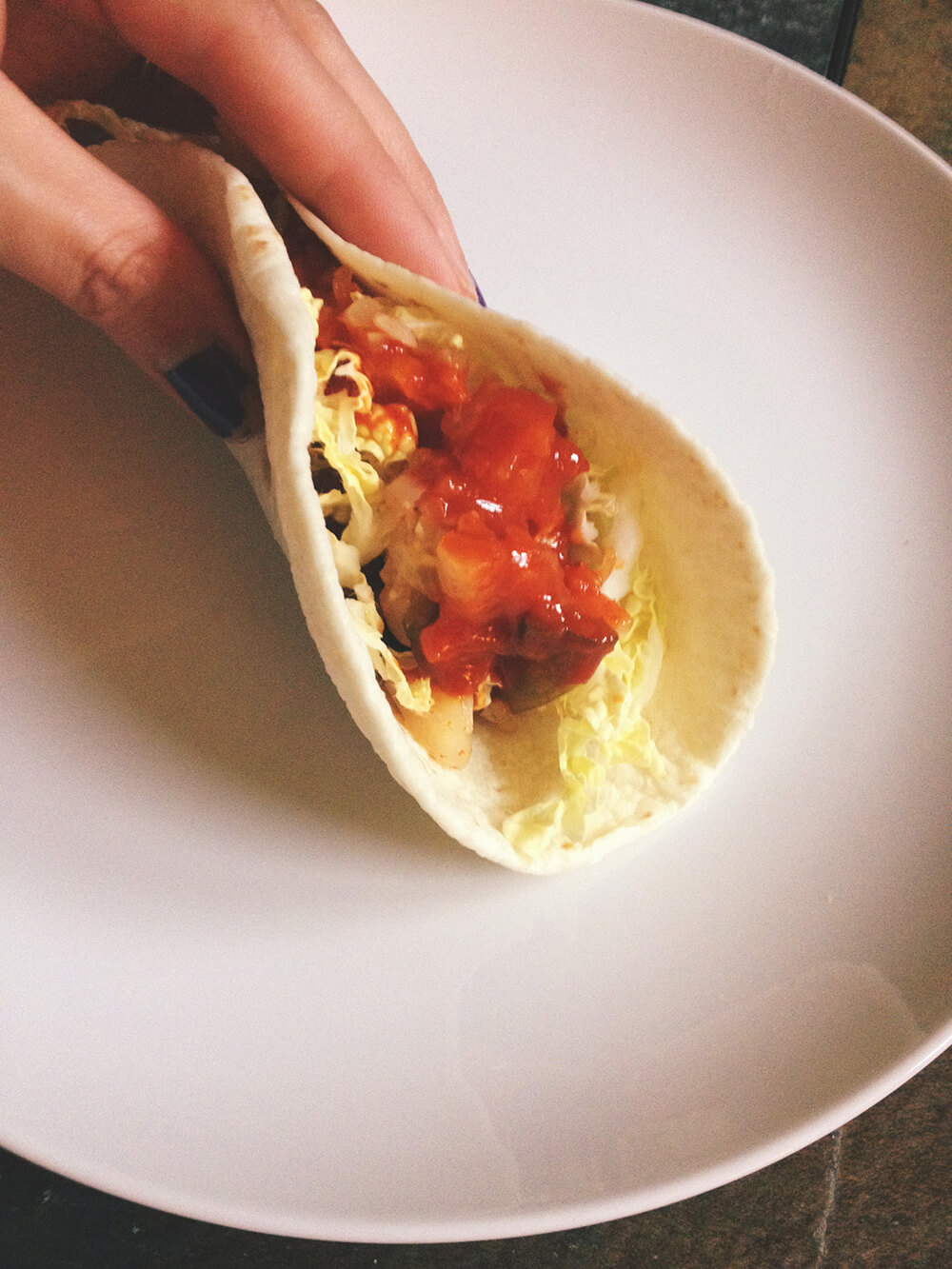 That being said, I LOVE these tacos. Korean styled tacos are pretty popular, in fact Alexa and I love MOGO which is in Asbury Park. Most Korean tacos use meat or fish, but I wanted to push them further. I wanted to use as many Korean ingredients but cook it in a different style. I figured I would try and make refried beans with adzuki beans.
I made my own kohlrabi kimchi for the tacos, but any store bought kimchi will do. I don't recommend buying huge tubs of kimchi at your local Asian food market. Make sure you read the labels since traditionally kimchi is not vegetarian. Oysters, fish, squid, or shrimp are usually packed in. My favorite vegetarian kimchi is Sunja's, which uses various vegetables to build a complex flavor. I would recommend checking out local food markets and health food stores.
Kohlrabi Kimchi
2014-06-12 16:36:39
Easy to make pickled kohlrabi
Ingredients
2 kohlrabi
1 tbsp Korean chili powder
1 tsp salt
1 tsp sesame oil
1 tsp ground ginger
1 roughly chopped green onion
Instructions
1 Trim off any greens from the kohlrabi bulb, cutting close to the bulb to make peeling easier. Peel the outside.
2 Either use a box grater and finely grate the vegetable down. Or you can use a food processor, chopping it down.
3 In a glass mason jar, place all the remaining ingredients in the bottom. Add the chopped kohlrabi and fill with water, making everything is submerged. Twist the lid on and shake. Lightly untwist the top, so air can escape.
4 Let the jar sit at room temperature* for 1 to 3 days until kohlrabi is soft. Shake or stir the jar once or twice a day to prevent mold from growing and to make sure all veggies get equal brining time.**
5Finely grated kohlrabi will mostly likely need only one day to ferment in a warm room. If you used a food processor and had fairly large chunks, you may need three days. Taste daily! You can decide on how crunchy you want your kimchi.
Notes
* Temperature can change fermentation time. If you house is cold during the winter your kohlrabi might need an entire week.
** Note that leaving your jar on the counter is completely safe from bacteria. Brine pickling or lacto fermentation is one of the safest forms of fermentation, as the salt and the naturally occurring bacteria in the vegetables create a hostile environment for harmful bacterias.
One Raw Bite https://one-sonic-bite.com/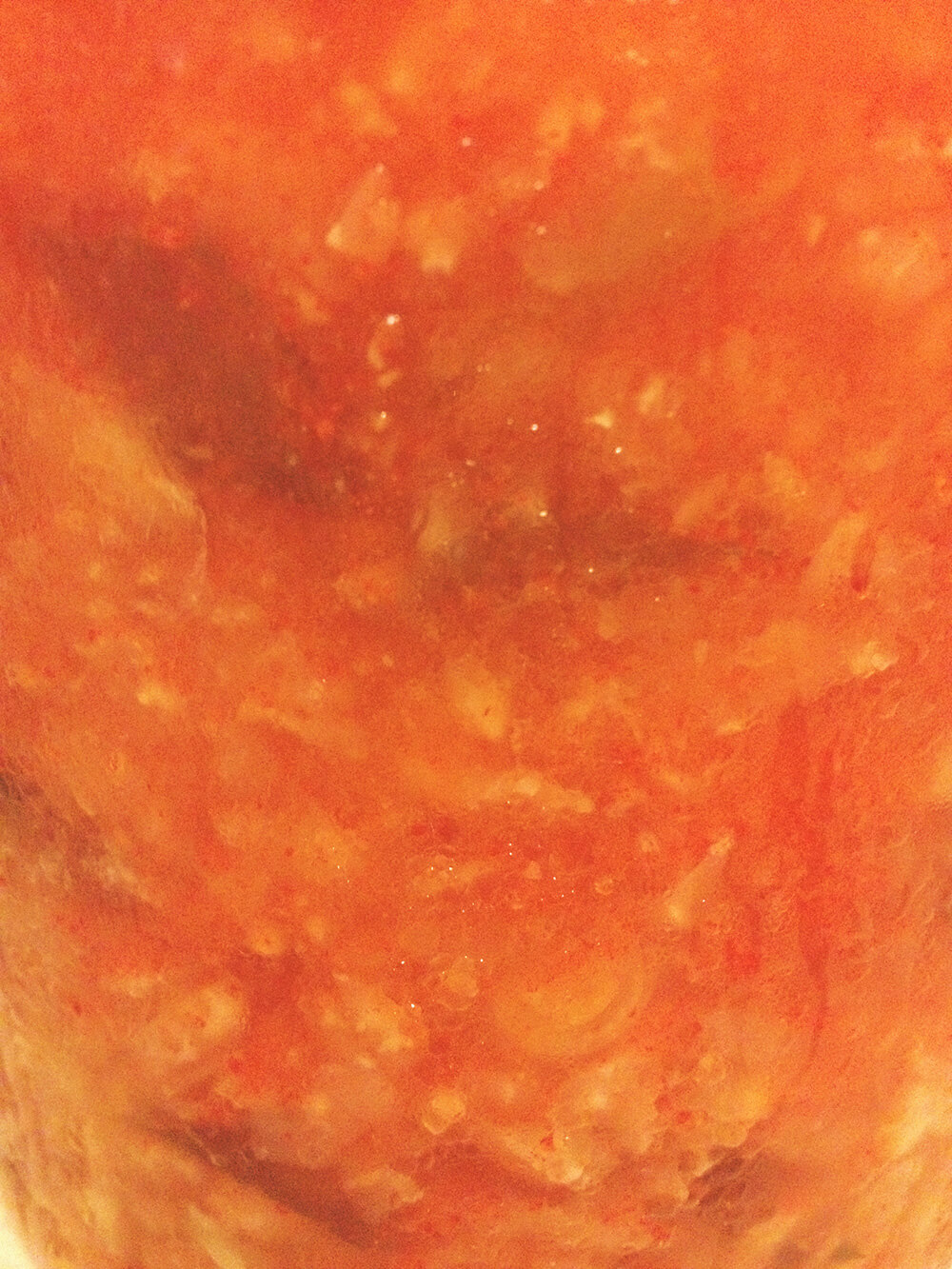 I was a little worried the flavor would be bland, but I tried to keep to my original plan. I am glad I did. These turned out so tasty! I've pretty much only eaten adzuki beans in desserts, so the refried adzuki beans turnout as a pleasant surprise. I also love the sauce, it lets everyone have mild or super spicy tacos. The recipe makes a lot so you will have plenty for leftovers.
Kimchi & Adzuki Tacos
2014-06-12 16:45:03
Serves 3
Looking for a Korean style taco? How about refried adzuki beans with cabbage and kimchi?
Ingredients
1 cup dried azuki beans
1 tsp vegetable oil
1 small onion diced
1 tsp korean chili powder
2 tbsp soy sauce *
1 tbsp tomato paste
1 cup vegetable stock
4 cups shredded nappa cabbage
2 cups kohlrabi kimchi **
1-2 tbsp gochujang
1 tsp sesame oil
1 tbsp apple cider vinegar
10 taco shells (corn or flour)
Instructions
1 Soak adzuki beans overnight or for at least two or three hours. Drain the beans and place in a pot with enough fresh water to cover the beans. Bring the water to a boil. Reduce the heat to low, cooking until beans are soft, about 1 hour or more. Drain beans. ***
2 In a small pot, heat the vegetable oil and add onions. Stir the onions on translucent, about five minutes. Add the chili powder, 1 tbsp of soy sauce, tomato paste, vegetable stock, and cooked beans. Turn heat to medium-low, stirring often until beans mash down, and stock evaporates.
4 While the beans are cooking thinly shred the napa cabbage, chop kimchi if needed, and prepare the optional spicy sauce. In a small bowl whisk together the gochujang, teh remaining tablespoon of soy sauce, sesame oil, and apple cider vinegar. Add more water if desired.
5 Assemble the tacos by smearing the refried adzuki beans on the base of the taco, topping with napa cabbage and kimchi. For additional heat add some gochujang sauce on top.
Notes
* I prefer using gukganjang which is a korean soy sauce made for soup. Any soy sauce will do though.
** You can use any type of kimchi but remember to make sure you cut down any big pieces to make eating easier.
*** Note you can do this step ahead of time, skip it by buying a can of adzuki beans.
One Raw Bite https://one-sonic-bite.com/