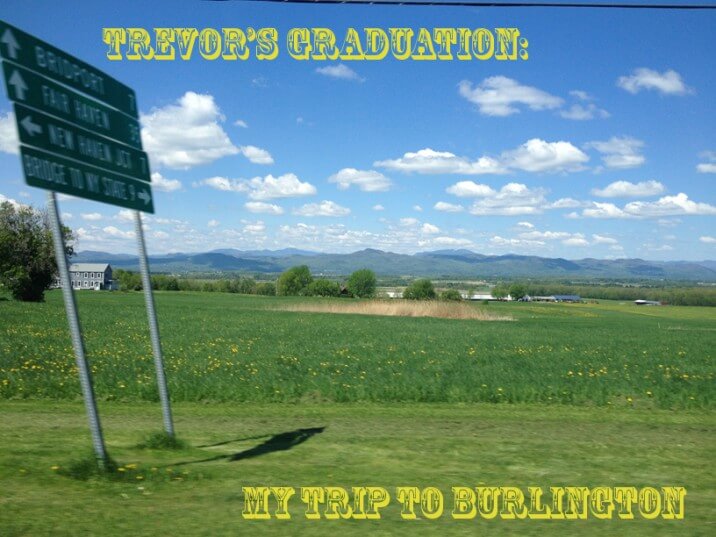 A few weeks ago I visited Burlington, Vermont for my brother Trevor's Graduation from College! He attended the University of Vermont and (as far as I know) is going to be teaching Crossfit classes and competing in Crossfit competitions for a living. It was nice to be able to see him and his lovely girlfriend, and I had never been to Burlington before then, so it was an added bonus of adventure!
My favorite part of the weekend was when we all met up (my Mother, Step Daddy, Trevor, his girlfriend Jules and myself) and walked around the Burlington Farmer's Market. I already love farmer's markets, and Trevor had told me that this one was especially nice.
Before we got to the market itself we walked through Downtown Burlington. It was a lovely day and everyone was in town for the graduation. We hadn't eaten breakfast yet, so luckily I spotted a Crépe Station!
The Skinny Pancake is a restaurant in Burlington that does Breakfast and Lunch (not sure about dinner). We didn't get to go to the actual restaurant itself, but if you check out the website it shows that all of their ingredients come from local farmers and they have gluten free and vegan options as well.
It became clear to me rather quickly that my Step-Daddy Brian and I are actually pretty vacation compatible… we both love to drink and eat anything slathered in hot sauce! So naturally we went to the little tents set up with all the different hot sauces and salsas – these are what we picked up!
I picked up one that doesn't seem to be on the site – it was described to me as a carrot based hot sauce. I have been putting it on my eggs and mixing it in with salsa on top and it is DELICIOUS.
The sauce that Brian got for us is called the Poto Rojo. I only tried a little bit of it while under the tent, and boy oh boy was it super spicey! I would definitely recommend visiting the website and ordering some of their sauces!
Now, I saw the tent for Chocolate Hollow and clearly I had to make a stop there. I met Madeleine, the owner and creator of the shop, and we talked briefly about her product. She is a vegan herself, so all of her items are vegan and gluten-free. Unfortunately I don't have any close up photos of the chocolate that I purchased because…I ate it all in a fury. And by fury I mean I needed chocolate…not because I was angry! And let me tell you… I loved every bite! I think the Shmilk gives the chocolate a great texture and flavor which I would describe as rich, nutty and slightly smokey (but only very slightly).
Talking with Madeleine was a true treat! I can tell that she has a true passion for what she is doing and I am so happy that I get to share her (yummy) work with the rest of the internet. If you are ever in the Burlington area and head to the farmer's market, please stop by her tent and pick up some delicious treats! I will definitely be ordering from her shop when I get a hankering. Her website is linked above, and you can also find Chocolate Hollow on Facebook.
I wanted this to coincide with "Tea Time Tuesdays", but as I noted in my last post I have been a bit busy with work and I also got my wisdom teeth pulled out last week (ouchies!). So here it is! One of the most delicious teas I have ever tasted!! Maple Tree Tea brews all of their teas with Maple Sap, so the "sweetener" is all natural and already included. It's a very subtle taste, and this Papaya Green Tea was already fruity enough that it didn't need any extra sugar. I definitely tasted the green, but once you swallow the papaya and maple flavors linger a bit, and it is delicious. I wish I could have this brew all summer long.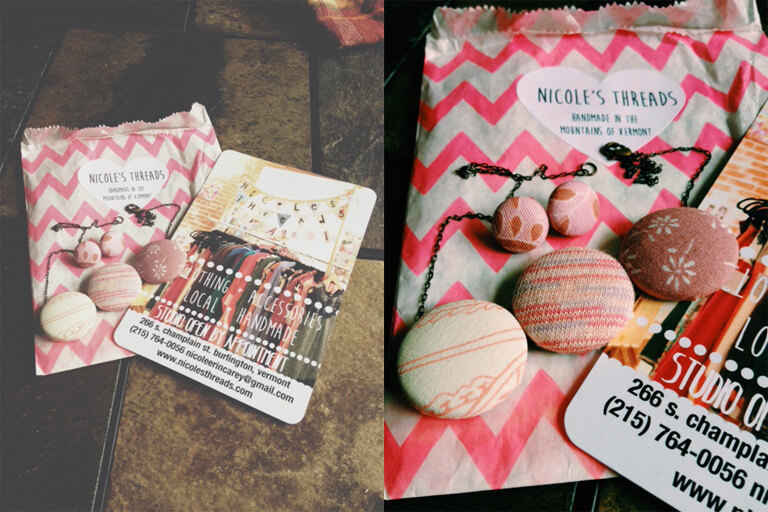 Jenny mentioned in her post that I bought her a pair of earrings, I also bought her a necklace to go with it! I won't go too into detail because she mentioned reviewing them, but I will mention Nicole herself and my adorable experience at her little set up at the market.
I was immediately drawn in by the rack filled with cute dresses! They all seemed completely vintage, but as I looked through all of them I realized they were all hand made! Each dress was unique and super cute, but I wasn't in the market to buy myself a new dress at the time (fortunately she has an esty, linked above, and a Facebook Page). I also noticed her super cute earrings, necklaces and bracelets, all made with vintage cloth patterns. I picked out a few because I figured they would be right up Jenny's alley…and I mean look at them. So cute and pink!
The rest of our time spent in Vermont was lovely as well. The weather was gorgeous and spring-like and the only thing we had to do was go to graduation and parties the next day. Rough life, right? The graduation itself was held inside a lovely church on campus and Trevor's class was actually a bit small. Each "college" had their own separate ceremonies in different spaces throughout the day. It differed from when my entire graduating class all walked across the stage at Rockafellar Center in New York. I was very happy that I was able to travel with my parents up to Vermont for this momentous occasion in my brother's life, and I would love to go back to Burlington sometime soon.