Hey guys! I feel as though everyone knows this by now – but if you don't, here it is… I love Professional Wrestling. Like…really love it. I love it so much that I drunkenly stated (with GREAT emotion, on my birthday) to Mr. Ian "…I really love wrestling!" as CM Punk was having a match on Smack Down. My first real experience with watching WWE was when Mr. Ian was getting back into it. He watched a little more regularly in the 80's and 90's but fell out of it as the talent got muddled and confused (around 2000). No one really stuck out for him and the writing wasn't at it's strongest. He had been telling me all about the matches he was watching with our good friend Billy (who should be credited for me getting into wrestling in the first place – if it wasn't for him, this never would have happened!) and asked if I would watch an episode of Monday Night RAW with him. I wasn't too keen on it but there was really no harm in trying something new. As we turned on the TV CM Punk came down the ramp and walked into the ring to give the WWE Universe and Paul Heyman a piece of his mind (no – it was NOT the infamous pipe bomb … if you go to the link skip ahead to about the 1:40 mark) … and I was in. He didn't even do anything that extravagant – just started talking. That was really and honestly all it took. I think I had these pre-conceived notions that pro-wrestling would be like other sports that I had been exposed to … boring. When I saw that it was *actually* more complex than that, I became obsessed! My best way of describing it to people who ask is this: Wrestling is the best live-action-comic-book-soap opera I have ever seen. And I mean all of those things in the best way possible! With all of that being said, I went to my first "Pay-Per-View" on March 4th – Extreme Rules!!!
I went with Mr. Ian and Billy, and once parked in the parking lot outside the IZOD Center we met up with our friends Rich and Ryan where we drank beer and took in everything around us and GOT HYPED for what was in store. Sorry guys…this is about to get very picture heavy!
Once we got inside the building we were told that our seats … didn't exist. This was terrifying to the three of us because we had great seats. Not front row, but not all the way in the back. We would have been able to see everything perfectly! Luckily we were allowed to watch the pre-show match from the stairs as they found seats for us, and they were EVEN BETTER. I usually have some trouble at live events of any sort, mostly because I am so tiny and can never see over anyone's head in front of me. Our seats were really, especially great though, because I could see everything crystal clear! The Pay-Per-View itself couldn't have been better (in my opinion). All of the guys we wanted to see where there, and for the most part they all won! I also think we weren't analyzing the actual flow of everything as much as we would from our couches at home, but even after re-watching it again on the Network, we still thought it was rad. The matches I had been most excited to see where the Intercontinental Title match between Big E and Bad News Barrett, the Divas Title match between Paige and Tamina Snuka, and The Shield vs Evolution (BOO TRIPLE H). Daniel Bryan was set to fight "The Demon" Kane, but I knew he was going to win that one! How could he not?! That didn't make that match any less fun though.
Highlight #1 of the night was getting to see Paul Heyman come out and be a jerk/introduce Antonio Cesaro.
Then came the Intercontinental Title match…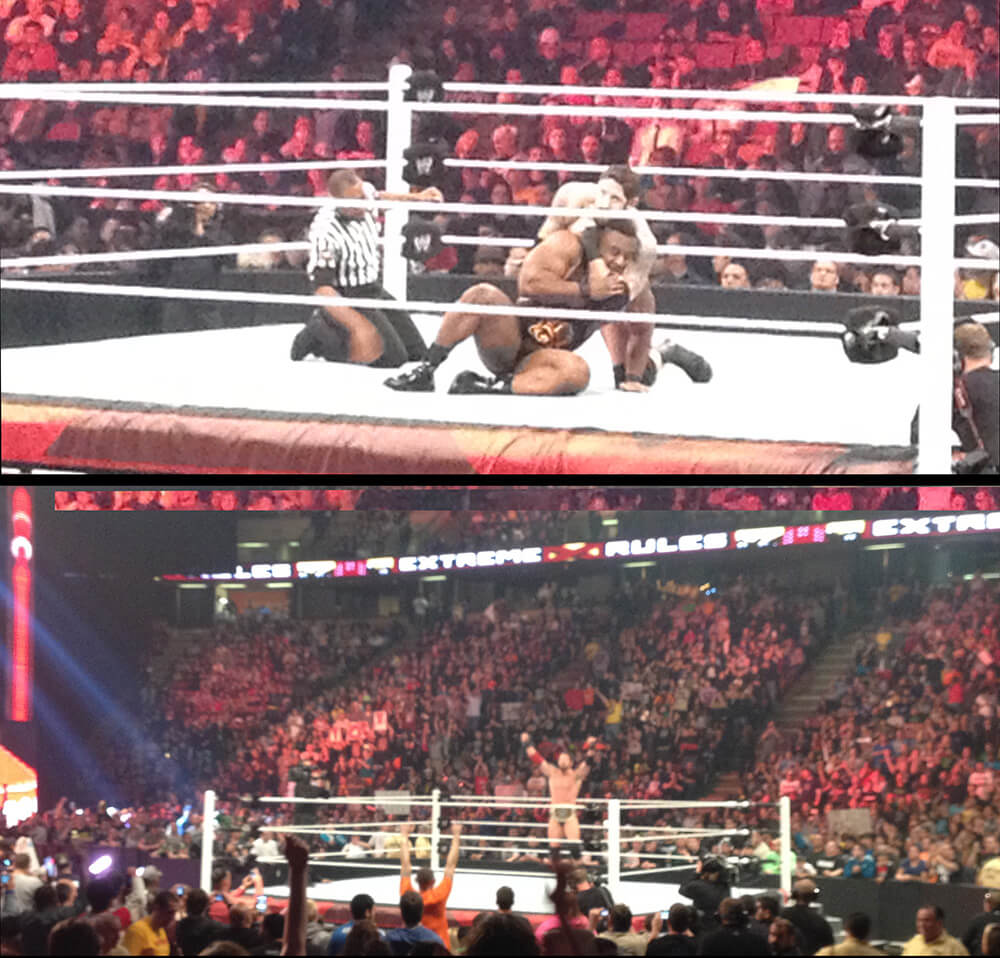 The Shield vs Evolution was awesome. Just plain awesome. They went into the crowd and jumped off of pretty much everything. I was so excited the entire time that I was actually REALLY tired once the match was over…I thought I might fall asleep after all the energy I had used to cheer on my team! …Didn't get any pictures though, I was just too distracted by all of the awesome!
Let's be real though…I was just SO happy to be able to see a live match between two of my favorite Divas!!
Paige is amazing. She is the youngest Divas Champ in the history of the company and has been involved with wrestling since she was really young. She has so much talent and has really strong matches against the other women in the WWE. And Tamina is just as passionate and talented, I am glad she has been getting a push recently.
And of course…Daniel Bryan was as super as ever!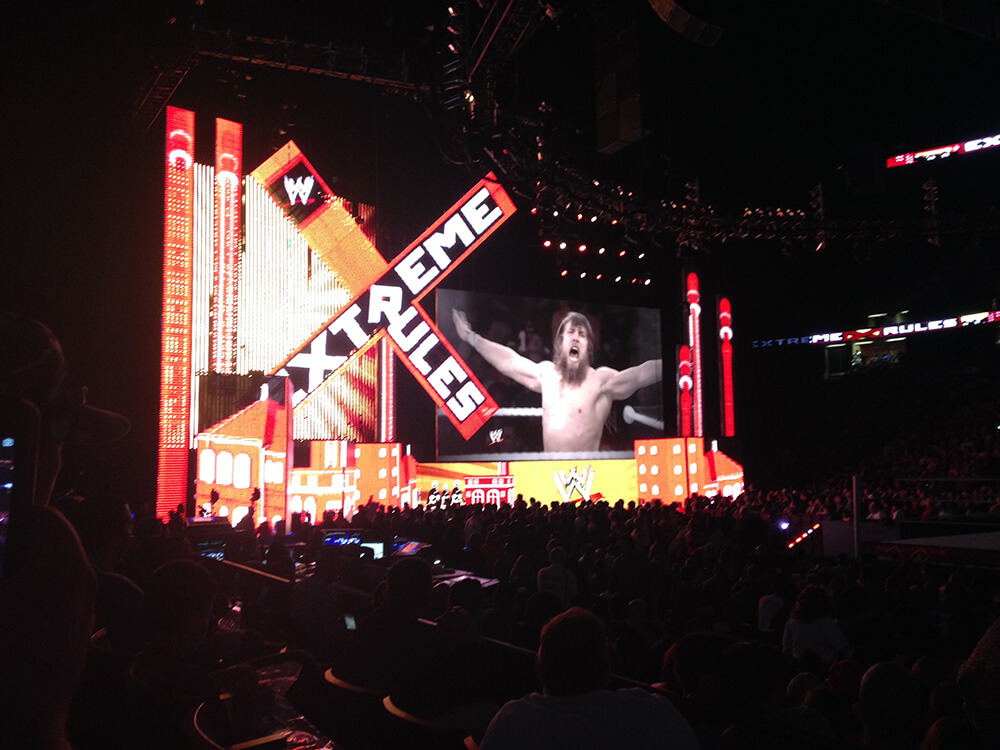 We even got to see the car that he and Kane smashed during their fight…it was conveniently parked next to our car in the parking lot after the show!!
Overall this was definitely an EXTREME experience. I consider myself lucky to have friends who are into this and can introduce me into such a fun little universe. I hope to be able to go to some more live events the next time they come around!
I would also like to point out that this was supposed to be written and posted only a few days after the actual event… and I am terribly sorry that it did not! I have been getting some freelance work and haven't had as much time to write. I hope you all can forgive me!!