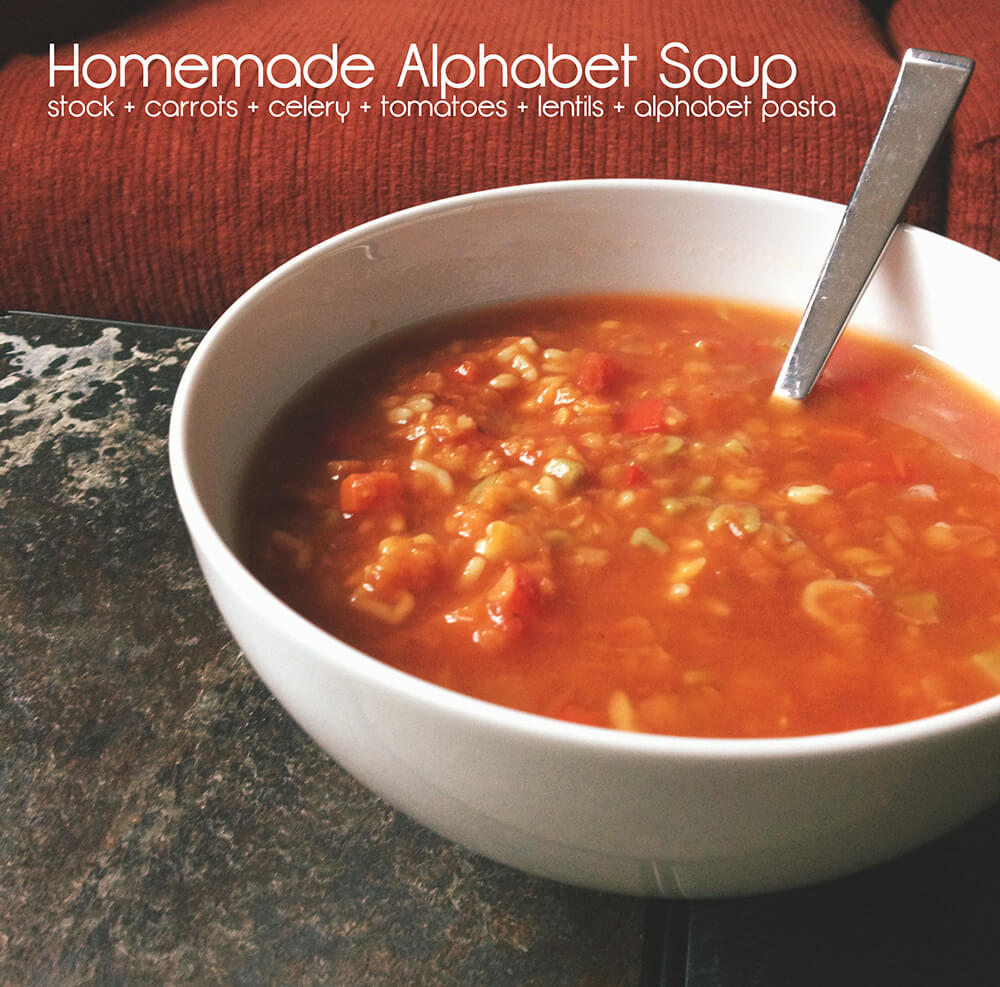 This recipe is in heavy rotation in this house. It might take awhile to chop everything up in small pieces, but I always seem to have the ingredients around. In fact I always make sure I have a large can of crushed tomatoes in the cabinet, and alphabet pasta just incase. I always start with a carrot, a stalk of celery, and onion, then work with what veggies I have in the fridge. Did I use half of a turnip? I'll chop it up. Broccoli stalks? I'll chop it up.
The recipe started from How It All Vegan from their "kids" section. I made alterations to the recipe, and tweaked it so many times that I can't even remember fully what the whole recipe was. I have the entire recipe memorized, which made writing down the recipe a little daunting. I always just add as much stock as I need, usually dependent on how much veggies I chop.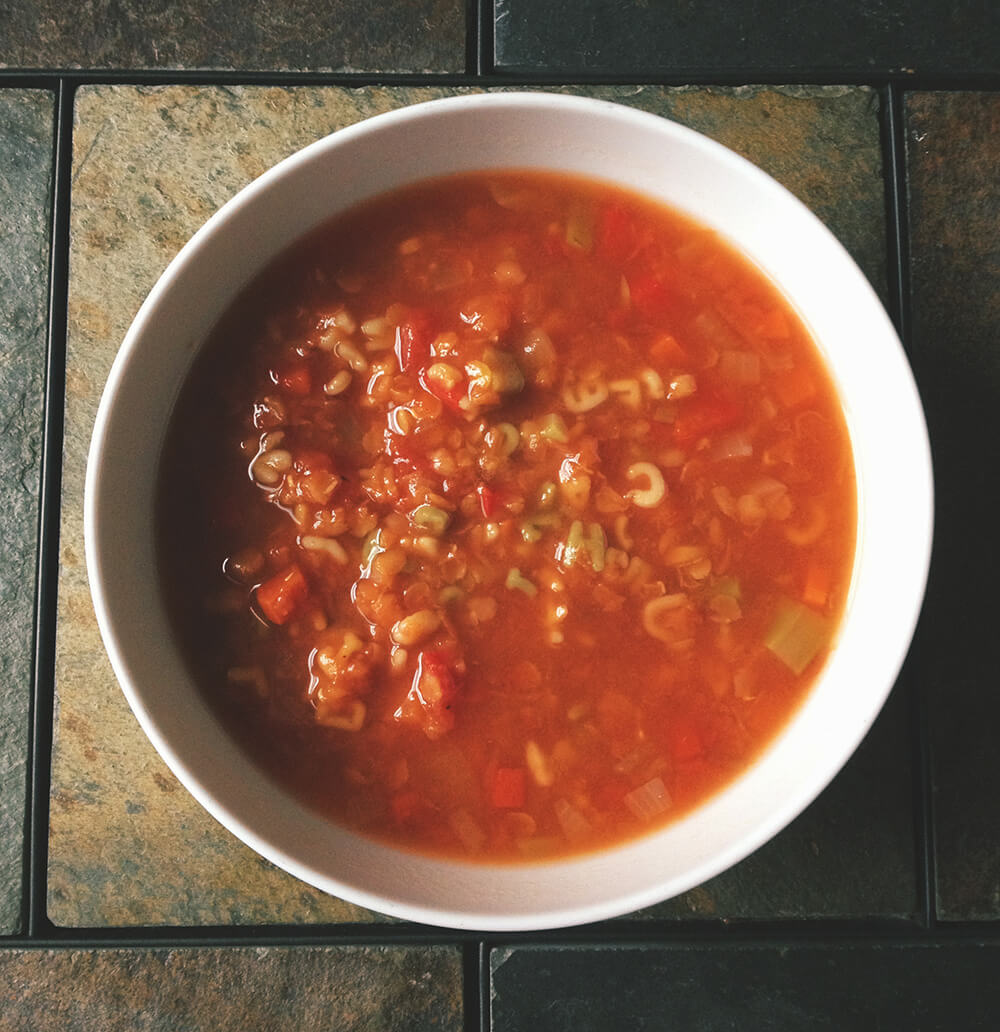 And if you have nostalgic spot for canned soup, let this soup sit in the fridge for a day. You might have to add a little more broth or water, but the noodles will absorb the liquids and get the same fat As, Bs, and Cs that you get in canned soup. Picky eaters won't even know there are lentils even in the soup! And hey! That adds a protein to the meal making it alright to eat only this for dinner. I know I do.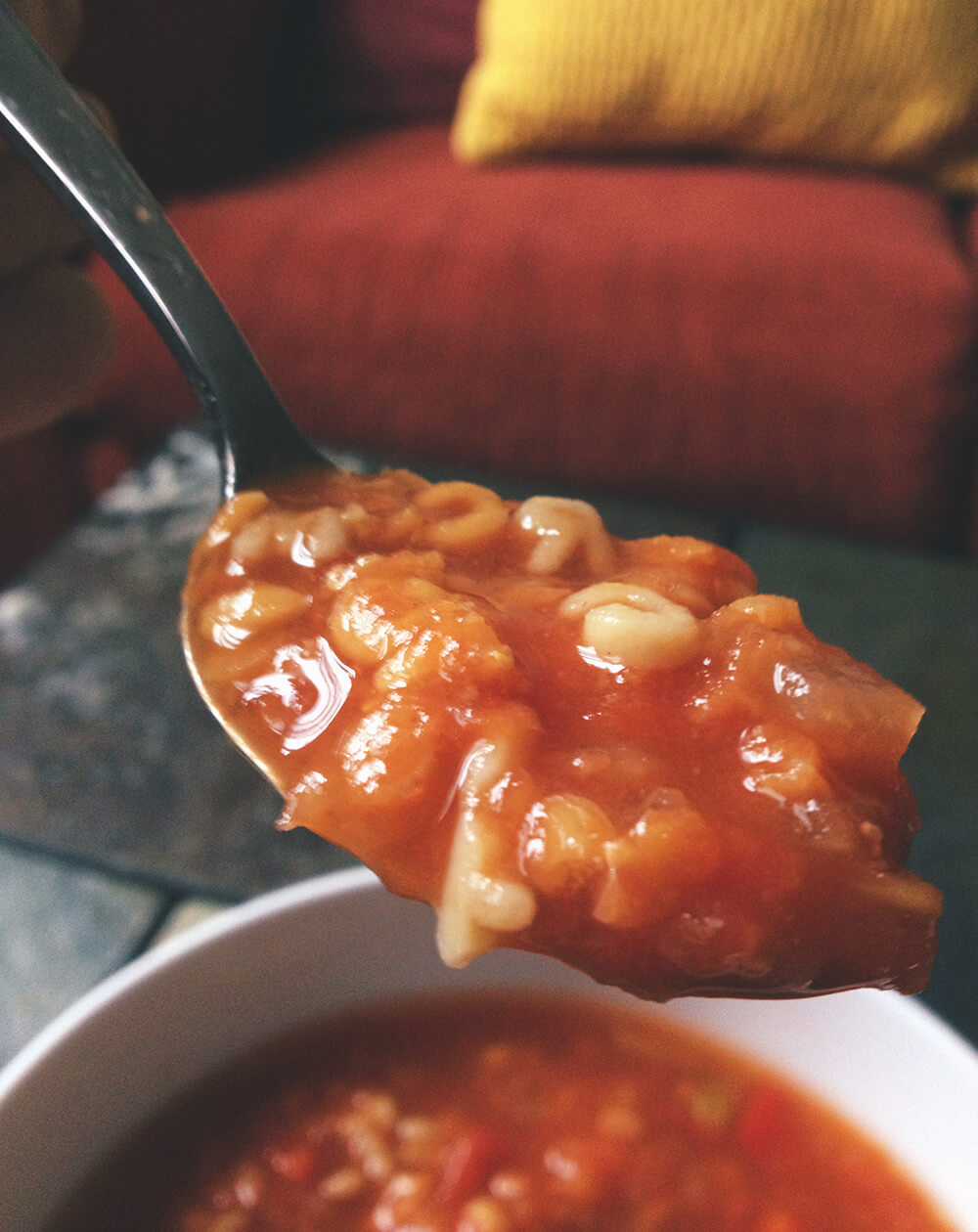 This recipe makes A LOT of soup, which is why I usually make it when friends come to visit. I think it would feed 3 to 4 adults if they want two big bowls of it. So if you aren't a slob like me and my friends it makes a total of around 6 to 8 servings. But I won't judge you if this recipe only feeds 4 people- because that is how it works out for me and my hubby.
Vegan Alphabet Soup
2014-03-28 16:58:12
Serves 8
An easy to make alphabet soup to please the kids!
Ingredients
1 onion chopped
1 carrot peeled and diced
1 celery stalk chopped
1-2 cups veggies*
24oz crushed tomatos
5 cups vegetable stock
2 tbsp soy sauce
3/4 cup red lentils
1/2 cup alphabet pasta**
Instructions
1 Heat a little oil in a pot and add the chopped onion. Saute for about 5 minutes, until onions are translucent. Add the chopped vegetables and saute for another 5 minutes
2 Add the can of crushed tomatos, vegetable stock, and soy sauce. Bring to boil. Add in the red lentils and stir in. Once the pot comes to a boil again, cover with a lid and reduce heat to a simmer. Cook for 20 minutes.
3 Add the alphabet pasta and cook for another 10 minutes. Serve. Feel free to add any extra stock to thin out soup if it is too thick.
Notes
* Feel free to add anything you have kickin in the fridge. My favorites usually involve broccoli stalks, bell peppers, green beans, cauliflower, but anything can really go.
** Although you can use gluten free pasta, be VERY careful not to overcook since most gluten free pastas fall apart when overcooked. Consider cooking separately and adding while serving, especially for leftovers.
Adapted from How it All Vegan
One Raw Bite https://one-sonic-bite.com/