August 17, 2016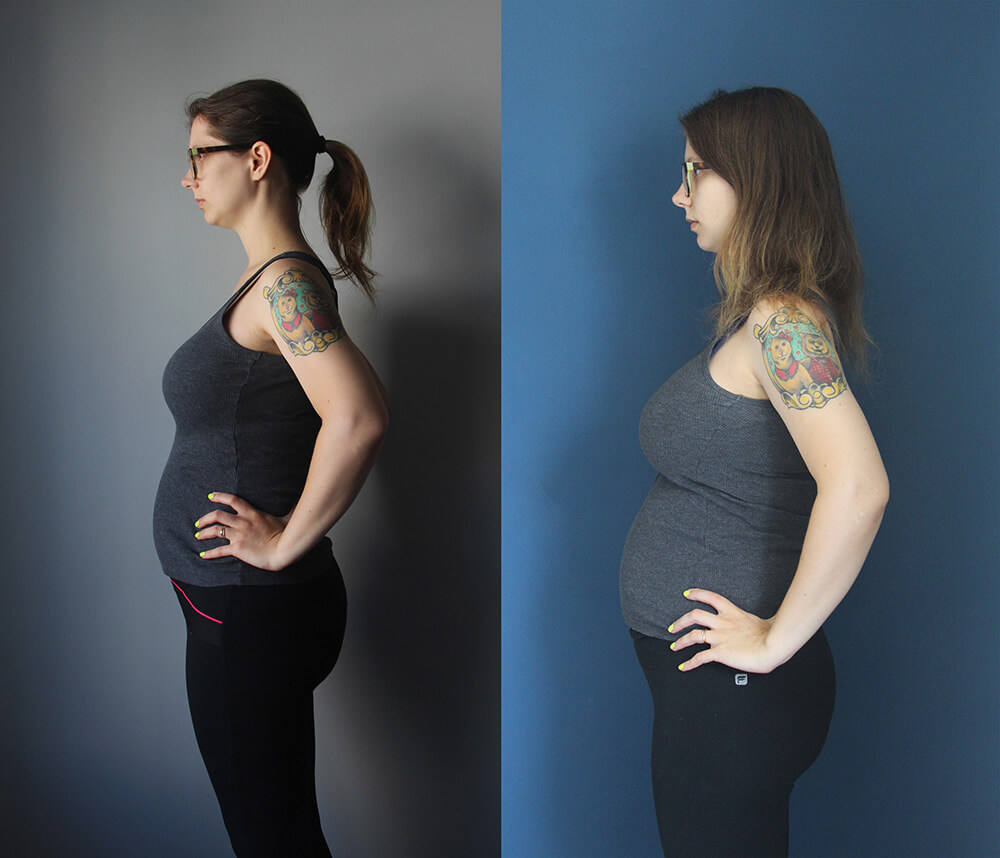 Fitness
I was doing so well working out 5 days a week, and then heatwave came, and then I woke up nauseous, and then my husband woke up with a migraine. Let's just say not much has been done. Oddly I have been expanding my running distance. Something I wasn't expecting to do 6 months into the pregnancy. The biggest thing holding me back is usually having to pee mid run. I might try and run to a local park so I can take a mid run potty break.
Tummy Status
It's official- I can no longer hide my tummy. Both photos for this post I had to make sure to pull my shirt all the way down. I went to H&M and got three shirts because normal shirts are just starting to get a little too short. I keep reading suggestions that you can size regular shirts up, but I really like the pregnancy shirts with the ruching. They are completely worth it. I probably will buy a bunch from Swap.com next month.
Jon keeps asking if anyone notices if I am pregnant. And I keep having to point out that I am not quite big enough to make people feel comfortable to ask. I think people don't want to offend someone who might have a big tummy. But just last week, I was wearing my purple dress at work and helping a customer pick up her framing. She asked if I was expecting, and I was a little surprised since I thought my outfit, if anything, hid my tummy (I am trying not to hide that I am pregnant, just trying to put on anything that is cool and fits.) I had the one lady working at Fernbrook Farms ask if I was pregnant as well, and said she was happy I was since she gets nervous that she might be wrong. XD
As for my tummy- it is starting to get itchy from the skin stretching. So I've been putting on some lotion. My belly button is still hanging in there. And I am starting to even see my tummy move from kicks. At first I thought I was imagining things because it looked like stomach was moving with the kicks when reading a book. Then when I stared at my tummy for a few solid minutes, I could see a little slight movement. It isn't drastic enough to try and record, heck my husband still hasn't felt any kicks yet. They are always totally random and all over the place.
Cravings/Adversions
Cravings? Hmm… still finding this the most blown out pregnancy myth. But then again, I keep having this problem where I sit around and don't want to eat what I have, so I just get more and more hungry. Think I am kidding? Earlier this morning I was reading blog posts and thought "man, I am really hungry… but I really don't want leftover harira…. but I should really eat that before it goes bad" Drove out to Whole Foods and got a pumpkin spice almond milk latte…. hot. Then finally got home and caved and ate the damned soup, about an hour and half later. I've been doing this with work too. I have been working on managing clients for a booster football club. And I always find myself thinking "WHAT THE HELL!? IS THE WHOLE WORLD STUPID?!" because someone asked a very dumb question or a very ugly ad. Then I look at the clock and find that I normally would of eaten lunch an hour ago.
But if there was "cravings" going on right now, it would be sugar and cold things. Smoothies, yes. Ice cream, yes. Cereal, yes. Seltzer, yes. Cut fruit, yes. Heck, I went to Trader Joe's just to get a few vegan ice cream treats that I could grab and eat after getting home from driving in a hot car. I cry a little on the inside when it comes to dinner time and I need to turn the stove on to cook anything. Even hot leftovers are painful.
Baby Animals
Time for those cute animal comparisons. These past two weeks are animals that are very similar- a guinea pig and a chinchilla. One is a domesticated rodent in South America, the other is an animal recently introduced into the pet trade. I remember wanting a chinchilla when I was little, but as an adult, I've only heard about how delicate chinchillas are. They apparently make horrible pets since they can easily get depressed. But I did have two Guinea Pigs, and they were very boring. Apparently people say they are much more active when they have another Guinea Pig buddy. Want some cute Guinea Pig pictures? Well here you go.
Cute Overload
Why is everything for babies so fuggin cute? I mean all colors are muted, ruffled, with doe eyed animals. Well, let me put it this way- there seems to be a nursery divide. If you look on Pinterest you would get the impression that everyone is shopping at Pottery Barn and Restoration Hardware for their nursery. I kind-of prefer this look. I mean it isn't my FAVORITE, but I like how everything is clean, sleek, and has some bold design aspects. And I think I have a soft spot for Pottery Barn because I get emails that say PB Kids or PB Baby, and I secretly hope there is a video of a baby covered in peanut butter having a puppy lick it off. And what do you know, that is cute.
But as I put together my registry, I am finding that the people who actually make baby decor have little taste. Once I find something that is kind-of cute, I figured let's see what else is from this brand or line. And sometimes I freak myself out. Like everything needs to match. I mean EVERYTHING. Oh that cute animal print on the fitted sheets- let's make a crib ruffle with, and put in the curtains as well. And let's put it on the trim of a quilt. And it just stimulus overload. Do these people not know of solid colors? Or worse- crib bumpers. They are shown to increase the risk of SIDS, and I keep seeing them for sale. All they do is make your crib look like a layered parfait of patterns.
Okay I get it- companies want to sell things, so they make them match. And they want a photo with everything together so they cram it all in one small space. But the whole patching together all the patterns just make me feel like a hobo clown decorated a room.