March 1, 2019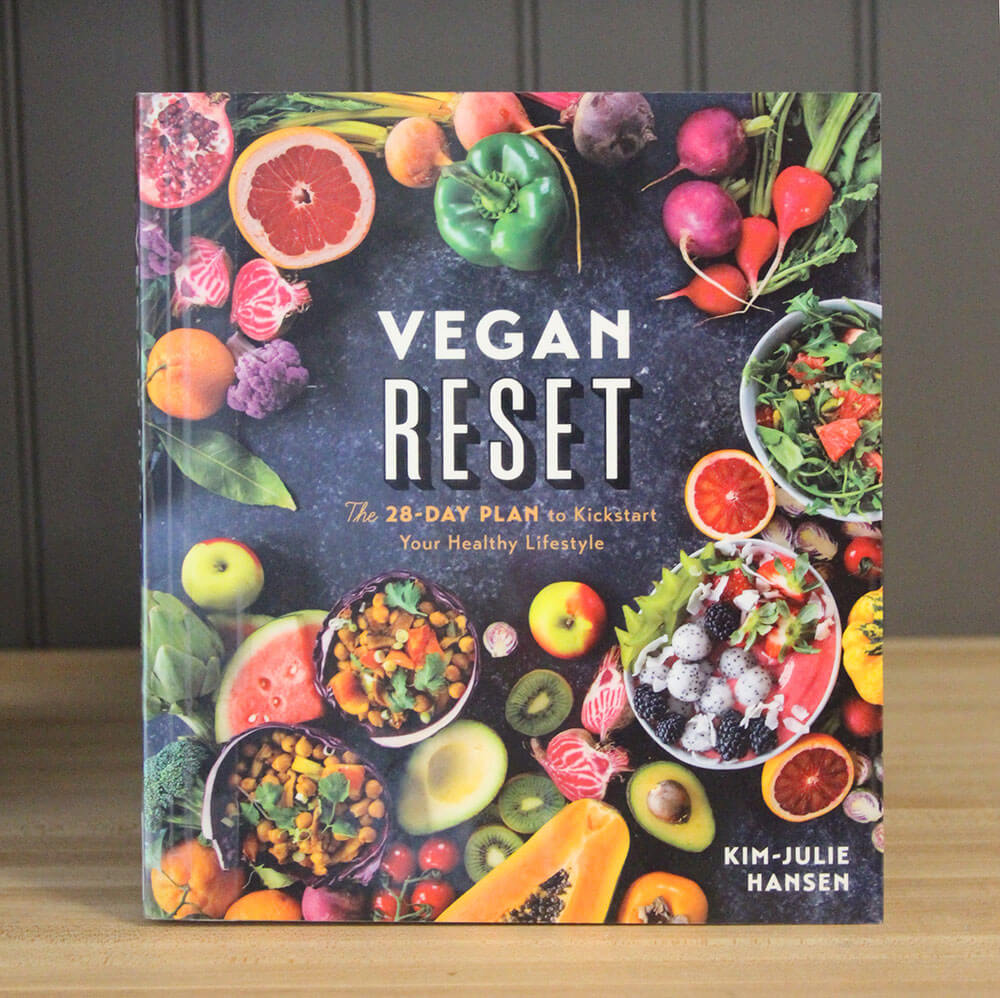 Shop on Amazon or Barnes and Noble
When Wolfie doesn't immediately run to the children's section of the library, I try and browse the new releases. I love to see what new cookbooks catch my eyes, and which ones appear to be vegan. This beautiful cover caught my attention, and when sneaking a peak inside I was sold on all the gorgeous photos. But I knew there was the word "reset" in the title, and I was wary about the content. Would it be super orthorexic? Would it be super problematic? I checked it out to find out.
Photos
Wow, the publisher went above and beyond with the photos and graphics. I can safely say I get excited each an every time I open this book. There are photos for EVERYTHING! Photos of meal prep, photos of each day, each meal, and I think there might not be a photo for all the recipes in the back, but I could be wrong.
There are also a lot of text to the book, talking about veganism and helpful information for transitioning to a vegan lifestyle. Even in these sections there is a lot of thoughtful graphic placement to keep the interest of the readers. Even if I am just flipping through the book, I find myself stopping at the text to read it. So I can easily give 10 out of 10 for the graphics and photos in this book.
Writing
There is a lot to read in this book. Most cookbooks are designed to have the text separate from the recipes, and let's be real, not many people are actually READING the books. Not the case for this. There is lots and lots of information, and it is easy to digest. That's perfect for new vegans, and overall I have to say I agree with Hansen's tone and message.
Buuuuuuuttt….. there are some red flags. There is some talk of detoxing, and that makes me feel icky. I have to say she gives a good answer to most of the problematic views on juice cleanses, but I think she gives too much credit to the idea. So close, yet so far away. Also Hansen quote Tony Robbins. Ugh. Why?! She actually quotes a lot of self-help people, which is fine, but they also give me icky feeling since, well, I feel most self-help people have their own fucked up issues and take advantage of vulnerable people. The last issue I found was talk about weight loss and gain. Overall pretty okay. It might be the authors way of addressing that most people picking up this book will be looking to loose weight.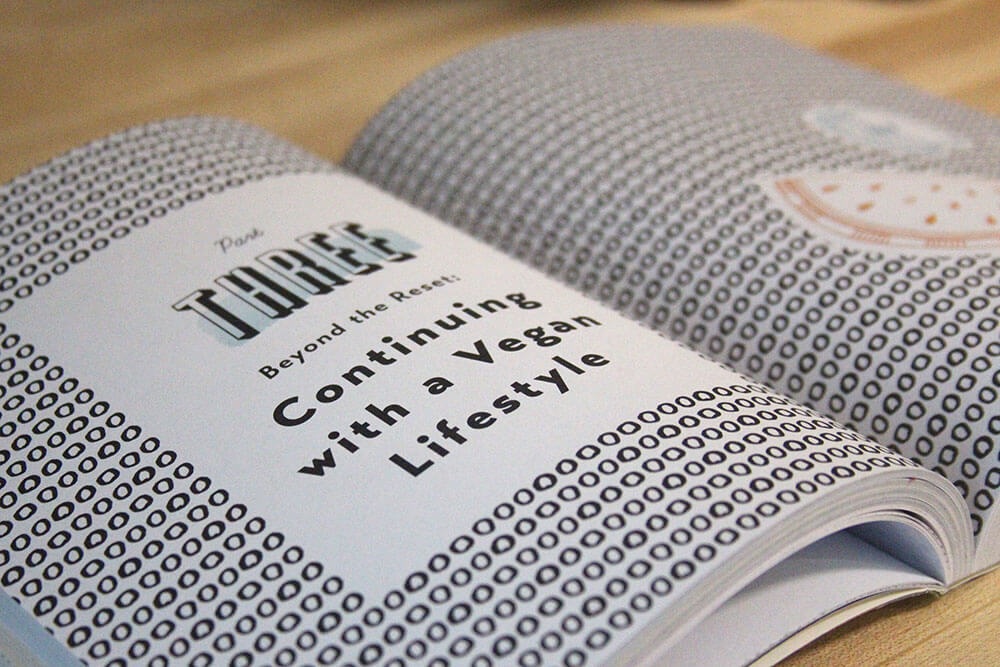 Set-Up
Somewhere in my cookbook review this section disappeared, and that may not be a bad thing since almost all vegan cookbooks have the same set up. But it's making a comeback since this book is so different from other cookbooks. This books has four major chapters, Getting Started, The 28-Day Program, Continuing with a Vegan Lifestyle, and Additional Recipes.
Getting Started focuses on shopping and kitchen tips. Hansen explains how to save money while shopping, lays down some ground work to follow the 4 week recipe line up. This is probably helpful to anyone who goes shopping just picking random things, or buying whatever is on sale. The 28-Day Program is laid out in order, she gives a list of things to prep, then has each day listed with what to make and eat. Each day has calorie counts of each meal, and has a breakfast, lunch, dinner, and one snack.
Then the second half of the book is Beyond Reset. Here there is a whole chapter on how to go vegan, talking about why to go vegan, what is plant based, how veganism is more than just food, etc. Then she has tons of recipes in the back, including staples like nut milks, smoothies, scrambles, and other meals. There are no calorie counts for these meals, which I think is Julie's way of saying calorie counting isn't the best way to design your meals, at least in the long run.
Overview
Well, if you didn't know from my new years post, or me reviewing a dieting book, I am trying to loose weight. I did take a "week off" since I was starting to get crazy hungry, so I did try to follow week 3's meal plan. The meal prep she sets up is just SOOOO much work, like more work than it is worth. She makes you do two days a week of meal prep a week; one huge day, and one smaller day. Some of the meal prep just seems pointless, like making rice or beans. But cooking rice one night doesn't seem too much to ask. I guess I understand if you are working 9 to 5 and you want to just dump a whole bunch of stuff together and just eat. I also understand that you want quick meals for lunches so your morning is free. It also seems like some meals just seem lacking. Like there are tacos that are just sautéed veggies with chickpeas. And from reading some reviews online, many people who have tried the meal plan agreed.
That being said, I like how hearty she is with the calorie counts. Each day has about 2,000 calories. Some meals are 700 calories, and I smiled that her oat breakfasts were Susan sized, with a whopping 3/4 cup of raw oats. Some foods seemed like a lot of calories for what you are getting. Like 500-600 calories for a soup? It better be delicious!
Overall, I love the style of the book, and I love the idea. But I feel like some of the planning isn't the best. For starters the meal plan is clearly for just one person. Sure you can just double the recipes, but that might not work so well. For example I was cooking dinner for me, my husband, and Wolfie, but the lunches and breakfasts were just for me. So doubling meal prep usually meant I had extras. And although she gives tips for saving money, I just can't imagine it being a cheap grocery visit. Especially since all the ingredients will never be in season all at once. But I get it, you can't please everyone unless you are making a custom menu.
But for most readers of the blog I think this book is a solid pass. The meal plan doesn't seem tasty enough to justify going on the scheduled menu plan. The recipes in the back aren't plentiful enough to justify the price, and there are lots of standard recipes that are great for new vegans, but I don't need another recipe for oat milk. But did I recommend this book? YES! I actually recommended it to my Mother who is trying to eat more healthfully. This would give he a blue print to work with, and she largely eats separately from my Father.
Recipes
Since this is set up as a meal prep book, the food is set up for an entire week. I did some of week 3, but I can safely say I did my fair share of meal swapping, last minute changes and the like. One thing I did notice was that I consistently ate less calories than listed in the book mostly because the serving was either too big, or because I didn't have any avocados. I also found that since I had more calories to eat, I would eat extra snacks, or swap out the meals for something slightly different, like a burrito wrap instead of corn tortilla.