October 23, 2015
So you may of seen my post for Vegan MOFO about How we planned our trip for Frederick. Well, we went on that trip and now I am reporting back. It is worth noting we were only there for 2 days, and mainly for a wedding, so we don't have so many things post about places to go and see. So if you read our post earlier, I talked about making a list of places you want to go to and make a small chart, maybe according to when those places are opened and figure out holes in your schedule. But always be flexible! For example our trip changed because my friend ended up having a rehearsal dinner that we were last minute invited to so we didn't do as much exploring of Frederick as expected.
The Game Plan
Thursday:
Eat breakfast at home, packed
Head out to Frederick around 10 am
Arrive in Frederick really late around 2 pm whomp whomp
Eat pre-packed wraps and apples for lunch
Spent some time unpacking, talking to our AirBnB hosts and generally relaxed
Around 3 pm we went to Flying Dog
Headed to The Orchard for Dinner
Rummaged through some used records
Headed over to the bride and grooms rehearsal dinner, late, around 8pm
Went to bed around 11pm
Friday:
Packed lunches for the hike
Drove to Glory Donuts for breakfast got two snacks for the hike
Headed directly over to Annapolis Rock trail around 10:30
At the end of the trail we ate our faux deli and cheese sandwiches
Got back to our car and got ready for the wedding
Went to the wedding around 4pm packed some bars just incase
Drank a buttload, ate fresh fruit, crackers, bread, and artichoke salad (picked out cheese)
Went to Wedding after party (we got invited to TWO! Life of the party!)
Went to bed around midnight
Saturday:
Packed all our stuff
Headed directly to Glory Donuts
Decided we were too tired (or hungover) and headed home.. whomp whomp
Packing List
4 sliced apples (2 leftover apples)
1 pack of celery sticks and carrot sticks (never ate)
1 box of clif bars
4 protein clif bars (3 leftover)
4 peanut butter packs (3 leftovers)
Tofurky Peppered Deli Meat
Go Veggie Vegan Cheese
Sliced Bread
As you can see, we didn't really eat any of our snacks. We were pretty busy or just had a lot of options of things to eat. I think if we stayed a day longer we would of eaten more them. Heck when we got home my husband pretty much ate a bagel, chips, and a clif bar. *rolls eyes* You could of just eaten the bar in the car. But part of the lack of snack eating was because we stopped by Glory Donuts and got some muffins and donuts that we partially had during the hike.
It is funny because way back when I told Alexa we had a wedding to go to in the middle of Maryland. She mentioned how she had a wedding in Maryland that was in a very boring place. She told me, but I quickly forgot. When talking to the bride and groom we asked where they were living since their wedding registry shipping address was still listed at their parents house. They explained that they lived in an apartment but it wasn't in the greatest neighborhood in Hagerstown so they were shipping it to their parents so no one would steal it. Hagerstown is the place where Alexa's wedding was. Now, before we get any Hagertownians getting mad, we are both well aware that there are nice areas and bad areas in Hagerstown. But regardless Alexa was a little bummed since there were a bunch of cool hikes and places in a short drive away.
Overall from what I can tell Hagerstown and Frederick are the two big cities in central Maryland. Hagerstown I think is bigger and more based in industries while Frederick is a college town and most people who live there actually commute to Baltimore or Washington D.C., making it a commuter town or a sleeper town. The numbers show the difference in income. According to the numbers on Wikipedia the medium income for Hagerstown is $30,796, while Frederick's income is $303,900! That extra digit makes a big difference! So each town has their own different charms. I mention this only because Alexa visited one place, and the two are close to each other, about a 30 minute drive. Frederick is about an hour drive away from Baltimore, Washington D.C and Gettysburg, making it a great place to make a day trip out of.
With that said, I think I was surprised by how cute the town of Frederick was. It reminded me a lot of Philadelphia's residential sections in Center City. Only the houses in Frederick were all in perfect condition! Although you would think Philadelphia would have the money to keep places in top shape, but many row homes are rented out into apartments, and therefore aren't always well maintained. There is clearly a town wide pride in keeping the city historic. We saw many newer building but they would be attached to older farms. On the flip side, since there is a university in the town, there are a lot of hip stores as well. Point and case would be Glory Donuts, a vegan breakfast shop.
So what can you do in this town? Well, if you are strictly talking about the town, there are a few historical sites to see. Sadly, Jon and I didn't get the chance to see them. You could easily park your car and walk around the downtown area, and expand outwards with lots of beautiful building to photograph. There are many ghost tours, walking tours, and museums. One of the most talked about museums is the National Museum of Civil War Medicine.
If you are willing to venture out of town there are lots of parks and hiking trails to the west. We went on a trail to Annapolis Rock, but there are many other places. Just ask anyone in town what their favorite trail is, and you probably will get an answer. There is Gambrill State Park, Catoctin Mountain Park, Cunningham Falls State Park, and parts of the Appalachian Trail. To the east of the city, where we stayed the night, the scene gets more rural. We passed by many different hay rides, corn mazes, petting zoo, and the like for the fall season. We could of made a day out of those alone! So there is plenty of things to do if you look around. We didn't scratch the surface since of our friends wedding. We definitely would like to make another trip down to discover the area more in the future. But for now, here is the list of places we checked out.
Food: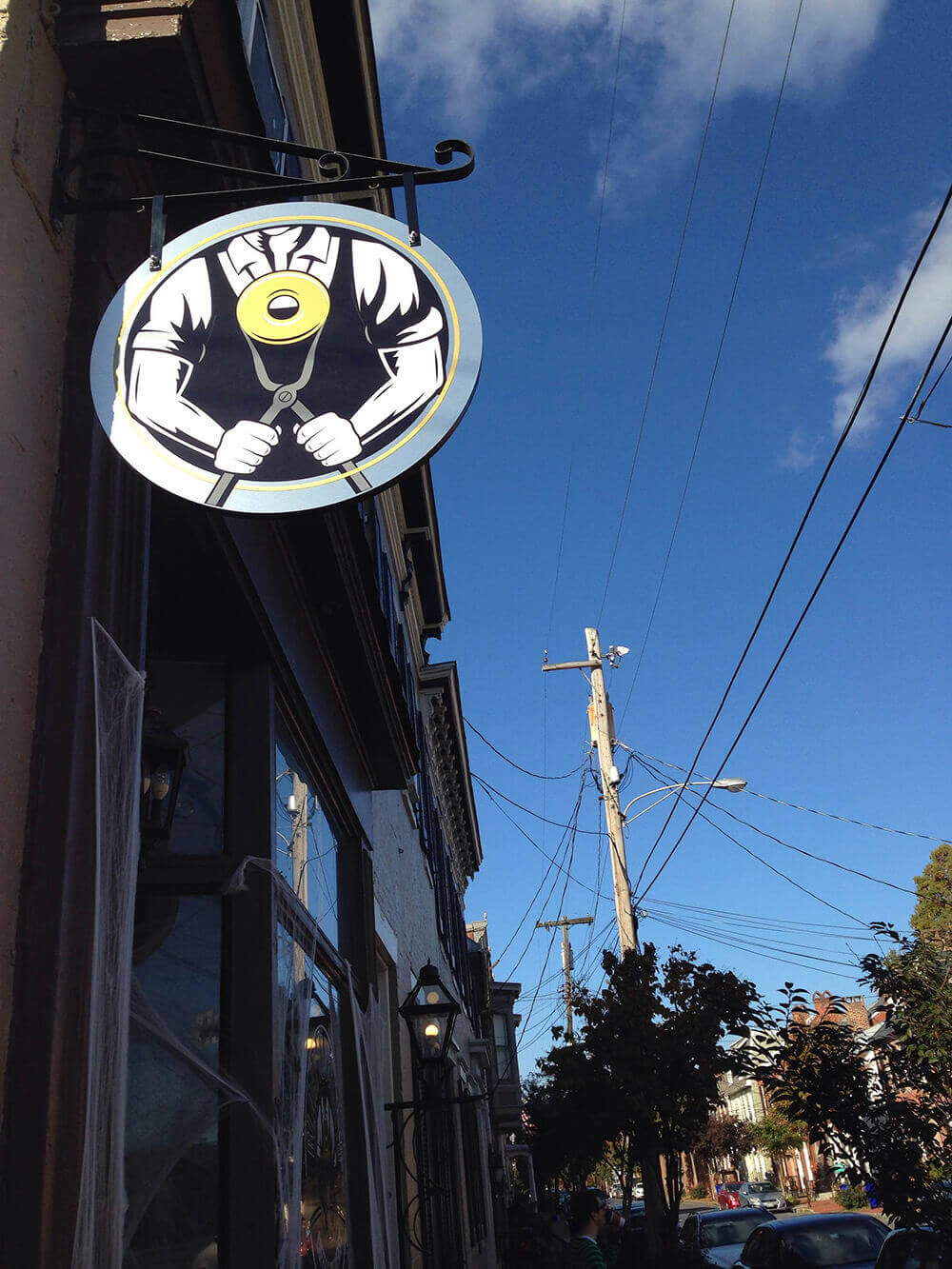 Glory Donuts
45 North Market Street Frederick, MD 21701
website | facebook | instagram | twitter
Hands down this has been my favorite place in Frederick! It is clearly a town wide favorite. My friends that were getting married heard of it and they aren't vegan or interested in vegan food. While we ate there, people were always ordering doughnuts and breakfast. I wonder how many people knew the food was vegan? Their doughnut flavors are really creative, they had rosemary, vampire chocolate (novelty vampire teeth were on the doughnut), s'mores, and chai tea. Our favorites were probably the cinnamon sugar twist, chocolate bourbon, and the peanut butter chocolate pretzel.
But they also have sit down brunch foods. They have a menu on their official website, but they have daily specials as well. We got the regular stuff though we were tempted by their pumpkin french toast! Jon got the salted apple pie stuffed french toast. Now when you hear a name like that, you sometimes just assume they use apple pie as way to describe the overall flavor, right? We were told that the french toast might take 20 minutes to make because they were still BAKING THE PIE! Yup, they weren't joking around with that. I got the bbq tofu club, which was amazing to have a savory breakfast food. It had 3 slices of toast, a tofu slice, veggies, ranch dressing, and a slice of chao cheese. When we went the second time, Jon got the bbq tofu club and I tried the tofu fried egg sandwich. Everything was pretty awesome.
I can't recommend this place highly enough! There aren't many stores like this vegan or otherwise. The staff was nice a chipper even though I was probably incoherent. They definitely know the regulars, and I even caught one of the staffers using sign language with one of their deaf customers! Okay, maybe it is a person they knew before working there, but it just shows how well educated the staff is. If you are going to Hagerstown, Baltimore, Washington DC, or Gettysburg, go out of your way to try this place out! It is your duty as a vegan!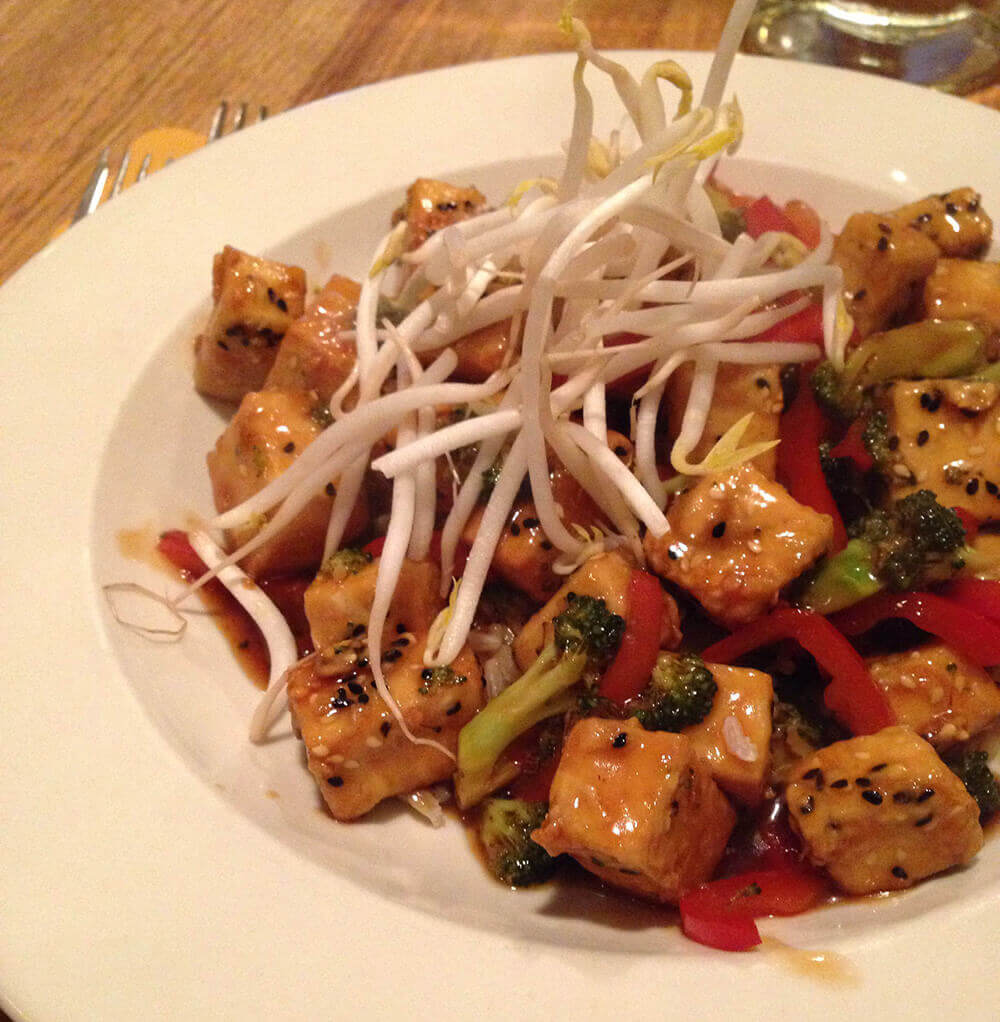 The Orchard
45 North Market Street Frederick, MD 21701
website | facebook | twitter
The Orchard is an omni restaurant focusing on organic and locally sourced foods. They mean it, even down to the booze! They do have lots of options for vegans, vegetarians, and gluten-free. They have it very clearly marked on the menu, including meals that can be made vegan. Most of the vegan options are tofu stir fries so keep that in mind when picking here to eat. There are so more options if you don't mind your food to share the same deep frier as meat. In fact, they assume that you as a vegan, wouldn't want that. So some foods in the appetizers are listed as not vegan because of this. Our server knew the menu well, and knew most of the answers on top of her head about what was and wasn't vegan.
We didn't mind the shared frier so we got the vegetable tempura which was cooked to perfection. I got the hunan bean curd (pictured above) which was pretty amazing. It was a little salty, but that is part of the dish. Underneath all those tofu pieces is a pile of brown rice. My dish was an entree, so I got a soup. I picked the BBQ bean soup, which was recently made vegan by subbing the honey for maple syrup. It was a nice balance of bbq flavor and soup consistency. My husband got the Polynesian stir fry and ate the whole thing, so I can only assume it was good.
Sleeping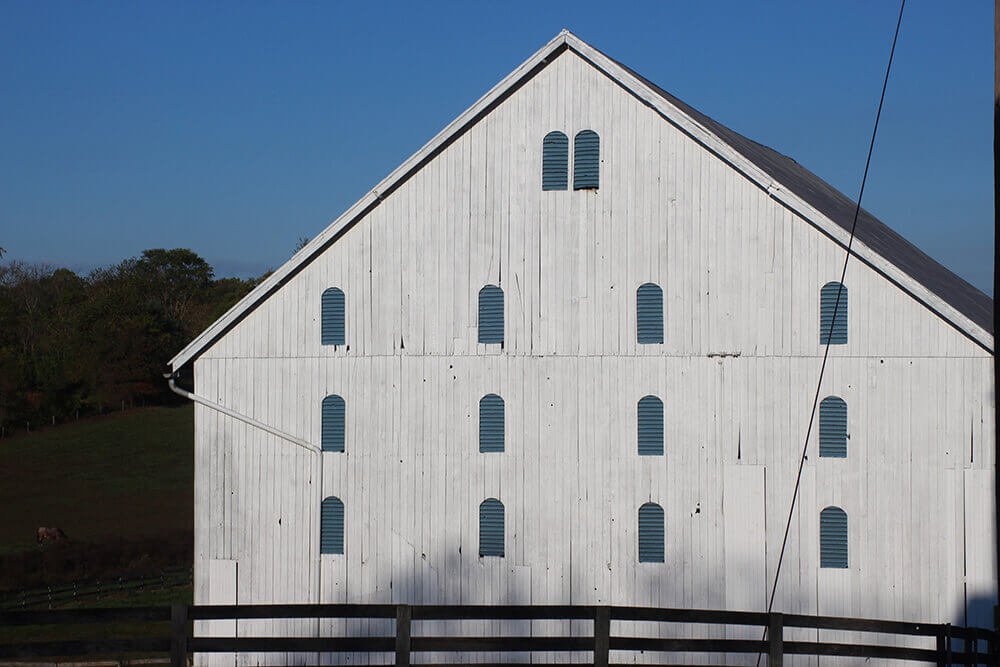 Crickenwood Farm via AirBnB
Greystone Drive, Monrovia, MD
Hydrangea Room | Silhouette Room | Victorian Room
This AirBnB is highly recommended from my husband and myself. The two owners were really nice and provided a clean and unique house. They were really laid back and we enjoyed sitting down and talking to them. There is a continental breakfast, and they offered to buy us anything we needed for our vegan diet. We would of took up that offer if we didn't keep going to Glory Doughnuts. They have a bunch of friendly puppies on their property, and they do own some cows. The place is nicely tucked away and gives a nice quiet place to sleep. Downside is that the drive is 30 minutes into Frederick, which wasn't so bad except we had to drive back and forth often because of the wedding. (we went hiking then had to drive to get dressed, the drive all the way back)
Places of Interest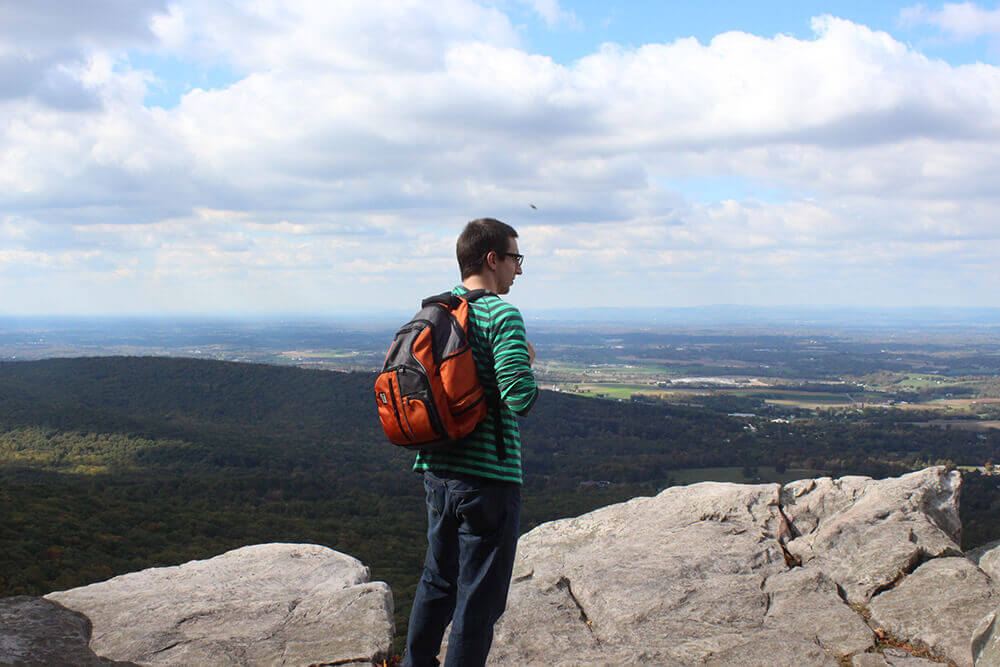 Annapolis Rock & Black Rock
12000 Government Center Parkway Fairfax, MD 22035
Trail Information
There are lots of different parks in the area, so if you want to go hiking you have options. We asked our friends if they knew of a long trail that wasn't too long that we could do before the wedding. He recommended this trail, which seemed to be popular with the locals. The trail is part of the Appalachian Trail, an important part of American natural history. I always joke with my husband that if he looses his mind and quits on the job, I would take a long vacation, sublet the house and hike the entire Appalachian Trail together. But I digress. This hike is pretty easy, it is steep on the first bit, but levels out after while. You also walk next to the highway for a little bit, but it quickly goes away. The hike is one way, so you pretty much will walk past Annapolis Rock, then to Black Rock, then backtrack to the parking lot. The trail continues, but it will not bring you back to the starting point. Roundtrip it is a little under 8 miles, and took us about 3 1/2 hours, though lots of people suggest that it would take more like 4 hours.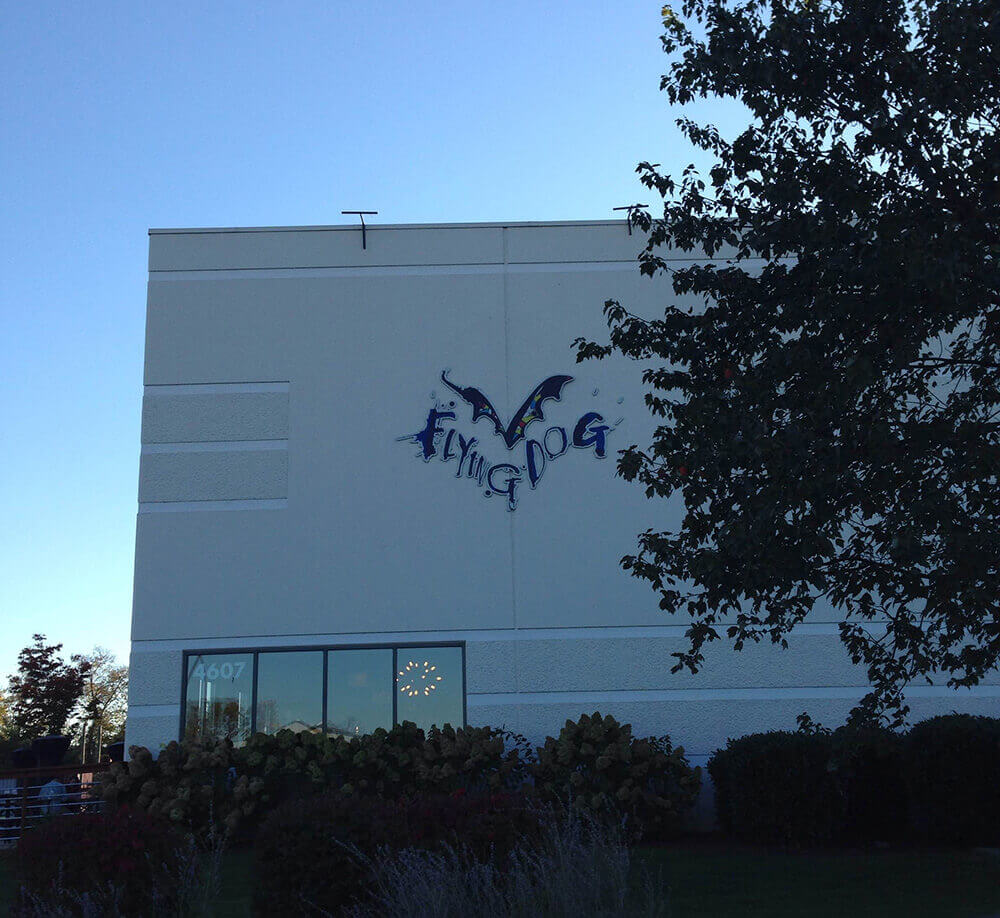 Flying Dog
Greystone Drive, Monrovia, MD
website | facebook | instagram | twitter | YouTube
Flying Dog is a fairly common beer in the area. Although we have it always around us, we rarely drink it. So visiting the brewery was really nice. They do beer tastings at their brewery, so you will get to drive down "English Muffin Lane" and through some warehouses. They do tours, but they usually only take reservations before hand, which I wasn't use to as New Jersey requires people to take a tour before sampling beer at breweries. They have it so it is set up like a bar, you can get growlers filled, individual glasses, and flights. There are also some non-vegan meat and cheese platters, but it looked like some people brought their own take out and ate it there as well, though you might want to call and ask before hand if this is okay. Their website says that children aren't allowed in the tasting area, and everyone must be 21 and older, so keep that in mind. We did get carded when entering.
All beers do not use any animal products during the filtering process, though they had a few beers in the past that used honey and oysters. So ask before filling up your glasses. The brewery is known for their experimental brews. While there we were surprised by their interesting brew choices. For example we got the Counter Culture Red Ale, which I would never of thought to put coffee in anything outside of a stout. Their best known beer is probably the Gonzo Imperial Porter. If you don't have time to check out the brewery don't worry, almost all restaurants in the area serve the beers.
The Record Exchange
151 N Market St, Frederick, MD 21701
8642 Colesville Rd, Silver Spring, MD 20910
facebook
Jon and I recently got a hold of a portable record player that sits upstairs for when we workout. So when we left The Orchard, we figured we would stop by The Record Exchange. It is a nice grab bag of vinyl, cds, tapes, dvds, video games, and even laserdiscs! Prices range from a buck to $40! It really depends on the type of record, is it new, and if it is collectable. For example they did have a copy of Aaliyah's Age Ain't Nothing but a Number that I was eyeing up, but it was like $35. But we still managed to find a bunch of records, none that we paid more than $4 for.
Rock & Roll Graveyard
115A E Patrick St Frederick, MD 21701
facebook
I thought I would mention this place even though we didn't actually get to go here since my friend swears by it. If you are a big music nerd, supposedly you can find more records at cheap prices. The owner goes to flea markets, buys a bunch of a dirty records in bulk and cleans them himself for the store. So nothing goes over a few bucks. Worth checking out since it is still in the general downtown area.