July 2, 2016
I don't normally write posts like this but lately I've been looking around for some fashion inspiration. For the first time, in a very long time, I am shopping for clothing. Mostly maternity clothing, and it has been an interesting adventure trying to find maternity clothing that are cheap, but ethical. Which pretty much leading me down the path of making my own.
The fun part of making your own pattern is that the sky's the limit, and you can draw inspiration from anything. Which is leading me down a rabbit hole of general inspiration of other fashion blogs, and is getting me a little into the fashion blogging spirit. Who knows? Maybe I will be posting my maternity fashions with tips? But for now, let me share what I've been digging lately- maternity or otherwise.
I am in love with Kaylah's new sunglasses. They look so cute with her bright green hair… *swoon.* I really want to grab a pair but right now I need to get my eyes reexamined to get a new prescription, and therefore more contacts. So for now I am stuck with my glasses. I suggest checking out her post because the dress is pretty cute too.
I sincerely hope I am not the only one obsessed with the site Advanced Style. I might not have the most over the top style, but I do have a certain degree of who gives a fuck attitude with what other people wear. And I hate the clothing that is given to women over 40. Even my boss loves to joke that she doesn't want to "dress like an old lady," but um…. I politely say she does dress her age. That is why I love this outfit. It is something even a 20-something would need a lot of guts to wear. I love it to pieces, but let's face it, I pee way too often to wear a jumper/romper. But I can dream right?
Speaking of jumpers, I am in love with the ones that Tracee Ellis Ross has been wearing. Everytime I flip channels and see her on a game show, she is wearing something amazing. Just to give you a little snippet, I love this silver lame jumper! It looks so comfy but fabulous with a pair of heels. Heck, I would wear it over big preggers belly! And sorry guys, you have to WATCH the video to see the jumper, I couldn't find a photo of it, and it isn't in the screencap.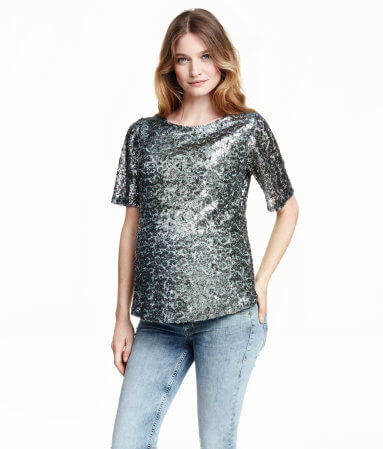 Talk about reflective disco ball bellies- I JUST bought this shirt from H&M. I had the link saved for the blog post and when I checked it out today I saw that it is on sale for $13. I couldn't beat that price, so I took the plunge and bought it with some preggers jeans and another shirt (that's a little more casual.) I have to say that I am slowly working on buying some pregnancy clothing since my belly is starting to get a little big. I can get through most of the summer (I think) so I am trying to hold off, but I am still trying to take advantage of sales.
I am not a big fan of this blogger, but I found this outfit on Pinterest. And I just want to ask- why isn't there more tent dresses at maternity stores?! Outside of making my large belly reflective, I have only one fashion dream- and that is to dress just like Rosemary's Baby. I think dresses are best thing that women have. In the summer we get free air space flowing on everything below. We only need to pick ONE thing to wear with a dress (…. it's the dress), none of this matching a shirt with shorts deal. And it is SUPER CUTE. I am in the process of constructing my own tent dress patterns because I don't know why this isn't more of a thing, but whatever. I can also scout Etsy and totally embarrass my husband with my fashion choices.
One of my favorite thing about fashion blogs is that you can view so many different types of fashion choices. You move past the mainstream options like preppy, girly, and whatever you see in a fashion magazine. Nope you see real people taking normal clothes and making it their own. I am alway amazed at how Kaylah from the Dainty Squid takes clothing that looks blah on the rack, and puts her own punk/counter culture twist to it. (note first fashion inspiration.) Now I've found Sumeyye from Modcloth's Style Gallery and love how she mixes vintage clothing and makes it her own. I really hope Sumeyye continues fashion blogging because I love what she has posted so far.
And finally, Emileigh from Flashback Summer recently posted a series about her new Maasai inspired outfit. She takes a lot of care talking about why her outfit is similar to the African people. Then posted two entries about how she made the skirt and made her blouse. Both are pretty awesome. The blouse is so cute, I like the longer length of sleeves… for short sleeves that is. I just think it makes them look classier.