August 27, 2014
I haven't talked about fashion or clothing in awhile. But fall is coming up, and I am very excited about it. Although warm weather is nice, I much rather enjoy cold weather. If I had a million dollars, I would buy lots and lots of coats. It is something I fight since I know I really only need one for the winter. I use to have a wide selection but had to get rid of a bunch since most apartments I lived in had no coat closets.
Now I feel like I should add another coat to my collection, although I might not have enough money for some of them. That's the problem with coats, they are so expensive and can only be worn for part of the year (and only part of the day too!)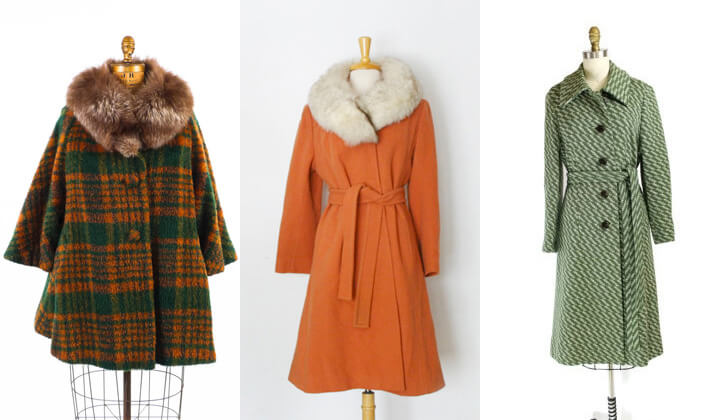 1 : Swell Farewell Vintage / 2 : The Arbor Vitae / 3 : Fox Burrow Vintage
Can I say I am absolutely in love with this plaid swing coat with fur trim? If money was no object I would buy this coat right now. It looks so warm for the winter time, and would be great for layering. And I had a coat similar to this style, and that type of fur collar- simply amazing and snuggable. But I might want something that ties around the waste for flared skirts like this pumpkin spiced colored coat. It is much cheaper in comparison, and has a great color. Fox Burrow Vintage has a great green vintage coat with a houndstooth like pattern. Though, I feel like it would be the hardest to fit clothing underneath it, making it more of an errands coat, not a walk in the city coat.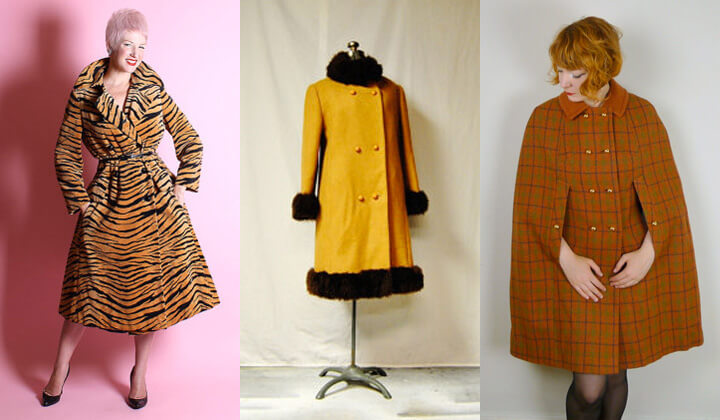 4 : Butch Wax Vintage / 5 : American Prospecting / 6 : Sartorial Matters
I am not a huge animal print person, but every so often I fall in love with it. I am not sure what makes me love this tiger print fur coat so much, but I want it badly. I was never a huge fur fan, and my vegan-like eating habits make it hard to justify wearing it. But I do love a nice vintage fur trimmed coat. Especially this mustard coat with dark fur trim. It looks nice a roomie for layering. I am also a sucker for capes. I know I shouldn't since it is impossible to hold a purse with one, but I keep buying them. And I am loving this burnt orange plaid cape.
So is anyone else hunting around for winter coats already?