May 15, 2018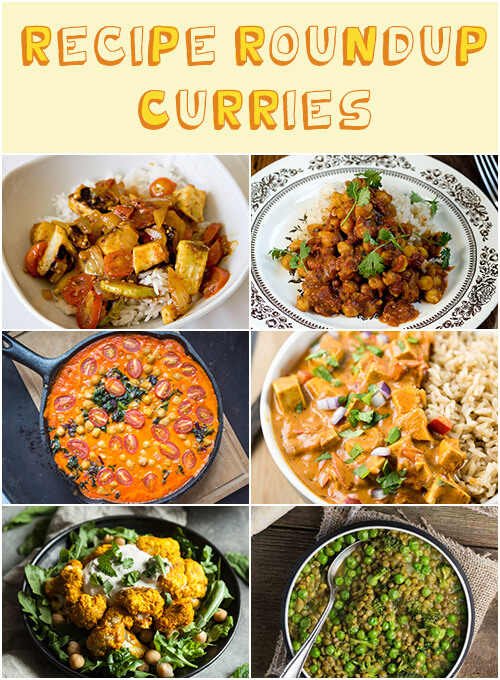 This curry round up has taught me one vital lesson. I am spoiled. Yes my idea of what a curry is, is slowly becoming quite narrow. After cooking so many dhal recipes and such from Vegan Richa's cookbook I have learned how to create so much depth and flavor to a curry dish. Now, when I stumble upon a recipe that uses plain curry powder, it makes me a little sad.
Yes, there are some curry recipes on here that just uses the yellow spice mix, and some don't. Some are called a curry and a yummy, but deep in my heart I know it is just a stew. So read and enjoy my most recent round up!
This is a very odd recipe, I've never seen a curry made this way. First you roast the kohlrabi then you cook the rice, then saute the aromatics, then add the kohlrabi to the aromatics. Very weird, but it works. She also uses chili powder which works surprisingly well with everything.
The recipe says it only take 30 minutes to make, which isn't fully true, it can be more if your oven is really old and takes 20 minutes to preheat. My second complaint is that the recipe really only makes enough for two very hungry people. I might be interested next time doubling the recipe. And I was using a pretty HUGE kohlrabi too!
My word of caution is to peel the kohlrabi well. I didn't and it was very tough in some parts. My husband described it as being stabbed by the curry. This is an easy fix.
Bottom Line: Yummy, easy
This is one of my summer favorites. When my CSA is producing tons of tomatoes, it isn't a big deal to use up three pounds of tomatoes in one dish. In my area, that many tomatoes can cost $9 overall or $12 organic. It isn't the worst amount of money when you consider that it makes 4 servings, etc, etc. But when your cheap like me, it is a big deal.
What I find interesting about using fresh tomatoes instead of tinned is that you get two very different Chana Masalas. Canned results in a sweet dish, and that is how most Westerners learn how to make Chana Masala. That is all fine and dandy, but I like how this dish is practically all the same ingredients but show how you can get something totally different with a few tweaks. The end results is a tangier curry that was awesome. I love any chickpea based curry, and if you like Chana Masala you might to give this a try.
Bottom Line: Pricey with tomatoes, super yummy
I pretty much picked up on this recipe since it looked simple and used cocktail or cherry tomatoes. I do have to say it is insanely easy. Roast some bell peppers, saute onion and garlic, then blend with a bunch of stuff. Then mix with spinach, chickpeas, and tomatoes, and bake. It might take over an hour to make, but the active and clean up time is pretty minimal. I also had the brilliant idea of using pasta instead of rice. I think both would of worked well, but I am slightly more partial to the pasta. The rice would of been good at grabbing onto the thin sauce.
I think the only downside to this curry is that it probably needs more salt… or rather more defined amounts of salt. I think the author sprinkled more salt onto the bell pepper than I did. So in the end the sauce was a little bland and I sprinkled a lot of coconut aminos on it. Which is fine and still tasted amazing. I will definitely make this dish again in the future. You could speed up the cooking process by using jarred red bell peppers.
Bottom Line: Super easy, lots of down time
Here is the biggest flaw in the recipe, you slow cook for a total of only 4-6 hours. Sucks. Most people use their slow cookers before they go to work, making most people out for 8+ hours. I know that isn't how everyone has it, but most. So that is my number one complaint. It isn't a big deal if, say, you want to make this on the weekend, or perhaps if you are a stay at home mom. Maybe you can come home during your lunch break? There are many situations where you can make this.
Oddly this is the second curry on here that uses cherry tomatoes. Odd, but I am loving this idea. I get so many cherry tomatoes from my CSA, and sometimes, I can't just eat them raw in salads and wraps. I liked how they created sweet little bursts of flavor in the sauce. Slow cooking REALLY makes the flavors come out in the sauce, and I will be making this again for sure. I think in the future, I may want to bump the tofu from 1lb to 1 1/2lb. I was able to cut cubes for Wolfie and cover it in extra sauce. Baby approved.
Bottom Line: Great for stay at home moms or people who can come home for lunch to prep
This dish I am on the border of printing out and making more often. It was pretty minimal work. Blend the raita up, chop and toss the cauliflower in a quick sauce, bake, and assemble. Pretty simple. It is also pretty darn healthy. I served it with a little bit of leftover brown rice instead of greens, though just the greens would of been tasty as well.
I have two complaints. One, which isn't as big of a deal, is that there was SOO much leftover raita. I am not 100% sure what to use it for, but I will have to think of ways to use it up. The second complaint is that I wish there was a LIITTLE more flavor to the cauliflower. I didn't use a whole head of cauliflower because it looked like there was too much for sauce. So I think if I made this again, I would double the sauce coating. Maybe even toss the chickpeas in it?
Bottom Line: Lots of extra raita, wish for more sauce, OVERALL YUMMY!
I like how easy this recipe is. Very simple, but surprisingly large amount of flavor. It calls for green lentils, but I went for brown since they were the only ones available. I am sure green lentils would of tasted better, because I don't know many people who prefer brown. Oh well.
This dish is as simple as saute the onion and garlic, add water, coconut milk, and lentils and simmer. Then toss in the peas and broccoli, cook JUUUUST a little longer, and that's it. This involves very little chopping and prepping. This is something I would feel very comfortable leaving for my husband to make. This will get printed and filed away for him to make one day when he needs to make dinner on his own.
Bottom Line: Yummy, easy