March 13, 2015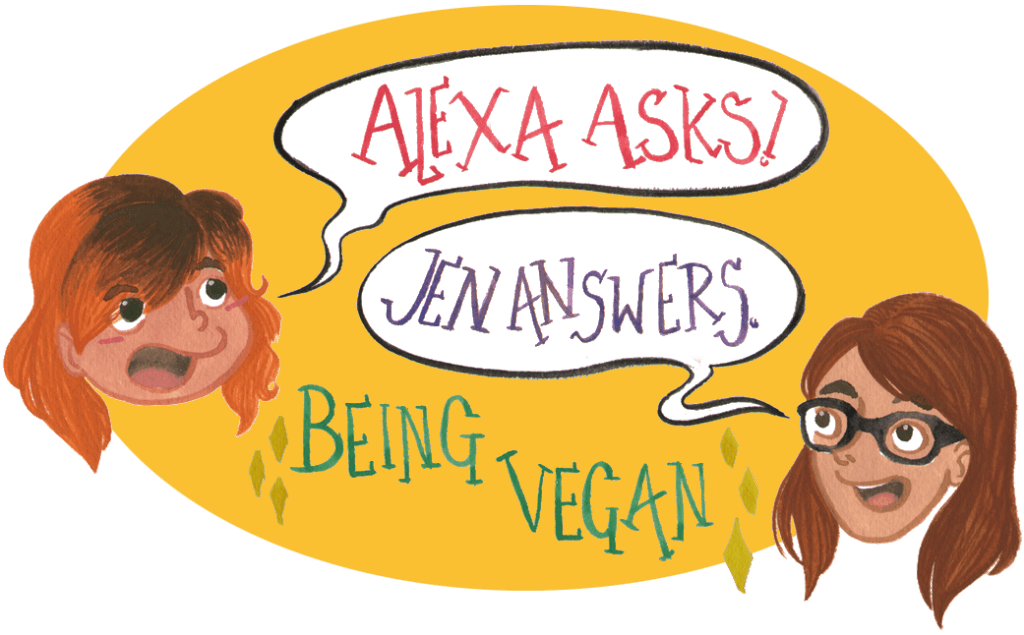 Alexa is working toward a vegetarian diet, and is loaded with questions. Jennifer's got answers. We talk about anything as long as it is vegan. Are tattoos vegan? How do I politely not eat Thanksgiving dinner? How do I order without pissing off the waitress? We know you are dying to ask!
I've been doing crossfit, and trying to stay active. In the protein post, you recommend upping protein for people who are more active. Should I use protein powders? Are they really healthy?
If someone came up to me saying they were worried about their protein intake, I would necessarily start pointing them towards powders. But I wouldn't discourage people from using them. They've kind-of earned a reputation of being something for die-hard muscle builders, and certain brands are filled with garbage to make them taste better or dissolve faster.
That doesn't mean they are all bad for you. But as a vegan you need to proceed with caution when buying protein powders. Many brands use whey or egg whites since some people think they are better absorbed by muscles. This is only half true and has a long complicated answer. The important thing is that you still absorb the protein in vegan based proteins.
Protein powders are great to toss in a shake to quickly add protein to it. Some protein powders say to mix in water, or plain soy milk. But truthfully they taste best when added or incorporated into a smoothie with fruits. A quick formula would a cup liquid, a cup fruit, and a serving of protein.
So where do you start? I like to divide protein power ups into thre categories: pure powder, powder mixes, and raw ingredients.
Pure Powders
When a vegan first dabbles in protein powders they might see comparisons to brown rice protein, hemp protein, soy protein, etc, etc. Each have their own benefits, nutritional profiles, and price ranges. Soy protein is widely available with store brands, and can be the cheapest. For example Trader Joe's have their own soy and hemp protein powders. I personally use brown rice protein or hemp protein on alternating days, or depending on the type of shake I make. There are tons of sources, but very few brands sell completely isolated varieties.
The benefit? These have higher amounts of protein for less calories. Sometimes they are gritty, so I never use the full recommended serving size. I usually use just a tablespoon or two in a shake. They can dissolve with some extra blending, and usually dissolve better when you add more than just water or milk to the shake.
The most common protein powders? Brown Rice Protein, pea protein, soy protein, and hemp protein. I left links to products for each protein powder. Make note that these are not the ONLY brand. Each brand have their own taste and ingredients list.
Powder Mixes
There is an ever increasing amount of vegan protein blends. They are usually much more expensive than "pure powders." I found that buying single ingredient protein powders usually averages $1-$1.50 per suggested serving, less if you are only using part of a serving (like I do). Powder mixes are intended to be used by the scoop and have a collection of different powders using peas, quinoa, rice, sprouts, you name it. Other vitamins and nutrients are added which can help you meet some trickier dietary needs like calcium, B12, iron, etc. Many are designed to be a meal by themselves. Because of all these extras sometimes the serving sizes are can be $2-$5 each! Some of these inflated prices come from shipping since they are sometimes only sold online.
The prices might seem crazy, but the more active I become, the more it makes sense. I really enjoy having a high protein – high fiber shake after a workout. It really helps with recovery. And it makes sense to have a blend that I can just toss in a blender without anything extra and chug down.
There is also a HUGE taste difference. "Pure powders" usually taste awful when pair purely with water or milk. They work best when you pair them with an already existing smoothie recipe. I've had some powder mixes that taste wonderful with some milk and ice blended together. Nothing else. Honest.
Thinking about trying it? Well, if you are scared to buy a whole tub, many health food stores have sample pouches. They are great when on the go, and to simply try out a blend. Many times you can find some deals on blogs giving away samples or having contests for tubs. Some mix brands that I really enjoyed were Vega, Nuzest, Sunwarrior, Plant Fusion, Phood, and Spiru-tein. Sample around before committing, because honestly everyone has their own personal tastes. Plus if you go into a whole foods, supermarket, or health food store they almost always have some single serving packets you can try.
And it might get confusing, many brands have specific protein blends. Some for dieting, some for sports, some meal replacements, etc. Try not to over think it. Just try and rationalize your decision by price, protein content, taste, and ingredients.
Raw Ingredients
Alright, so maybe you don't want to buy any powders. There other ways to boost protein in your shakes. It is called adding raw ingredients that are naturally high in protein. Duh! There are lots of ingredients you can add to a shake, soaked nuts, hemp seeds, flax seeds, chia seeds, soaked buckwheat groats, nut butters, oats, yogurt, soy milk, tofu, and spirulina.
The downside? Well, you usually can only add so much before it really effects your shake. Add too much chia seeds and you will get a goopy mess. Add too much yogurt and your shake will be too tart. Nuts will add a lot of fats with your protein. You get the gist. Listed below are some high protein shakes and DIY protein blends:
DIY Protein Powders:
Fork and Beans: Candida Friendly Protein Blend
Back to Her Roots: Oat, Rice, & Lentil Blend
High Protein Shakes with No Protein Powder
Minimalist Baker: Recovery Shake 8 grams
PopSugar: High Protein Vanilla Milkshake 17 grams
Oh She Glows: Green Warrior Protein Smoothie 17 grams
This Rawsome Vegan Life: Chocolate Berry Protein Smoothie
Choosing Raw: Green Apple, Pumpkin, and Quinoa Smoothie 20 grams
TLDR: Powders can be good
Overall, protein powders are getting better and better. They are much more wholesome than they were in the past. But still buy with caution. There are lots of blends with fillers and other "stuff" in them that aren't necessarily great for you. The plus is that most of those protein blends tend to have non-vegan ingredients in them, so you wouldn't buy them anyways.
There are cheaper "whole" ingredient blends, but they can overpower your shake easily. Blends can be great but can have high price tags. But if you are looking for convenience and taste, you probably just one to buy those. But if you are still not sure, there are plenty of option using whole, unadulterated ingredients.