April 16, 2018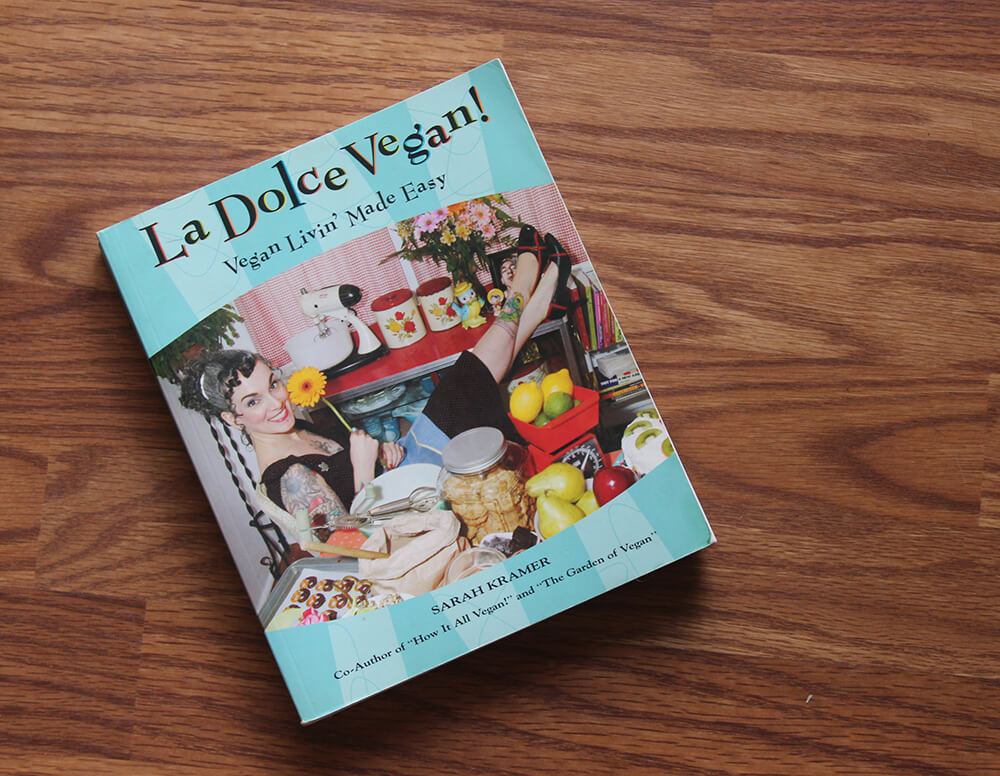 Ebook: Amazon or Barnes and Noble
Paper Copy: Books a Million or Indie Bound
I decided I should write a review for this book since Sarah Kramer wrote on her social media that her publisher wouldn't be reprinting this cookbook. A bit of a bummer since this was favorite out of her three books (How It All Vegan and Garden of Vegan) as it has such a large selection of recipes, tips, and tid-bits.
After reading Jenny Marie's cook-a-long monthly challenge, I thought it would be fun to share some posts reviewing the book as well. If you have a blog with a review (specifically of the recipes), leave a comment and I will add you to the list.
Dolce Vegan Challenge | Eatin Vegan in Smalltown USA | Kittens Gone Lentil | To Happy Vegans | Traveling Vegan | Two Vegan Boys
Photos
None. Same as How It All Vegan, there are no photos, at least of food. There are various photos of Sarah between chapters and I am guessing of her posing with various fans (and Vanilla Ice). The photos are in black and white, and are there just to be fun, keeping the pages visually interesting.
Set-up
La Dolce Vegan is set up a little differently from Kramer's first two books. She starts by talking personally, her struggles with the new book, going solo, what to write about, cookers burn out, etc. She lays the ground work- this book is about fast and easy recipes. Cool. Then she talks about staying on the vegan track, and little tips here and there about common reasons why people stop going vegan. I like how she keeps with her themes of giving useful information about veganism, but tries to not be too repetitive. She then has a whole chapter on random tips in the kitchen, which only takes a few minutes to read. There are always little bits of helpful information in there.
After the introductions she has the following chapters for recipes: Breakfast, Appies & Snacks, Salads & Dressings, Soups, Entrees, Sauces, Side Dishes, Desserts, Baked Goods, Faux Fare, Odds & Sods, and DIY. The DIY section clearly aren't recipes. It is like a little punk pinterest chapter with little bits and ideas to use some of the "junk" around the house. I personally didn't use any of these ideas, but there are some fun ones. It is also worth noting that the Desserts and Entree sections are subdivided into smaller categories. There are A LOT of entrees and A LOT of desserts to choose from.
Writing
It is funny reading both How It All Vegan and this book from front to back, and seeing the difference in writing styles. You can see how Tanya's voice comes through. I find Sarah Kramer's overall writing style a little more scattered brained and light hearted. Some descriptions are purely submission letters, as not all recipes are written by Sarah, or simple a joke that has nothing to do with the recipe. There are so many recipes, that I understand that it is overwhelming to write a description for each one, and that it would probably get repetitive anyways. I mean, I am not sure how often people actually READ the descriptions anyways.
Overview
This is Sarah's love letter to the fans. Clearly. It is also the most realistic cookbook to use in day to day life. They are short, simple, and made mostly for 2 people. The book is very transparent about which recipes are Sarah's and which ones are made by fans. And you could be asking why release a book with so little recipes made by the author, but I like the idea that Sarah cherry picked the best recipes and put them in one book.
One of the things that I love about Sarah Kramer is that she is very friendly and seems to be very grateful for her fanbase. She is usually non-judgemental and doesn't post much that seems "flaming angry vegan." I am not 100% sure who is the best audience for this book, as I know a lot of beginners like to have photos of the recipe. I understand this want and need, it can be hard to feel inspired to try a recipe otherwise. But if you can look past that, there are a lot of great recipes in here, and one that could keep you busy for the entire year.
The Recipes
Here are my individual recipe reviews. Two things to note- since most of these recipes are all ones I've made over the years, some are just ones I remember. Some recipes I am pretty sure I've made but can't remember any specifics. I also left links to any recipes I found online. Normally I only link approved recipes, but this book is out of print, and there wasn't that many available. I came to conclusion that the links, if anything, might encourage readers to buy the book if they liked the recipe.