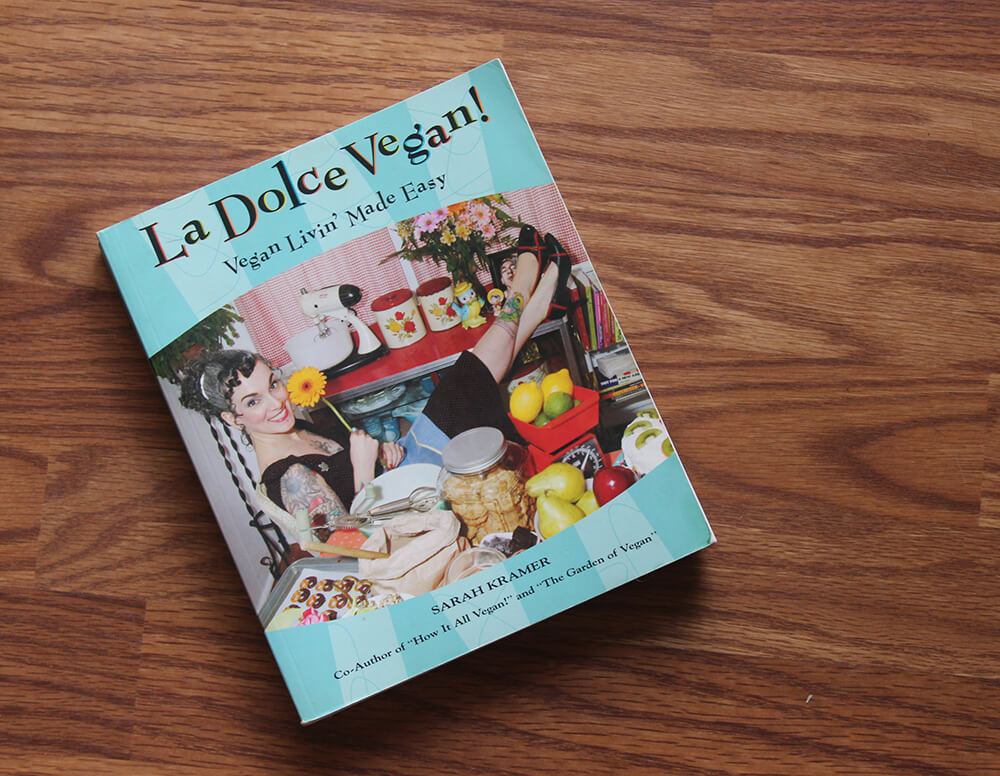 Ebook: Amazon or Barnes and Noble
Paper Copy: Books a Million or Indie Bound
I decided I should write a review for this book since Sarah Kramer wrote on her social media that her publisher wouldn't be reprinting this cookbook. A bit of a bummer since this was favorite out of her three books (How It All Vegan and Garden of Vegan) as it has such a large selection of recipes, tips, and tid-bits.
After reading Jenny Marie's cook-a-long monthly challenge, I thought it would be fun to share some posts reviewing the book as well. If you have a blog with a review (specifically of the recipes), leave a comment and I will add you to the list.
Dolce Vegan Challenge | Eatin Vegan in Smalltown USA | Kittens Gone Lentil | To Happy Vegans | Traveling Vegan | Two Vegan Boys
Photos
None. Same as How It All Vegan, there are no photos, at least of food. There are various photos of Sarah between chapters and I am guessing of her posing with various fans (and Vanilla Ice). The photos are in black and white, and are there just to be fun, keeping the pages visually interesting.
Set-up
La Dolce Vegan is set up a little differently from Kramer's first two books. She starts by talking personally, her struggles with the new book, going solo, what to write about, cookers burn out, etc. She lays the ground work- this book is about fast and easy recipes. Cool. Then she talks about staying on the vegan track, and little tips here and there about common reasons why people stop going vegan. I like how she keeps with her themes of giving useful information about veganism, but tries to not be too repetitive. She then has a whole chapter on random tips in the kitchen, which only takes a few minutes to read. There are always little bits of helpful information in there.
After the introductions she has the following chapters for recipes: Breakfast, Appies & Snacks, Salads & Dressings, Soups, Entrees, Sauces, Side Dishes, Desserts, Baked Goods, Faux Fare, Odds & Sods, and DIY. The DIY section clearly aren't recipes. It is like a little punk pinterest chapter with little bits and ideas to use some of the "junk" around the house. I personally didn't use any of these ideas, but there are some fun ones. It is also worth noting that the Desserts and Entree sections are subdivided into smaller categories. There are A LOT of entrees and A LOT of desserts to choose from.
Writing
It is funny reading both How It All Vegan and this book from front to back, and seeing the difference in writing styles. You can see how Tanya's voice comes through. I find Sarah Kramer's overall writing style a little more scattered brained and light hearted. Some descriptions are purely submission letters, as not all recipes are written by Sarah, or simple a joke that has nothing to do with the recipe. There are so many recipes, that I understand that it is overwhelming to write a description for each one, and that it would probably get repetitive anyways. I mean, I am not sure how often people actually READ the descriptions anyways.
Overview
This is Sarah's love letter to the fans. Clearly. It is also the most realistic cookbook to use in day to day life. They are short, simple, and made mostly for 2 people. The book is very transparent about which recipes are Sarah's and which ones are made by fans. And you could be asking why release a book with so little recipes made by the author, but I like the idea that Sarah cherry picked the best recipes and put them in one book.
One of the things that I love about Sarah Kramer is that she is very friendly and seems to be very grateful for her fanbase. She is usually non-judgemental and doesn't post much that seems "flaming angry vegan." I am not 100% sure who is the best audience for this book, as I know a lot of beginners like to have photos of the recipe. I understand this want and need, it can be hard to feel inspired to try a recipe otherwise. But if you can look past that, there are a lot of great recipes in here, and one that could keep you busy for the entire year.
The Recipes
Here are my individual recipe reviews. Two things to note- since most of these recipes are all ones I've made over the years, some are just ones I remember. Some recipes I am pretty sure I've made but can't remember any specifics. I also left links to any recipes I found online. Normally I only link approved recipes, but this book is out of print, and there wasn't that many available. I came to conclusion that the links, if anything, might encourage readers to buy the book if they liked the recipe.
Adam's Yellow Split Pea Chowder
Section: Soups
This soup I made I think because I didn't have much budget left on my grocery list, and had another meal to fill. I was not a fan of it. The recipe calls to include rice in the recipe to cook, and it gets pureed into the soup. I personally didn't like the texture the blended rice gave.
Baked Chili with Cornbread Biscuit Toppings
Section: Entrees: Miscellanious Entrees
This is a really yummy dish. The description mentions that it makes a lot and it is great for parties. It was pretty easy to put together, so it does make a pretty agreeable party dish. Most of everything comes in a can, but clearly you can use fresh corn or home cooked beans. Whatever.
My only complaint is the same as with most cornbread topped casseroles, I found the cornbread to filling ratio too high. It would be nice to have a little more filling to the cornbread. Not the biggest issue in the world. But it is pretty tasty and totally recommend making it- at least once.
Beauty and the Beet Borscht
Section: Soups
This was the first borscht I've made and I feel in love. I love this version with the tomatoes to add a nice burst of acidity to the earthy beets. The sour cream adds a nice cool creaminess to the dish. I dare to say that I like this soup better than the borscht that Isa Chandra makes! I know! Crazy. But I swear- it is all in the that beet-tomato combo!
Black Bean & Sweet Potato Burritos
Section: Entrees: Miscellanious Entrees
These burritos fall in the "takes a little longer" category. But they were pretty easy, even though they take a good bit of time. Most of the time is just waiting for the sweet potatoes to cook, which you can easily do ahead of time. Sweet potatoes and black beans are a great combo, and some people aren't aware of it. The dish is pretty easy to customize, add lettuce, or other raw veggies.
Bountiful Beans & Brown Rice
Section: Entrees: Rice Entrees
This is a recipe I like to make when I am running out of cash during my weekly grocery trip. Most ingredients are ones I have laying around, and even if I don't they tend to be cheap. It isn't my FAVORITE recipe in here. Just so so. I think it could be jazzed up with some cajun spice mix.
Breakfast Banana Smoothie
Section: Breakfast
I think this might be Wolfie's favorite smoothie! I usually make a giant chocolate smoothie and divide it between Jon, Wolfie, and I, but I ran out of protein powder and figured I would give this recipe a try. Boy howdy, there isn't many ingredients but they work perfectly together. It is pretty much 2 cups milk, 1 frozen banana, 3 tbsp tahini, and 1 tbsp flax oil. I subbed the flax oil with chia seeds, and I added some ice because I doubted how thick the smoothie would get.
Cinnamon Apple Muffins
Section: Baked Goods
These were very yummy. The recipe uses vegan butter, which makes it a little hard to make without a stand up mixer. I would like to try with oil instead just because it is faster. There is a yummy strussel topping and there are small bits of chopped apple baked inside making them super yummy. This is a recipe that I wish I would make more often since it was so easy and tasty.
Cinnamon-Spiced Roasted Veggies with Couscous
Section: Entrees: Rice Entrees
Recipe: Humane Society
This is a quick dish to prep, though there is some waiting time for the roasting. I found it only okay, maybe because I was expecting more flavor bursts. Although this is under "rice entrees" it is really couscous, as you can tell by the name, but I guess it is easy enough to swap out with rice.
Claire's Macaroni and Cheeze
Section: Entrees: Noodle Dishes
This recipe is a little comical in a way. It is practically the exact same recipe as the non-vegan mac and cheese I would make growing up. Basically you are making a béchamel (white) sauce, then melting cheese, in this case vegan cheese. I've made it with vegan cheese and it was pretty good. I also used this to mix in pumpkin puree AND cheese and that was a great combo. The sauce is suggested to just mix with pasta, but it is also good to mix with the pasta and bake for an oven mac and cheese.
Eggplant Bharta
Section: Entrees: Rice Entrees
Recipe: Fat Fueled Vegan
This is one of my favorite dishes to make during the summer. It is super easy and I get so so so many eggplants from my CSA. Er… well any eggplant is too many eggplants for me lol. And I also tend to get tomatoes around this time of the year, making this very seasonal. Nice!
Aside from how well it works with my weekly produce income, it is very tasty and very quick to make. I don't even think I make that much of a change to the overall recipe. I think the only thing I do is omit the extra hot pepper, but that is usually out of laziness.
Jessica's Cure What Ails Ya Garlic Soup
Section: Soups
I've made this many times before, replacing chicken noodle soup in the house! It is pretty tasty, except I up the miso to give it much more bang. I've also been known to eat the whole thing by myself. I mean you gotta keep your fluids up when sick right? I think the only modification I SOMETIMES make is adding noodles to the dish, making it a little close to chicken noodle soup on the comfort scales.
Marianne's Goulash
Section: Entrees: Noodle Dishes
Is goulash just hamburger helper? Or is this just misinformed me. This dish makes me think of some sort of childhood dish that everyone grew up with except for me.It is easy to make, full of flavor, and cheap. I think I used TVP for this, and it turned out pretty fine. In case anyone outside of the United States is reading this, Goulash in the states is pretty much a dish with elbow noodles, ground beef, and tomatoes.
Punk-kin Pasta
Section: Entrees: Noodle Dishes
This is one of my favorite recipes, and up there with the Cabbage Tomato Soup for most used recipes. I love this dish because I always have pumpkin or butternut squash puree kicking in the house. It is pretty much just pumpkin puree, a little stock, then some pasta and vegan sausage. Since there isn't much flavoring a lot of this dish depends on the sausage. It has now become a science of just using Trader Joe's chorizo instead of sausage, and it is SOOO good. I recommend making this dish if you know you have some good vegan sausage in the fridge along with a can of pumpkin and pasta.
Quick Ginger Carrot Soup
Section: Soups
Recipe: Help for IBS Forum
The title delivers. This is a quick soup that is very carrot-gingery. Nothing to write home about, but definitely yummy. A good recipe when your pantry is low and you don't have much time.
Raunchy Red Lentil Soup
Section: Soups
I love how simple and easy this recipe is. Quick to make and by blending only half of the soup you get a really creamy soup without destroying all of the texture. I've made it a few times, cheap easy and filling. It seems most of the internet got this memo as it is pretty easy to find pictures and blog reviews online.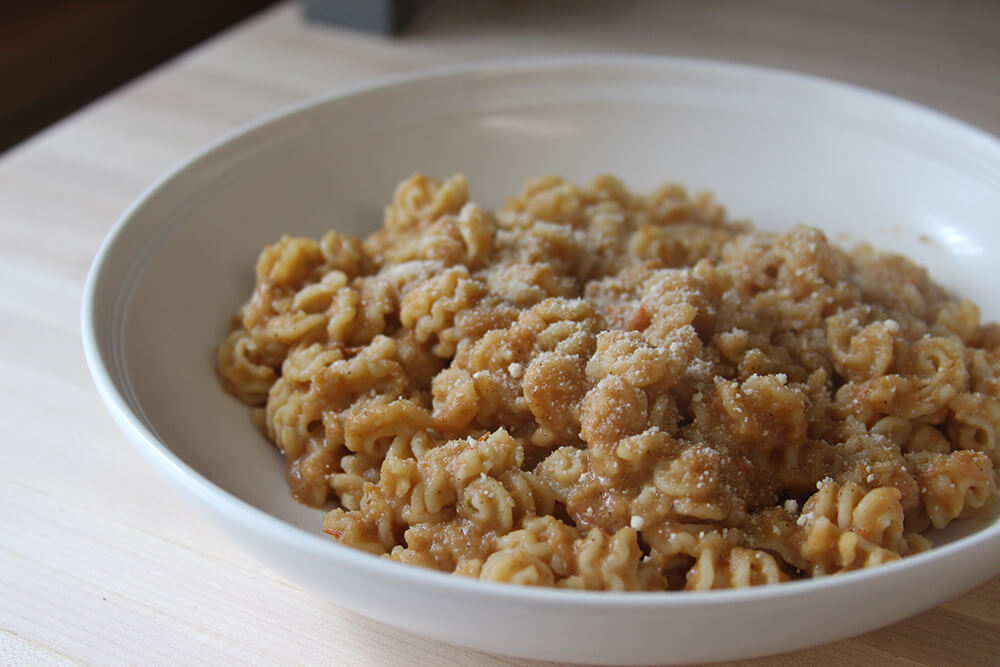 Red Lentil Pasta
Section: Entrees: Noodle Dishes
This complaint is the same for all pasta dishes- she just writes "enough pasta for 2" That leaves me confused on how much is enough? Mainly as a point of view of how much sauce to pasta ratio is needed. I did about half a box of pasta for this dish and it turned out very good, but I used a pasta with lots of "frills" to hold onto the sauce. Susan says that her's was a little bland, I didn't have this issue. BUT I used my homemade stock, so that could of amped up the flavors quickly. But you can easily add any spices you find fits your mood, as red lentils and tomatoes goes well with almost all spices.
Sesame Roasted Asparagus
Section: Side Dishes
This is my first time trying to pan fry asparagus, and I am not sure if I like it. I had a hard time deciding when the asparagus was done, and they didn't fully fit into the pan. It isn't like this method doesn't work, but it was hard choosing a pan. I think something square or a griddle would be the best option as a round pan tends to only fit the asparagus in the widest spot, and the ones that wouldn't do that seemed too big (at least from my options). The seasoning is simple, it works.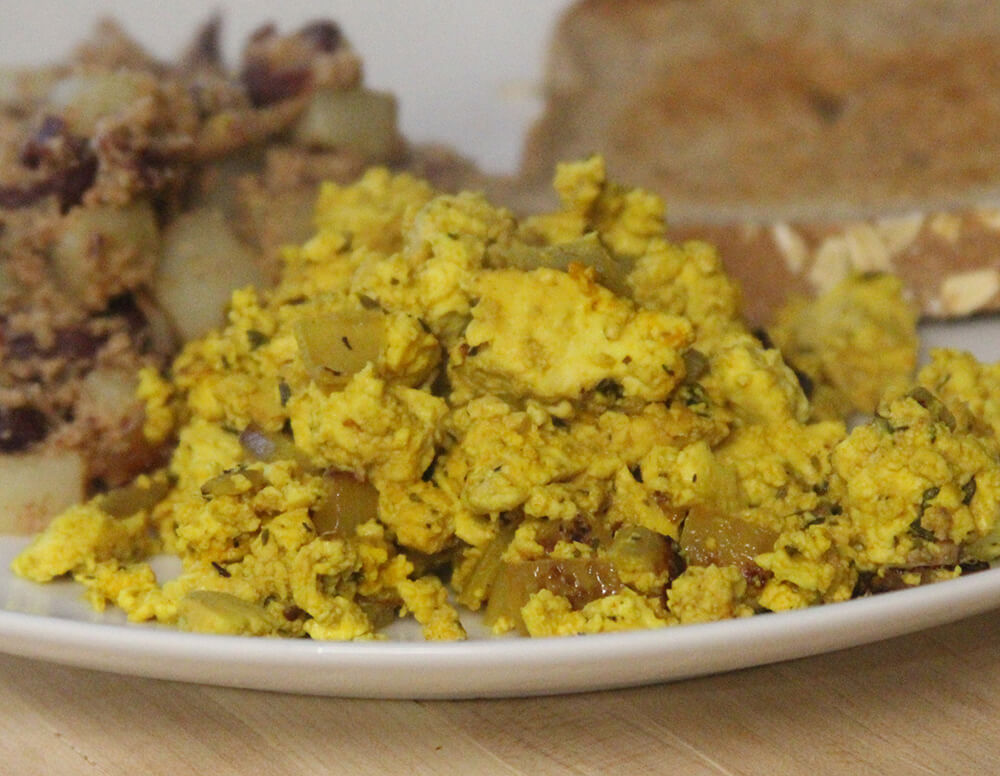 Sleepy Sunday Morning Scramble
Section: Breakfast
Recipe: Genius Kitchen
As further proof that I am not a breakfast person, I had to make this scramble for dinner. Yes, as a way to get the "breakfast" sections done in cookbooks I have resorted to make some of the recipes for dinner. BUT I can say the recipe lives up to the name "sleepy sunday" as this scramble takes less than 10 minutes to make! It is really easy to toss together, and heck if you are super lazy, leave out of the onion and tomato.
I did leave out the tomato as they aren't season right now, and I didn't want to buy another. The scramble is pretty solid without it. Just enough of everything. This is what I would expect a scramble to be like if eating out.
Shirley's Caju Red Beans & Rice
Section: Entrees: Rice Entrees
Funny, I've never noticed this recipe is in the same book as the rice and bean recipe I mentioned above. They are VERY similar, using pretty much the same veggies. I personally like this recipe much more than the former. It is better spiced, and I prefer the red beans over the pinto. I am a little surprised that both are in the same book as they are both so similar.
Teresa's Dressing
Section: Salads & Dressings
Recipe: Genius Kitchen
This was a quick and yummy dressing. It calls for a blender or food processor, but a blender would be best since it will get the garlic nice a smooth. I also replaced 2 tbsp olive oil for water because it was looking quite oil-y and seem needed. There is already sesame oil and tahini. I put this on a pre-mixed salad that was leftover from a party and it was really nice.
Tomato Cabbage Soup
Section: Soups
Recipe: A Poet in the Kitchen
This soup has been made SOO MANY TIMES! Part of it is because I don't know what to do with cabbage, but the other part is that it is super cheap and fast. I get a cabbage from my CSA, and all I need is a can of crushed tomatoes, and some homemade stock. Maybe I'll splurge and buy a loaf of bread! My only complaint is that the soup is too sweet. So I halve the maple syrup. Otherwise I love this recipe for "I'm in a jam" situations, or a veggie filled first course (instead of a salad for example)
Wolfie's BLT Brunch Casserole
Section: Breakfast
Recipe: Recipes for People Who Can't Eat Anything
I loved this dish, and it was pretty simple to make. I might even prep it next time we have a holiday brunch thing. Pretty much you have a toast layer, scrambled tofu, a "cheese" layer, tomatoes, and bacon bits. I loved every bite and enjoyed the lazy ingredient of bacon bits (not tempeh bacon). Ugh! I might be getting hungry just thinking of this recipe.
Wolfie's Derby Pie
Section: Desserts: Pies
This is a recipe that makes me wish there was photos in the book. It was Christmas time and I was going to my husband's side Family get together. Whoever hosts never asks me to bring anything (usually) and not one in particular asks for us to bring a dessert. With a little kid, I figured I should start doing so. ANYWAYS, the point of all this is to say I had to rush a day or two before to make a dessert without making a trip to the grocery store. This was pretty much my only option.
It reminded me a lot of a Shoo Fly Pie, and I was very concerned on how it would come out. The description gave me high hopes for the pie, but it just looked so yucky going into the oven. Then it looked kind-of yucky coming out. I had to google "derby pie" to make sure I did it right (I did) I didn't try the pie until AFTER the party. And it was a hit. It is really good, but like a shoo fly pie it is kind-of cakey… oddly enough. It if very chocolatey and has bits of walnut in it. I will say it does live up to the hype in the description.
Wolfie's Eggnog Muffins
Section: Baked Goods
I love making this recipe every year when the vegan eggnog hits the shelves. This recipe gets made even more once the stuff all goes on sale AFTER Christmas. Only thing is that I think there is a typo in the recipe. She has 1 TABLESPOON of baking powder, and it leaves the muffins with a bitter taste. I reduced it to 1 TEASPOON and found it tasted and risen fine.