February 9, 2016
I think many vegans already know this, but Disney is a pretty rad place to be a vegan. No it isn't 100% perfect, but when you go to restaurants they are incredibly helpful to work with restricted diets. I hear stories about people making reservations ahead of time, just so a specific vegan meal can be made for their visit. So when I went to Florida to visit family this year, we stopped by Disney Springs before heading home. Here is a summery of some of the vegan options I encountered. Please note Disney is known to change things around often, so some of these options could change by the time you visit.
If you are wondering, what is Disney Springs? It use to be called Downtown Disney, which is self explanatory. It is a fake little "downtown" market where there is no admission, free parking, but is filled with tons of stores and restaurants. There are a few other activities like live performers, a movie theater, amphicars, and world's saddest little train. It is a pretty cool place to stop at if you get into Florida too late to warrant paying for a ticket to one of the parks. In our case we needed to wash away all the wholesome family togetherness with some pure flashy commercialism. If you are visiting Disney World I think this post by Vegan Cowgirl gives a pretty wide range of vegan options that are available throughout the park.
Earl of Sandwich
Marketplace, Disney Springs, FL
website
We needed a dinner pretty fast so we ate at Earl of Sandwich. It is a chain of restaurants, so if you are familiar with it, you probably already know what your options are. The place is pretty busy, but there is a great assembly line so everything runs super fast. I was also a little surprised that my food turned out the way I asked even with the super long lines and super busy workers. So if you are looking for a cheaper option, you are doing pretty good with this location.
I ended up getting the Hot Veggie sandwich, sans feta and Mediterranean dressing (I assumed wasn't vegan). They have mustard at their little prep stations you can add some on your own or ask them to sub the Mediterranean dressing for something else, which I did. I found the sandwich really satisfy and yummy. They have other options that you could make vegan, such as Berry Chicken Almond Salad, Thai Chicken Salad, Thai Wrap, and Greek Salad, all sans chicken and cheese. I would double triple check with the staff if there is honey in those salad dressings to be 100% sure.
Erin McKenna's Bakery NYC
The Landing, Disney Springs, FL
website
Okay this was the place I was most excited about visiting at Disney Springs. If the name sounds familiar, it is probably because Erin McKenna is known for her New York City vegan gluten-free bakery Babycakes. Somehow I have never been to her New York City bakery, but have heard a lot of hype. So I was super excited to give the place a try, especially during a weekend where I had to ask so many questions about what was in my food.
We went towards the end of the night, so I had slim pickins. I ended up getting a coconut soft serve ice cream, half chocolate and half vanilla. The ice cream isn't listed on their website's menu, but it is totally real and super yummy. I found that the mix of chocolate and vanilla took away from the chocolate flavor, so if I had to do it over again, I would pick one or the other flavor. I also got their cookies and creme donut (which I don't see listed…) And I have to say, the donut lived to the hype. It was so yummy, perfectly sweet, and I had no clue it was gluten-free. I really wish I could of tried one of the cupcakes, but they only have vanilla left at the end of day *yawn* Not for sweets? They have vegan savory options, but probably are only available early in the day, such as veggie biscuits and bagels with vegan options. I love these type of shops where there are friendly to vegans and other food restrictions so I can come in and just choose something.
What is even more rad is that the baked goods are found at other spots in Disney. I won't list them on the blog incase they change, but the different locations are listed on Erin McKenna's website. The main options are chocolate chip cookies and mini brownie cupcakes and seem to be mostly available at the resort locations.
Jock Lindsey Hangar Bar
The Landing, Disney Springs, FL
website
I love cocktails. So does my family. This is a great place to get a vegan cocktail. The place is suppose to be a bar opened by the fictional Indian Jones character Jock Lindsey. It had been awhile since I've watched the movies, but my older sister recognized some of the movie references. First let's start with food. I personally didn't get any, so I didn't verify. But you probably have some options. Snack of Ra is a mix of African and Indian cuisine with a salad, and naan and injera crisps. Ask the waiter, you probably would have to ask for all injera crisps and no naan. Tanis Tacos are falafel tacos, one site showed it with a yogurt sauce drizzled on top, so ask the waiter if there is any and if it could be omitted. The place is set up to be like a bar, so food isn't what you should be focusing on- it is the drinks.
I know a lot of vegans don't drink because of health reasons or personal preference. Which why I kind-of like this place. There are non-alcoholic options for drinks, 4 in total, all looking pretty vegan. So which drinks are vegan? Well note that I am making this list by checking barnivore. If the liquor in a cocktail is not listed on the site I am assuming it to be vegan. I put a * next to the drinks that didn't come up on the barnivore search, feel free to take another look incase they updated their database. If the beer or wine didn't come up in the search I didn't list it. Descriptions of cocktails are from their official menu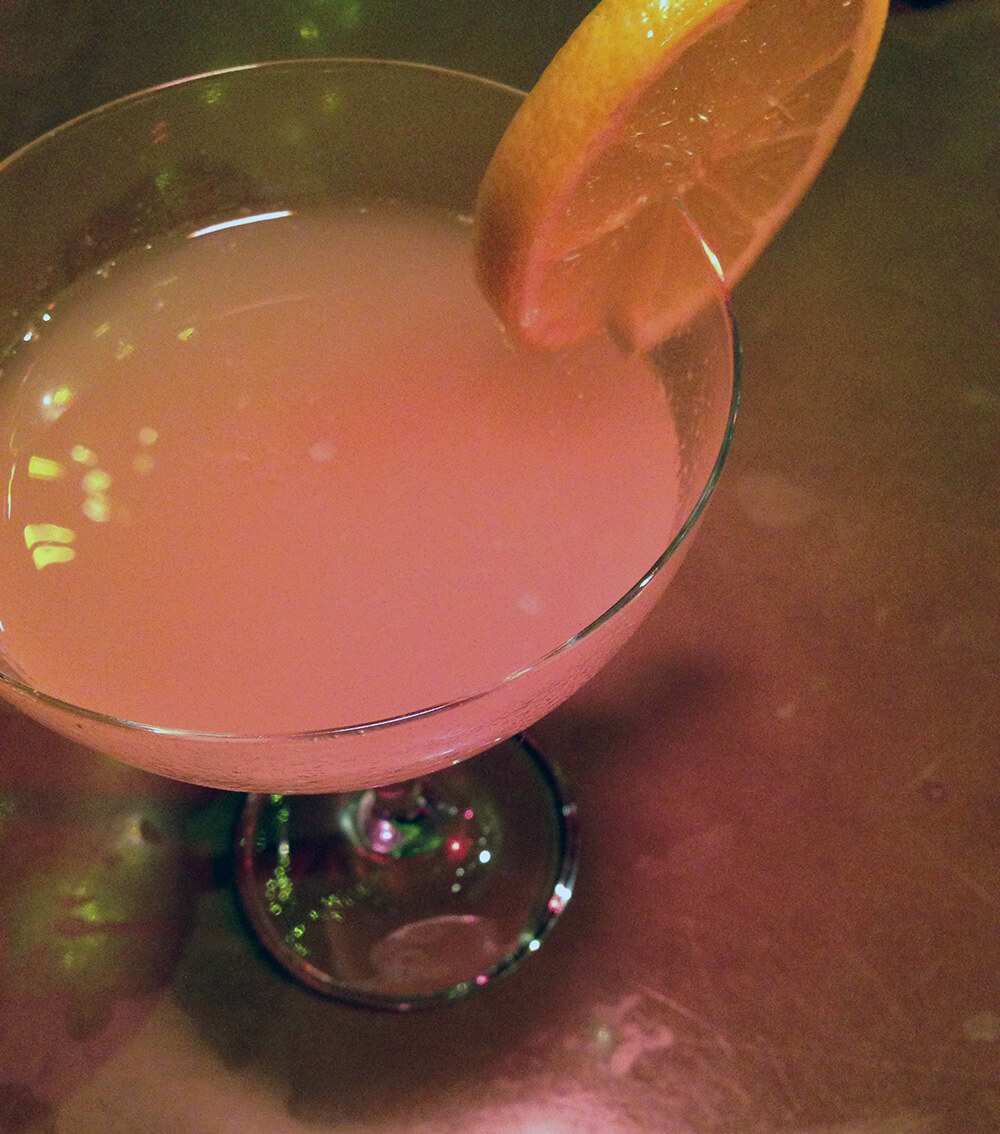 COCKTAILS
AIR PIRATE'S MULE – Knob Creek Disney Select Single Barrel Reserve Bourbon and fresh Lime Juice topped with Fever-Tree Ginger Beer
BAM'S BARNSTORMER – Gosling's Black Seal Rum, Fever-Tree Ginger Beer, and fresh Lime Juice
GERMAN MECHANIC – Bavarian Radler a.k.a. "Shandy" with Paulaner Hefe-Weizen and Simply Lemonade®
HAIL MARTY – Colonel E.H. Taylor, Jr. Single Barrel Straight Kentucky Bourbon Whiskey* bottled in Bond served with an Ice Sphere
HOVITO MOJITO – Barson Quebranta Pisco*, fresh Lime Juice, Mint, and Simple Syrup topped with Soda Water
PANCHO'S MARGARITA – Don Julio Reposado Tequila, Grand Marnier, and fresh Sweet-and-Sour
FOUNTAIN OF YOUTH – St. Augustine Florida Cane Vodka*, Bols Blue Curaçao, White Cranberry Juice, and Sweet-and-Sour
REGGIE'S REVENGE – Florida Cane 'Orlando Orange' Vodka*, Midori Melon Liqueur, White Cranberry Juice, and fresh Lime Juice
THE SCOTTISH PROFESSOR – Monkey Shoulder Blended malt Scotch Whiskey, Hendrick's Gin, Pear Nectar, Simple Syrup, and fresh Lemon Juice
WRONG ISLAND! – Siesta Key Silver Rum*, Tito's Handmade Vodka, Tamiami Gin, Tippler's Orange Liqueur, and Sweet-and-Sour with a splash of Coca-Cola®
BEERS
Boulevard Tank 7 Farmhouse Ale
Cigar City Maduro Brown Ale
Kingfisher Premium Lager
Lagunitas IPA
Orlando Brewing I-4 IPA
Paulaner Brewery Hefe-weizen
St. Bernardus Abt 12
Sierra Nevada Pale Ale
SweetWater 420 Extra Pale Ale
Xingu Black Beer
WINES
Bodega Charcra Barda Pinot Noir
Flowers Chardonnay
Graham's 20 Year Old Tawney Port
Jam Jar Sweet Shiraz
Jarvis Estate Estate Chardonnay
Meiomi Pinot Noir
Nicolas Feuillatte Brut Champagne
Northstar Merlot
Santa Maria Reserve Merlot
Weingut Selbach-Oster Riesling Kabinett
My sister got the Cool-Headed Monkey which came in a cool glass. Sadly the Van Der Hum Tangerine Liqueur used in the drink was listed as not vegan on barnivore though I think that is because the wine made by the parent company isn't vegan. So you could try it out. It was pretty sweet and fruity. I got The Scottish Professor (pictured above) and it was a classic cocktail. It is a really strong drink, just the way I like it. The drink reminded me of a whiskey sour, using the pear nectar to sweeten the drink. My other sister got the Singapore Sling (not vegan, Bénédictine Cointreau contains honey) which was pretty solid. My Mother got the Fountain of Youth which reminded me of the brightly color drinks from the 90s.
Paradiso 37
The Landing, Disney Springs, FL
website
Sadly when we went to Disney Springs it was the weekend of the Disney Marathon so the place was pretty packed. There was a weird waiting system to be seated, so ultimately we didn't go here. But I found out that the go to vegan option in this place was a vegan burrito, which isn't formally listed on the menu. The staff said that if need be the chef would come out and help find something that they could make for me to eat, which I assume will happen at any Disney location.
Even though I didn't dine here, I figured this gives any vegan readers the option to eat at a sit down restaurant and not eat a salad. Other options: chips and salsa, guacamole (apps), house salad minus the queso, and seasonal fruit sorbet. There are also a bunch of seemingly vegan sides that you could get, though you would have to ask the staff. And I do know the veggie burger has cheese in it. For more options you can check out this post at Vegan Disney World, looks like Morimoto's is the best sit down restaurant to dine at for vegans.