May 8, 2018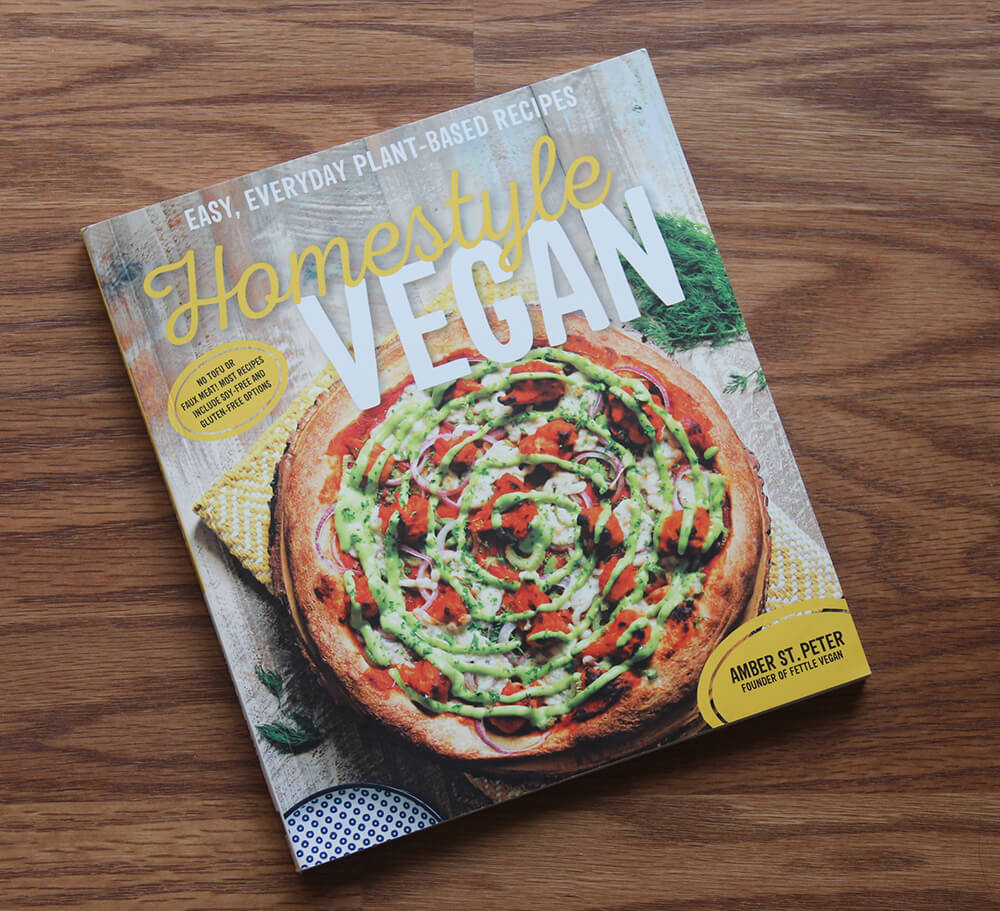 Shop on Amazon or Barnes and Noble
My Mother-in-Law knows I love to cook, I can almost assume I will be getting some sort of cookbook during the holiday season from her. Sometimes I specifically ask for it, sometimes it is a cookbook she happens to see. One year, she saw this book and thought it looked pretty tasty. It was something that wasn't on my radar- although I've heard of the blog Fettle Vegan, I never actually read it. I didn't see any reviews for this cookbook, it was completely new to me. The book sat on my shelf forever and ever, and I finally thought I ought to make a review of this book and finally put some of the recipes to work!
Photos
I think the photos were taken by Amber St. Peter herself, so I feel a little bad saying this- but I am not impressed by her photography. Overall they are great photos, it most definitely not as bad as Martha Stewart's instagram account. But her photos are very warm, and the reds are over saturated, making her photos look more like they were taken closer to the early 2000s.
But she does deserve more credit as she has photos for pretty much each recipe. Some recipes are on her blog, but many are not. And the food looks very appetizing and still pretty to look at. I simply think it would of been best if there was a special photographer hired to take the photos, but I'd rather have these photos than none at all.
Set-up
This book is a cookbook through and through. Amber wastes little time and dives into the recipes after a very brief page-long introduction. The downside is that I think it makes the overall theme a little hard to figure out. I always thought she had a weird selection of recipes, but once I read the descriptions it became clear that it is comfort foods that she grew up with (mostly.)
The sections are as follows: Rise + Shine, Meals That'll Stick to Your Ribs, Feed Your Friends, Crowd-Pleasers, Cook Up Some Comfort Food, Bake Sale-Worthy Baked Goods, When Cookies Won't Cut It, Have a Drink, and Stock Your Pantry. Frankly- I don't understand what defines HALF of the savory-meal sections. I start to think "oh these are appetizers?" then suddenly there is a cornbread and potato salad. There needs to be a little more rhyme and reason! A good portion is also sweet dishes. Most of the breakfast foods are sweet, and then you have two dessert chapters. The "have a drink" section is also predominantly sweet drinks, which follows the comfort food themes. I tend to not like the sweets so it wasn't really my thing, and I think a major factor to why I never used the book.
Writing
I really like Amber's writing style. It is very inviting, and I found myself more interested in the recipes once I read her description. She is very laid back, and really good at convincing you that you've got this recipe, and it will really taste delicious. My only concern is how often she says "healthier" in the description. Although I totally agree with her, her food tends to be healthier than the originals, I do have major concerns about selling veganism as a healthy diet. It can be, but people do expect life altering changes in their health.
Overview
This isn't the cookbook for me. I think all the recipes have tasted pretty good, I could modify them as needed, and I can think of quick ways to make them work better for myself. But I find her categories confusing and therefore a little hard to figure out what to make. It feels like there are so many sweets for the categories, but I guess that is mostly because I am just a savory girl. And she has some staples in the back, but none I felt compelled to make.
I think what it comes down to is that would probably be a good book for a totally new vegan. Maybe someone who is making vegan meals when a friend or family come to visit, or maybe if someone is just wanting to try more food that are meatless/dairy free. None of the recipes seemed particularly new to me, and I could easily find in some vegan cookbook on my shelf. There are few little sparkling jewels that I wasn't going to find in the other cookbooks, but I think most seasoned vegans might want to pass on this book.
I am thinking about donating this book to the library. I think a new vegan would find this book MUCH MORE HANDY than myself. I think there are lots of nice qualities to this book, like the recipes are very veggie heavy and the book has a wonderful "flat-lay" pages, making it extra easy to read recipes while cooking.
The Recipes
As with all my cookbook reviews, I try and review as many recipes as I can, from each category from the book. If there is an online recipe available I try and link it, but I only link up recipes that are approved by the publisher. Any photos I've take are shown as well.