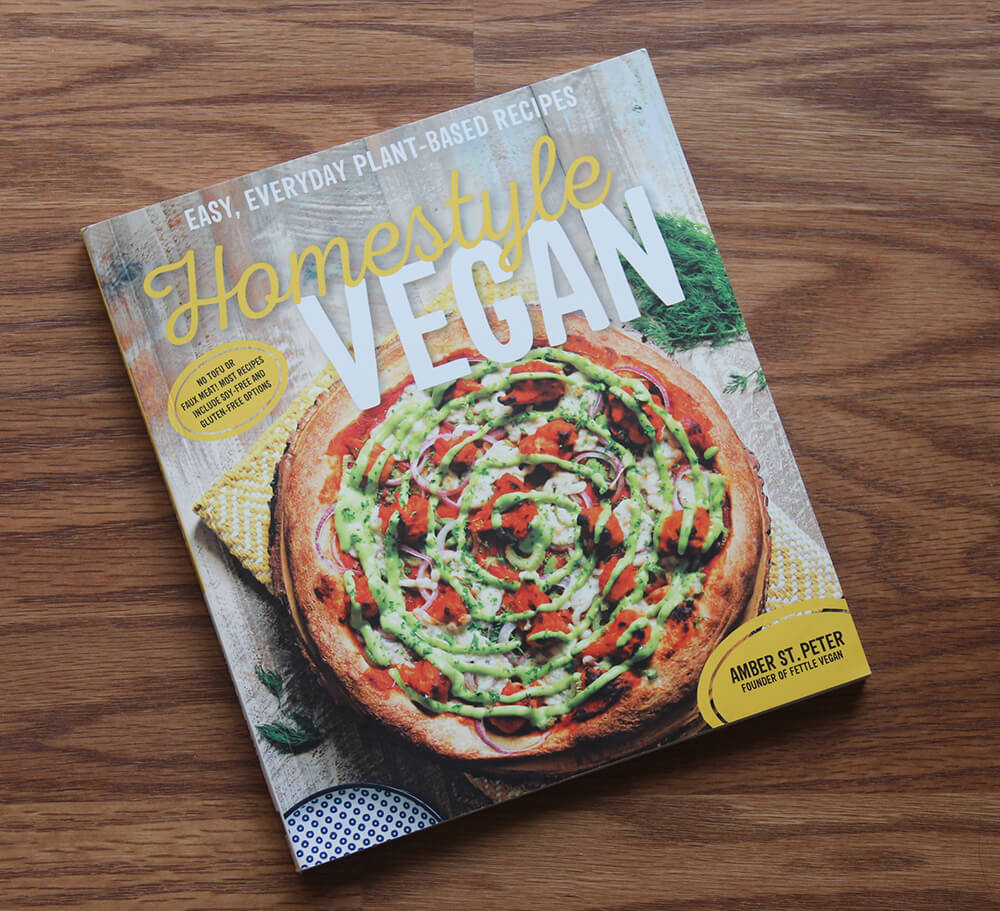 Shop on Amazon or Barnes and Noble
My Mother-in-Law knows I love to cook, I can almost assume I will be getting some sort of cookbook during the holiday season from her. Sometimes I specifically ask for it, sometimes it is a cookbook she happens to see. One year, she saw this book and thought it looked pretty tasty. It was something that wasn't on my radar- although I've heard of the blog Fettle Vegan, I never actually read it. I didn't see any reviews for this cookbook, it was completely new to me. The book sat on my shelf forever and ever, and I finally thought I ought to make a review of this book and finally put some of the recipes to work!
Photos
I think the photos were taken by Amber St. Peter herself, so I feel a little bad saying this- but I am not impressed by her photography. Overall they are great photos, it most definitely not as bad as Martha Stewart's instagram account. But her photos are very warm, and the reds are over saturated, making her photos look more like they were taken closer to the early 2000s.
But she does deserve more credit as she has photos for pretty much each recipe. Some recipes are on her blog, but many are not. And the food looks very appetizing and still pretty to look at. I simply think it would of been best if there was a special photographer hired to take the photos, but I'd rather have these photos than none at all.
Set-up
This book is a cookbook through and through. Amber wastes little time and dives into the recipes after a very brief page-long introduction. The downside is that I think it makes the overall theme a little hard to figure out. I always thought she had a weird selection of recipes, but once I read the descriptions it became clear that it is comfort foods that she grew up with (mostly.)
The sections are as follows: Rise + Shine, Meals That'll Stick to Your Ribs, Feed Your Friends, Crowd-Pleasers, Cook Up Some Comfort Food, Bake Sale-Worthy Baked Goods, When Cookies Won't Cut It, Have a Drink, and Stock Your Pantry. Frankly- I don't understand what defines HALF of the savory-meal sections. I start to think "oh these are appetizers?" then suddenly there is a cornbread and potato salad. There needs to be a little more rhyme and reason! A good portion is also sweet dishes. Most of the breakfast foods are sweet, and then you have two dessert chapters. The "have a drink" section is also predominantly sweet drinks, which follows the comfort food themes. I tend to not like the sweets so it wasn't really my thing, and I think a major factor to why I never used the book.
Writing
I really like Amber's writing style. It is very inviting, and I found myself more interested in the recipes once I read her description. She is very laid back, and really good at convincing you that you've got this recipe, and it will really taste delicious. My only concern is how often she says "healthier" in the description. Although I totally agree with her, her food tends to be healthier than the originals, I do have major concerns about selling veganism as a healthy diet. It can be, but people do expect life altering changes in their health.
Overview
This isn't the cookbook for me. I think all the recipes have tasted pretty good, I could modify them as needed, and I can think of quick ways to make them work better for myself. But I find her categories confusing and therefore a little hard to figure out what to make. It feels like there are so many sweets for the categories, but I guess that is mostly because I am just a savory girl. And she has some staples in the back, but none I felt compelled to make.
I think what it comes down to is that would probably be a good book for a totally new vegan. Maybe someone who is making vegan meals when a friend or family come to visit, or maybe if someone is just wanting to try more food that are meatless/dairy free. None of the recipes seemed particularly new to me, and I could easily find in some vegan cookbook on my shelf. There are few little sparkling jewels that I wasn't going to find in the other cookbooks, but I think most seasoned vegans might want to pass on this book.
I am thinking about donating this book to the library. I think a new vegan would find this book MUCH MORE HANDY than myself. I think there are lots of nice qualities to this book, like the recipes are very veggie heavy and the book has a wonderful "flat-lay" pages, making it extra easy to read recipes while cooking.
The Recipes
As with all my cookbook reviews, I try and review as many recipes as I can, from each category from the book. If there is an online recipe available I try and link it, but I only link up recipes that are approved by the publisher. Any photos I've take are shown as well.
Bacon-less Baked Beans
Section: Meals That'll Stick to Your Ribs
I'll say it- I like this recipe. I keep thinking of things to say I didn't like, and I just need to admit it- these are good. Yeah they might be a LITTLE bit pungent, but isn't that the point of baked beans? She calls for a lot of beans, and just save yourself the effort and just buy dried beans and cook the whole bag. I had about a cup extra of beans, which probably could of just been added to the whole recipe.
These were yummy on their own, and FYI NOT super sweet boston styled beans. I could cut down on the sugar and the smoke overall. I plan trying these in the Mum's Cheesy Potatoes and Beans from How It All Vegan.
Buffalo Cauliflower Bites
Section: Feed Your Friends
Recipe: Vegan Heartbeets
To say this isn't a good recipe would be a lie. It was very tasty. I knew that before making them, because well it is like almost every single damn buffalo cauliflower recipe out there. Now, I don't know the origins of this dish, maybe Amber was one of the first to post this dish. Maybe not. But it would of been nice to see a LITTLE bit of a twist- different flours, maybe variations for the sauces, something. But nope. I could probably google 10 recipes exactly like this.
That being said if I didn't follow so many blogs, and was new to veganism, this recipe would be a total surprise to me. Or perhaps I might have flirted with this idea at a restaurant and wanted to know how to make a non-deep-fried version of it. I am a little bitter about her remark about using Frank's Red Hot, saying it was a pretty mild hot sauce. Nope. Just nope. I switched my normal buffalo hot sauce for this and my husband's forehead was drenched with sweat.
Chamomile Steamer
Section: Have a Drink
I am pretty shocked that this drink worked! It was pretty simple, just heat up milk in a saucepan with the chamomile tea bag in it. I remember trying this with chai in the past so I was very doubtful of it working. But it did, maybe I was doing it wrong in past? It would of been nice if it gave a minimum brew time, or something. I also thought it was too sweet, but that is an easy fix by reducing the sugar.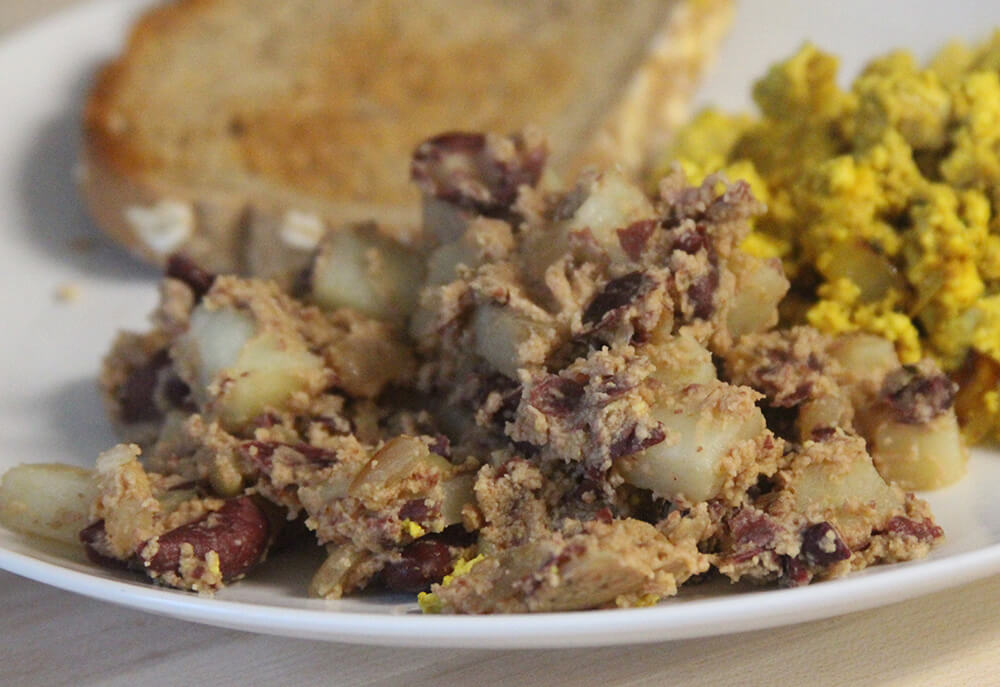 Corned Bean Hash
Section: Rise + Shine
I may have released quite a few curse words while making this recipe. I am not sure how she expects people to make this. I had so much stuff stick to the bottom of the pan, yikes. It took quite some time to clean. I have a sneaking suspecion that this might work best if roasted… maybe.
Aside from the nasty mess on the bottom of my pan, this was REALLY tasty. I am not sure if it tastes anything like corned beef hash…. I am going to say a big old no. But I liked the beany-tahini-potato combo. I didn't get the crispy-brown potatoes, but oh well. Still yummy.
Cottage Pie
Section: Cook Up Some Comfort Food
This was mostly a flop. The flavors were pretty good, maybe needed a touch more. But my biggest issue was the filling not thickening enough! I am not sure why this didn't happen, but it was a soppy mess. I am also not won over by using frozen vegetables, I guess I would just have to find a nice mix as I had mostly just corn, peas, and green beans. My biggest recommendation? TRUST THE POTATOES! It seems like it will be way too much, but it isn't.
Crispy Baked Onion Rings
Section: Crowd-Pleasers
I made these for the Southern Comfort Bowl. I can safely say I had a much better time with these than the quinoa onion rings since these were made specifically for the oven. lol Well, I am still not sold on oven baked onion rings, they still don't have that warm yummy onion-y insides. They dry out quite a bit- BUT they were still really tasty. I would say they remind me more of the toppings that you find on a green bean casserole, and hey maybe I will try topping it with these next time. I would probably make these against for the comfort bowls.
Needhams (Potato) Candy
Section: When Cookies Won't Cut It
I've made Needhams once, and it turned out similar to this recipe. But that doesn't mean I know if these are authentic or not. But regardless, I would recommend these yummy candies. They are pretty simple to make, and the longest time is coating the candies in chocolate. I used pretty much exactly what I needed from the chocolate. I still have some extra so I dunked a protein bar I made in the leftovers (which greatly improved my bars lol) But I would of been fine dumping the leftover chocolate. I also like how she gives instructions on what to do if you didn't have candy molds.
No Bake Chocolate Cookies
Section: Bake-Sale Worthy Baked Goods
This is my first no bake COOKIE recipe. I've made no-bake goods, like raw snacks and desserts, but nothing with "no bake" in the name. I was scared, but the recipe seemed similar to some of the things I've made in the past. The flavor was pretty good, I liked the buttery flavor in the cookies, BUUUUUT, they just didn't set. Maybe I didn't boil it long enough, setting the sugar, maybe it was something else. But these were sticky and soft. I also wasn't a fan of the raw oats, which isn't uncommon in no bake cookies. I think I would of preferred using puffed rice instead. Not making again.
Sloppy Chicks
Section: Cook Up Some Comfort Food
I am a sucker for a quick and easy sloppy joe rendition. This one was less heavy on the tomatoes, and relied more on spice for flavor. I am okay with this. Sadly since we were eating with my little guy, we had to cut down drastically on the spice. Wolfie wasn't feeling it that night, though I feel like it would of been something he liked, oh well. I swapped the chickpeas for white beans since I couldn't find them at the time.
I liked how veggie heavy the filling ended up being. The recipe technically gives instructions on how to make your own buns. WHY!? Who really is doing this? As a result, I got to skip most of the recipe, but the instructions I needed were on the next page. Very annoying. Overall these were tasty. Not my favorite version of sloppy joes, but still really good for people who like lots of spice. It takes less than 30 minutes if you don't make your own buns (like a normal person)
Southern Comfort Bowl with Sweet Potatoes, Black Beans, Cilantro Lime Quinoa, Onion Rings + Spicy Ranch Sauce
Section: Feed Your Friends
This falls into my complaints about some of these recipes. Although this was REALLY tasty it feels a little out of place since it isn't a well known American dish. Because of this, the dish has a really long name that as you can see, pretty much tells you EXACTLY WORD FOR WORD what the dish is.
But ignoring the annoying name this was delicious! It was pretty easy to make and put together, even though it looked really daunting and long. Just start the onion rings and place in the oven the same time as the sweet potatoes. Then put together the rest, and it should be done around the same time as each other! We had a LITTLE bit more than 2 servings, though we had mostly just beans and quinoa leftover. I would love to make this dish again in the future.