August 18, 2016

Greenplate
202 route 130 N unit 5A, Cinnaminson, NJ 08077
website | facebook | instagram | twitter
UPDATE: Store is closed
So Greenplate has been on my radar ever since I saw a flyer for it in one of those coupon books. It said vegan selections, and it is rare that a place that offers vegan food would have discounts and coupons- even when they are brand new. But the restaurant is a little out of my way, so I always skipped it. But one Monday I was running errands and thought- why not check it out? It was only an 8 minute drive away. Sadly, I think this is the one time I have a bad review of a restaurant on this site.
Let me start with the good things about this place. The store was VERY clean and pretty easy to get to. I kind-of like how it is in a strip mall since it comes off as more approachable for some people. The store has a tablet ordering system similar to Honeygrow. I love this type of system because it makes it easy to know what you are ordering, or there isn't any miscommunication with the staff, which I remember happening often when working in the restaurant industry. Plus it is easy to see what you are being charged extra for.
The staff was really helpful. I ordered a smoothie and asked for no honey, not noticing they were pre-mixed in a slushie machine (which is becoming more and more popular for healthy fast food places.) Someone came up to me and pointed out they couldn't take it out, and refunded me the money. They knew what was in everything.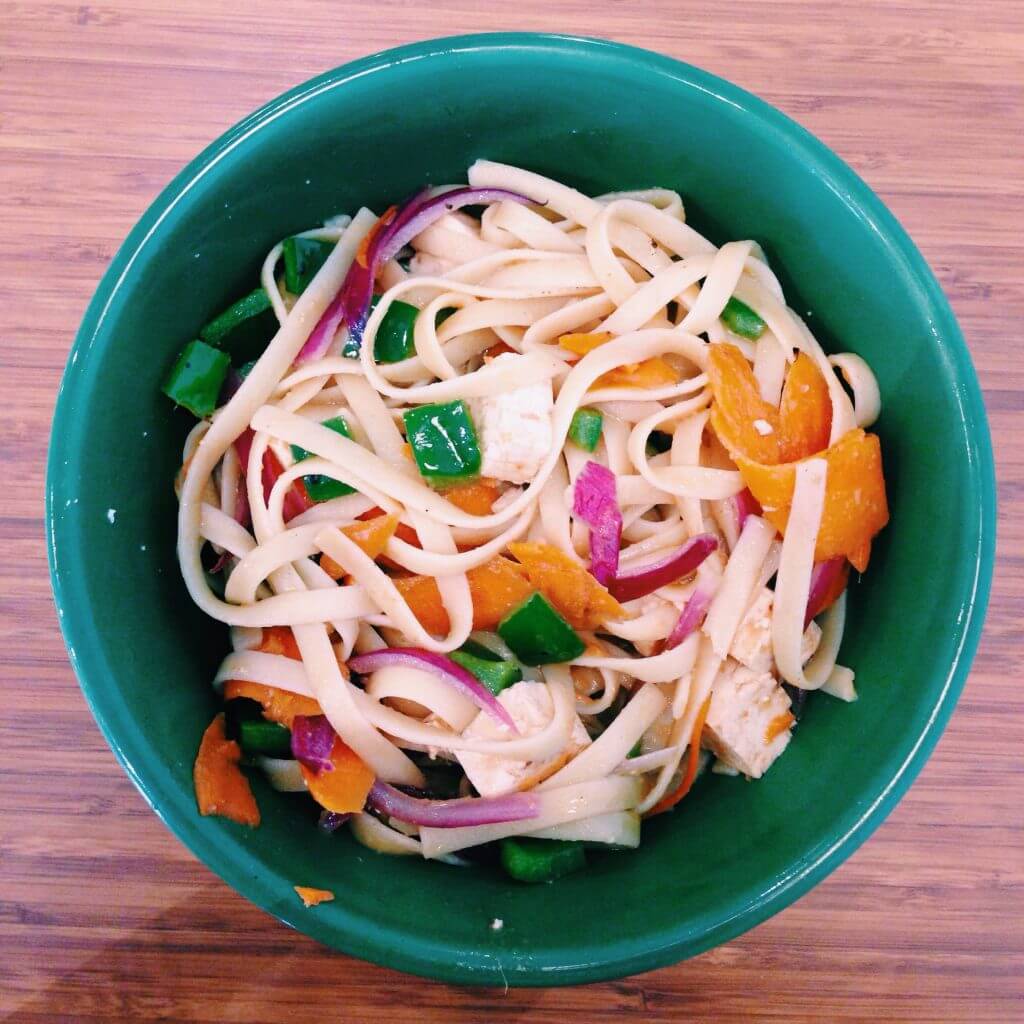 Now for the bad stuff- the food. The food was super underwhelming. I am excited there is a place that has vegan options. Any of the stir fry or salad dishes you could sub the chicken with tofu or tempeh. Annoyingly the tofu was an extra 50 cents, which seems odd that soy beans would be expensive than organic chicken. The tempeh was a dollar extra, which seems about right knowing the current price for tempeh in the states.
I ordered the Dragon Ginger noodles. You had the option for brown rice, wheat noodles, or gluten free noodles. I got the wheat noodles, which tasted like linguini pasta- which doesn't work in a stir fry. The sauce was really thin, and sank to the bottom of the bowl. The veggies were pretty cheap, but at least fresh. It was just some green bell pepper, red onion, and shaved carrot. The tofu was NOT worth the extra 50 cents. It was raw, which being pregnant isn't the greatest as it should be fully heated to kill any bacteria. Nor was it pressed or seared or had anything done to help with flavor. I don't think the staff knows how to cook tofu properly, which made me extra happy that I didn't bother getting the tempeh which probably was very bitter.
I really want to like this place because I like how they are trying to encourage a vegan diet. But overall the place has a similar format and goals as other restaurants with much better food and personality like Honeygrow or b.good. If I was trying out vegan food and I got this dish I would of been really disappointed. I would probably assume tofu sucked, and there was something lacking from vegan food.
Even though everything was great- fast service, spotless kitchen, helpful staff, I can't find myself coming back based on the food. If the food isn't good, why would I come? I can easily make this dish at home, and it seemed pretty overpriced for what I got.