Front Street Cafe
1253 N Front St, Philadelphia, PA 19122
website | facebook | instagram
Front Street Cafe has been on my to eat list for awhile. A friend of mine kept on suggesting we go, but I kind-of stuck my nose up because it wasn't vegan. Why would two vegans eat at a non vegan restaurant?! Although they don't list what is vegan on their menu, they certainly list what ISN'T vegan. Confused? Everything on their menu is vegan except when you see an icon listing the non-vegan ingredients.
What's even better? How versatile the restaurant is. The space is quite large, and they are open for long hours. So you can grab breakfast, brunch, lunch, dinner, cocktails, eat inside, outside, it is even large enough for parties. There are three floors, and a large patio for outdoor seating. This is pretty exciting since some places in Philly and pretty small, like Bar Bonbon or Charlie was a Sinner. This makes a great place for friend to grab a drink if there are more than 4 people, or maybe more comfortable for plus size dinners.
One of a my favorite things about this place is how vast the dining options are. They have a wide juice bar menu, giving lots of non-alcohol drinking options. They also have a selection of Dottie's Donuts, if you are a low maintenance breakfast pal. They also have a yummy looking cocktail menu, but do take note some drinks do have honey. I also am going to assume not everything has been Barnivore approved, if that is a concern.
So let's talk about the ACTUAL food. I will admit, I was not in peak blogging form when I got to the restaurant. I was celebrating my sister's bachelorette party and we might have opened a bottle of champagne before hand. And I MIGHT of had a glass or two. Also, when you have a large group, you aren't going to be so picky about the photos.
We didn't get too much for starters. Sadly we tried to get the cinnamon pull apart loaf, but I think they were out of it. So we just shared the buffalo cauliflower wings. Everyone at the table loved it. Apparently though, I grabbed the least sauced piece, and I thought it was meh. But I eventually got a saucier piece, which was awesome.
I got the vegan scrapple, because you know, when in Rome. If you are unfamiliar with it, scrapple is a regional dish which is made with scrap pig parts, and mixed with grains and spices, then formed into a loaf. It is similar to panhas, for any German readers. The meal was really yummy, and the flavors in the "scrapple" were complex. But, I never ate scrapple, but I can say it wasn't anything like I would of imagined it.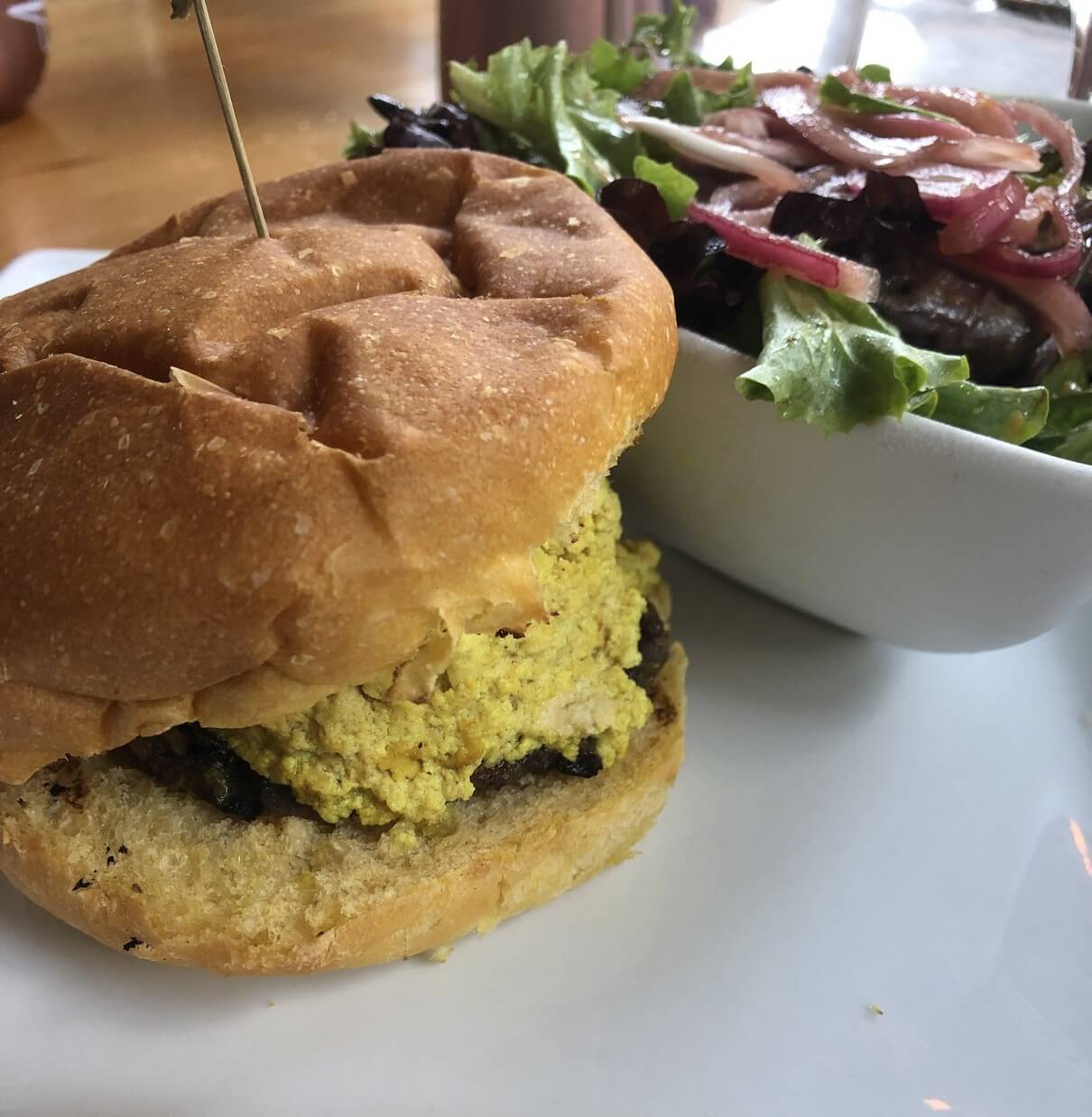 I really enjoyed myself and I would love to come again in the future. I love how it had some savory breakfast options that weren't just tofu scramble. I am dying to try their "eggs" benedict! If you want to see more "food porn" check out their Instagram page or their Caviar page, where you can order food for take out.
Oh! And one last thing, it is worth checking out their social media feeds. They seem to do some fun events, including Drag Queen Brunch and Vegan Restaurant Week. I know we were a little bummed that we went to brunch on Saturday because that Sunday was the Drag Queen Brunch. Ugh.
Getting There
If you don't live in Philadelphia, just drive on in. The area shouldn't be too insane to find parking, but you may need to park a few blocks away. If you are visiting Philly and are in Center City, you have a few options if you don't have a car. Clearly simple ride share services or Indego bike rentals are totally doable.
You could also use SEPTAs 15 Trolley Rail. It should have a stop at Front Street and Girard. It looks like this rail line goes east and west, which might not be too helpful if you are coming from Center City. There also appears to be lots of bus lines that come in that area but truth be told- I find buses TOTALLY CONFUSING! And scary, but that has nothing to do with SEPTA, just buses. Anyways, you can try checking out the website for SEPTA and Google Maps has an easier to read view of where the actual bus stops are.