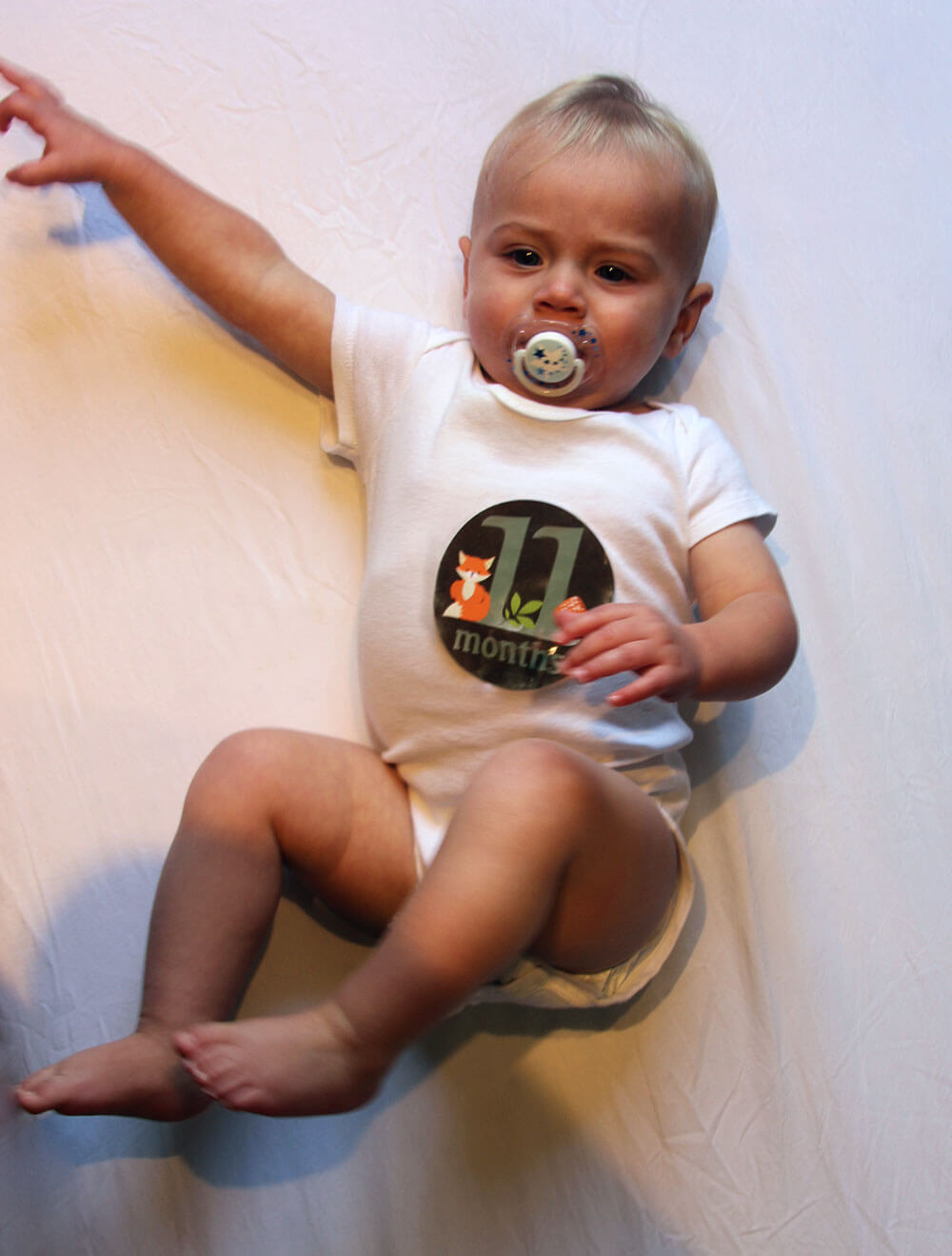 Things have been so busy that I couldn't write the Month Eleven post. Heck I didn't even have time to write the Month Twelve post! This kiddo is over 13 months old at the point. All I can say is thank god there are no more of those stickers left. I carefully saved all the stickers when he was little, but quickly it became obvious that he rips them off and makes them all crinkley. There is no month 12 photo because we took the photo, and when I tried to transfer the images from the camera to the computer I realized I didn't have the memory card in the camera. By that point I was done with those photos. He just squirms around too much. Next time, I probably won't do the whole laying on their back thing.
FOOD: We are pretty much living off of solid foods. I keep being told he eats a lot- but does he? I think it might be an illusion? People are surprised when I say he eats a whole banana for breakfast, an oat cake, and milk from nursing) but it makes sense because it ends up being 260 calories (minus the breast milk). Some sources say toddlers need 900 calories a day- and if he eats that much every meal, that comes to 780 calories, leaving 220 calories for snacks. Okay maybe it is a lot because I am still nursing. Whatever. He seems healthy.
DEVELOPMENT: Last time I posted Wolfie was walking but couldn't get to a standing position by himself. He was able to do this month 11, and now is running with confidence. Recently I saw my cousin who is 9 months old, and it was funny seeing him crawl and how "floppy" he still looked. I don't remember Wolfie looking this way when he crawled, but he probably did.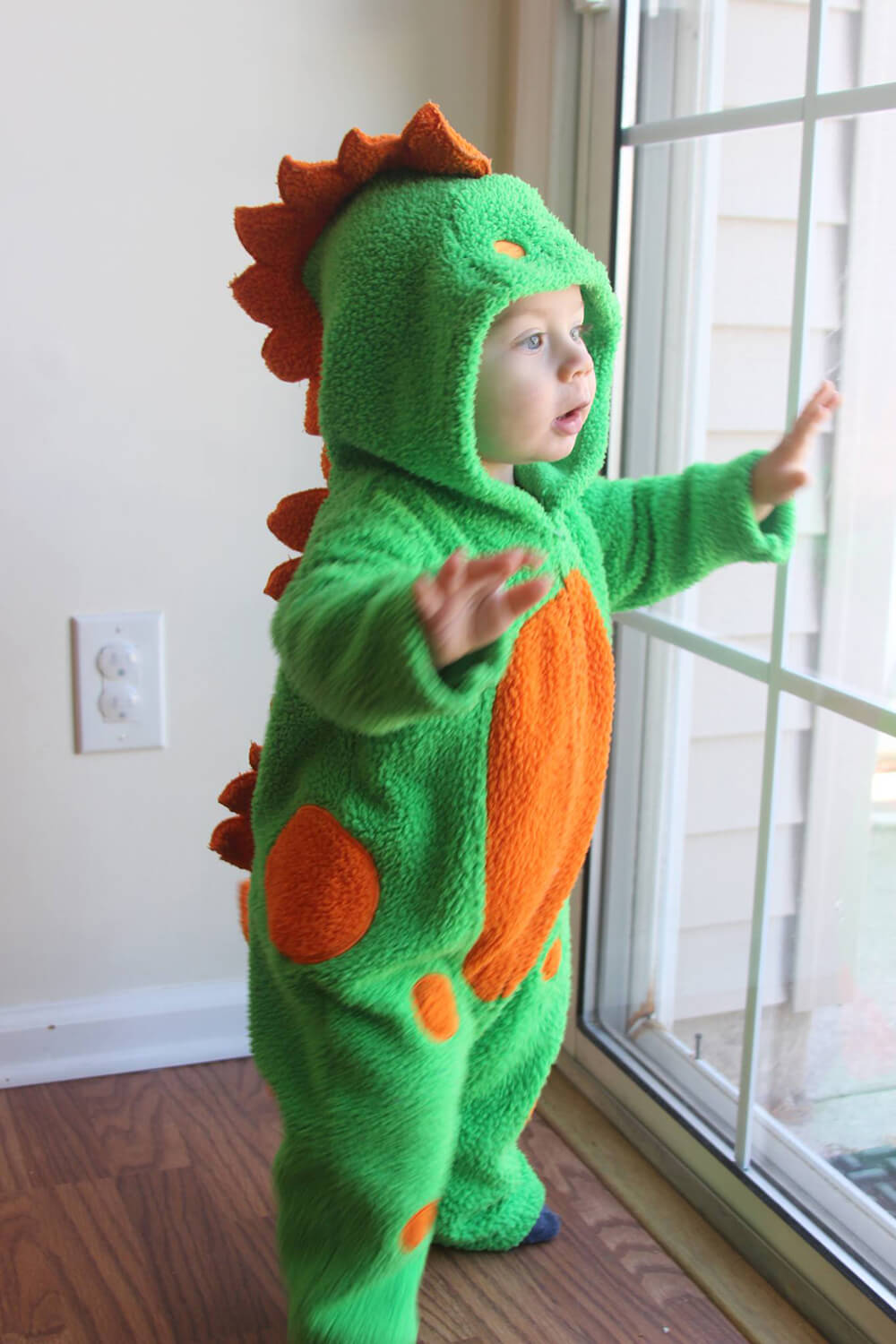 PLAY: Suddenly Wolfie is getting how to "play" with his toys. There are so many toys that would have an actual goal but he would just take them and suck on them or clang it together with something else. Now he seems to try and actually interact with the toys. He goes over to his toys and makes them play music so he can jam out (even if the tunes are weak.) He is starting to mirror things I do. Like I was playing with his new barn toy putting the animals into their stalls. He then started to grab anything he could and shove the animals in the stalls. Nice try but I don't think the horse, chicken, and 2 pigs can fit in one spot.
GROWTH: So we went for his 12 month visit and Wolfie is now big enough that he stands on the scale! Whoo! And he now keeps his clothes on- meaning he is now getting big enough that ounces don't make that much of a difference. So he weighed at 22 lbs 14oz (getting close to 23!) in the 75th percentile. His height keeps going up at 2ft 7inches in the 89th percentile. But his head is super tiny- 22nd percentile.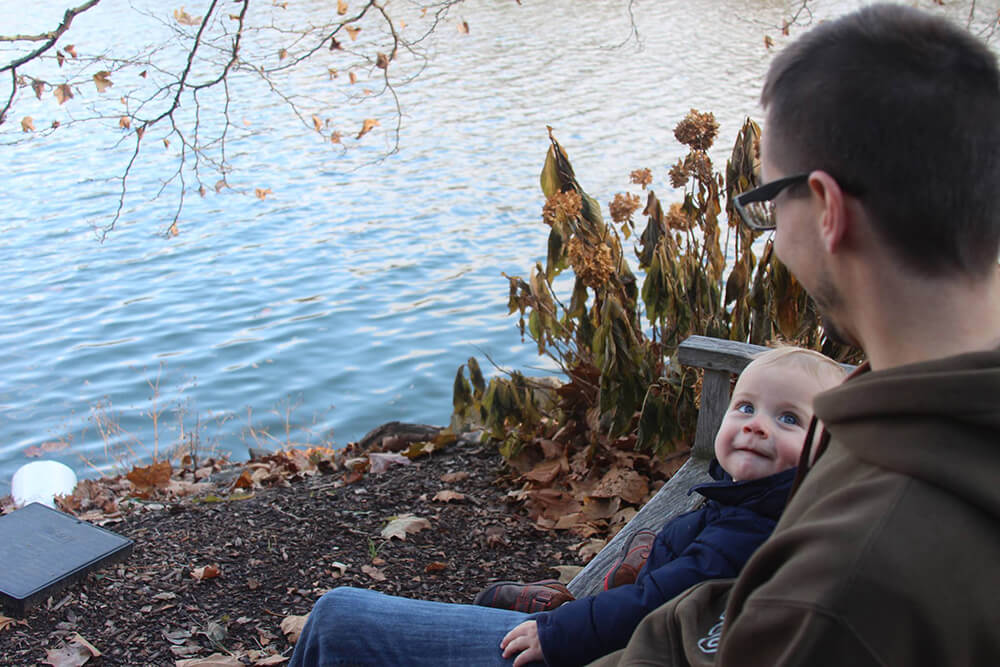 TALKING: We got Mama and Dada down. And I think he is saying more, but it is hard to understand when you intuitively know what your kid is trying to say (combined with his inability to properly say the word.) But we have had some glimmer of talking. Somedays I can see him try hard to say words, and some days out of the blue he will say a word, then never again. For example one morning he said "brown bear" and handed me the Brown Bear Brown Bear book. Jon thought I was crazy until Wolfie said it again. We haven't heard him say it ever since. My Mom claims she heard him muttering it to himself the other day…
SOCIALIZING: Now that Wolfie is interacting with other people more, it makes him seem like a "real kid." I am guessing that he will be very outgoing since he never really seems to be going through a "mommy phase." I think there was one week where he didn't want to be left alone with anyone else (poor Justine got stuck with a screaming babe for 2 hours SORRY!) but aside from that he is doing well. He was very interested in everyone at my family get together for Christmas, and wanted almost nothing to do with me during his birthday.
He is now also playing with other kids. I've been taking him to the library since they have a big interactive kids section. If possible I try and take him to story time, which pretty much means kids play afterwards. It makes me nervous, I have kind-of no problem letting him play and learn his own boundaries, but then I feel like I am doing a bad job. Plus, I can already see that Wolfie is fairly assertive, and I am more afraid of him pushing someone down or pulling a stranger's hair.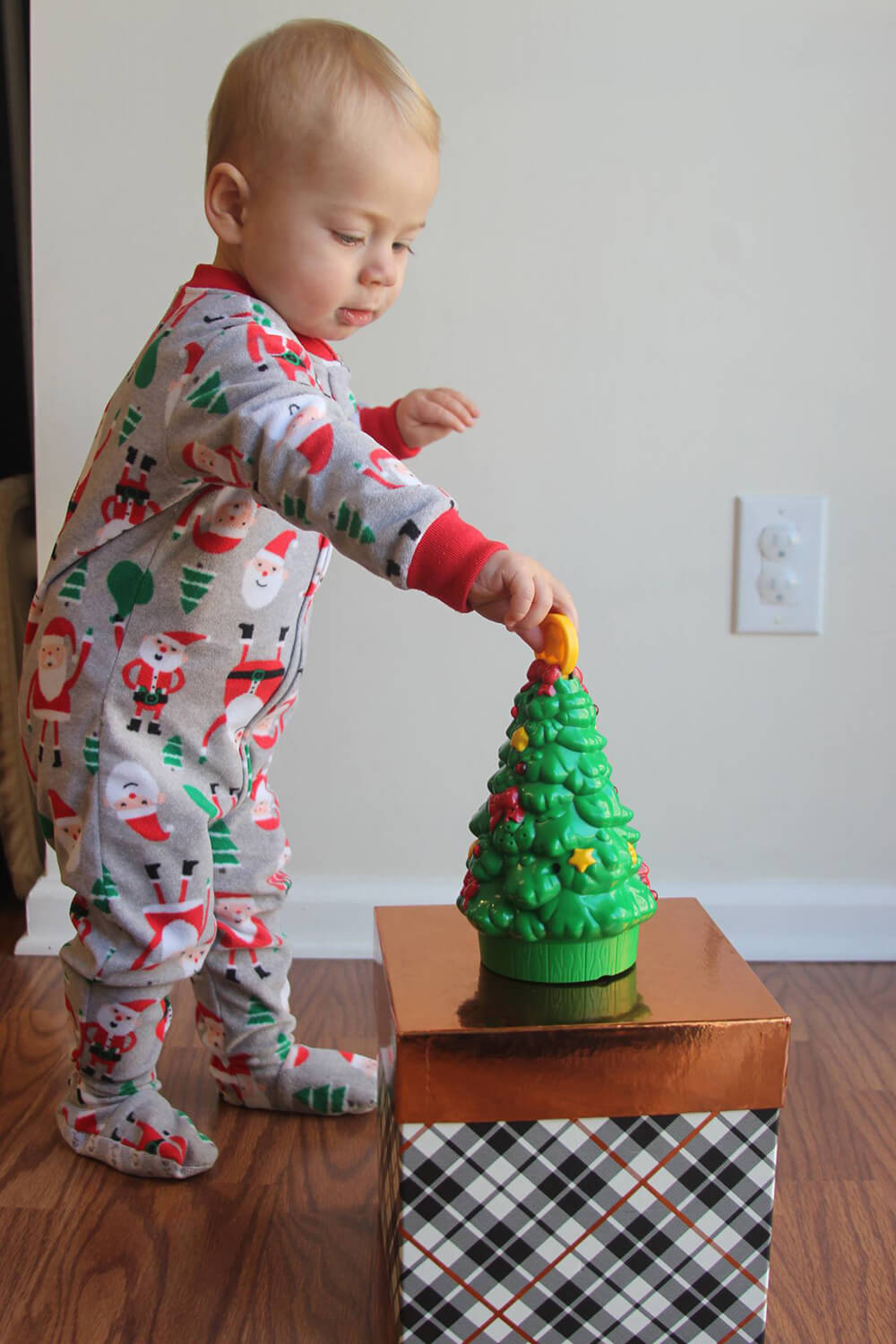 SLEEP: I didn't really think there would be much else to say but his naps are FINALLY coming into place. Oddly I think it is because of consistency. We finished up our share at our CSA so the morning nap didn't get disrupted. And my Mother got knee surgery done so she hasn't been able to watch him. As a result I was able to get a schedule going for him. It has been the best. There has been ups and downs with the naps, and there was one day he woke up at 5 (what the heck!?) but he has been pretty awesome. I am constantly watching out for when he is growing out the morning nap, but that isn't happening anytime soon.