Oh boy are there a million tacos out there! We are just barely scratching the surface with what's out there. And even though they are all over pinterest, I think this was one of the hardest compilations to get together. Why? I think tacos are just way too easy to stray away from the original recipe. But I did it! So check out the recipes below!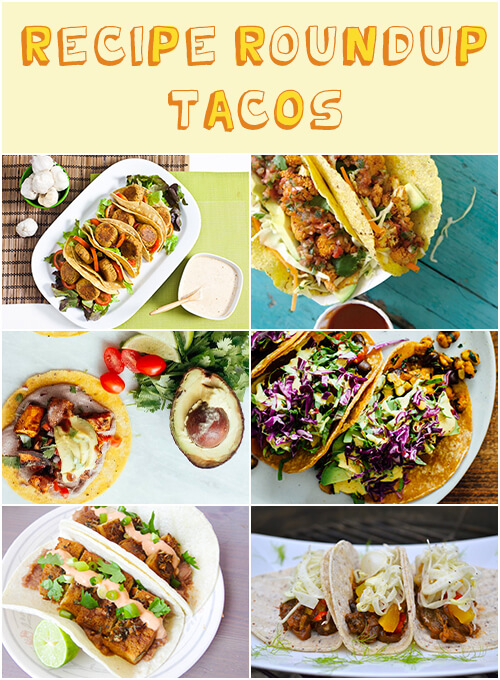 This recipe is actually an amazing weeknight meal. Aside from my kitchen being so small that taking out the food processor is a pain, it is a super meal. All you need to dirty up is really the food processor, a baking tray, and cutting board. And while the falafels bake, you can clean up most of the dishes. Brilliant! The dinner made pretty much spot on what it would make- granted if you eat only two tacos. That can be hard since they are so tasty, but two tacos has 16 grams of protein. Not too bad considering my husband at three- which would be 24 grams of protein. Downside, I think the sriracha-tahini sauce was a little too thick, but then again I was getting to the bottom of tahini where they was very little oil.
Bottom Line: Quick and easy weeknight dinner
There's been a lot of hub-bub with Thug Kitchen and if their writing is mocking African Americans. Although I find the juxtaposition of harsh language in a medium that uses flower language funny, I do think they could of done it without singling out a certain culture. I never really intended to check out Thug Kitchen, but I found this really yummy recipe that I just wanted to try badly.
Did the recipe hold up? Umm…no. The salsa was pretty darn spicy. Which to me isn't too big of a deal except there was a lot of hot sauce in the cauliflower portion. I like it when you divide the heat up within certain ingredients, not piling on everything hot. The cauliflower was very watery from the beer, which makes me wondering if it would of worked better as sort of a "refried" cauliflower filling? And overall there were WAY too much onion flavor. I didn't even use as much as they recommend since I didn't have them, like adding more green onions!
There were some great flavor combos, but there should of been more finessing with the cooking process. Maybe saute the onions in the cauliflowers, only spice in the salsa, etc. Overall it isn't bad though.
Bottom Line: Alright recipe, needs more streamlining.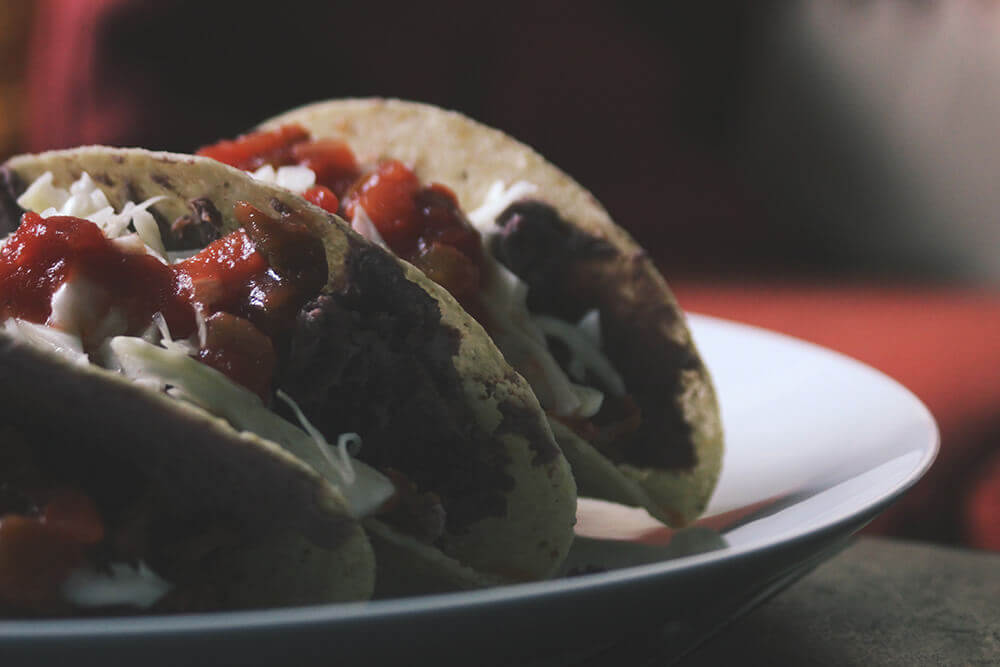 There is so much flavor going on with these tacos. They are easy to make and great for a more fall based taco when sweet potatoes are in season and when the temperature is going down (to turn the oven on). The great thing about the recipe is that the author is very open to variations so I did and found ways to improve the taco.
One thing I found needed improvement in the recipe is the texture. She has a smooth bean spread and soft sweet potatoes that probably have a nice outside texture from roasting. BUT I felt like it needed a little extra tooth, and adding quick pickled shredded cabbage I think did the trick. Avocados are also a major must as well, if it is in your price range.
I loved the flavor from the coconut cream, but it seemed more like something that would be great as a dressing. The blog post does suggest that this dish makes a great salad, so maybe I missed the memo that the cream was just suppose to be a dressing? Maybe, maybe not. But I wouldn't bother with it unless you want to make a salad over a taco.
Bottom Line: Super yummy, but needs a lettuce or cabbage paired with it.
This recipe is pretty easy and fast to make. What is both nice and disappointing about this recipe is how flexible it is. There aren't any specifically highlighted flavors, which I tend to like from a taco recipe. But it does give a recipe for a very flexible taco filling that you can pretty much do any day of the week. Don't have avocado? You'll be fine. Don't have cabbage? Just use lettuce. So I could imagine using this recipe as a basic structure to make on a busy weeknight.
I did NOT make the cashew cheese sauce mostly because I had some homemade vegan sour cream that needed to get used up. But the recipe for the cashew cheese sauce looks pretty good, and would of made a great addition to the tacos. Overall I think this is a recipe I might use again, it only took about 15 minutes to make. And as mentioned it is pretty flexible for interpretation, and she makes sure you still get your greens.
Bottom Line: Great recipe for starter vegans.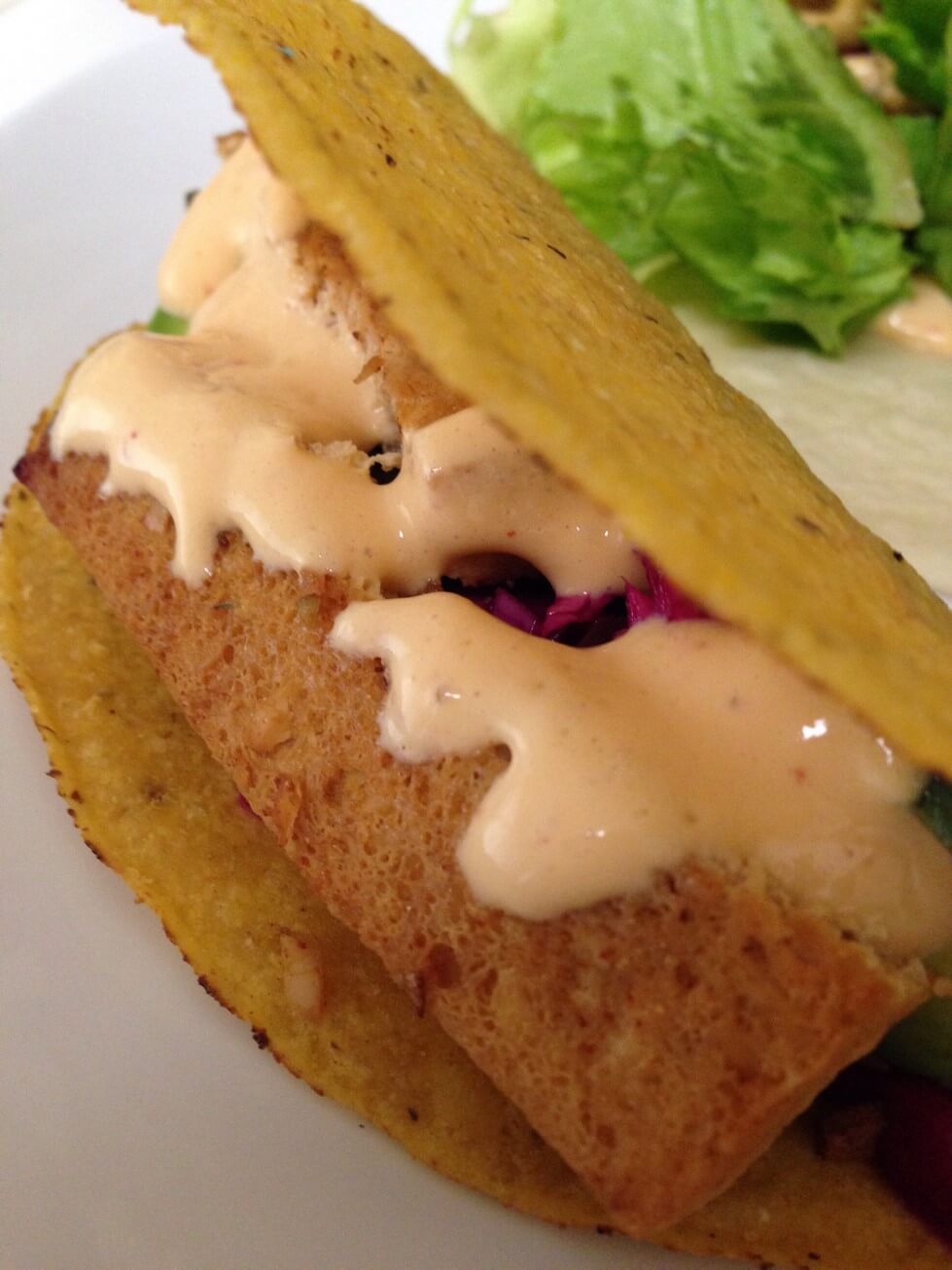 This recipe involves a lot of planning, but overall pretty easy. What takes the most amount of time is freezing the tofu, thawing it, pressing, then marinating. None of those steps take particularly long, but you need to think ahead. I think most vegans don't know how to plan these steps since these are mostly common for meats. But I found that I froze the tofu one day, the next day remove and let thaw in the fridge. Then the day of making I pressed for an hour (it wasn't fully thawed at the time), and marinated it before heading into work. That way it took a 30 minutes to bake giving lots of prep and clean up time.
BUT I do have a problem with the recipe. Although it was easy to make, there wasn't nearly enough fat. The overall result was super acidic, but I wish she put a little oil in the marinade, or used cashews for the crema. Aside from that, I was totally happy with the results. There was a little extra of tofu for leftovers (hubs and I had three tacos each) so if you have a big family, you might want to double the tofu.
Bottom Line: Needs a little more fat, but tasty overall
Hmm… how do I feel about these tacos. So many emotions. First let me talk about prep work. It is pretty easy. I spent most of the time working on the peach-lime chutney. It wasn't too hard, but it does involve a lot of fine chopping, so it was probably a total of 30-40 minutes, but worth noting there was lots of time to do other things. In fact I made the fennel slaw while the chutney cooked up. So all I had to do was roast the eggplant and put together the tacos when it came to dinner time. Dividing up the work makes the clean up more manageable.
Flavors have been interesting. I can't say I hate and I can't say I love it. My husband summed it up as minty and fruity. I think we both weren't huge fans of the mix of fennel and peach. I think I might want to "dilute" the fennel by adding a little cabbage next time. Also I didn't like how the eggplant "shredded." I mean it kind-of did, but it was mostly just mushy shreds. I would probably just use beans or jackfruit in the future.
And it is worth noting that I had uneven amounts of food. I get it- when your recipe calls for one fennel bulb and mostly nothing else, you are going to have varied amounts. I ended up with a full little jam jar of the chutney. We had NO eggplant leftover, and there was enough slaw for maybe one two extra tacos. Not the worst, but something to keep in mind if you hate leftovers.
Bottom Line: Lots of prep, mixed emotions
What are your favorite taco recipes?
I rarely make a taco recipe the way the author intends. And it mostly has to deal with what I have. If I don't have cabbage, I'll use lettuce. If mangos aren't ripe, I'll buy Trade Joe's Mango Salsa. I don't think this author really cares. Nor do other people really.
But the end result was really tasty and super filling. The tempeh really replicated that chunky bouncy feeling that you get from ground beef. But the flavor profile is completely different, which isn't a bad thing. The only thing I point out is that this dish is pretty dang spicy. So if you are a super taster you may want to scale back on some of the heat.
Bottom Line: Quick and tasty, very spicy