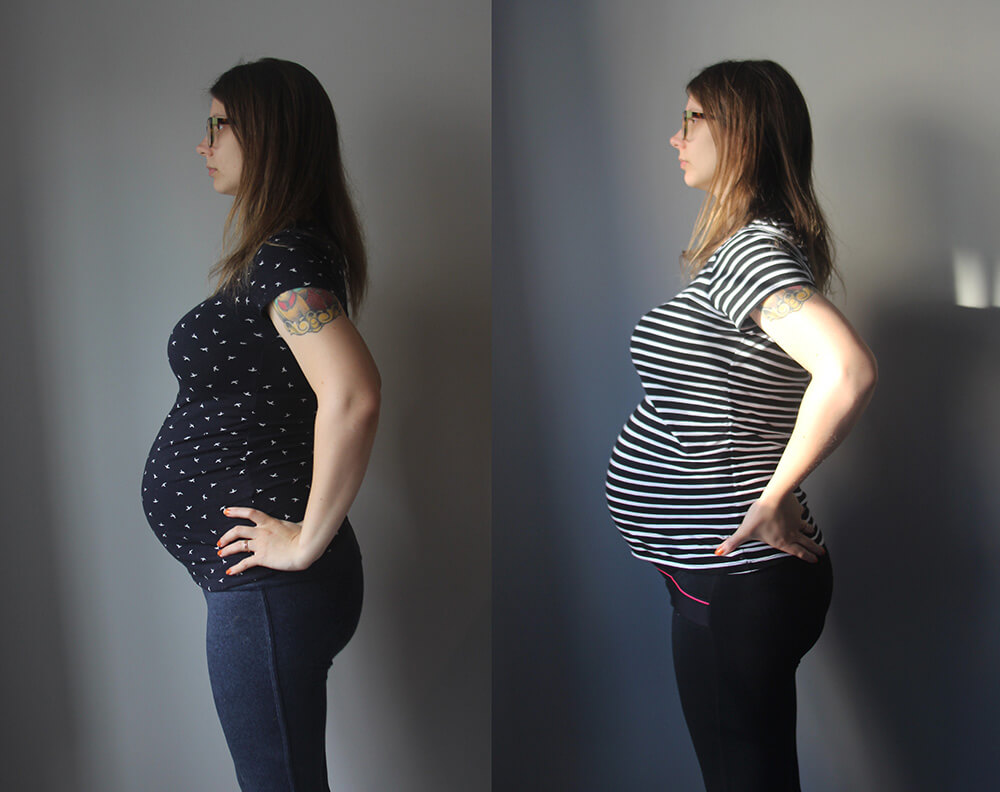 These past two weeks have been crazy. I've been either doing non stop laundry (getting all the baby clothes cleaned) or spending 2+ hours each day driving my husband and myself to work. It is so sad. I actually live 10-15 minutes away from my work. My husband has about a 20 minute drive. But because of where his work is, it just isn't a straight shot from his work to mine. Plus we have an hour difference in when when we start our jobs. Then add on rush hour traffic. I've been cursing a lot guys. XD We should be getting our second car back on Monday.
Baby Shower:
I had lots of fun with my shower. There were lots of drinks, food, and LOTS of vegan desserts. My friend Justine had a sugar overload, she wasn't use to there being more than one vegan option at a party. There was pictionary, and some of the usual baby games (Guess the Baby Gear Game and Guess the Baby Stats) But it was mostly just a party where people could have some booze (well, except for the kids and myself) and just mingle and catch up. I am not much of the type of person to have planned games, cutesy things, and being the center of attention.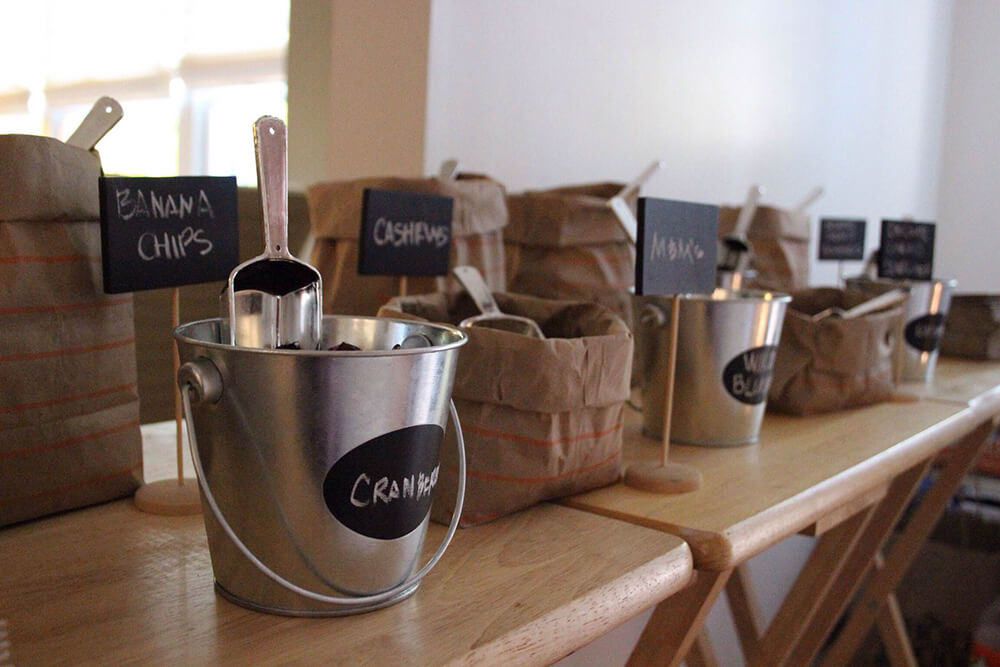 My sister planned a trailmix bar, which was pretty vegan friendly. There were some non-vegan mixins, but you can easily sub them with some vegan chocolate chips and non-honey nuts. We made our own little mixes, and I am sure Jon will be mixing it into his oatmeal every morning. It will be super helpful when we are dead tired from staying up late.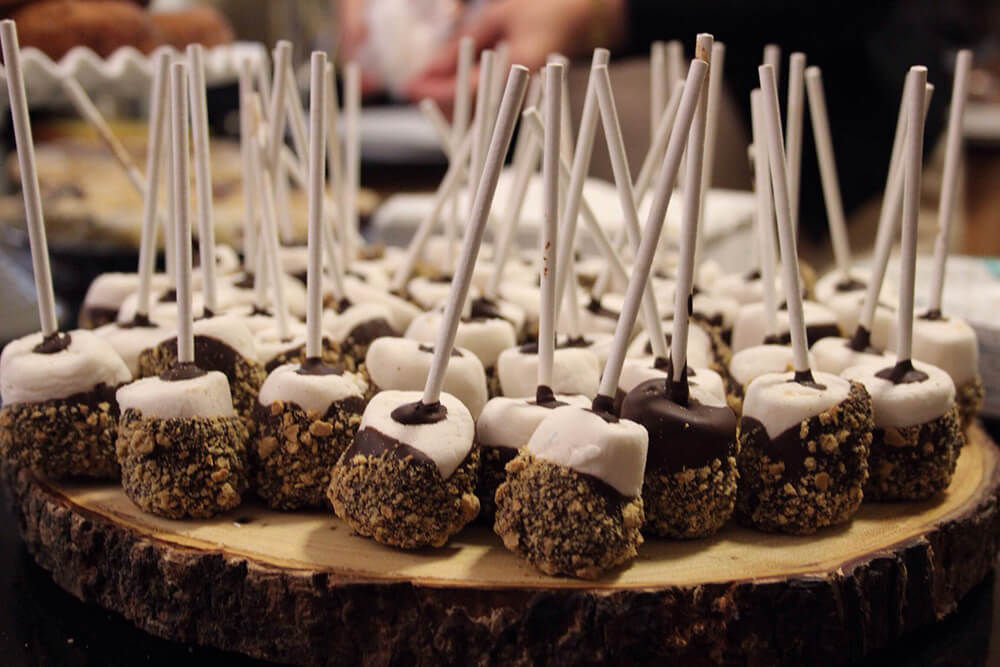 I think my sister remembered that Trader Joe's had vegan marshmallows and saw these cute vegan s'mores pops. She said they were pretty easy to make, and they were pretty tasty. Just put a stick in a marshmallow, dunk in chocolate, and roll in graham cracker crumbs. Naturally you want to check if all the ingredients are vegan, but my sister checked all of that. I think she used a recipe like this one. My sister said the vegan marshmallows are denser than non-vegan ones, but I can't tell the difference since I can't remember when I had a "normal" marshmallow.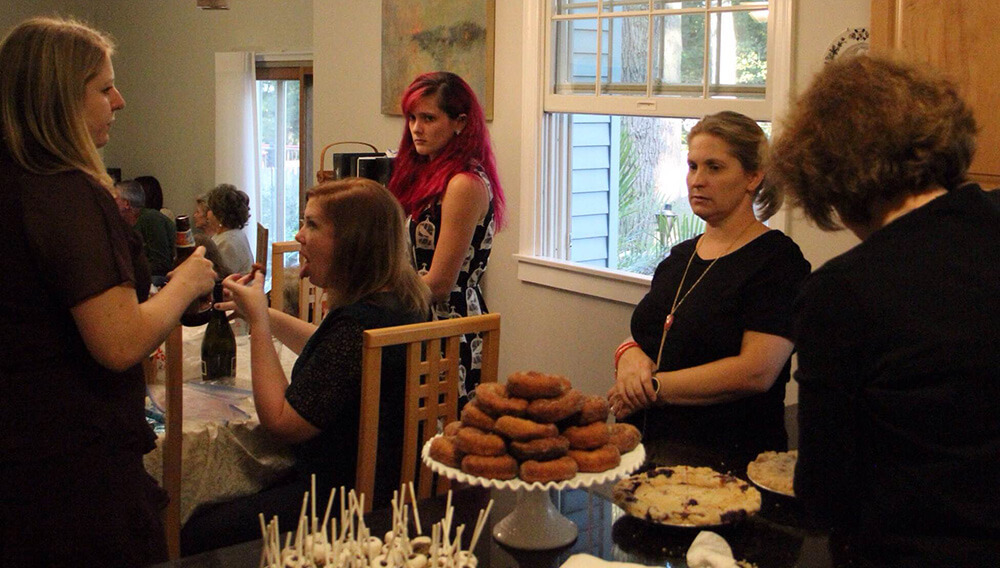 This photo cracks me up. Looks more like a funeral than a shower. Some people had to catch a train back to NYC so they got first dibs on the desserts. Almost all the New Yorkers are wearing all black or something very dark that looks black in the photo. And then there is Alexa in the middle with her pink hair giving our friend Ali the stink eye as she eats a dessert. I am guessing Alexa was hungry. She claimes it was just unfortunate timing. BTW if that dress looks familiar (which it probably doesn't) I wore that dress on the blog many moons ago. I gave it to Alexa since the dress armscye (the holes where the arms go out) was too small for me.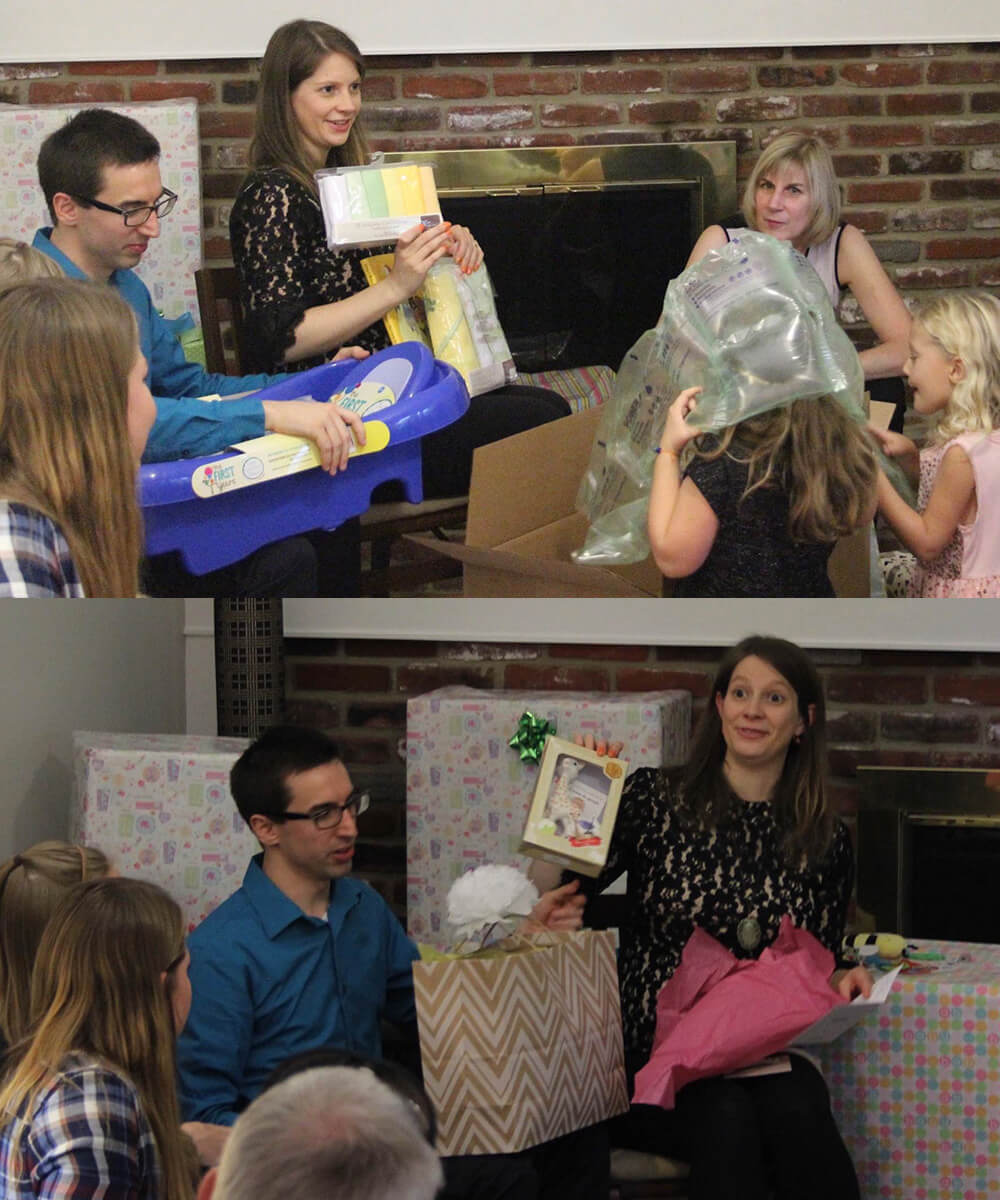 I didn't get any particularly good photos of my outfit. I was rushing out of the door to get to the shower, plus I can't find a dress similar to link to anyways. I bought the dress second hand from Kate Gabrielle's online instagram account. I paid something like $20 but a medium black shift dress with little bell sleeves. It originally came from Forever 21, a store I wouldn't promote, and it wouldn't have the dress available anymore anyways. It clearly is no longer a dress with my tummy, and became more like a tunic with black leggings. If you want a similar look for a baby bump- Pink Blush has an actual dress made for baby bump that is similar. I hope everyone likes my super serious and super derpie faces.
Aside from great food, clothes, and company, we got a lot of great stuff for the baby. We got practical stuff like wash clothes, and car seats, but also cute things like Sophie and Fanfan! We are finishing up our shopping as the days are coming up. It is kind-of nice to know that we can pick whatever we want at the point. We stocked up on secondhand newborn onesies, and I will be checking out Swap.com for sleep sacks and jackets.
Animals:
For week 32 the baby was the size of a naked tailed armadillo. The app doesn't say which species, which drives me nuts (since I am such an animal know it all) but I can leave you guys with this cute cartoon about armadillos. For week 33, the app says the baby is the size of a ferret. Since they are a semi domesticated animal, I feel less bad leaving a link to a google search of ferrets in costumes.
Birthing Plans:
Right before the shower Jon had been getting so anxious about the baby. For the most part our prep work has been painting rooms. Now that we are getting closer he started to worry about all the technical stuff. I don't blame him. He kept asking me "Are you SURE you don't want to take a birthing class?" I was pretty hesitant because I am pretty good at remembering things, so I was worried about taking a class, paying for it, and having lots of info repeated. Even a two day class at the hospital was $70. I can't imagine how expensive some of those 8 day lamaze classes would get. So to get Jon to shut up, I mean calm his nerves, I rented a DVD from the local library. They have one option- Laugh and Learn About Childbirth.
Let's just say thank GOD we didn't pay for a class. Okay clearly it would of been different experience depending on the teacher. But I think I made a face of disgusts the whole time at the tacky wholesome jokes while Jon looked like he might of fainted. Things got a little easier as things went on for him, and I think I got more in vibe with the tacky jokes, or maybe she just grew on me more?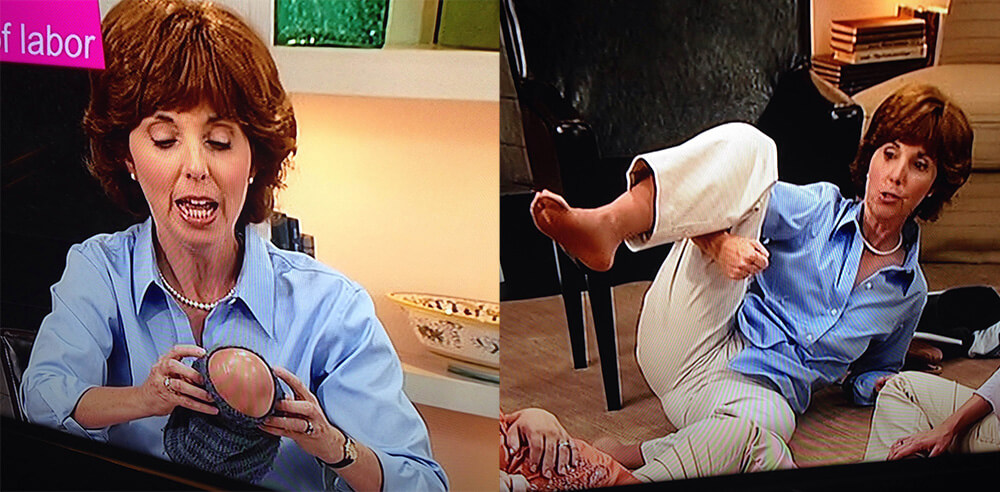 The first few classes/episodes/whatever didn't have much new information for. I think that's why I hated it so much at first. But it didn't help that this lady has the most dated hair, and acted like a character played by Cheri Oteri mixed with your outgoing-but-not-so-funny high school drama teacher. Highlights? Showing everyone what a baby looks like coming out of a knitted uterus… which I can't really remember why she needed that simulation. Then she talked about the different positions you can be in to give birth. She shows some of the positions- all are not flattering. Then she proceeds to say "you might look silly doing this one" and goes on all four. Nothing particularly bad. Then proceeds to say "or you can go on your side" and makes that move up above. Jon and I lost it, and couldn't stop laughing. This lady made it seem like this was such a normal position to be in. Oddly, I just noticed that she is wearing tights under her khakis.
There are so many weird little things this lady does (like tights under pants.) Actually there are lots of weird decisions about the filming. Like they make as if it is a "real class" and have other couples sitting there. Which kind-of stinks there isn't any same sex couples, or single moms or something like that. But they go around having everyone introduce themselves, you know, like a class. They even have a Dad who doesn't speak English, but they keep asking him questions and such, only to have the teacher be like "uh… not sure what you are saying." That one got me scratching my head. Another fun fact about the teacher- she had twin boys. She claims she would eat 4,000 calories to keep up with her milk supply and still loose weight. She claims she ate half an Entenmann's cake every day. What?!
I think it overall was helpful, though I can't say it is best since we haven't seen any other videos out there. But I think it helped ease Jon about how awful the labor will be. He also better understands why I don't want an epidural. We'll see how I deal with the pain, but honestly I think I have a high pain tolerance. And if there is one thing I took away from this video is that it is better to try and tough it out as long as you can before getting the epidural.
Vegan MOFO!
I am a little happy to focus some of this blog to food again. Vegan Mofo is coming up and I didn't get as much prepped as I hoped. I am crossing my fingers that Sunday and Monday I can do a lot of pre-writing for posts. It will be nice to have a few things to counteract all the baby stuff. The other day I was at Barnes and Noble and I was thinking about grabbing a pregnancy magazine. And then just couldn't do it. And instead grabbed Bitch and Ms. I think the guy ringing me up was a little confused. XD