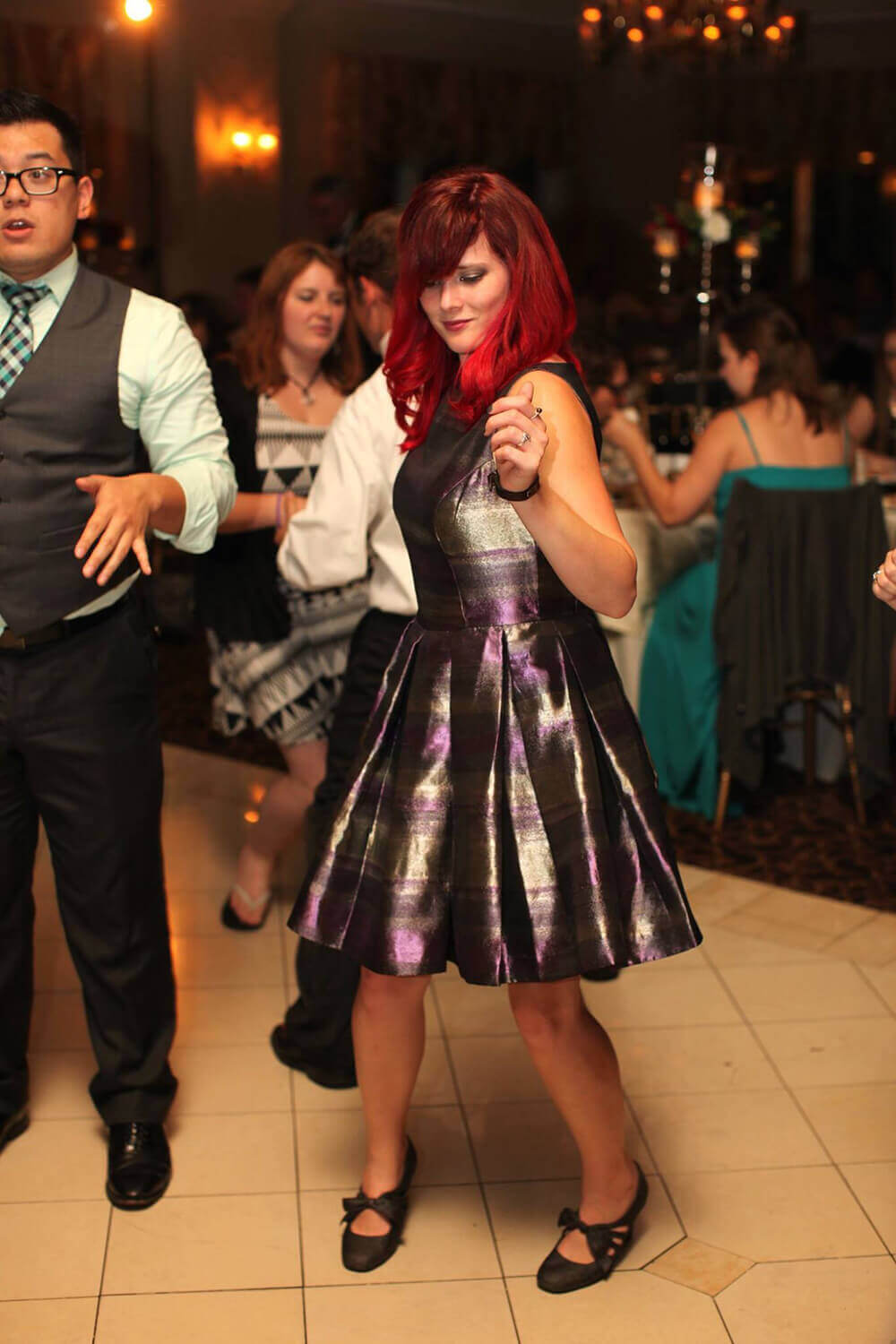 Hey guys. This week has been a lot less productive than I had hoped for. Part of the problem is you know everyday life. Whomp whomp. Then there is also this weird internet. It is find in the morning, then at night it disconnects every five seconds. Arg! It stinks but there are worse things that can happen in life.
So I just want to point out how cute Alexa looks right now. She had a wedding coming up, and being thrifty me I was all like "NO DON'T BUY A NEW DRESS BORROW ONE OF MINE!" I LOVE this dress. I got it on sale from Ruche, it was originally something like $80-100 but I got it for $39.50. I've worn it to a bunch of weddings, luckily I had friends and family weddings that didn't crossover with guests. Nobody caught me wearing more than once! Anyways, I've washed it a few times, when I wasn't suppose to and it started to rip, but Alexa got it fixed so it might get worn a bunch more times. And if you are dying to have the dress, you can buy it for $96, which this is like super old out of stock. So no bargin hunting.
Also Alexa dyed her hair again, which makes me jealous. I want to dye my hair but my bosses are a little…. uh… judgmental about looks? And our clients are pretty old, and conservative so I don't think it would be the best move on my part. Alexa wanted to dye her hair like her favorite wrestler Sasha Banks. Note- their all Alexa's favorite.
So I mentioned doing the Vegan MOFO Offseason thing, and there is the prompt of Pick 3, and she said to share any vegan articles. So I will make this week's Sunday Reading in lists of threes.
3 Recipes
CARAMELIZED BANANA & RUM SHAKE – I think I know what I should try and make next time Alexa and Ian crashed my place for game playing. I've been reading The Drunken Botanist, and it really helps make the connection that plants are booze, and it really a "vegan" food. It is exciting to see all the different herbs that are used in cocktails. My little liquor collection is growing fast, and hubby and I really need a cocktail cart for drinks and glasses.
HOMEMADE PUMPKIN SPICE LATTE WIHT SALTED PUMPKIN SPICE SYRUP – Okay so I've been making pumpkin spice lattes at home with a pumpkin spice almond milk that I bought. I've been lazy about making a syrup for myself, but this one sounds divine! I should make some and use it in my Spiced Pumpkin Carriage… or lattes. XD
3 Fun Stories
RESCUED RACCOON ORPHAN NAMED PUMPKIN – I am a sucker for any cute animal story. I think it does make veganism for relatable for most people. So I share them. This one is about a baby raccoon that was hurt and was nursed back to health. It is so endearing to see a raccoon snuggle with a puppy, showing that animals can connect with each other regardless of species.
BEHOLD THE ULTIMATE CROWDSOURCED MAP OF PUNNY BUSINESSES IN AMERICA – One thing I do know about vegans is that we love a friggin pun. I feel like there is probably a bunch more that need to be added, so check it out and add anyplace that you can think of.
WHAT HARAJUKU GIRLS REALLY LOOK LIKE – This "decora" style come about right when I fell out of Japan's music culture. It is probably one of my least favorite street styles. But it is interesting to watch the video.
3 Letters
LETTER #1 – These letters have been buzzing around the vegan blog-o-sphere. If you aren't up to date these are letters written by Miyoko Schinner, who has pretty much reinvented the vegan cheese scene, to Ryan Bethencourt, an entrepreneur and scientist that I know nothing about.
LETTER #2 – This is the response from Ryan, which focuses on how science is able to engineer products with science. It is fun and exciting, and talks about some cool foods coming out to the vegan community. He views veganism as a world of science and labs, which I can get behind, but I think most people find this anti-food. This view I think is more relatable to older generations who view processed foods as improved products from the natural ones, which sometimes they can be.
LETTER #3 – Miyoko responds back by taking the science away from vegan innovations and bringing it back to the home kitchen. And I love this. I love being able to say you can DO EVERYTHING in the kitchen. I think people are surprised at how easy some vegan food is, like nut milks. My boss was shocked when I said it is just essentially just water and nuts, then filtered. I think it is some sort of balance between science and homegrown food that will sell people to vegan food. It can be fake, but it doesn't HAVE TO BE.
3 Shopping Finds
REST IN PIZZA SHIRT – I love this shirt as it seems super vegan to me. I've heard so many people say things like "Oh if you can't have cheese I guess you can't have pizza!" Apparently cheese is what makes the pizza to most people. But I love a good tomato pie, and I found pizza is a super vegan thing.
THE LONG ARM OF THE LOBSTER CARDIGAN – I use to love to eat lobsters, and I also think they are just a cool animal. I remember having them walk around the kitchen floor before eating them, which my husband thought was morbid. What can I say? I knew I was a murdering bastard at a young age. I dig this classy sweater which to me gives more of a nod that lobsters are cool and cute like any other trendy animal.
1960s GOLD METALLIC BROCADE WIGGLE DRESS – Anyone want to give me $140 for a new dress? I love fancy dresses, and I don't go out as much as I should to put these dresses to work. But I love the light work of the metallic threads, so it isn't overdoing it on the shiny aspect.