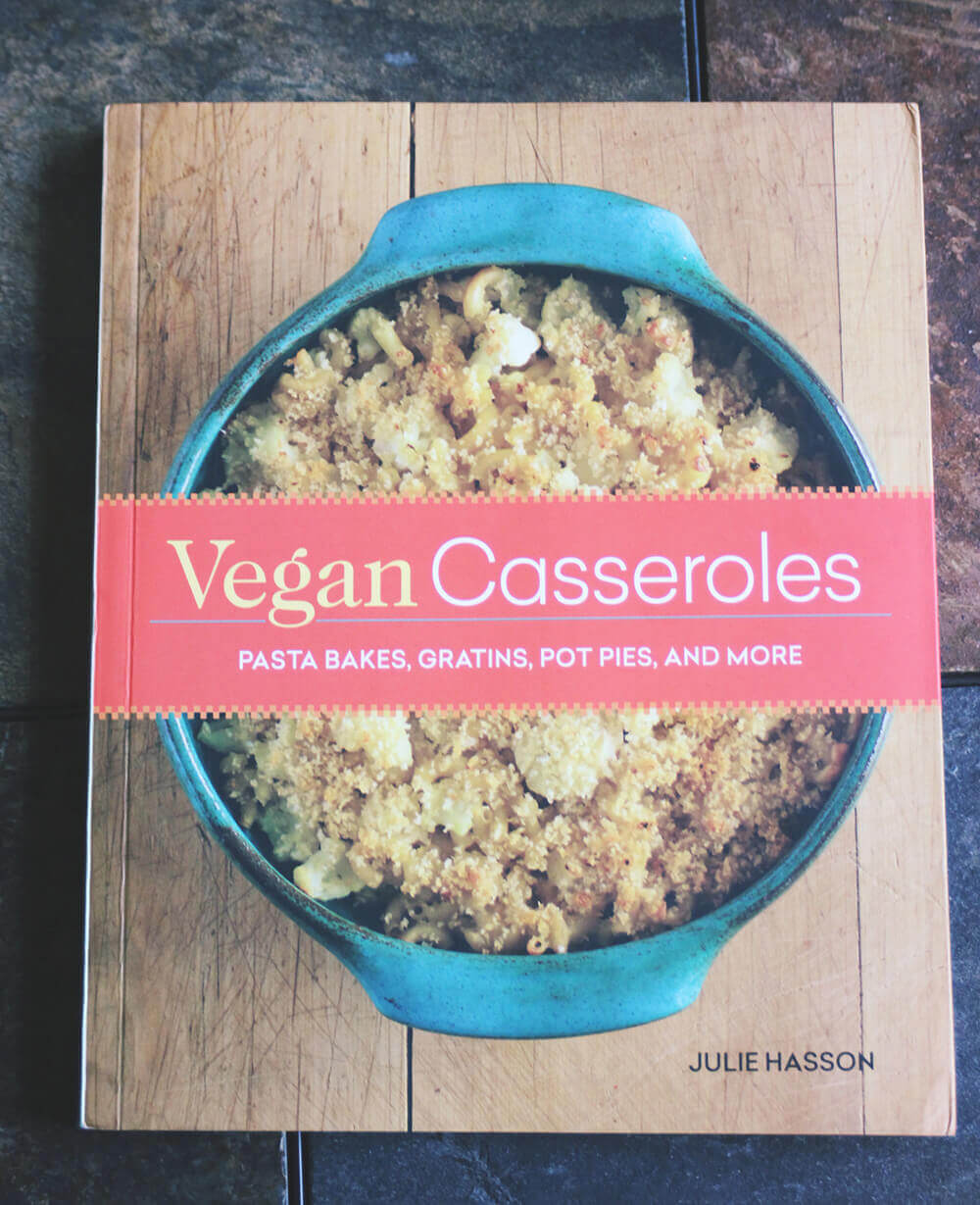 Shop on Amazon or Barnes and Noble
Many blogs have featured this newer cookbook on vegan casseroles. Since so many blogs had giveaways, sample recipes, and glowing reviews, I wanted to give the book a try. Which is a little weird since I never really grew up on casseroles. At least "all-American" casseroles. Sure we had mac and cheese, lasagna, and tuna noodle casserole. But that was mostly it. When I started to cook I was always intrigued by casserole recipes. They were so exotic and foreign to me.
So I can't say if Julie has put all the classics in this book, but many looked familiar. She features both American classics (beans and rice, chili casserole, nacho tots) and more traditional cuisine (stuffed peppers, lasagna, mac & cheese). The overall goal of the book was to make quick dinners that give the comforts of casseroles, but were vegan and not too heavy on fats and calories.
Photos
Compared to most cookbooks reviewed on here, there aren't that many photos. But truthfully, I doubt that you need a photo for each recipe. Casseroles aren't the most photogenic food out there. But what I really appreciate is their choice of recipes to photograph. If the dish wasn't as straight forward as a mixing all the food and baking, they took a picture. For example there was a photo of the stuffed cabbage or lasagna. These aren't traditionally thought of "casseroles" but fit the definition. The photos that are available are beautiful and presents the foods as something delicious and appetizing. It is interesting to see some reviews online and see the not-so glamorous shots of the dishes. Not to say the blogger casseroles look disgusting, but the photos in the book are just a little more inspirational.
Set-up
The book opens with a very short intro. I think this was a smart choice. If you are picking up a book about specific vegan foods, there is a good chance you already know a good bit about veganism. You are going to know all the different vegan substitutes, which foods aren't vegan, and the benefits of lifestyle. The book jumps right into the recipes, dividing them up as appetizers, dutch-oven casseroles, old favorites, pasta, vegetable, desserts, and "staples." The staples section is filled with sauces, and crumbles for recipes. Although it was a pain to flip back and forth for some recipes between the nacho sauce and the casserole, it wasn't too big of a deal. It was a little easier because by the end I started to memorize the sauce recipes, needing the flip pages less and less.
Writing
The writing is brief and to the point. This book had a small opening, and jumps rather quickly to the recipes. She keeps the length down in the recipes. There aren't any long stories, cultural references, stories about the recipe development, just a short paragraph describing the dish. Sometimes she suggests how to enhance a dish (like in the Rice & Beans being served with lettuce, avocados, and salsa). This makes and easy read that isn't distracting from the recipes.
Overview
The biggest criticism I've read about this book is how "unhealthy" the recipes are. I get it, what one considers healthy is subjective. I would say yes, these recipes are vast improvements on the originals. Casseroles are known for using cream, cheap meats, cheese, and canned soups. Some recipes use fake cheese, faux meats, and other processed ingredients. But realistically, you are using mostly whole ingredients that are commonly found in kitchens. Many of the "fakes" can be taken out, or is listed as "optional." The serving sizes are huge and decently low calorie. I plugged in the ingredients in a calorie counter, and I found that the recipes have lots of nutrition.
Another arguement for the "it's unhealthy" debate is that some foods are not made from scratch. This is true, but Julie Hasson points out in the book, if you want you can make your own seitan, soy cheese, or tater tots, but a casserole is suppose to be easy to make. You can do this with ALL of your food. You can make your almond milk, bread, dog food, kombucha, beer, etc. But we as humans can only do so much. That is why bakers, butchers, and restaurants showed up. We can only do so much. It is just your decision.
I think the important thing to put into perspective are the goals of the book. Julie Hasson wanted to make vegan versions of classic casseroles. They are suppose to be affordable, which they were. They were also suppose to be to a certain degree less processed, which most recipes didn't use processed products. And the final criteria was that the recipes were suppose to be easy. Each recipe varied on the amount of worked required, but overall they were pretty eat to make. I don't think there wasn't anything that my husband and I didn't like. There is definitely some foods that saved better than others, or little tricks to making it turn out better. But overall, I would recommend this book to pretty much any vegan.
Boozy Baked Penne with Caramelized Onions
Section: Pasta Casseroles
There wasn't much convincing to get me to cook this dish. I love mixing beer with my dinner. And I thought that a nice pale ale would taste great with a cheesy sauce. I was blown away with this dinner, grabbing seconds. It comes together pretty fast, and can be made in one pot if you have time to kill (cook the onions, then put them aside, then use the pot for the pasta, then to cook the sauce) I will definitely add this to my "must make again" list of dinners.
Bean and Rice Casserole
Section: Old Favorites and new Twists
Recipe: Vegan Outreach
I've made rice and bean casseroles before. They are usually pretty simple, using stictly rice, beans, stock and tomatoes. And I remember a recipe took about an hour and a half to bake. Ouch. So I was surprised by this recipe. It used pre-cooked rice, and canned beans, which is great if you have leftover rice (or purposefully made extra rice). What really makes this recipe "odd" is that it is more like a cheesy nacho dip that could be called a meal. Instead of being based on tomato flavors, this one has a thick cheesy sauce. It was really delicious to serve with some tortilla chips and salsa. The salsa really made it, giving a little cold tartness to a hot creamy dish.
Bumbleberry Cobbler
Section: Dessert Casseroles
Recipe: Fran Costigan
This dish is delicious, and easy to make. The mixing part is fast, but the baking takes about an hour! The result is worth it, and I made it for my family Easter get together. I was the only one heading home with an almost empty dessert dish. My only problem is Julie's classification as a cobbler. This isn't. A fruit buckle is probably a better term for this dish, as you pour the cake batter in, and the fruit sinks in it. Regardless, this dessert is easy and delicious. And better yet, she offers an alternative to margarine, which I used (coconut oil)
Chickpeas with Rice, Dill, and Tomatoes
Section: Vegetable Casseroles
This is another recipe that is "easy" if you have all the food pre-cooked. This is a great way to use leftover rice, and a dish that would shine when tomatoes and dill are in season. I was surprised that only two small roma tomatoes added plenty of flavor, and they weren't even in season. My only problem is the practice that you add only half of the tahini sauce, then use the rest for pouring on the finished casserole. I had a very thin sauce, so I can't imagine it doing much to keep as a "dipping" sauce. I found myself just pouring it all in the casserole before baking, and I thought the results were good.
Creamy Spinach Florentine
Section: Pasta Casseroles
Recipe: Vegan Richa
This was a super easy dinner to put together, especially since it used frozen spinach. No need to chop or cook anything. In a way, if I wanted to use fresh spinach, it wouldn't of been too much extra work. And you can use one pot, boil the pasta, drain, then cook up the sauce. Out of the other pasta casserole (the boozy pasta) my husband preferred this one. I don't blame him. It is incredibly creamy and delicious. It will most likely be made again, possibly for a family function.
Nacho Tots Casserole
Section: Old Favorites and new Twists
As a girl who never ate casseroles at home (at least the kinds that would use a can of this, and a can of that stirred together) so I actually had no idea that this was a thing. I thought the author was being creative, until I tried looking up the recipe in a google search. Realistically, this is a pretty tasty dish. I didn't get the potato tots to cook all the way, so I super duper recommend thawing the tots, like room temperature thaw. Otherwise, just baking longer does the trick. This is a super flavorful and easy dish to make and I would have no problem making this for a vegan-a-phobe.
Shiitake, Rice, and Green Bean Casserole
Section: Vegetable Casseroles
This recipe takes a very long time if you make everything from scratch the day of. If you cook the rice, boil the green beans, etc. The dish also took longer than normal because I actually had to make milk for the dish for the sauce at the same time as well. But if you have the rice already made, the dish really doesn't take that long to put together. The dish reminds me a little too much of a green bean casserole, since it has the mix of mushrooms and green beans. The rice offers a something more filling, giving a more complete meal. I switched out the soy curls for some seitan that I made, and put some puffed rice on the top for texture. In the early introductions to the book, Julie suggests you can add any sort of topping to the recipes, so I thought I would try it out. I can say it really added a little extra something to the dish.
Veggies and Dumplings
Section: Dutch-Oven and Skillet Casseroles
This dish is amazing. I've loves my mother's chicken and dumplings recipe as a kid. It was what she would always make when one of us got sick. Most people grew up with chicken noodle soup, I had chicken and dumplings. But it seems that drop dumplings aren't a big thing anymore, so when I saw this recipe I went nuts. Personally I think this is a little bit of a stretch to call this a "casserole" and in the book she says that the recipe originally appeared in her book Vegan Diner. Basically this is made only in a pot, and doesn't go into the oven. I'm fine with that. This was pretty easy to make, but I think there could of been maybe a little more flavor in the "soup" part, and I would recommend trying to keep the dumpling drops as small as possible. It'll make eating much easier.
Note About the Book: This book was received by a blogger's book giveaway, and all options of the book are honest.