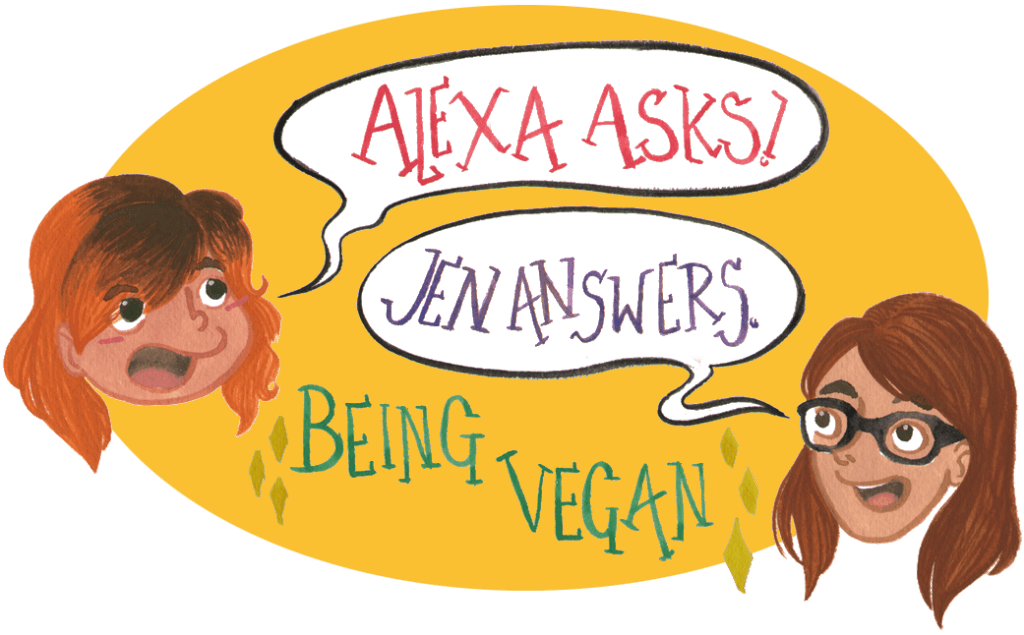 Alexa is working toward a vegetarian diet, and is loaded with questions. Jennifer's got answers. We talk about anything as long as it is vegan. Are tattoos vegan? How do I politely not eat Thanksgiving dinner? How do I order without pissing off the waitress? We know you are dying to ask!
I am living at home and eat often with my family and my man's family. I find it hard to say no to their animal based cooked meal. So how can I transition into a vegan lifestyle?
So let me state by painting the living situation that Alexa and I are dealing (or rather dealt with in my case). Basically I've lived with my sister and Alexa is living with her parents. These situations, I would say sitting down as a family for dinner wouldn't happen daily, but sometimes would still happen. But I think Alexa and I can agree the trouble was the idea of having dinner with our Man's family. I lived with my husband's parents for about a year and a half and his father cooked dinner with a passion. It took forever to get him to stop cooking a dinner for me when I worked late at a restaurant.
So what does one do when dinner is being served for the whole family? And with little choice from your end as well? I truthfully gave up veganism when living with family. I babysat my nieces a lot and I had a hard time not nibbling at their uneaten mac and cheese (which actually got them to eat it). When I live with my husband's family I felt really rude asking for them to cook all vegan or make another dish for me.
So I kind-of found some middle ground, or rather ways to work towards a vegan diet. Now these steps are basically if you are in a temporary situation. I now live alone with my husband, and shared family dinners are now vegan. If I visit my in-laws they make a vegan meal for me. If I visit my family I usually make food for myself. If for whatever reason you think you'll be living with other people in shared dinner situation longterm I would recommend taking steps to eat 100% vegan. Although these steps are still good to get use to the vegan transition.
1 – Start with veganizing your breakfast & lunch
Breakfast and lunch are pretty easy to make vegan for yourself since they are meals that vary widely from other people in your family. In fact, I think this is an easier way to transition into veganism than slowly eliminating certain foods from your diet. I think starting from breakfast you start to create new traditions. It might be hard at first since breakfast in a Western diet is very heavy on animal products (yogurt, ham, sausage, bacon, buttermilk pancakes, etc) But even starting out with smoothies and vegan cereals with soy milk are great starts.
Lunch might be a challenge if you are a sandwich person. They can be really easy to make on the go. There are many different sandwiches you can find on pinterest that are vegan. Sometimes it involves some time in the kitchen, but often yields several servings. So you might be in the kitchen for lunchtime, but you will be able to make lunches for the week, which can be worth it. Salads, wraps, soup, and sushi can be other great lunches to make.
2 – Start "phasing out" certain foods for dinner
Once you become pretty comfortable with a vegan breakfast and lunch, start telling people that you are trying to go vegan and start phasing out certain foods. I would recommend with little things. For example, try asking the cook to make vegetable sides with olive oil instead of butter. Then after two weeks, say you are trying to cut out steak, then eggs, cheese, etc.
I would try and get rid of foods that are used as a garnish first, then used in sides, then just not as commonly cooked. Like if the family eats a salad every night ask for no cheese in your salads or buy your own vegan dressing. Make it so it is easier for the cook.
3 – Offer to cook dinner
Rarely do people turn down a free dinner. So share the vegan joy by offering to cook for the family. Respectably this can be hard. When I was living with my in-laws I would have to plan ahead since they planned dinners out for the week. It was even more difficult since they would make this list on Monday- to go grocery shopping that weekend (a whole week ahead!) Hopefully, by cooking for everyone they will taste vegan food, and get an idea what vegan dishes they can make themselves. Sometimes people are just clueless about what dishes are vegan or how to veganize something.
You can also make quick dishes. If the dinner is steak with sides, you can heat up some vegan protein to add to you meal. Making some veggie burgers and freezing them is a quick option, just microwave them or ask if it could be grilled before the steak. Getting other frozen dishes like faux chicken nuggets, seitan, etc, can make you dinner easy.
4 – Research vegan options for eating out
Take a look around for vegan meal options. Keeping a mental note about what your options are. There are tons of blog posts that list various options you have at major chains like chipotle, panera, etc. Google things that are nearby and keep track. That way if your friends want to make a sporadic late night trip, you don't worry about not having something to eat.
I also recommend checking out that Happy Cow for local restaurants that have vegan options. There are usually a lot more options that aren't listed. The database is from readers so sometimes restaurants that are new or have non-vegan options tend not to get listed. So if you don't see a restaurant on that site, that doesn't mean it won't have any options.
5 – Be strict about what YOU buy
Once you start getting a hold of eating out, breakfast, and lunch get really strict about what you spend you money on. Start flipping over boxes for cereals, cookies, granolas, breads, etc. You maybe surprised about what isn't actually vegan. Once you know what is vegan for the meals that are more automated, it will be easier when you move out. That way your vegan focus can be on making vegan dinners and recipes. Which brings me to the last point:
6 – When you leave, announce you are full vegan
Once you move out and you decide you want to be 100% vegan, make an announcement. Once you move out it is easier to tell everyone that you are now vegan and stop making meatballs for dinner. Even if you haven't fully transitioned out, it still a good idea to tell other people. I use to get served eggs and cheese with family members for awhile. It was mostly a pain since they would make these special dishes for me, even though they got it wrong.
What about you guys? What are some tips about living in a non-vegan household?