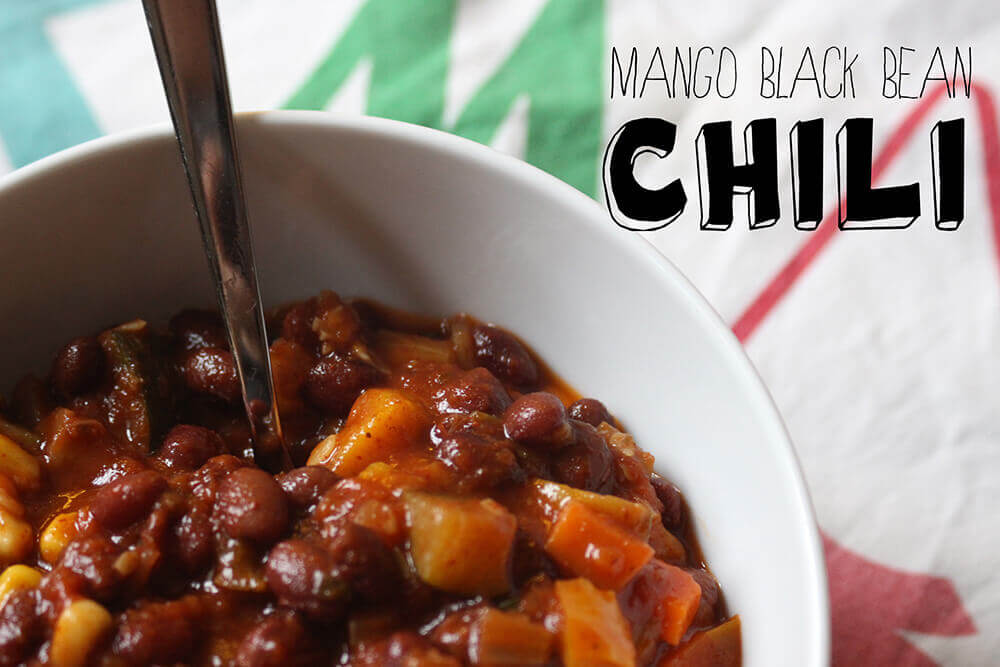 Today has been a gross day. I've been accepting that my productivity is deeply effected by the weather. Particularly overcast rainy days. Whenever they is a steady drizzle I just want to stay in all day and pretty much do nothing. Now that the sun is coming out I am finally getting around to posting this awesome recipe.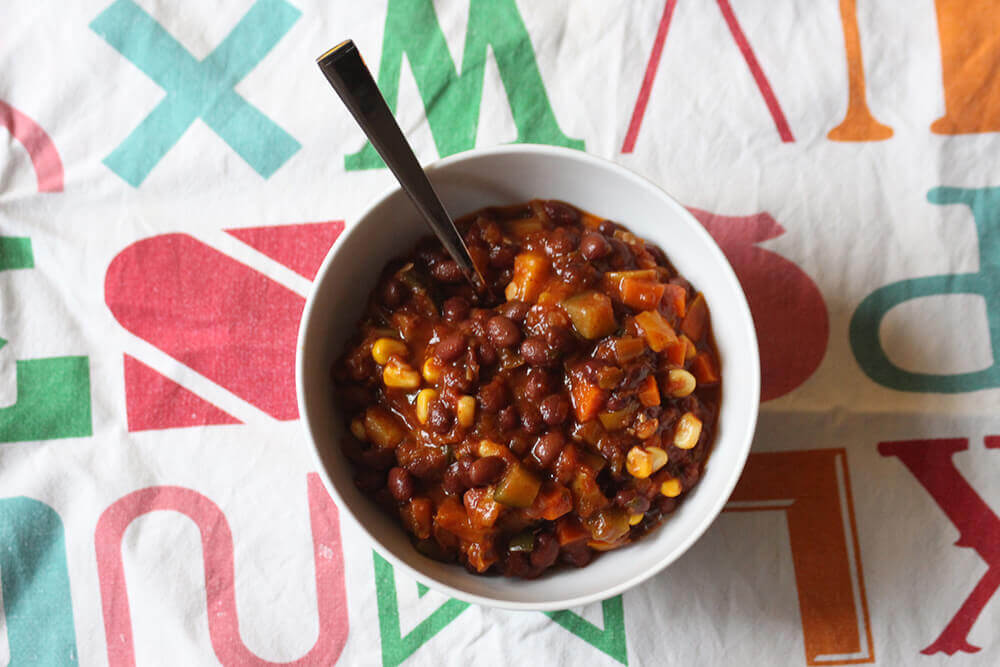 I am a little surprised that I am just posting a chili recipe. I've become a pro at chili, I could practically make them in my sleep. I've become so comfortable with them that I've more or less stopped using any sort of recipe. It also so helps that I use chilis as a great medium to chuck all my leftover produce in one dish. Oh and don't forget the fact that I get hella good chili peppers from my CSA.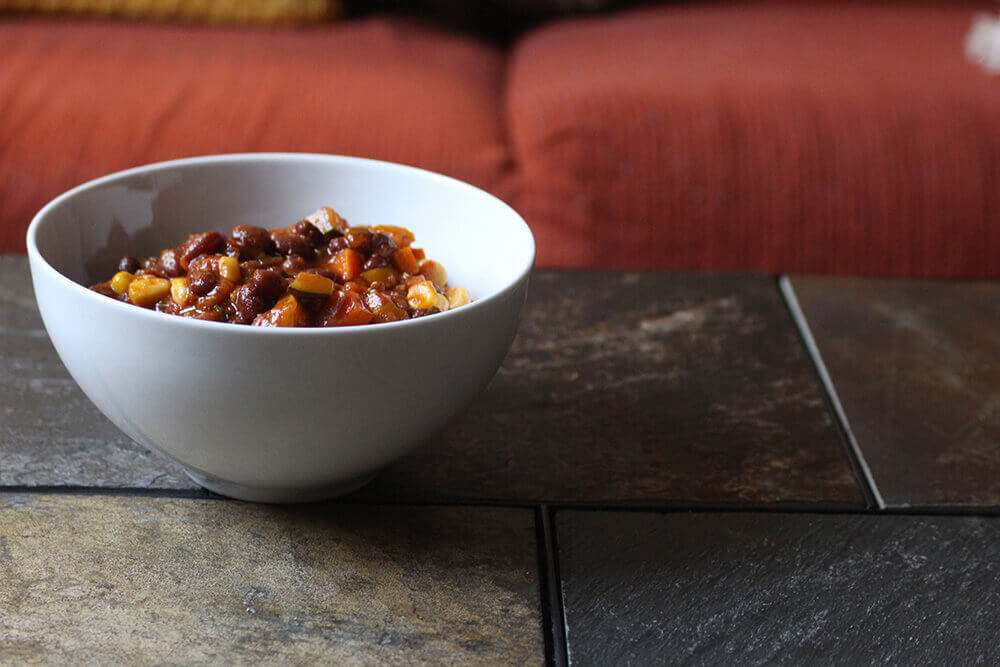 So what has prompted me to make a chili recipe since I am not so formal about my chilis? Really cheap mangos. I love fresh mangos, especially ones that aren't too fibrous. I bought a giant box of mangos and then started to get tired of blending mangos in my smoothies. Mangos were building up and I didn't want my last three to go to waste. So I figured I could make something savory out of them.
Or perhaps I've been subconsciously persuaded due to all the mango recipes that are circulating. I am seeing so many come into my blog feed that I am starting to just insert the word mango in blog titles! Regardless of the reason I am glad I took the plunge.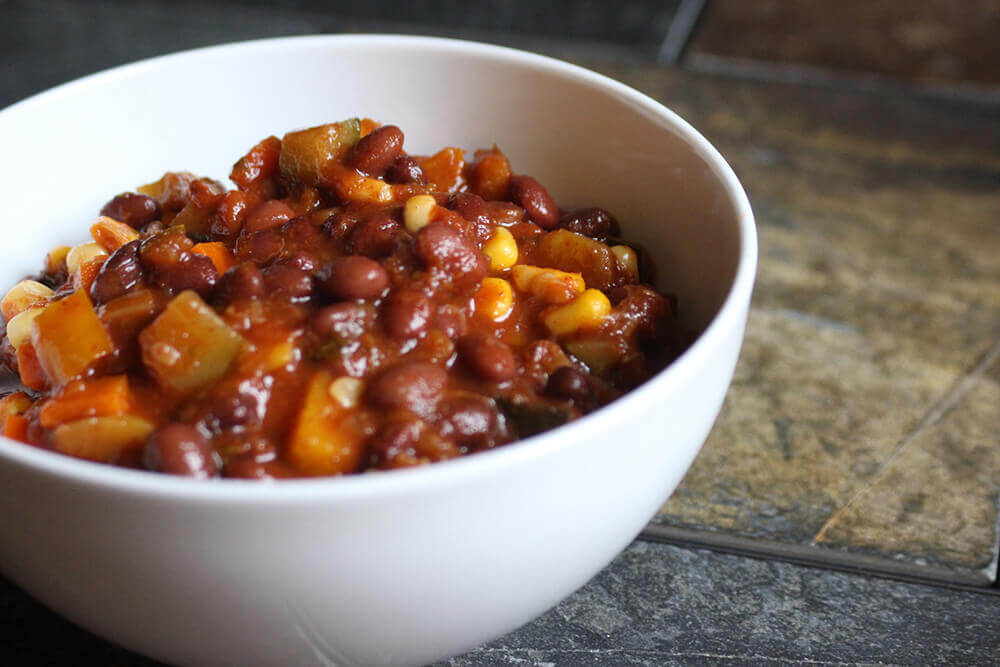 This isn't a completely new idea for a chili recipe. I mean I did google "mango chili" to get some recipe ideas (or rather an idea of how long to cook mango). And they all seem to be sickenly sweet. I already found my recipe pretty sugary, I can't imagine adding more sugar, or raisins in the mix.
This recipe kind-of takes awhile since I am starting with a pound of dried beans. But this also make a lot chili, like 6-8 servings, depending what a serving is to you. I think it is best for a picnic or a summer barbecue. There is plenty to pass around, and you can leave your house after your done cooking, being very far away from your hot kitchen.
Mango and Black Bean Chili
2015-04-20 14:23:19
Serves 6
a yummy black bean chili that is perfect for your next vegan potluck!
Ingredients
1 lb dried black beans (soaked for 8 hours)
2 carrots chopped
1 red bell pepper chopped
1 green bell pepper chopped
1 large onion
3 cloves garlic
2 small zucchini chopped
1 cup corn (frozen or fresh)
2 tbsp chili powder
2 tsp cumin
1 tsp paprika
1 tsp salt*
3 cups vegetable stock*
2 tbsp chipotle peppers in adobo sauce chopped
1 cup chopped cilantro
3 cups mangos diced
2 juiced limes
1 tbsp olive oil
Instructions
1 Soak your beans for at least 8 hours. Drain your beans and add fresh water.** Bring water to a boil and cook your beans until tender, about an hour. The time will vary with size of the beans, soaking time, and how old the beans are. When the beans are cooked drain and set aside.
2 While your beans are cooking, prep you veggies. In one bowl keep your chopped carrots, red and green bell peppers, onion, and garlic. In a second bowl combine your zucchini, corn, chili powder, cumin, paprika, salt, stock, and chipotle peppers. In the last bowl combine the cilantro, mangos, and limes. By the time you are done chopping and collecting your ingredients, you beans should be done, or close to being done.
3 In the pot you used for the beans, heat the oil. Once the oil is hot, saute your carrots, red and green bell peppers, onion, and garlic for about 5-7 minutes. You want your onions to start turning translucent and your veggies to soften slightly.
4 Add zucchini, corn, chili powder, cumin, paprika, salt, stock, chipotle peppers, and your drained beans. Mix all the ingredients together and bring to a boil. Reduce heat and simmer for 30 to 40 minutes, stirring occasionally.
5 Once the zucchini is cooked add cilantro, mangos, and limes. Cook for another 10 minutes, making sure to stir occasionally.
6 After 10 minutes, you are ready to serve. Enjoy!
Notes
* If you are using store bought stock add salt to taste. This recipe used homemade unsalted stock.
** Draining and adding new water will help prevent those beany farts.
One Raw Bite https://one-sonic-bite.com/