Hubby and I went for a walk together last Sunday and I noticed a sad little hole in my favorite pair of shoes. I am not very kind to my shoes, I only own a few pairs and I wear them to death. It probably doesn't help that I rarely pay more than $20 for a pair of shoes either. Realistically I'll probably check out shoes at a thrift shop and try and jazz them up. But for now, I can check the internet and make a vegan shoe dream list.

Who Could Be Saddle Shoes byPinup Couture ($39.99) | Confetti Cork Oxford Shoes by Golden Ponies ($42) | Carefree Choreography Flat in Cognac at Modcloth ($34.99) | Holographic Oxford Shoes by Golden Ponies ($42)
I've been noticing that I am feeling more and more comfortable in shoes with a slight heel to them. I think this because when I am in flats I kind-of walk like I am running, on the balls of my feet. Either that or my walnut crushing bunz are so HUGE that I walk funny. But I like when shoes have a pretty traditional style but are pretty quirky, like those holographic oxford shoes. Yes please!

Razzle Dazzle by Irregular Choice ($125) | Swift Stride Flat by BC Footwear ($59.99) | Green Velvet Foxy Flats by Tuk Shoes ($55) | Foxy Herringbone Heels by Tuk Shoes ($65)
I love heels, but realisticly, they are the only shoes that I don't wear to death (they can actually get donated to charities!) Which makes me wonder why I bother buying them new. Then they make cute heels with metalic turquoise bows and foxes on them. Ugggg! Life's not fair! And I am weirdly realistic in my shoe fantasies and still put some flats in there. I keep eyeing up some leopard print flats, which is probably a sign I should bite the bullet and buy a pair.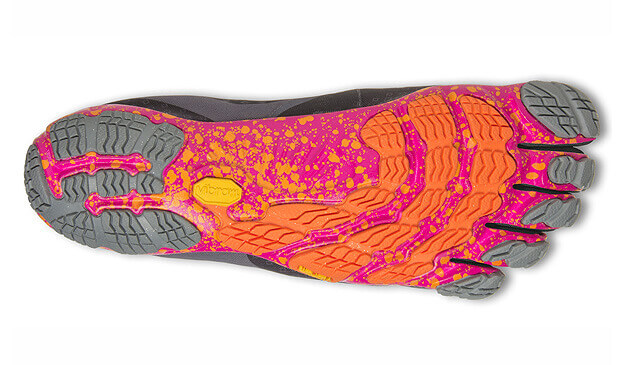 Bikila EVO WP by Vibram ($150)
Oh and I am starting to think I'll need to replace my running shoes soon. I am loving this bright pink and orange sole. It will be my own little fun running secret. Right?
Anyone has some dream shoes they been pining over?