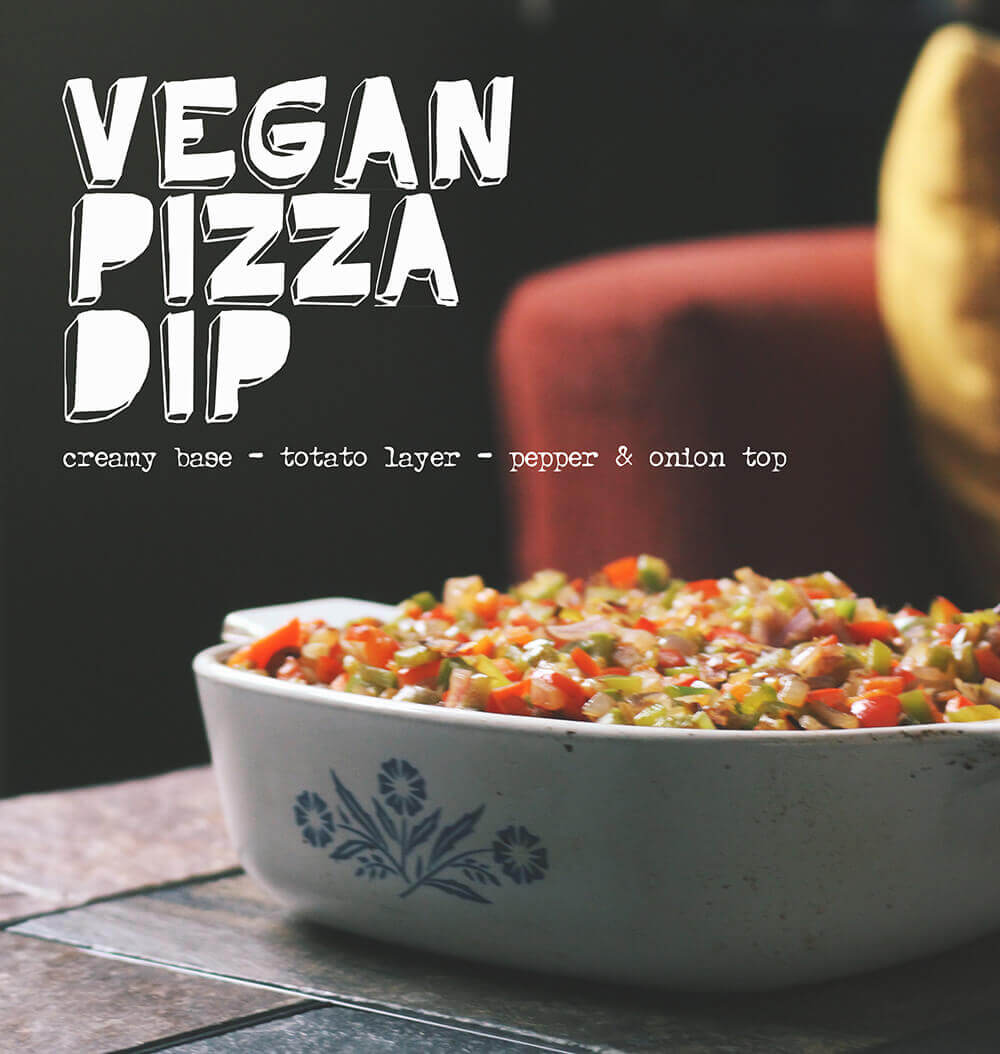 Is there some unspoken party rule that dips should be named after other foods? I mean there is buffalo wing dip, hoagie dip, jalapeno popper dip, banana pudding dip, smores dip, it seriously gets out of control. But I have to admit I have a soft spot for pizza dip. It was sort of my family's staple appetizer for parties.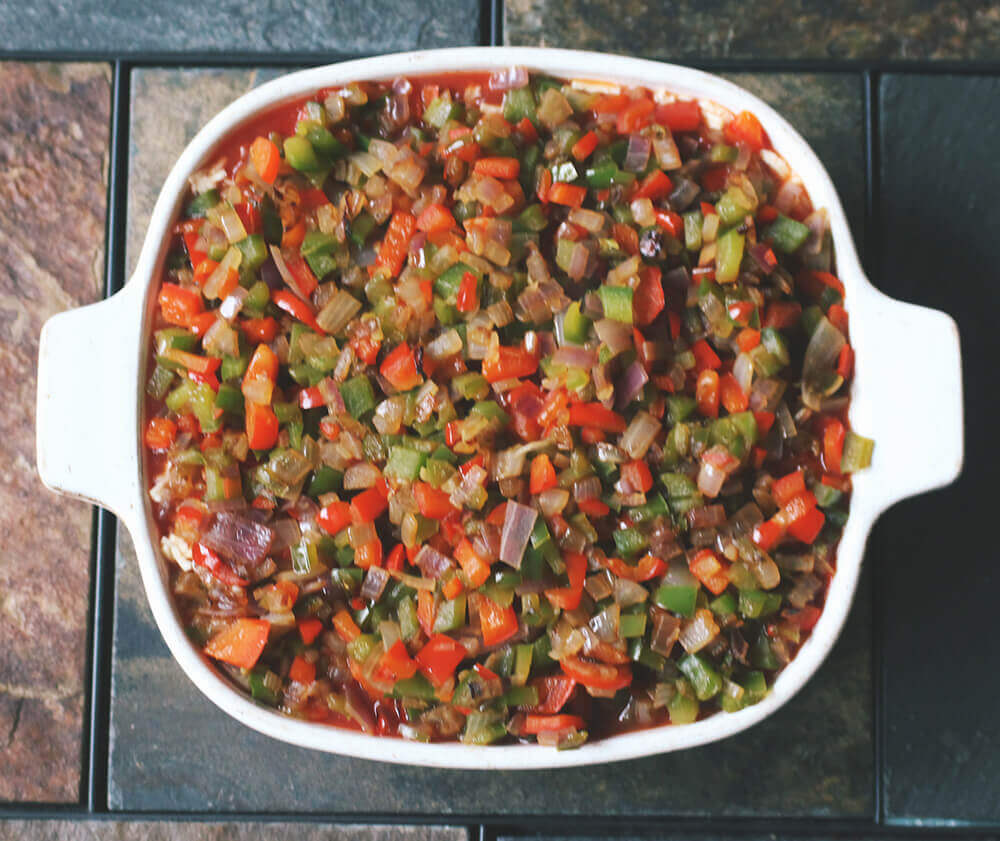 The original version was pretty easy to make, just take cream cheese and sour cream and beat together. Then add tomato sauce, cheese, and pepperoni chunks. Now, clearly the original isn't vegan. But I would make the argument that I prefer my newer vegan version, though I miss the pepperoni. So instead I topped it with other items you would find on a pizza, onions and peppers. But you are free to use whatever you want, like olives, faux pepperoni, faux sausage, tomato slices, etc.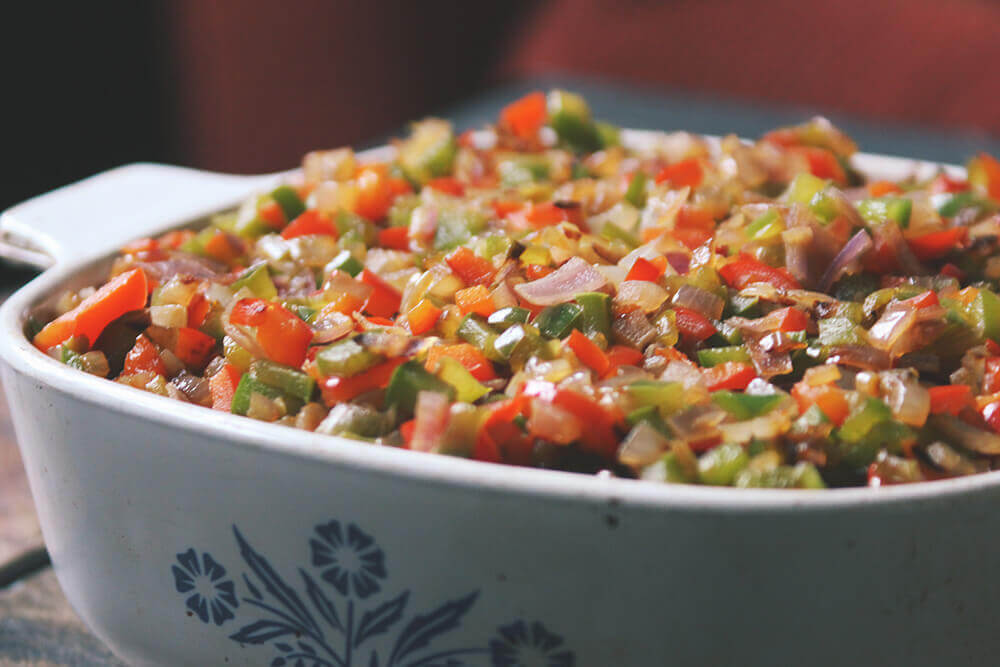 This dip is really tasty. It made my omnivorous friends scratch their heads when they found out there wasn't any dairy in it. And they ate it so fast I couldn't take any photos showing the different layers.
My biggest tip with the dip? Finding the right container. You don't need the dip to fill up all the way to the top. Keeping nice thin layers is ideal so you can get a little bit of everything in one scoop. I am merely poor and lack a huge collection of dishes to cook in (gotta work with what you got)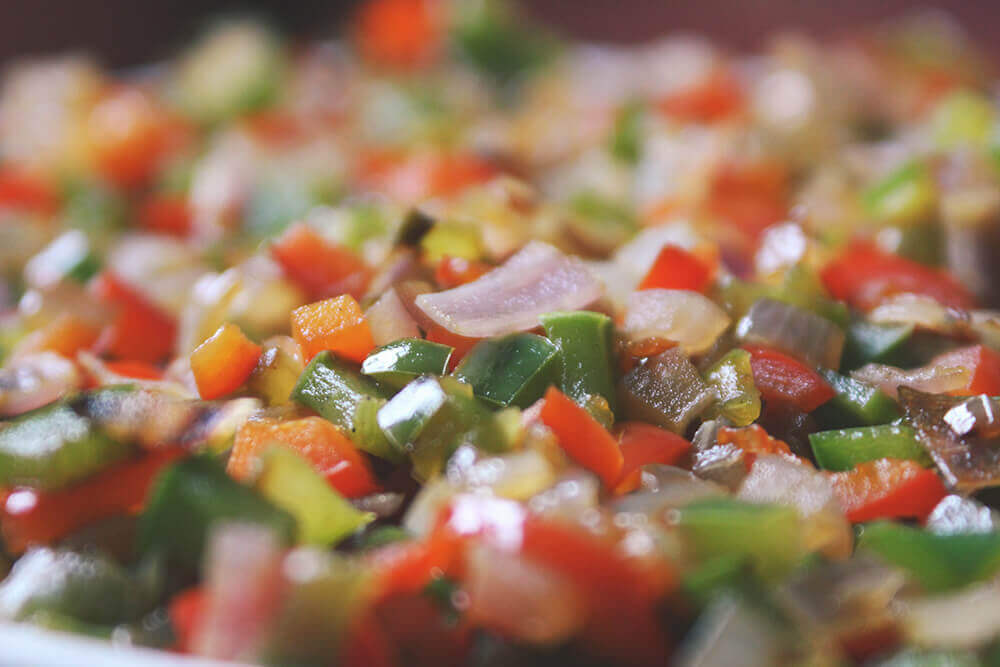 Vegan Pizza Dip
2015-02-01 11:54:27
A pizza inspired dip that is great for parties.
Ingredients
1 cup raw cashews (soaked)
1/2 white beans
1/2 cup water
2 tbsp nutritional yeast
1 tbsp lemon juice
1 tsp salt
1 tsp sugar
1 1/2 cup tomato sauce
1 cup vegan mozzarella cheese (optional)
1 red bell pepper (finely chopped)
1 green bell pepper (finely chopped)
1 red onion (finely chopped)
Instructions
1 Preheat the oven to 350°F
2 Blend cashews, white beans, water, nutritional yeast, lemon juice, salt, and sugar together until very smooth. Empty out in a 9x9 baking dish, making sure it is spread out evenly.
3 Carefully add the tomato sauce, trying not disturb the bottom layer. Try you best to smooth out without marbling the two layers together.
4 If using the vegan mozzarella cheese, toss on the tomato layer.
5 In a small sauce pan, heat up some oil. Add the onion and pepper and saute for about 10 minutes, until the vegetables are soft. Carefully spoon over the dip.
6 Place in the oven for 20 minutes, until fully heats and the cheese melts. Serve with veggies, chips, or crackers.
One Raw Bite https://one-sonic-bite.com/