Learning to love the sweet potato has taken time for me. It was too sweet. The flavors too strong. I felt overwhelmed. Well, it is hard being vegan and not eating sweet potatoes. I can safely say that I am a converted fan. Especially since I get a BUNCH of sweet potatoes from my local CSA share. Since I had so many sweet potatoes, I've been busy in the kitchen.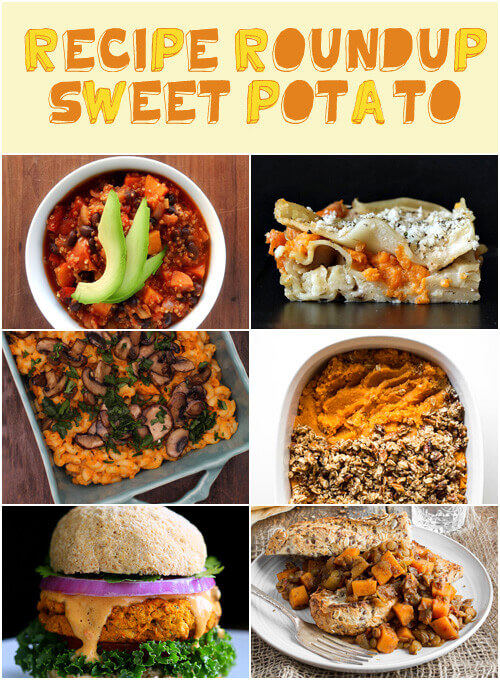 Okay, so the easiest way to sum this up is that this dish is yummy, easy, and somewhat fast. (or rather little manual work). But the dish is a little bland, and can be easily altered according to personal tastes, adding some more hot sauce, more oil, more salt, whatever.
But actually reading the recipe is annoying. The directions are clear, but the ingredients are not listed as you use them, which is pretty standard practice. Then midway through the recipe switches from vegetable stock to chicken stock, therefore making it not vegetarian. Yes, anyone would be able to figure this out, but it is sloppy from the authors standpoint.
Bottom Line: Yummy, easy, a little bland.
I had my doubts with this recipe. I never had luck with having raw vegetables cook in the oven in a casserole or having no bake lasagna cook all the way. Both happened. The sweet potato, cauliflower, and noodles cooked to perfection. The only issues I had was that if the noodles weren't covered, they didn't bake properly. So I would recommend making a smidgen more béchamel sauce just to cover your basis.
The dish was super easy to make, just make the sauce, then layer all the parts. Super simple. The end result is a super creamy and super dense lasagna, which got my husband's seal of approval. Plus the dish is pretty open for changes. I added some daiya mozzarella on top and bread crumbs. I even doubled the sauce and made an extra large batch at once. I would make sure you have extra sweet potato and cauliflower since the dish is pretty open ended. I actually used one and two thirds of a sweet potato for a double batch, when the recipe would of used only one whole sweet potato.
Bottom Line: Super easy and open for changes, just time consuming for layering.
This is another easy dish to make, but can be time consuming. The nice thing is that while the dinner is being prepared you can work on other things, take your time with chopping, or catch up on the dishes. But there a few things I didn't like about the dish. I am not sure if I like the use of pepper flakes in the sauce. I also don't see the plus of baking the dish. It wasn't a big deal since I used the same casserole dish for the pasta as the sweet potatoes. But there wasn't an extra "crispiness" to the mushrooms, which I was hoping would happen from the baking. I think if I made this dish again I might make a mushroom-breadcrumb topper, and bake for longer.
I also made two extra modifications. I added some fresh peas to the dish since I figured why not?! It was pretty darn tasty and added just a little bit extra protein. I also used a blender for the sauce instead of mashing them, giving the pasta a really smooth texture. I can see myself making this over and over again in the future.
Bottom Line: Easy overall, takes maybe an hour to make.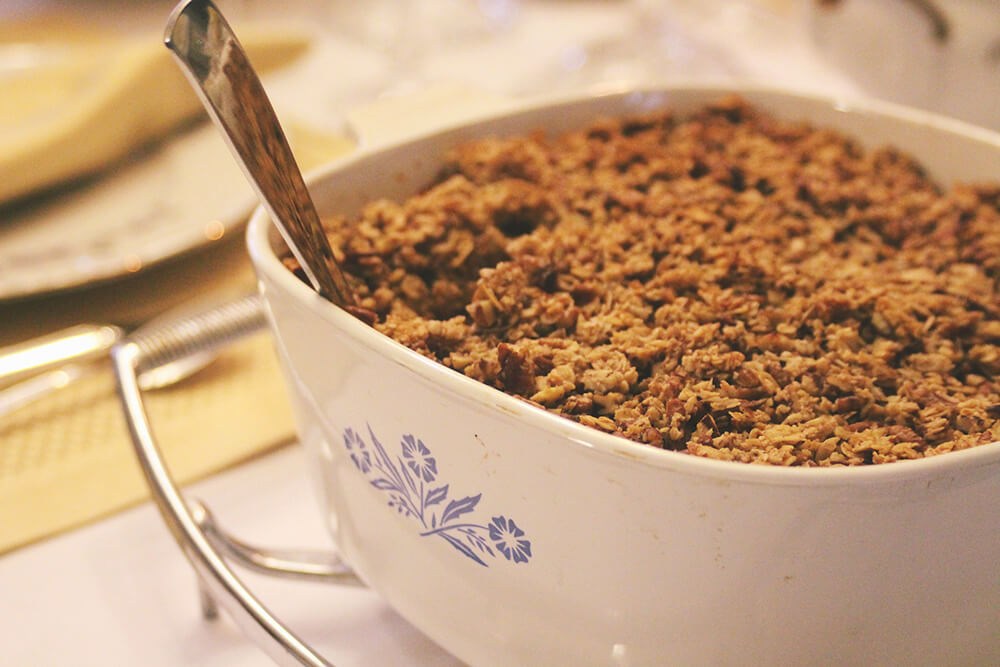 I am not a fan of Sweet Potato Casseroles. They are always too sweet for dinner time. I never understood why you would need to make sweet potatoes more sweet. I mean they already are too sweet as it sometimes. So I thought I would give Angela's recipe a try, as she usually is light on sugars. She uses a little maple syrup, but very little for the amount of sweet potato used. The nut crumble is crunchy and adds a great texture to the sweet potato. I think that is what really sets this casserole apart from others
The only thing that stinks about this recipe is that it make a buttload. That can be great for Thanksgiving dinner, when you share a dinner with 10+ adults, but can be problematic when making it for yourself. I wouldn't mind halving the sweet potato portion and keeping the same amount of nut crumble, if I was making this for a dinner of two or four.
Bottom Line: Great, but makes A LOT
This dish is deceiving. When I made these burgers, I hardly tasted the sweet potato! I tasted mostly chickpeas and peanuts. That isn't bad, just not correctly named in my opinion. The burger was nice and crisp compared to the soft bun, and is served nicely with lettuce and tomatoes.
They are quick and easy to make, and can be crumbled for wraps. I can even imagine you can make balls and create "falafels" with them. The only thing I note is that you take precautions to PREHEAT the oven. This is not listed as a step and I stupidly finished up the patties only to find they were baked, not grilled.
Bottom Line: Easy Weeknight Dinner, Don't forget to preheat!
This is pretty much a baked beans sort of dish for lentils. The recipe calls for you to cook lentils, mix with veggies, and spices then bake. My husband loved this dish a lot. First night we ate it he raved how much he loved it. Then when we had leftovers, he still said how much he loved it. Then I made two wraps for lunch, and he still wasn't sick of it.
The dinner made A LOT. I mean a lot a lot. We had it for dinner and lunch for a total of 6 different meals. This probably would be something I would make again but would freeze leftovers, or make for a family function. It is fairly easy to make, but just simply takes time with the baking part.
My only complaint is that it didn't bake the way it should of. I chopped the sweet potatoes smaller than the photos in the blog, yet, they took longer to bake all the way through. It wasn't anything hard to fix, just toss and bake for longer. Not hard really. Not to mention I just FEEL like I did something wrong since there was so much of the dish. Perhaps not.
Bottom Line: Delicious, though directions could be fine tuned