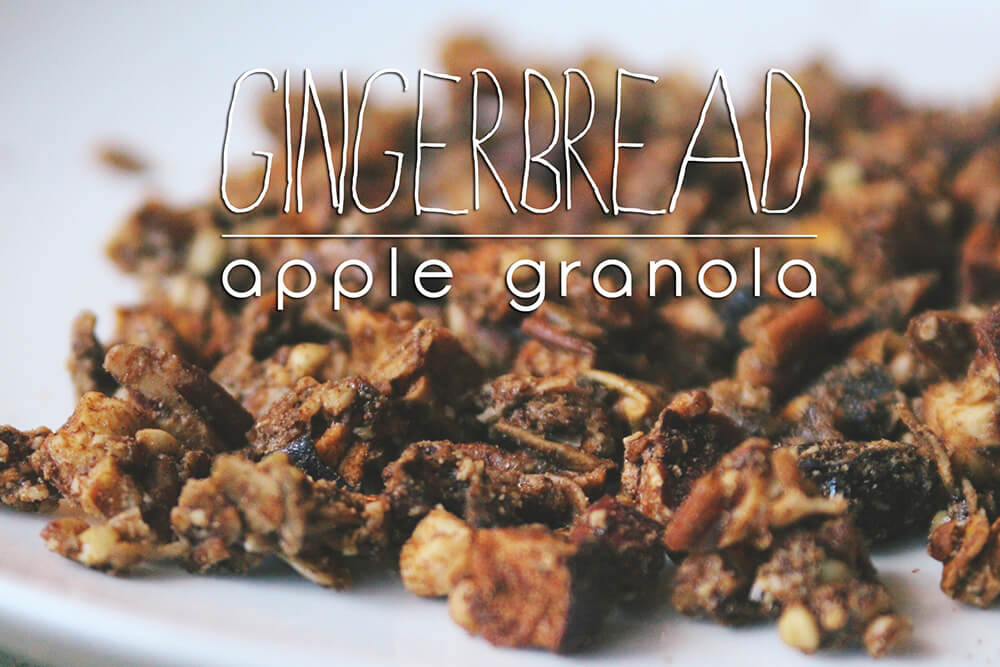 Remember how I mentioned I've been a little bummed lately? I am trying to be a little proactive about it. Tonight I am going try out a run in Philadelphia with my friend. Hopefully all goes according to plan, it is suppose to snow on and off all day. I am a little nervous since my running has been pretty null lately. I've been much happier sleeping in or lifting weights inside.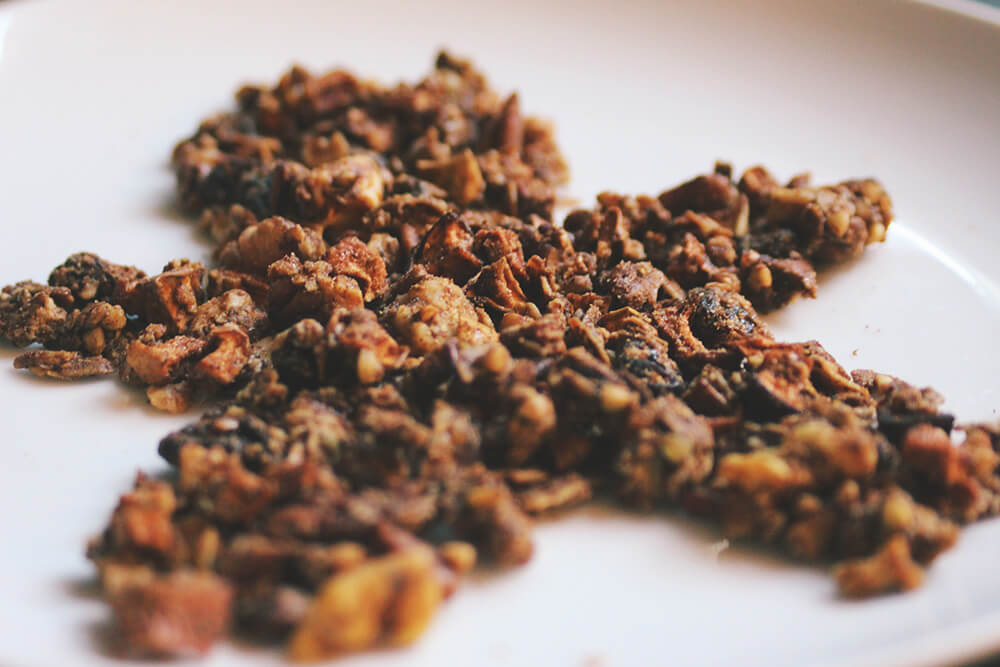 This granola is a great way to add a little bit of a christmas flair to any normal dishes. Add a little granola on yogurt, now you have GINGERBREAD yogurt. Add a little to your chia pudding, BAM Christmas-a-fied. I have big plans for this granola, and if all goes according to plan, I will posting the recipe on here.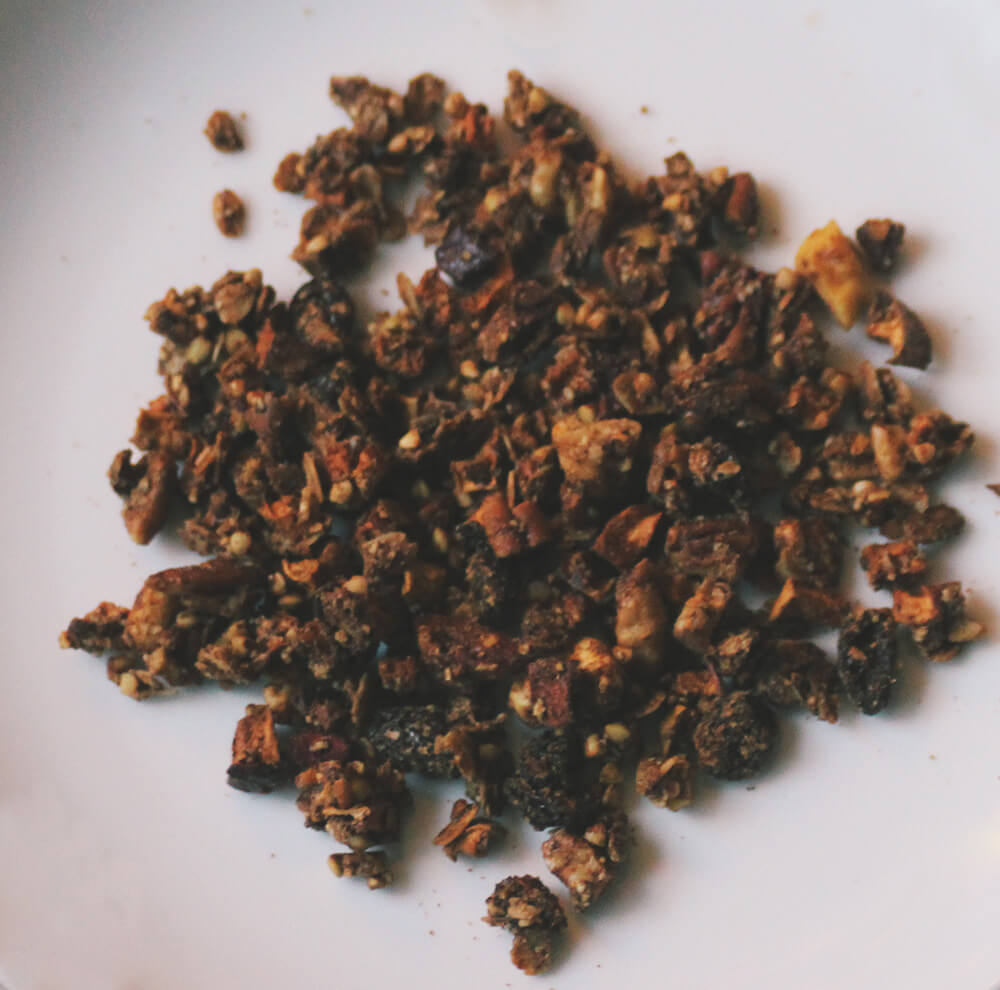 This recipe was a big labor of love. It happened to use a lot of Thanksgiving leftovers, so there were lots of pecans, walnuts, and cashews in there. There is also home dried apples. I figured I would give it a try since my husband picked 16 pounds of apples before our local orchard closed down for the year. I couldn't even tell you what types of apples are in there. I just kind-of grabbed a bunch from our bags, diced and dehydrated. They are pretty yummy in oatmeal or chia pudding. If you don't feel like making your own diced apples, you can easily just chop up dried apple rings.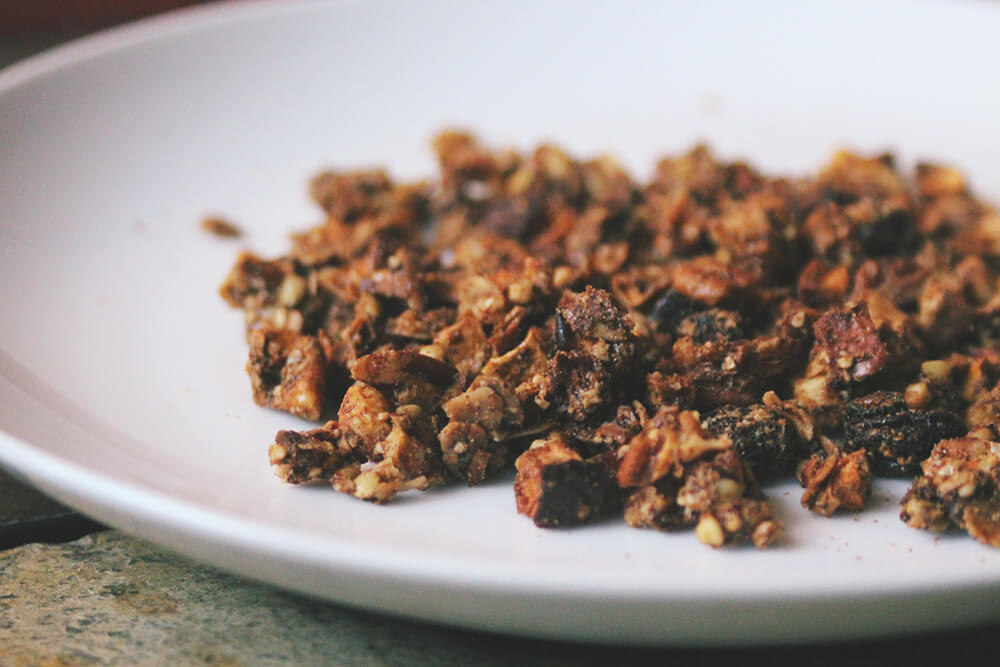 But if you don't dry out your own apples, this should be a quick recipe to make. There are lots of nuts in here, making it a very hearty granola. Give it a try, I promise you will love it if you love gingerbread styled baked goods.
Gingerbread Apple Granola
2014-12-11 07:50:30
A warm granola that's perfect for the holiday season.
Ingredients
1/2 cup ground cashews
3/4 cup pecans chopped
1/4 cup walnuts chopped
1/4 cup raisins
1 cup dried apples, cut in small pieces
1/2 cup buckwheat groats
1 cup oatmeal
2 tsp cinnamon
1/4 tsp nutmeg
1/8 tsp all spice
1/8 tsp cloves
1/2 tsp ginger
1/4 cup maple syrup
2 tbsp blackstrap molasses
1/4 cup coconut oil (melted) or canola oil
1 tsp vanilla
Instructions
1 Preheat oven to 275°. Line a baking sheet with parchment paper
2 Combine ground cashews, pecans, walnuts, raisins, apples, buckwheat groats, oatmeal, and spices in a bowl. Toss so all ingredients are well mixed and coated with spices.
3 Add the maple syrup, molasses, oil, and vanilla to the nut and oat mixture. Toss until everything looks moistened and well coated.
4 Spread the granola evenly on baking sheet, lightly pressing the mixture down. Bake for 20 minutes, then rotate the pan and bake for an additional 20 minutes. Let the granola cool before breaking apart and eating.
One Raw Bite https://one-sonic-bite.com/