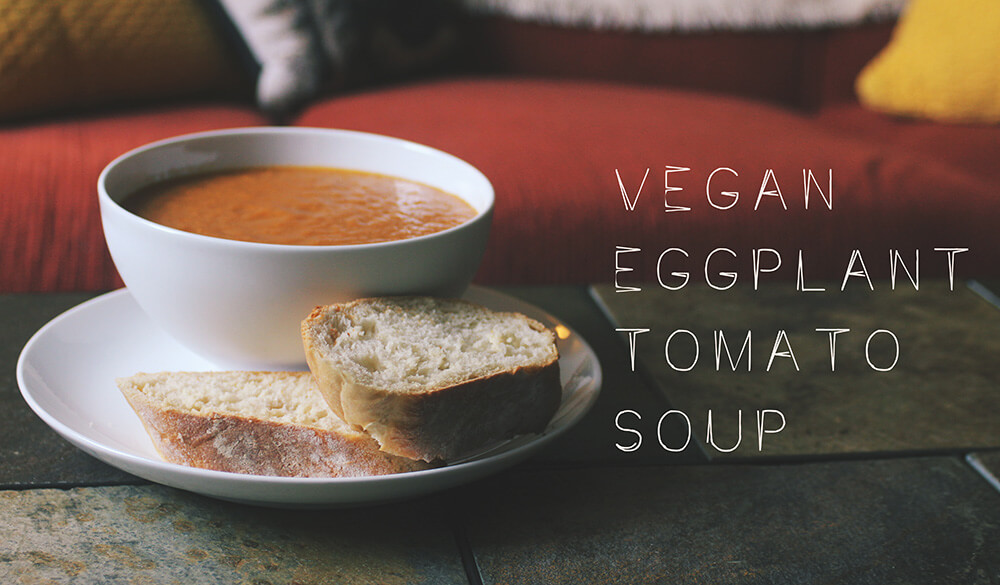 This recipe has been lurking for over a year now. I made a vegan eggplant and tomato soup over a year ago. It was amazing. So amazing I thought it would be something really nice to make my friends when they came down for my wedding. But I couldn't find the recipe again. The soup was okay, but not quite the same as the first time. Alexa might remember this soup when I put alphabet noodles in it. Maybe not.
After a few trials I found the perfect amount to get the right consistency. This gives all the same vibes as the out of can tomato soup we all grew up with, but with a more adult twist. White wine, eggplant, and carrots give the soup a complex flavor that doesn't take away from the tomatoes. I like to pair it was something rich and fatty. Like a vegan grilled cheese sandwich or bread with avocado spread on top.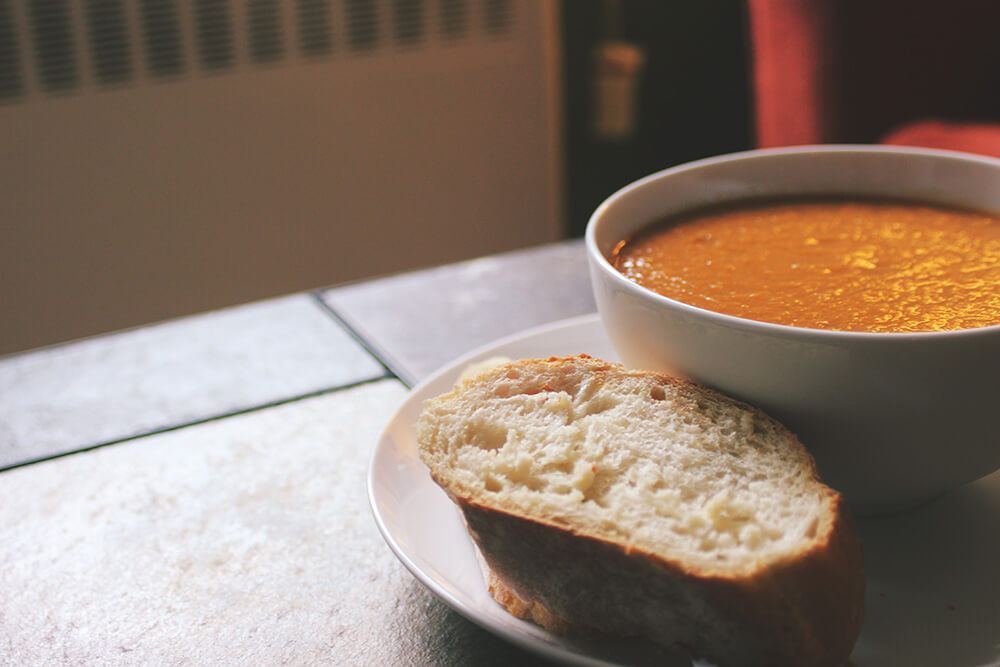 The only reason why it took me so long to post this recipe was the photos. I like to keep skins on when roasting and eating veggies. Needless to say red plus purple doesn't make a pretty color. I eventually found time to peel the eggplant, giving a vibrant red soup. You don't need to peel the eggplant, but if you like your food to be souper pretty, go for it (did you see what I did there?)
I wasn't sure if I was going to even post this recipe on here since it was so simple. The flavor isn't drastically different from normal tomato soup. The ingredients list is short. What does my soup have to offer?
Well, I am being a little selfish here. I am always loosing this recipe. So I am mainly getting it written down for my own records. So I don't care what any of you guys think of this recipe. I am doing this for me. Side note, don't forget the salt guys! The soup in the picture kind-of sucked since I forgot to add the salt and pepper. Ugh.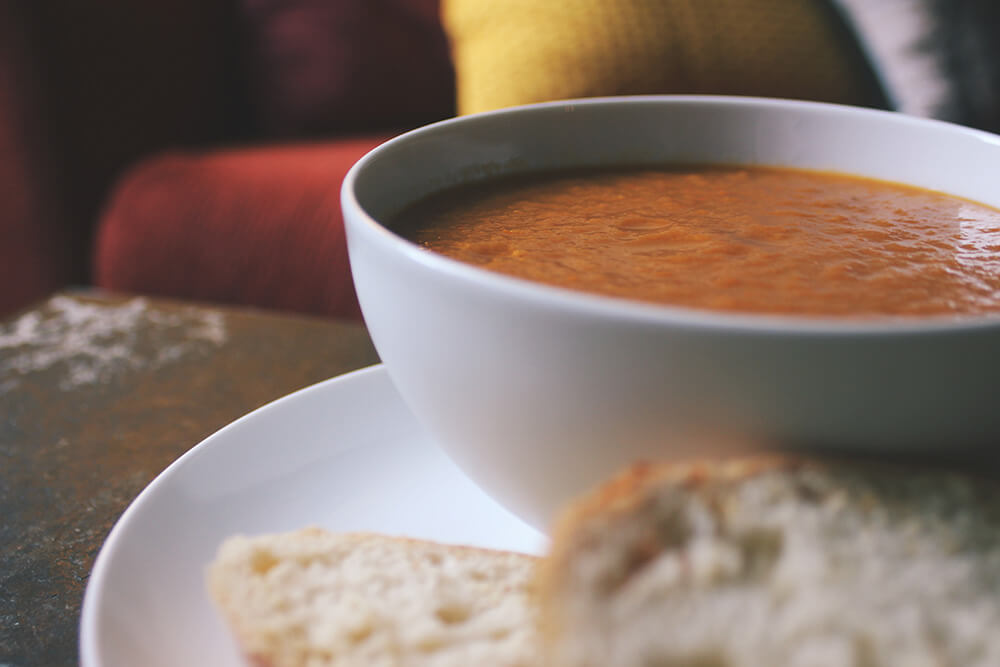 It is dinner time so I will leave with what you can expect coming up. I will be posting another farm haul update. And I will be bringing my new camera. So excited! I might even take photos of the other animals. Sunday you will get more recipes and articles. And natrually there will be another Alexa Asks. This week it is going to be about vegan baking and tips on how to find the best recipes!
Tomato and Eggplant Soup
2014-09-12 07:31:51
Ingredients
1 onion sliced in half moons
2 1/2 lb plum tomatoes cut in quarters
2 carrots peeled and cut in rounds
1 lb eggplant peeled* and diced in inch cubes
2 garlic cloves smashed
1 tbsp olive oil
1 tsp salt
1/2 pepper
1 cup white wine
2 cups vegetable stock
1 cup water
Instructions
1 Preheat oven to 425°F
2 Cut all veggies and toss in a large bowl with olive oil, salt, and pepper. Spread in a large casserole dish or baking pan. Use two if needed.
3 Roast for 25 minutes, taking it out to toss. Roast for another 20 minutes.
4 When the veggies are done cooking place half the veggies, wine, and water in a blender. Blend until smooth and pour into a pot. Put the rest of the veggies and stock in the blender, blending until smooth. Combine with the first half of the soup and heat to the desired temperature.
Notes
* You don't need to peel the eggplant, this is done superficially. If you leave the skins on, you'll have just a lightly more deep burgundy soup.
One Raw Bite https://one-sonic-bite.com/