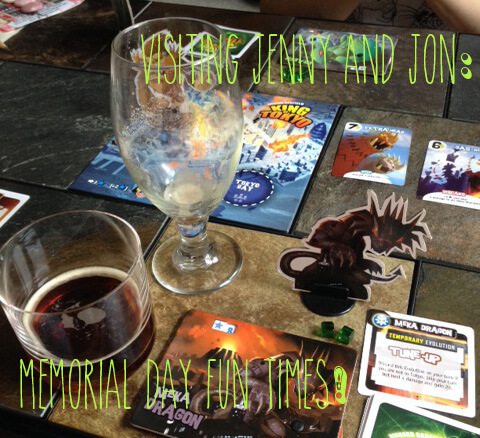 I feel terrible … I have fallen so far behind in my posting! Yikes!! Most of this is probably because I had my wisdom teeth removed a few weeks ago and I have been on the mend (slowly but surely), I have also been trying to get a bunch of freelance work finished and sent off, so that has taken up a bit of time as well. But, while I am here today I might as well make a lil' outfit post ;). For Memorial Day Mr. Ian and I both had the fortune to have the day off from work! So what better idea then to go pay a visit to Jenny and Jon!? It was a nice and easy drive down, and we got to catch up a bunch. We got to organize the prints/clothing that are now for sale on our shop, discuss some upcoming blog posts and illustrations, and MOST IMPORTANTLY … eat food and drink beer! Mr. Ian has never tasted the delicious-ness that is (was? they have changed names since the last time I have been there) Sammy's K-Town/Dolsot House (or whatever you want to call yourselves) in Cherry Hill, NJ. It is probably some of the best Korean food I have ever tasted. Everything is just cooked perfectly and they have a wide variety on their menu. Om nom nom! …Anyway…here's my outfit.
Dress: Unkown (Thrifted) | Vest: Bongo (Thrifted) | Pins: Max Gentlemen | Necklace: Unkown | Shoes: Payless
Let me just start off with … I LOVE this dress! It fits me very well and is the perfect edition to my summer wardrobe! The colors are nice and bright – but don't want your eyes to burn out of your face. it's also very easy to accessorize with. Unfortunately I don't have the brand name off hand, I bought this dress from an adorable thrift shop while I was in Burlington, VA called Downtown Threads (you can like and visit their facebook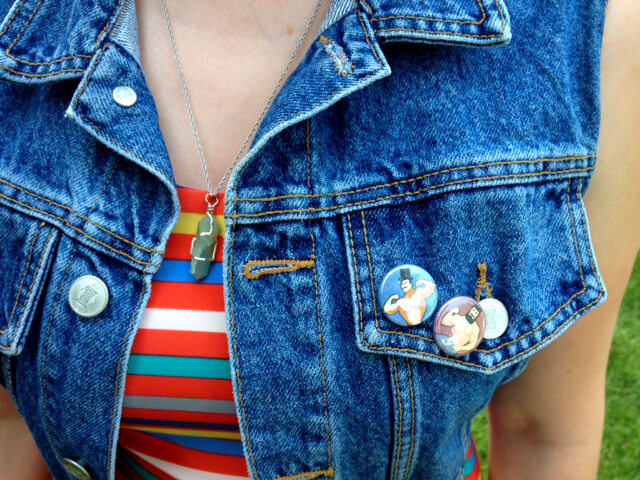 page here!). I have definitely worn it about 10 times since then. If you are ever in Burlington I highly suggest a trip to this store – it's got a great selection.
I also happened to pick up this denim vest from Downtown Threads – everything was right with the world! This is my *first denim vest* and I am very excited to put pins and patches all over it. That's the whole point of owning one…right?! These first 2 pins are from a game called "Max Gentlemen", Mr. Ian gave them to me after his trip to PAX East, a video and board gaming convention, and I was pretty pumped about it. I got the necklace from a cute little shop in New Hope, Pennsylvania. I unfortunately cannot remember the name of it, but it was a lovely little place on a side street that had a bunch of pretty stones and jewels inside. I remember the owner being very nice and putting the jewel on a chain for me!
Towards the end of our visit with Jenny and Jon we played a game called "King of Tokyo". It's a great game where the idea is that each player is a giant monster who has to control Tokyo, and whoever is alive and holding the city at the end is the winner! Mr. Ian loves to play all different kinds of board games ranging from Dungeons & Dragons to Cards Against humanity, so it made sense to bring a few over to play.
I love getting to see my best friends, so hopefully we will have some more fun adventures and pictures to post together soon! 🙂