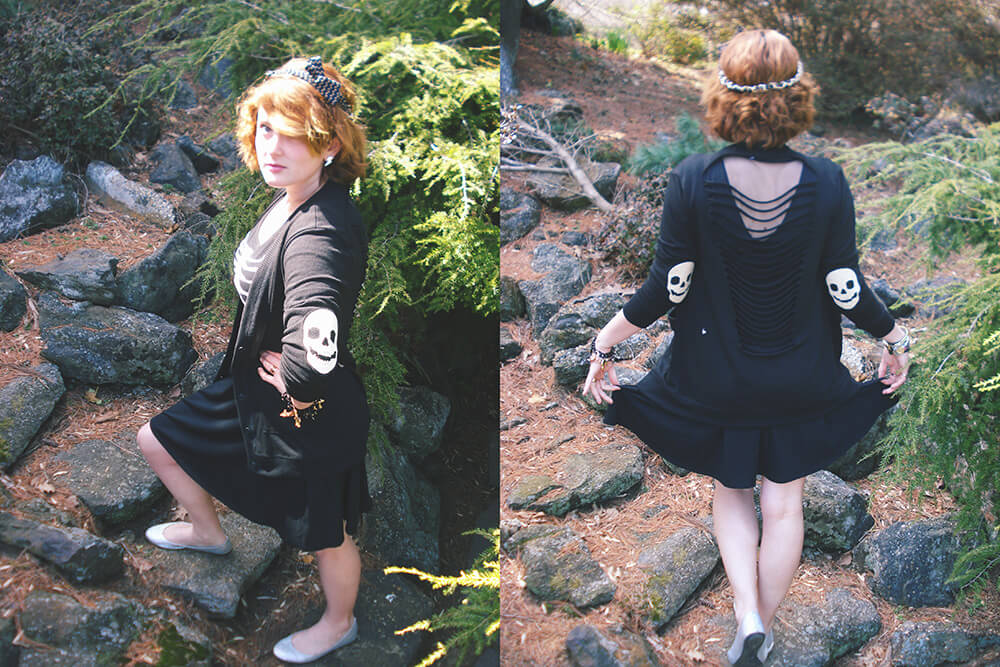 Dress: Hot Topic | Cardigan: Hot Topic | Shoes: Payless

Hello fellow readers! It's me Alexa, your Cool-Goth-Friend! I know that Jenny already made her post a few weeks ago about our big outing, but I just never got to it until today.
Like Jenny mentioned previously, she came up to visit me so we could get some work done on the blog and take cute pics of our outfits over at Deep Cut Gardens. My boyfriend, known as Mr. Ian, brought me here when we first started dating and I fell in love with the place. It has a beautiful green house with various different species growing inside, and the grounds are well maintained and look spectacular in the spring and summer time.
The Outfit:
I am only slightly ashamed with the fact that I got both of these main pieces from Hot Topic. The store used to be able to grab my attention by showcasing all of the ~*anime*~ t-shirts they had in stock, but then it wasn't cool to like Hot Topic anymore (which was lucky for me because everything was a bit tacky during this time period). Once I started working at the mall a few years ago (but no longer!) I started to peek in there more often. It didn't take long before the style of everything started to shift. Instead of the "Mall Goth" vibe they were originally putting out (*see examples here and here ) they are now putting out a line with a mix of vintage, rockabilly and punk. Don't worry, there are still skulls all over everything.
*Disclaimer: Not that I dislike the way that the "mall goth" or any branch of "goth" chooses to dress – it's just not for me. I am just a small girl who likes to look edgy every once in a while.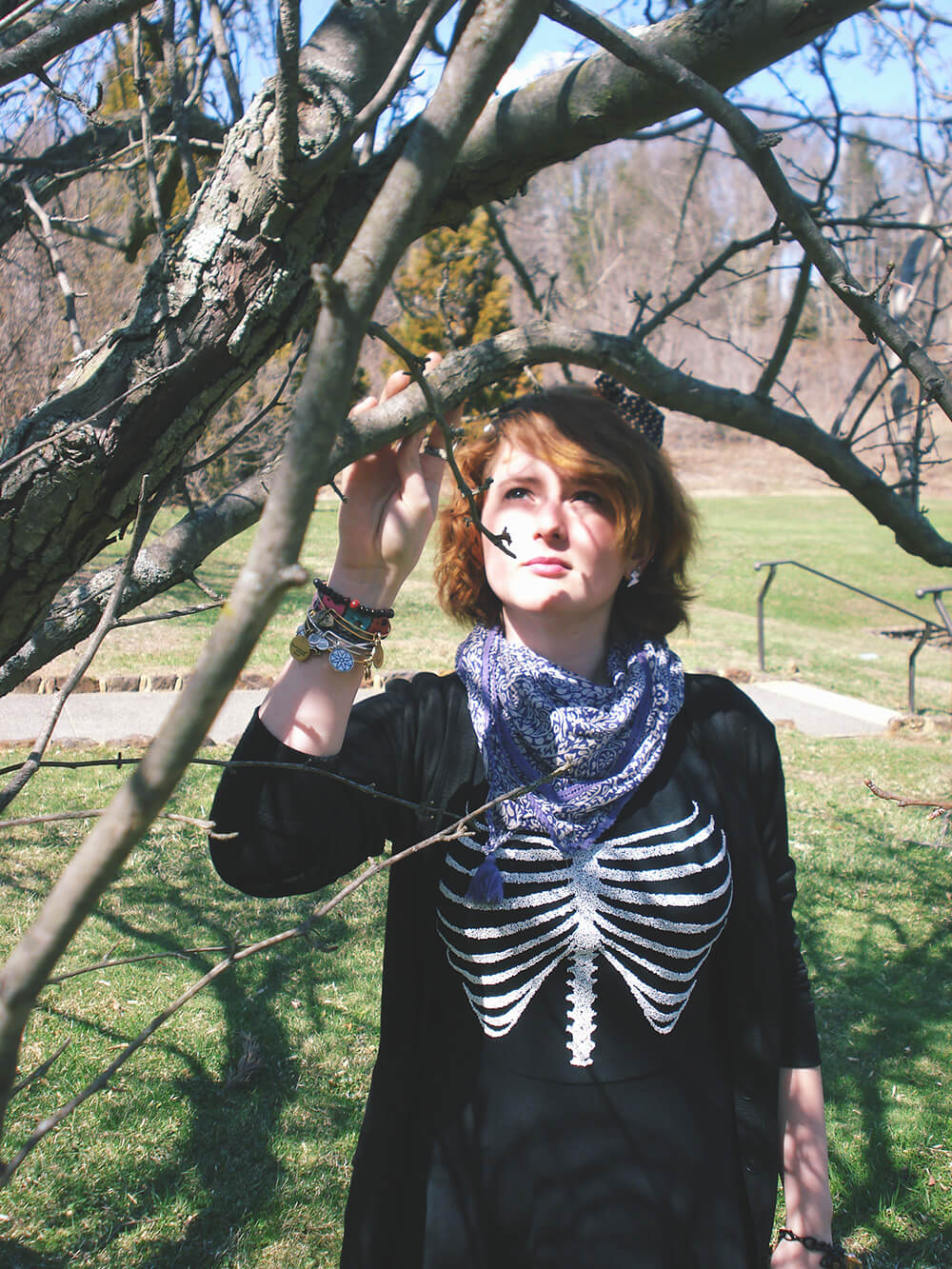 The dress and cardigan are both from a line called Teenage Runway. I don't know much about this line, but I clearly am picking up what they're putting down! The dress is a jersey-type material, it is very soft and provides plenty of stretch while still fitting my body in all the right places. I think it's obvious that the reason it caught my eye is because of the ribcage design on front. It is made up of a bunch of tiny beads and has some silver glitter mixed in with it as well, and as seen in the picture at the top of this review, the back has a very light mesh to make for that "open back" sort of look. The only thing I am worried about with this dress is that it will probably start to pill quite easily – but it is black, so hopefully it won't be very noticeable.
The cardigan caught my eye almost for the same reason as the dress – I saw the elbow patches and thought they were to die for (I am so funny!!). What I didn't know before it was taken down was that the back has those cut outs in it. I wasn't so sure at first, but when I tried it on I really did think it was an interesting look. I also think it makes for a good look with my back peeking out of the dress. It will be a fun piece for cool summer nights, I think.
The Accessories:
I figure I should go into this in a small paragraph… I LOVE ACCESSORIZING. I can't explain why, but I do feel as though I have a knack for it.
My glittery flats are from Payless, and they are probably my favorite shoes. The glitter stays on these shoes pretty well. I think I had my original pair for a little over a year until they started looking bland, and that was only because I was wearing them to work all of the time. They don't have much support though, so if you do end up buying a pair … beware!
I have a large assortment of bracelets on each wrist in these photos. On my right wrist I am wearing gold and silver bangles from Alex and Ani (Path of Life, Eye of Horus, Star of Venus, and the Ankh wrap), a skull bracelet from Hot Topic, and a beaded bracelet that I … definitely found on the ground one day. On my left wrist I am wearing a really great cat charm bracelet from Forever21 in the "Bats and Cats" line they did a little while back. My friend got it for me as a Christmas gift :).
The scarf I am wearing is from Aerie from last summer, and the headband on my head is from a store that is near Jenny in Haddonfield called Flair! Surprise, it is my favorite shop for accessories!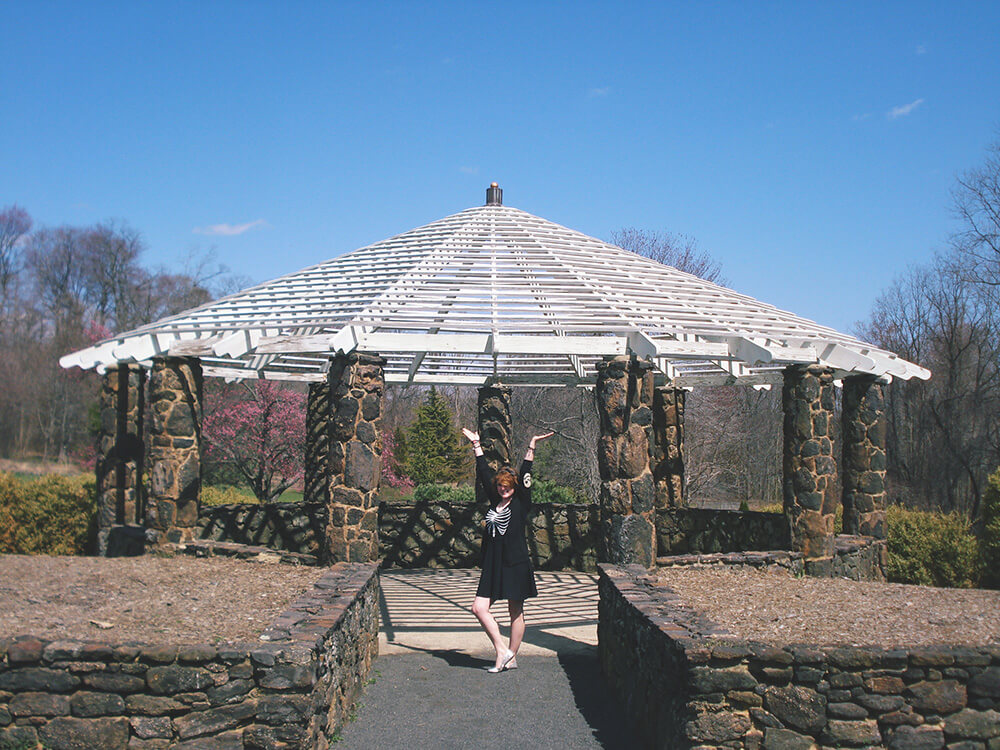 Hopefully Jenny and I can get together again soon, now that the weather is getting nicer…anything is possible!