My goal is to be more adventurous with trying out blog recipes. I know too many people who inundate their Pinterest pages with food recipes, but never actually try any of them. More disturbing is how many beautiful food photos result in blah recipes. I wish that Pinterest would include a "rate that recipe" button, but until that day, I can write reviews.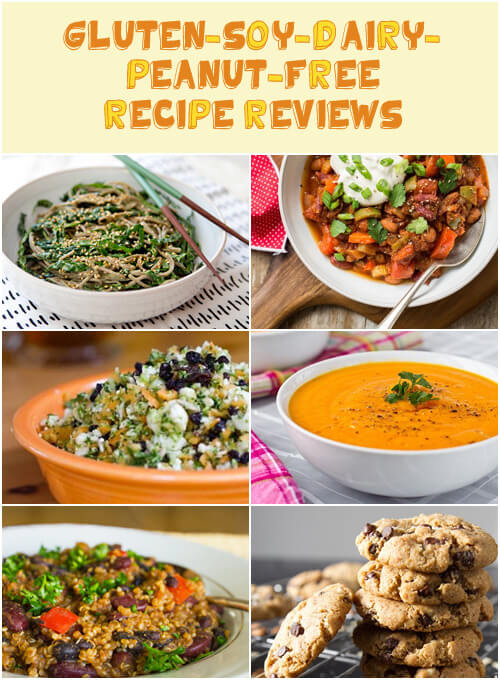 First round of reviews goes to the Everything-Free category. Sort of. As mentioned in a previous post, my husband and I have been on an elimination diet that forced us to cut a LOT of foods from our diet. The first two weeks we eliminated gluten, soy, dairy, and peanut from our meals. It's been a bit of a struggle, especially since I didn't know which recipes to substitute in to our new diets. But thanks to the invention of tags, I've been able to peruse various blogs for help. Of course not everything was a winner.
I found this recipe from a keyword search for "best of avocado recipes." I would say that "best of" lists annoy me, but I guess that is sort of what I am doing here (so I won't rant). Just by looking at the recipe, I knew I had to change the ratio. I doubled up on noodles, and sautéed the kale.
Reviews between my husband and I were mixed. The sautéed kale didn't wilt all the way, which left it a little raw. The original recipe actually called for raw kale. But the dressing was very creamy and when combined with the kale, there was just too much of a contrast in the texture of the dish.
However, my problem wasn't the actual taste (which was amazing!) but with the amount of food. The dish barely served the two of us, which could be problematic for days when we are out and about. A positive though is that the cook time was short, 15-20 minutes and most of the labor is just thinly slicing the kale.
Bottom Line: I would make this again as a lunch for myself, but probably not as a dinner meal. It is an easy recipe to halve, and the flavors work fabulously. But if you are cooking for two, triple the noodles.
**Note: Dish is gluten free IF you get all the ingredients as listed on the link.
She isn't kidding. I am not sure why this blogger has been hoarding this recipe to herself, because it is amazing. It might be a smidge too "tomato-y," but in the recipe, Angela recommends adding more beans if you want a heartier chili.
My only complaint is that the steps ask you to sauté the celery with the peppers. This left me with crunchy celery, which just seems wrong in a chili. In the future, I plan to sauté the celery with the onion, allowing it to soften up, thus averting a crunchy crisis. I didn't try the vegan sour cream she recommends, but it certainly looked delicious.
Bottom Line: Shut up and make this chili right meow!
Angela from Oh She Glows tries to recreate a recipe from Whole Foods. I hadn't tried the Whole Foods version, but Angela's recipe looked pretty good.it seemed pretty good, so I figured I'd give it a whirl. Raw cauliflower and broccoli are great detoxifiers. But be prepared for a workout. I mean, it's raw cauliflower and broccoli. There's a lot of chewing involved, which can make you feel like a cow chewing cud. Solution? Chop those suckers down in size. You'll thank me later.
Overall, this made for a decent salad. Mine would have benefitted from a bit more lemon. If you own a food processor, this dish is a super easy to make. Toss in veggies and pulse. Pour in a bowl and toss with the rest. But the recipe is a little deceiving. She lists 2 heads of broccoli and 1 head of cauliflower. If you follow that (like I did), you may actually end up with a 3 to 1 ratio of cauliflower to broccoli. To make it equal, I would've either had to use 6 heads of broccoli or search for a smaller head of cauliflower at the grocery store. Cauliflower and broccoli heads vary in size, so take this into consideration when purchasing your produce. Ultimately, I believe this dish works best with a 1 to 1 ratio of cauliflower to broccoli.
Just don't go overboard. My biggest issue with this dish? It made way too much salad. I felt obligated to eat some on the side of every meal I had. Even having a little everyday between my husband and myself, it lasted for 9 days. By the end of it all, I never wanted to see it again.
Bottom Line: Alright. Great for detox/raw diet. But halve the recipe.
Yeah, there are plenty of variations of Carrot Ginger Soup. I've made tons of recipes, and this is a quickie when I find myself a jam for dinner. Lately I've been in a rut with my carrot ginger soup, so I figured maybe it was time to start fresh with a new recipe.
It is quick and easy to make, and although I fudged the portions slightly (I didn't have enough carrots), the soup was perfect. Just as bright and colorful as the pictures. The apple adds a sweet touch that isn't overpowering.
Bottom Line: I would make this again when I'm looking for ways to jazz up carrot ginger soup.
Oh the beef I have with this beef-free chili! I first posted this chili on Pinterest back in the day as a potential dish to enjoy at my wedding shower. The image was different than from the website, which would have been helpful, since it was obvious that this was hardly chili.
This recipe only has 1/8-1/4 tsp of chili powder. That's it. I threw in a whole tbsp of chili powder, but really, that didn't even save face. Calling this a chili is an outright lie. A Qunioa-Bean Pilaf might have been more accurate. It wasn't spicy, or chunky, or acidic. You couldn't find anything in it to justify this as a chili.
My friend said she loved it but, thankfully, didn't make the dish for my wedding shower. It would have been embarrassing to have it on a chili bar. Okay, so that's my quibble. But the dish itself isn't bad. Just poorly advertised. It goes well on top of a salad. It's even better as a wrap. The recipe creates a large batch that allows you to use it throughout the week.
Bottom Line: Good if you disregard it as a chili.
Alright, I know I said this list was Peanut-Free, but this was an easy fix. The originally recipe called for 1/4 cup peanut butter, which I replaced with almond butter. I had a hard time searching for a gluten-free cookie recipe that didn't just call for "all purpose gluten-free flour." I didn't want to have to buy anything new and had various gluten-free flours sitting around.
This recipe is great since I could essentially just "create" my own flours. Just toss some oats and almonds and blend in the food processor. I took it a step further and "blended" all the dry ingredients in the machine. The downfall of the super yummy cookies (heck I want more now!) is its shelf life. They got stale pretty fast. But these quick cookies are probably good for parties since they would be gobbled up without the chance of going stale.
Bottom Line: Delicious, just eat them fast!