Wanna impress your friend? Make your own hot sauce. Yup, that will win you to the bad-ass chef status. But you don't have to tell them that this hot sauce was absurdly easy to make. All you have to do is chop some jalapenos like a five year old, cram in a jar with brine, wait a few days, blend.

This sauce I made after reading a recipe for an Indian pickle recipe. It was pretty interesting, and different from most pickles I've read. They incorporated oil into a brine, and added sour limes at the end. This sounded pretty yummy for a hot sauce. So for this recipe you will be making lacto-acid-fermented jalapeños. It is seriously as simple as adding salt, water and peppers to a jar.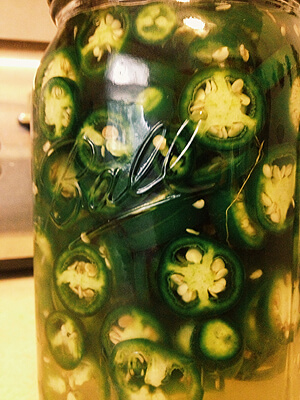 Kali's Death Sauce
2014-02-17 15:09:58
Serves 50
Home fermented hot sauce, with a little Indian flair.
Ingredients
7 (3/4 lb) large jalapenos
1 small green bell pepper
1 tsp sea salt
1 tbsp sesame oil
1 juiced lime
Instructions
1 Roughly chop jalapenos, slicing off the stems and discarding them. The easiest chopping method is the cut the jalapenos into rounds. Roughly chop the bell pepper, making sure you discard the seeds. Put the peppers into a large mason jar, or bowl.
2 Cover the peppers with water, and add the salt and oil. If you are using a bowl, you will want to place a plate or bowl on top. You might put some sort of weight on top to make sure that the peppers stay submerged under water.
3 Leave the peppers out for three days. Do not worry about molding or spoilage.* If the temperature is cold, leave the peppers out for an extra day to ferment.
4 Strain the peppers, making sure you keep the brine.
5 In a blender pour in 1 1/2 cups to 2 cups brine (depending on spice level and thickness), the pickled peppers, and one juiced lime. Blend until smooth. Bottle, and share, you now have a butt load of hot sauce.**
Notes
* Essentially you are making the best living situation for lactobacillus to grow. It is a naturally occurring bacteria in the foods we eat. By surrounding your vegetables in salty water, you are making it impossible for bacteria to grow, and the lactobacillus overtakes the area. It is safe to eat, and is great for our stomachs.
** Save your any hot sauce containers. Mason jars are cool, but hard to pour our small amounts out of.
Variations Feel free to use ANY type of hot pepper in the sauce. Jalapenos are readily available, but you can go to Indian grocer and pick up some more authentic peppers. Experiment, and feel free to share you experience.
One Raw Bite https://one-sonic-bite.com/