Blog Baking can be very tricky business. Sure some of the photos look delicious and amazing. But when you break into the kitchen, toil over a hot stove, all you have accomplished is a nice new Pinterest Fail Photo.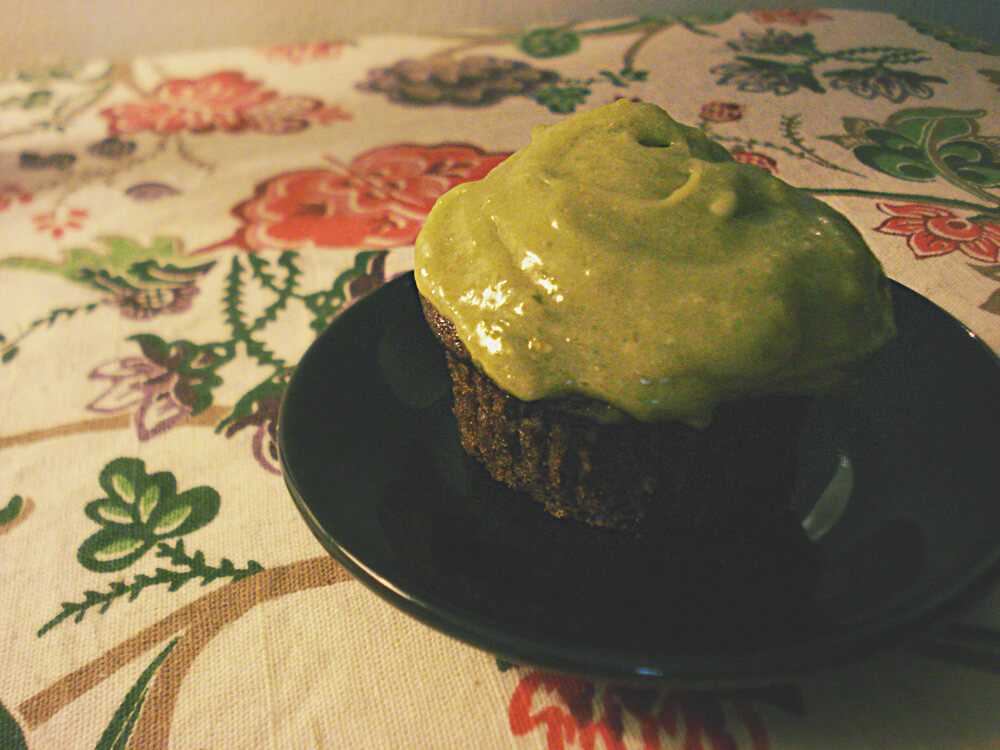 So I was a little hesitant when I found a vegan recipe for zucchini cupcakes. I have been a slave to my CSA Farm membership. Heck I've been cooking less because I am hungry, but instead more about freeing up more refrigerators space for beer. So I end up eating enough veggie fiber to make a septic tank tremble in fear, and drinking way too much hard liquor. But I drank up all the gin, so I had to get rid of all the summer squash.
I found a recipe for zucchini cupcakes with avocado icing on Say It With Sprinkles. I have my issues with the recipe. The recipe only makes 6 cupcakes, which is fine is if you're living alone, but I had the intent of bringing these to a dinner. Six wasn't going to cut it. I doubled the recipe. The result was perfect cupcakes that were unbelievably moist. They were so good I would eat them alone. But the frosting made enough for 24 cupcakes! I had so much left over that I made another batch with my own spin.
I took my husband's suggestion and made Chocolate Zucchini muffins, since chocolate makes everything better (according to him). It seemed like a great suggestion since I love a chocolate avocado shake. The results are amazing.
That said I am not sold on the frosting. It is super yummy, but it is very runny. Not to mention the avocado oxidizes if it put on the cupcakes and left to sit for too long. But I found that making the frosting first, and putting it in the fridge until frosting helps. The frosting stays on top long enough for eating, and the flavors meld together, making a much tastier topping.
Chocolate Zucchini Cupcakes
2014-02-17 15:46:49
A yummy chocolate zucchini cupcake. Top it with the avocado frosting.
Ingredients
1/2 cup granulated sugar
1/2 cup brown sugar
1 cup coconut milk*
½ cup canola oil
1 Tbsp vanilla extract
1 cup grated zucchini
1 1/4 cup all-purpose flour
1/2 cup whole wheat flour
1/4 cup cocoa powder**
1 tsp baking powder
1 tsp baking soda
1/2 tsp salt
Instructions
1 Preheat the oven to 350°
2 Line a muffin pan with paper liners.
3 In a large bowl whisk together sugars, milk, oil, and vanilla extract together in a large bowl. If the oil still is creating a layer on top, don't worry. Stir in the zucchini. Sift the flour, cocoa powder, baking powder, baking soda, and salt on top of the wet ingredients. Stir the ingredients together until just mixed.
4 Fill the cupcake liners evenly, filling them up about 3/4 the way full.
5 Bake for 18-21 minutes until done. Let cupcake cool completely before frosting.
Notes
* I use So Delicious Coconut Milk and Almond Milk brand for this recipe. But any "milk" will do
** I highly recommend using Ghirardelli's cocoa powder
Adapted from Say It with Sprinkles
One Raw Bite https://one-sonic-bite.com/
Avocado Frosting
2014-02-17 15:49:23
And avocado "buttercream" frosting that is both rich and light at the same time.
Ingredients
1 avocado
3 tbsp vegan margarine
2 1/2 cups powder sugar
Instructions
1 In a mixer, beat together the avocado and margarine together until smooth.
2Slowly add powder sugar, so it doesn't "fluff-out" of the bowl and get all over the place. Once all mixed, put all the icing a plastic baggie and place in the fridge.
3 When cupcakes are fully cooled, cut the corner off the bottom of the plastic baggie. Use this to pipe on the frosting.
Adapted from Say It with Sprinkles
One Raw Bite https://one-sonic-bite.com/