November 13, 2016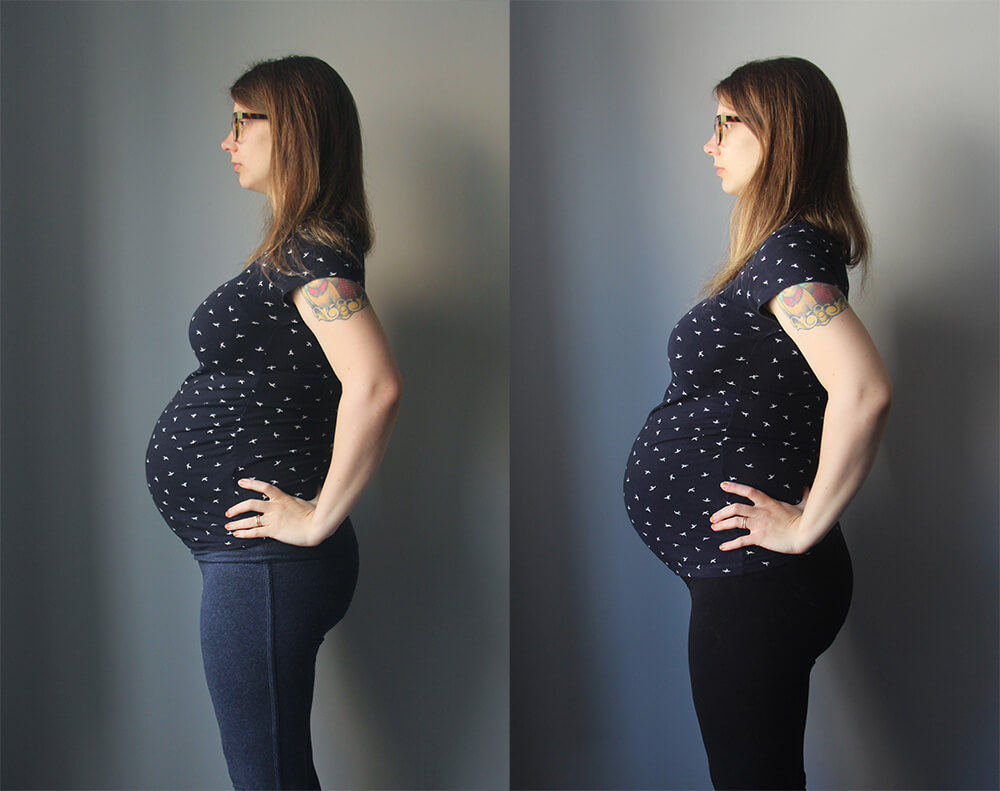 Holy cow, I had a hard time telling apart the photos I took this time around. Now I am only wearing the special maternity shirts (at least in public XD) and this H&M bird shirt (they now sell a long sleeved version) fits the best for these progression photos. I am pretty consistently the same size…. but I keep gaining weight. I guess just fattening up the baby?
The Feels:
Unless you are living under a rock (lucky you!) you probably know about our new President. Yuck, I can't even say that word before Trump. I mean I remember the days when Jon Stewart would make fun of Bush for mispronouncing nuclear, now our country will be run by a man who says "swatches of land" and "bigly." Ugh. I was really upset when I woke up the day after the election, and I think a lot of it has do with having a child. I am hoping my baby doesn't get old enough to know what a president is, so I don't have explain who he is. I just hope that after 4 years, we get someone new and Trump will just be the new Nixon (minus the endearing puppy).
The worst part? I think talking to friends and family who seem to not understand the big deal. I get it. With our system of government Trump can't just say "Hey, start with the blue prints for that wall stat!" and have the blue prints by the end of the month. We won't loose Obamacare for at least another year and half, and we have lots of individual state laws that vary all over the place. So when some people ask why people are protesting, or why we are so upset, it isn't just that Hillary lost. It is who she lost to. A man who feeds on racism, misogyny, and bigotry and another man who wants to take away everyone's rights. Anyone who doesn't already know, Trump maybe a mediocre white dude who's success was handed to him the "classiest" 24-karat plate but Pence is a monster.
But it seems that hopefully, everyone who sat around complaining about Trump (aka people like me) are a little more enthusiastic about doing something about it. I want to try and get more active with local government. I probably will try and volunteer more, and hell, I might even register finally as democrat instead of an independent. *gasp* Funnily, my husband is registered as a republican, which shocks my friends. XD Although it isn't ALWAYS true, but most northeast republicans are thought to be fiscally responsible. Though sometimes they are just jerks.
Belly:
I still find it funny when some people say I look small. I have to admit, I remember when watching Rosemary's Baby thinking "Come on, really Rosemary is THAT small with her baby? At 9 months?!" Now I am looking at my tummy and I can kind-of see how it was plausible. But I know a lot of it is because it is my first baby, and I have fairly strong abdominals from working out consistently (well, that I USE to workout consistently.) If I focus on relaxing my abdominal muscles my tummy gets pretty large. But if I don't engage my muscles my back hurts a lot by the end of the day.
To make the whole engage and disengage the muscles weirder, my belly button is ready to pop. Somedays if I engage the core and disengage, my belly button looks like a goofy muppet mouth. I feel a little Seinfeld-y by making my belly button talk, HELLOOO! No need to take my hands to make my belly button stretch and talk. #pregnancyperks
Animals:
Week 34 had my FAVORITE animal featured. A QUOKKA! OMG, I know, I was a weird American child who knew what a quokka was, but uh…. isn't it the cutest thing ever? And if you google this guy you get a lot of selfies with them, which is because of Rottennest Island. It is packed with quokkas that seemed to get use to tourists. I am not sure how I feel about this, but I know if I knew about this place as a kid I would be trying to convince my parents to make a trip to Australia.
Week 35 is the very specific Mini Lop Bunny. I don't really know how big a regular lop bunny is, so mini is more mysterious. But they are also pretty cute, but I can't help but wonder if the ears are annoying for the bunny sort of like how bulldogs have a hard time breathing. Any big bunny fans? Also, if anyone has their hearts stolen by these photos, there are lots of mini lop bunnies for adoption on PetFinder.com. I just can't even with Bettie Brown.
Werkin Out:
Oof, finding time is hard. Mostly during the work week. Luckily I work only 4 days a week, but we have been so busy I pretty much get home, cook, then just sit around feeling fried. But I am trying to go for long walks on weekends with Jon, which puts me out of breath with my stuffy nose (pregnancy symptom) and having the baby sit so close to the diaphragm (when will this baby drop to give some relief?) But the good news is that my muscles are still pretty strong and I can still curl a 14lb weight, though I should try and do more barre workouts consistently. I think it will help with muscle endurance when it comes to labor time.
Oh, and if you love body positive fitness- please donate to Lacy Davis' IndieGoGo campaign! She is the author of the blog Super Strength Health and co-host of the podcast Rise and Resist. Passing a few bucks will help the campaign. She is 55% of the way to her goal, and every little bit helps.
Nursery:
We are getting there! My parents are stopping by tomorrow to bring over the fancy pants rocker my sister use to own. I think my husband was confused to why it wouldn't fit in our car, or my sister's until I said it was like a couch. But we will set it up in the room this weekend and hopefully pick up the toy box that sister has that matches the rest of the furniture. Which will hopefully get the bulk of the nursery all tidied up. Oh! And our closet door is finally all painted and can fully shut. Thank goodness.
Next order of buisness is framing some of the art that will be going in there. My Mom did a needlepoint of Mrs. Tiggy Winkle (my favorite as a girl, and today) and Alexa is making a painting. So I am pretty excited to see the final results.