October 31, 2016
This year we haven't watched as many horror films as hubs and I had hoped. I think this happens every year though. This year seems to be a little more realistic as to why we haven't watched many films. Lots of driving, and lots of learning about baby stuff. So I will end the month of October with the last of the films we watched.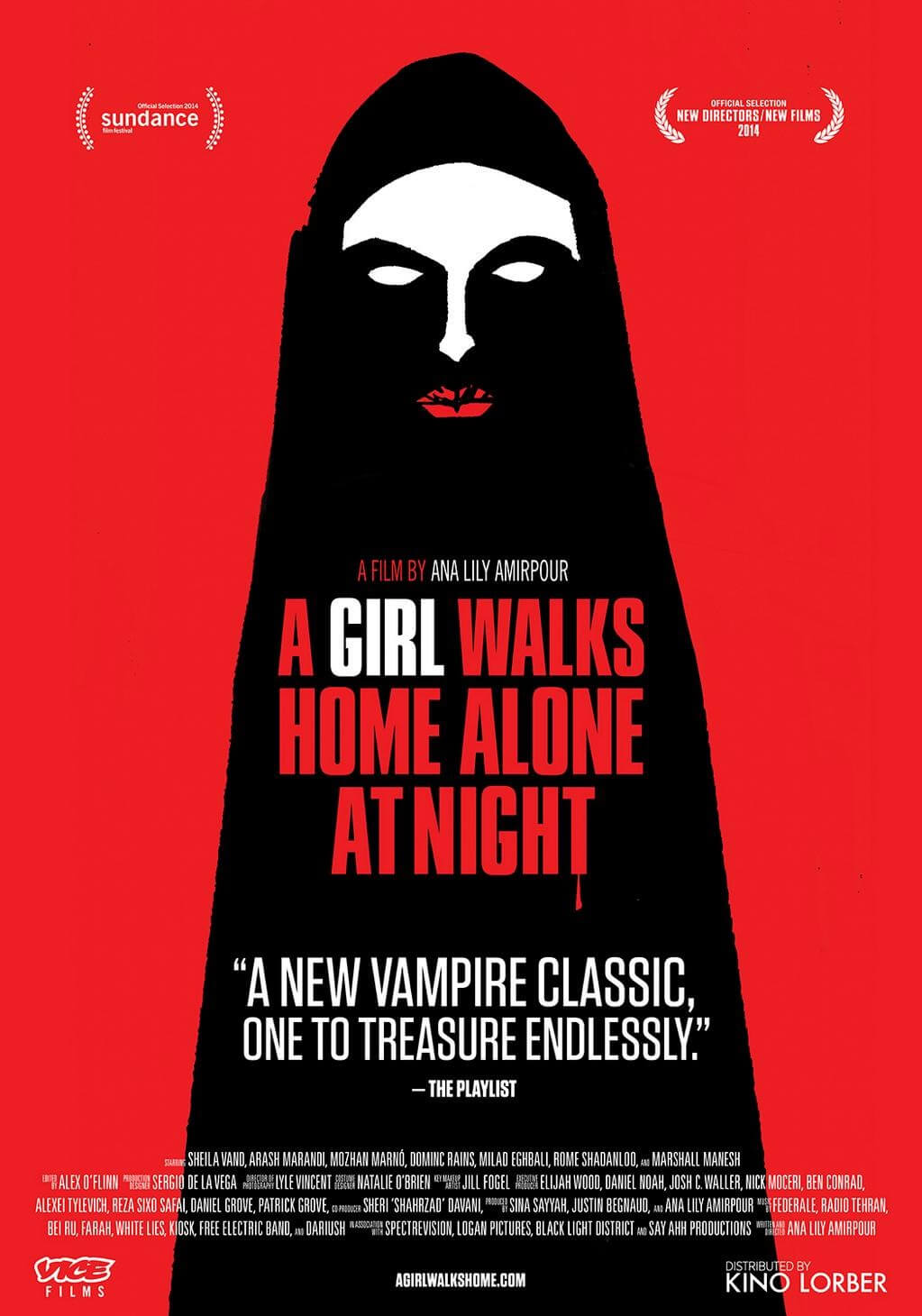 A Girl Walks Home Alone at Night
Year: 2014
Directed by: Ana Lily Amirpour
Rank: 9/10
Spooky Type: Vampire
Watch: Netflix + YouTube
Plot: In the Iranian ghost-town Bad City, a place that reeks of death and loneliness, the townspeople are unaware they are being stalked by a lonesome vampire. –IMDB
Review: This is a hard movie to describe. It fits the horror genre since a vampire is in the plot, and there are some serious spooky vibes going on with this film. But in many ways this seemed more like a new wave feminist batman. The pacing is slow, erie, but never employs any shock or gore like most horror films. This sits between genres in a similar way Let the Right One In does. To say it isn't a horror would be wrong… but to say it is would feel a little like a lie.
The story follows a young man Arash who is struggling to support his drug addicted Father. Work is hard to come by in his town, as it is a run down ghost town. He comes into a large amount of drugs after his Father's dealer is killed. After dealing some drugs at a party, Arash runs into a strange girl on the street, starting a romance. Little does he know, this girl is going around town ridding it of men who take advantage of women.
This is only the second Iranian film I have seen. Awhile ago I watched the film The White Balloon, and loved it. This movie is directed by a female, which is rare for the horror genre, film in general, and I am sure for Iranian film as well. The movie relies heavily on it spectacular visuals, otherwise the story would be too slow moving. What I find interesting about the film is it's borderline love affair with Western media, but it still feels very fantastical and foreign. Even though it feels like it could be an Iranian town, the whole film is shot in California. The main character listens to largely Western music, but Iranian pop is sprinkled throughout the film. This could be because the director Ana Lily Amirpour was born in England, but grew up in the United States.
And some people point out that maybe that is what the film is about. An Iranian women struggling to live in a world that isn't part of her upbringing. The Girl is surrounded by drugs, sex, and female abuse, and she fights against it. The Girl wears a veil while out, but is it because it helps her stay hidden? Or is because she is a practicing Muslim?
Overall: Great for art house film lovers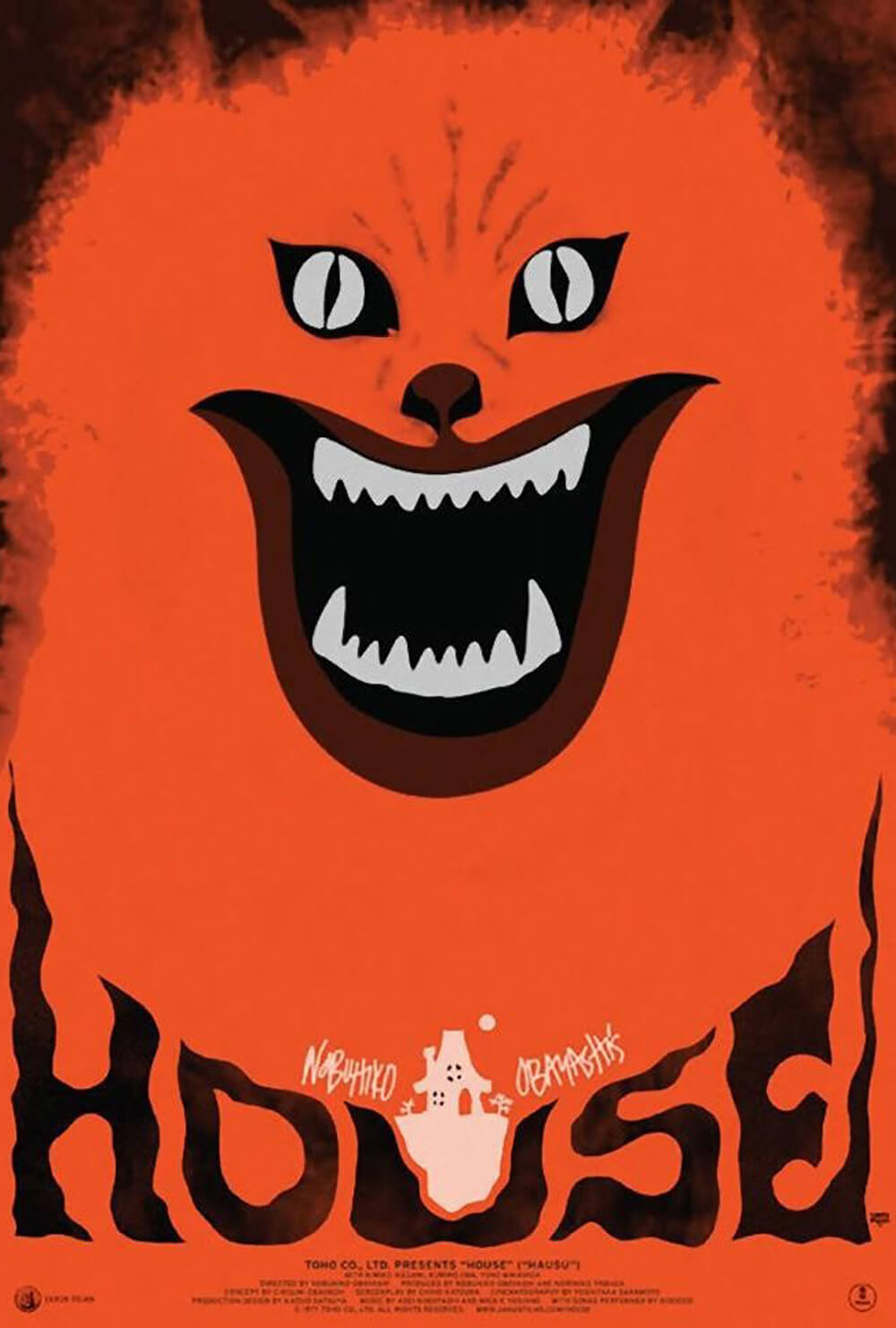 House
Also Known As: Hausu
Year: 1977
Directed by: Nobuhiko Ôbayashi
Rank: 10/10
Spooky Type: Haunted House
Watch: Hulu + YouTube Trailer
Plot: Oshare (Gorgeous) is excited about spending summer vacation with her father, until she finds out that his beautiful, freakishly serene girlfriend Ryouko would be going as well. Oshare decides she will be going to her aunt's house in the country instead. She brings with her her friends from school – Fanta (who likes to take pictures, and daydreams a lot), KunFuu (who has very good reflexes), Gari/Prof (who is a major nerd), Sweet (who likes to clean), Mac (who eats a lot), and Melody (a musician). However, the girls are unaware that Oshare's aunt is actually dead and the house is actually haunted. When they arrive at the house, crazy events take place and the girls disappear one by one while slowly discovering the secret behind all the madness –IMDB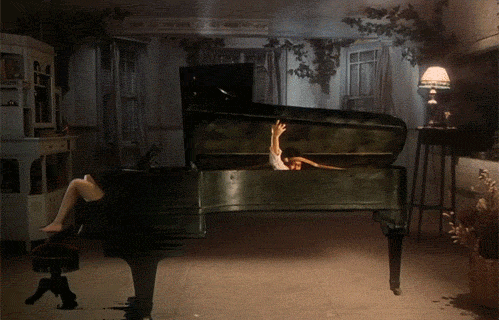 Review: Confession time- I didn't actually watch this movie, at least this year. Alexa did. She texted me as she started to watch it, because it is something else. I could talk about the metaphors. I could talk about how "Japanese" it is to give people some context. But what really makes this movie shine is just how out there and unique it is. I can think of other films to recommend for any of the movies I reviewed on the blog, but not this one. House stands alone. Heck, I don't think there is anything else directed by Obayashi that is anywhere as crazy as House.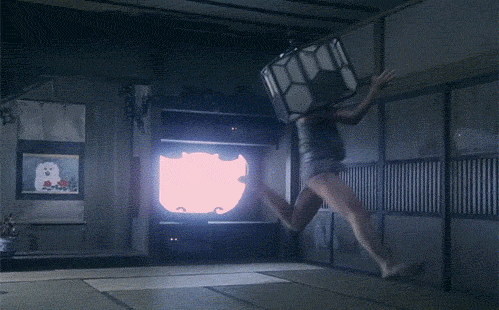 So what makes this movie so unique? Well, filming techniques are all over the place. Ranging from weird cuts, songs, melodramatic sets, green screened effect, stop motion animation, I mean everything. If it is a special effect at the time, Obayashi used it. And he used it to make some humorous ways to die. Death by piano? Check. Disembodies head biting your butt? Check. Clearly Obayashi had a sense a humor about the whole horror genre, and let's be honest, maybe some drugs were involved.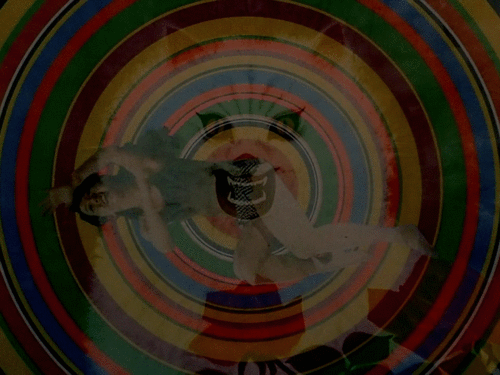 The end result is the most "gif-able" movie ever made. What I love about this film is that it is funny, it is suppose to be funny. And even though it is so light hearted and doesn't take the spooky aspects seriously it still packs as much gore as any other horror film. There is no shortage of blood, missing girls, skeletons, and gore. You'll probably still have no problem sleeping at night, but you have that safe "danger" that you get from say a Goosebumps episode.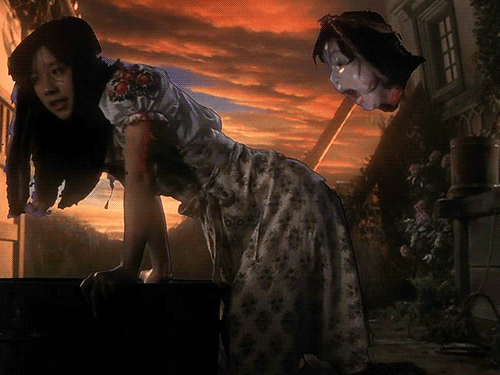 The movie falls between two camps. It is kitchy and gaudy, and really attracts the type of people who like movies like Troll 2. But unlike Troll 2, a floating head that bites your butt is suppose to be laughed at, so it isn't really the type of film that is so awful that it is good. It is probably better to be describe it like a tragedy or melodrama. There is just so much drama going on that you accept this alternative universe for what it is. Any holes in the plot line, or flaws in the characters are easily dismissed. Possibly the closest thing to be out there is maybe The Rocky Horror Picture Show, only with crack.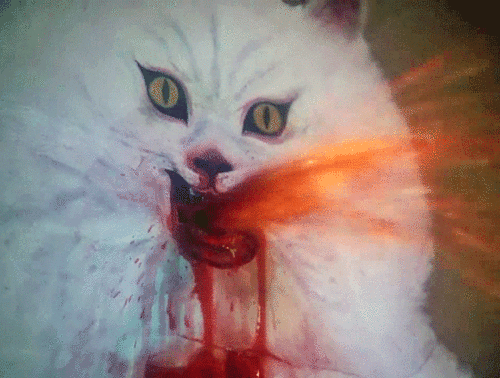 You might be questioning if this film is for you. I mean there is a painting of a cat spewing out blood. I remember being very unsure when I first started to watch it. I couldn't quite make up my mind about what to think. I remember sensing my husband's uncertainty when we saw it at The International House. But the further along you watch, it all begins to click as the girls move away from their everyday life to the haunted house. The surreal hell house becomes a character of it's own, and you surrender all logic of film to Obayashi. Give it a chance. You'll be happy you did.
Overall: Everyone needs to see this film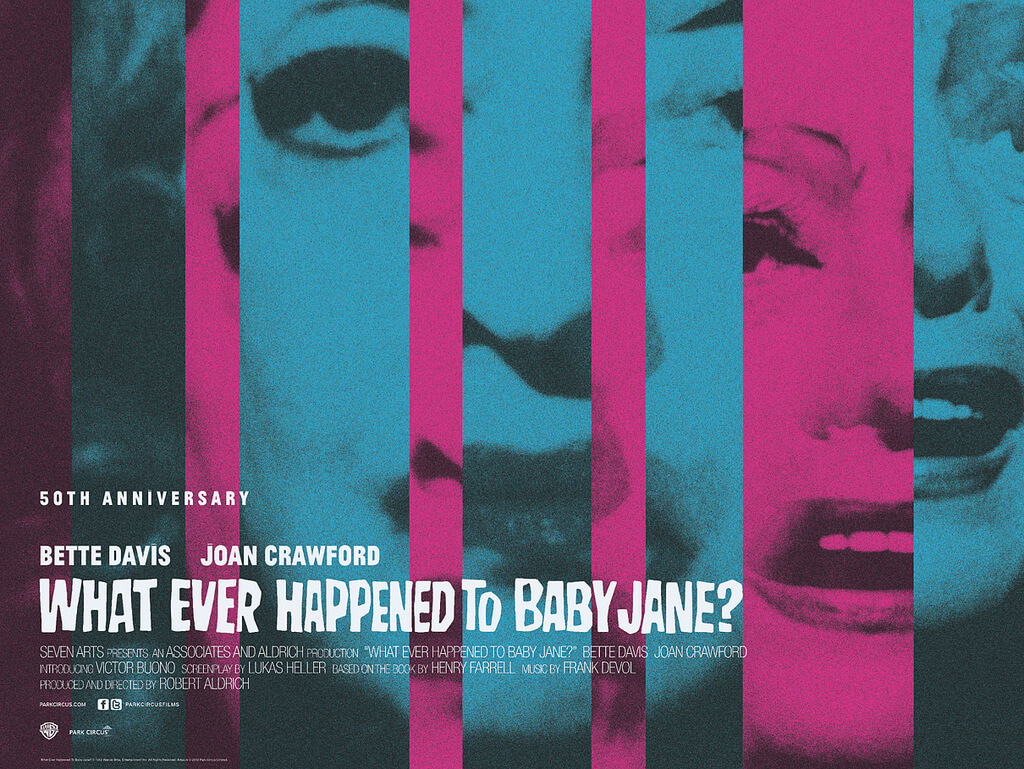 Whatever Happened To Baby Jane?
Year: 1962
Directed by: Robert Aldrich
Rank: 9/10
Spooky Type: Psycho-biddy
Watch: Amazon Rental + YouTube
Plot: In a tale that almost redefines sibling rivalry, faded actresses Blanche and 'Baby' Jane Hudson live together. Jane was by far the most famous when she performed with their father in vaudeville but as they got older, it was Blanche who became the finer actress, which Jane still resents. Blanche is now confined to a wheelchair and Jane is firmly in control. As time goes by, Jane exercises greater and greater control over her sister, intercepting her letters and ensuring that few if anyone from the outside has any contact with her. As Jane slowly loses her mind, she torments her sister going to ever greater extremes. –IMDB
Review: I remember watching this film when I was younger. I knew what the story was about, and I remember thinking the story seemed so obvious. But watching it again with my husband I thought it was much more chilling than I remembered. The movie floats right on that blurry line of psychological thriller and horror. So heads up, no spooky ghosts or supernatural things in this film.
The movie was based on the novel with the same title. The movie was so unique at the time, that it received an initial X rating in the UK. The movie was such a success that it created a new genre- Psycho-biddy. Stories that base their real life horror on mental instability of aging women. The genre has slowly faded away, mostly because society has been more forgiving on older women. But let's face it, in the age of plastic surgery, women are constantly being told to never age.
I am hesitant to speak too much of the film since it is such a classic. And unlike newer horror films, you can still be spooked if you know the ending. If I accidentally give up the ending, it probably wouldn't be so spooky. I do note, since this is a vegan blog, there is some animal deaths in the film. Nothing too graphic, especially when compared with the next film I am reviewing (The Witch) This is another great film for anyone who is a little bit of a scaredy cat.
Overall: Classic film.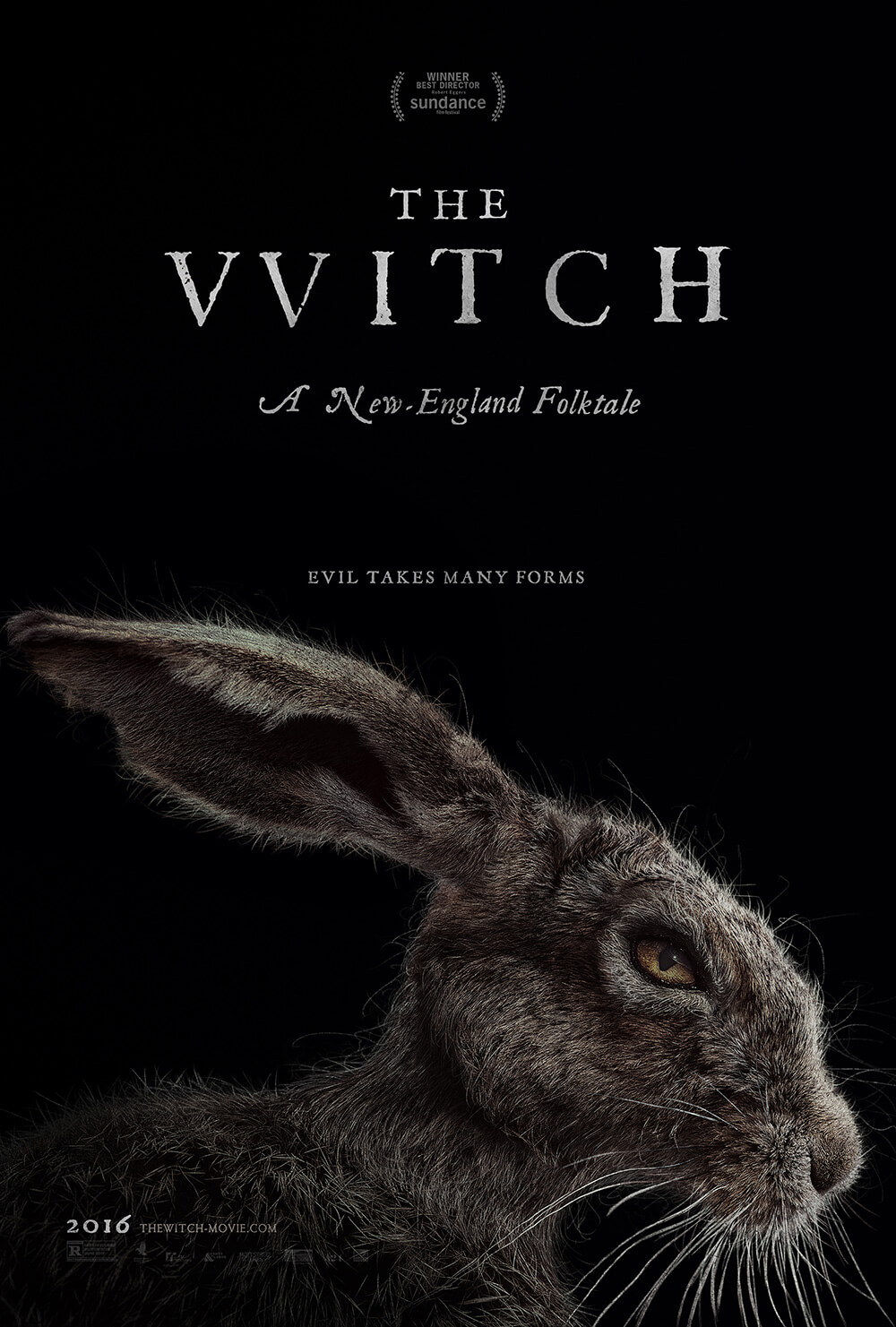 The Witch
Year: 2015
Directed by: Robert Eggers
Rank: 10/10
Spooky Type: Witches
Watch: Amazon Prime + YouTube
Plot: New England, 1630: William and Katherine lead a devout Christian life, homesteading on the edge of an impassible wilderness, with five children. When their newborn son mysteriously vanishes and their crops fail, the family begins to turn on one another. 'The Witch' is a chilling portrait of a family unraveling within their own fears and anxieties, leaving them prey for an inescapable evil. –IMDB
Review: I've been obsessed lately with Stuff You Missed in History Class. Every year they try and do a bunch of Halloween themed episodes, usually revolving around witch hunts, ghost hauntings, or general mysteries. I guess because of this I was in the perfect mood to watch this film. That and I wanted to watch it last year in theaters but ran out of time.
Just like A Girl Walks Home Alone At Night, this film isn't your typical horror film. This movie has a very slow pace, which is fitting for the story. The story takes place in 1630, with an exiled family. Life moves slowly. What I think Eggers does well is captures the mania that happened with settlers in the past. We constantly hear about how people in the past would blame ailments on witches, and it makes them seem dumb and irrational. But in reality is a great way to live in denial, or to have a scapegoat. Even today many people say their house is haunted and are convinced the thumping in the attic is a ghost, not a raccoon.
I pretty much loved everything about this film. The acting, direction, photography, editing sound, like I said everything. It is a refreshing breath of air for the horror genre since it has all the same editing, sound, color, and lighting techniques. There is much less of a big loud startling thump that makes you jump. But as mentioning since it doesn't have these elements, I think many people might be dissapointed. If you approach the film as just another movie, you can fully apprieciate it.
And since this is a vegan blog, and this movie is about early settlers you can guess there will be some graphic imagery with animals. Let's just put it this way- no major pain inflicted to animals but you will see blood.
Overall: Excellent ode to New England superstitions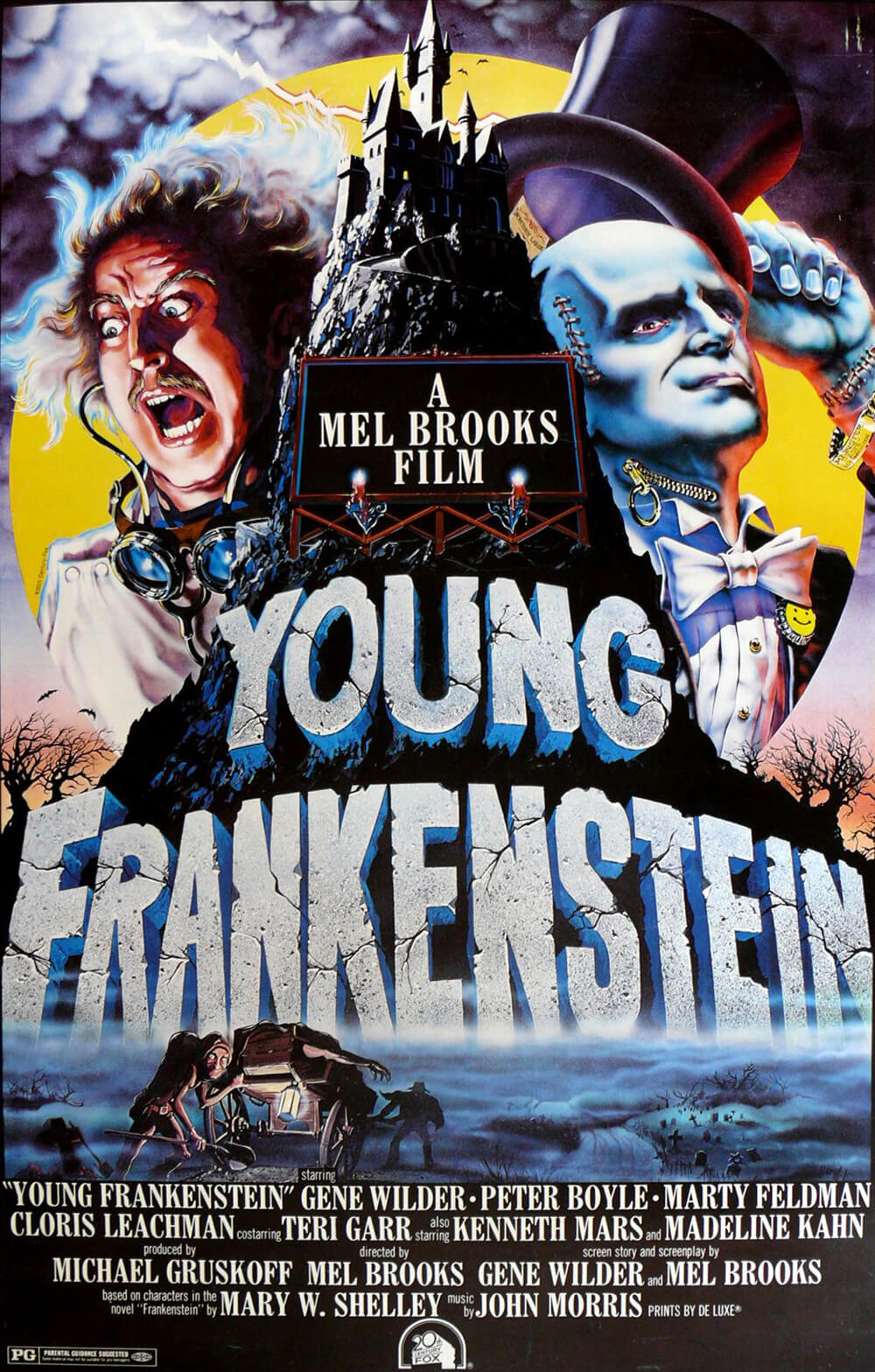 Young Frankenstein
Year: 1974
Directed by: Mel Brooks
Rank: 8/10
Spooky Type: Comedy
Watch: YouTube Trailer
Plot: An American grandson of the infamous scientist, struggling to prove that he is not as insane as people believe, is invited to Transylvania, where he discovers the process that reanimates a dead body. –IMDB
Review: Ever watched a trailer for a comedy, and thought "this trailer is pretty funny, I should see this movie!" Buuuut…. when you watched the movie you find out that all the really funny jokes were in the trailer, and therefore the movie was just boring? That's what I felt with Young Frankenstein. I've seen it talked about on that "I Love the 70's" mini series, and had clips played often from friends.
My husband has been DYING to get me to watch it. "You gotta watch Young Frankenstein," and I have found that if you tell me something is the best or that I HAVE to watch it, I tend to think it is overrated (like oh The Matrix.) But I felt bad for all the movies I was picking out, so I thought now would be the time to watch it. Sadly, I heard most of the great one liners already.
I should of liked the film. It was funny, and filmed perfectly in the style of the old horror films. But again, I heard so many of the jokes before. Plus I had the same issue as An American Warewolf in London with Young Frankenstein. The women were meh. I get the jokes and where they were coming from culturally. Older horror films always had that sexual tension between the leading male and some random woman. But it would of been nice to have a female character that went outside of stereotypes and been stronger.
Overall: Funny and great if you haven't heard any of the jokes before