August 9, 2016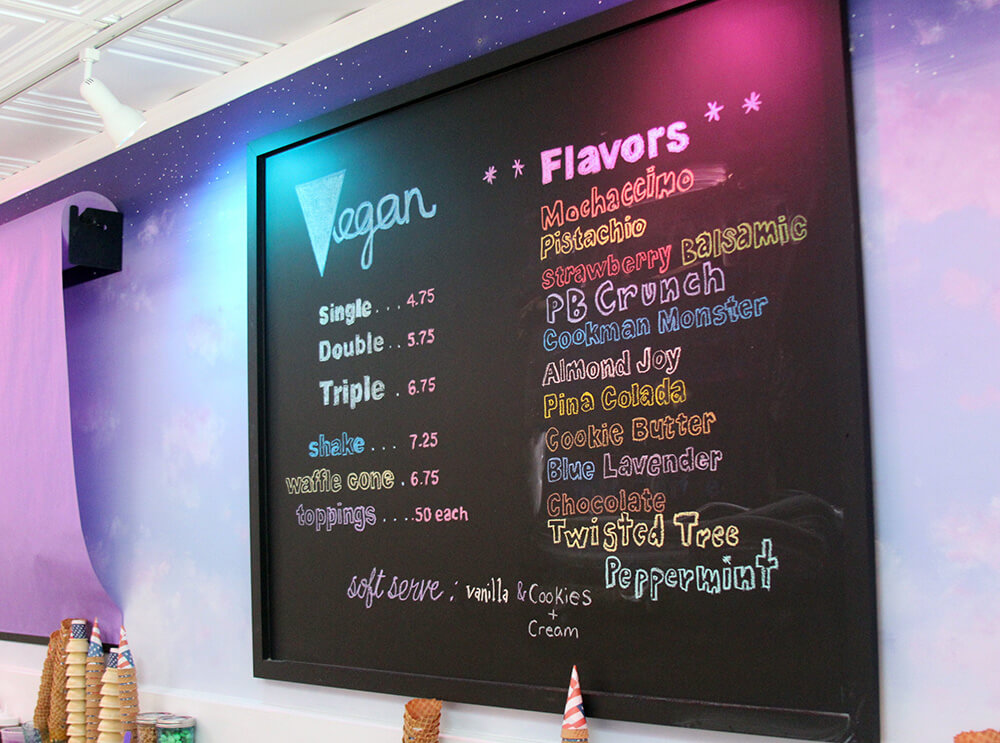 Cookman Creamery
711 Cookman Ave, Asbury Park, NJ 07712
website | instagram | twitter
I've been dreaming about coming here. I am a little more inclined to visit Alexa and the "shore" during the off seasons- Fall, Winter, and Spring. I don't like summer, and I don't like traffic. But I do like Alexa and I do love food (Alexa's Note: I'm so pleased to see that as much as Jen may "like" me she "LOVES" food. I'm feelin' it.), so it is very frustrating when places are closed for the off season. This is one of those places. I've been wanting to check it out, but during the colder season the store doesn't have as many hours.
Cookman Creamery isn't 100% vegan. They carry regular old ice cream and vegan ice cream. And not just vanilla and chocolate, like good flavors. As you can see from the photo above, they have many flavors, and when we went there was a little more than usual. Heck they even have vegan soft serve in vanilla OR cookies and cream. Is this a vegan's dream ice cream shop or what?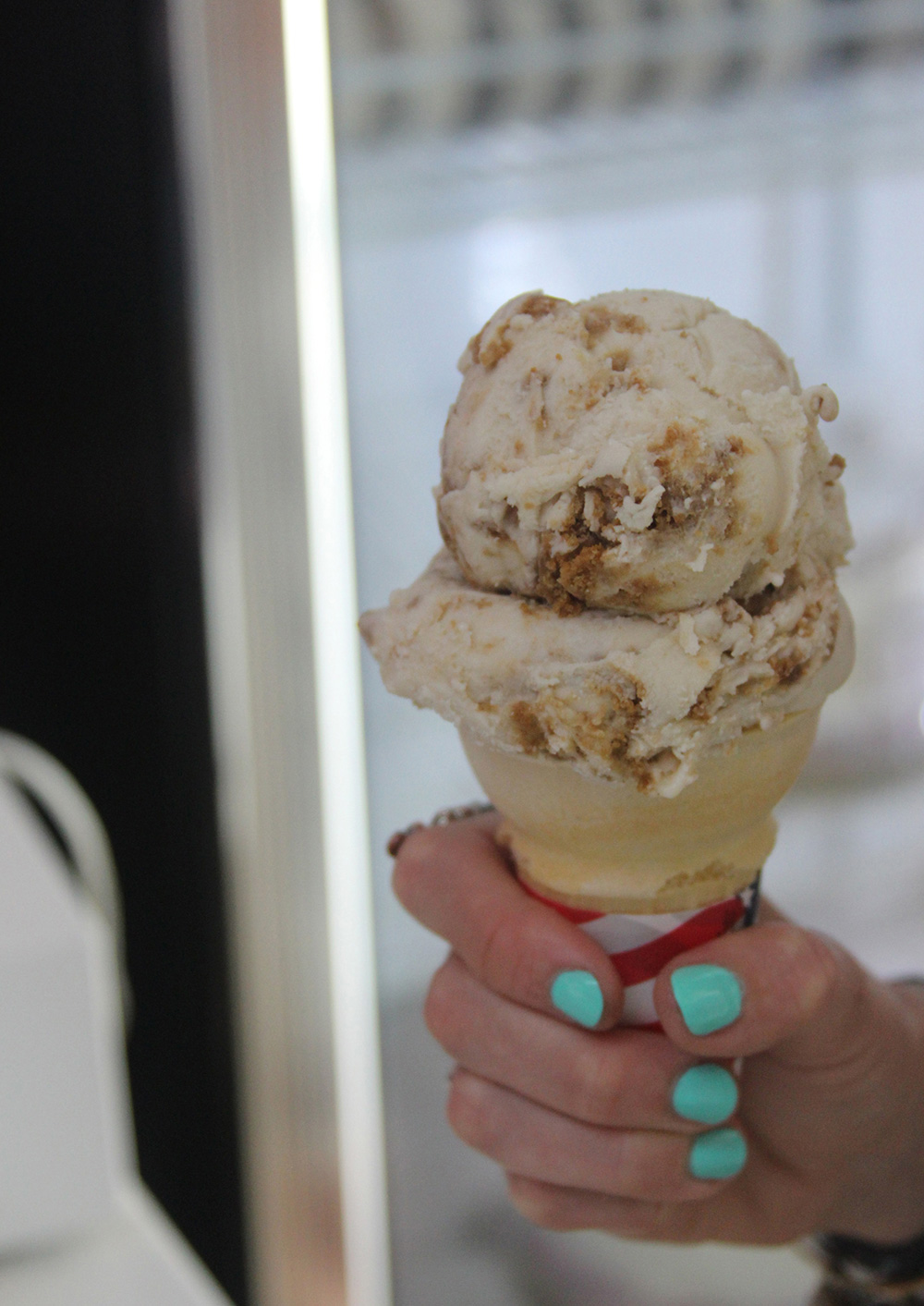 Our favorites? Well, Alexa got the Twisted Tree ice cream, which used ginger cookies from another local vegetarian/vegan cafe and restaurant Twisted Tree. We also tried the pistachio ice cream, which was yummy and super natural tasting. I am sure some people have had the problem where the pistachio flavor becomes so intense that it doesn't quite taste, well, like pistachios. Alexa and I really loved the Blue Lavender ice cream, but I recently made purple basil ice cream, so I passed on it. I went for the balsamic strawberry ice cream (another favorite of Alexa's). The balsamic flavor is very subtle, which I personally like a lot.
Their website says their ice cream base is coconut cream, which makes them super creamy and rich. Truthfully that is what I want in my ice cream when eating out. I don't think I picked up on ANY coconut flavors in the ones we ate. But I am sure other ice creams like the Almond Joy and Pina Colada they will play up the coconut flavor. My only complaint, is that the vegan ice cream is a whole dollar extra compared to the normal ice cream. A little bit of a bummer, but still worth the price I think.
Alexa Here! I also love this place and luckily have been able to visit it somewhat regularly this season as opposed to last summer when I too dreamed of the establishment. Something I noted on when I went for the first time was all of the different flavors, like Jen mentioned. I expected some cookie-based flavors, but never thought of seeing something like the Blue Lavender or Strawberry Balsamic. I'm always adventurous when trying ice cream but honestly a little naive when it comes to the massive amount of (good) flavors there could possibly be. I also think Cookman Creamery tries to switch out different flavors depending on the week – I know that at one point they had a vegan matcha flavor but I haven't come across it when I've visited so far and it honestly makes me cry inside. That being said, everything I've had so far is amazing.

Jen also mentioned the coconut cream base for all of their vegan flavors, and I think this is a huge benefit for their ice cream versus something you'd buy in a store. While the new vegan Ben & Jerry's is very good they're all almond milk based and you can definitely tell. As someone who is a connoisseur of vegan – and sometimes – non-vegan ice cream I can usually tell when it's not a milk or cream based flavor, but with Cookman Creamery you wouldn't even notice. I only say this because I could even convince someone who is a non-vegan to try some of these and they wouldn't even have an excuse not to!

I think my only gripe about Cookman is that the prices are a bit high. I understand when you're using vegan and 'organic' products that it'll hike the cost up a bit more, but I almost can't justify buying one of the pints of vegan ice cream from them because the pints run around $8.50, whereas I can go and buy a pint of Ben & Jerry's or *insert vegan ice cream that can be found in Whole Foods/Wegman's* for $3-$4 less. However, if that's my only complaint then I would still consider it an amazing experience! The staff are all really nice and are very knowledgeable of the product, I recommend making the trip if you are in Asbury!