February 27, 2019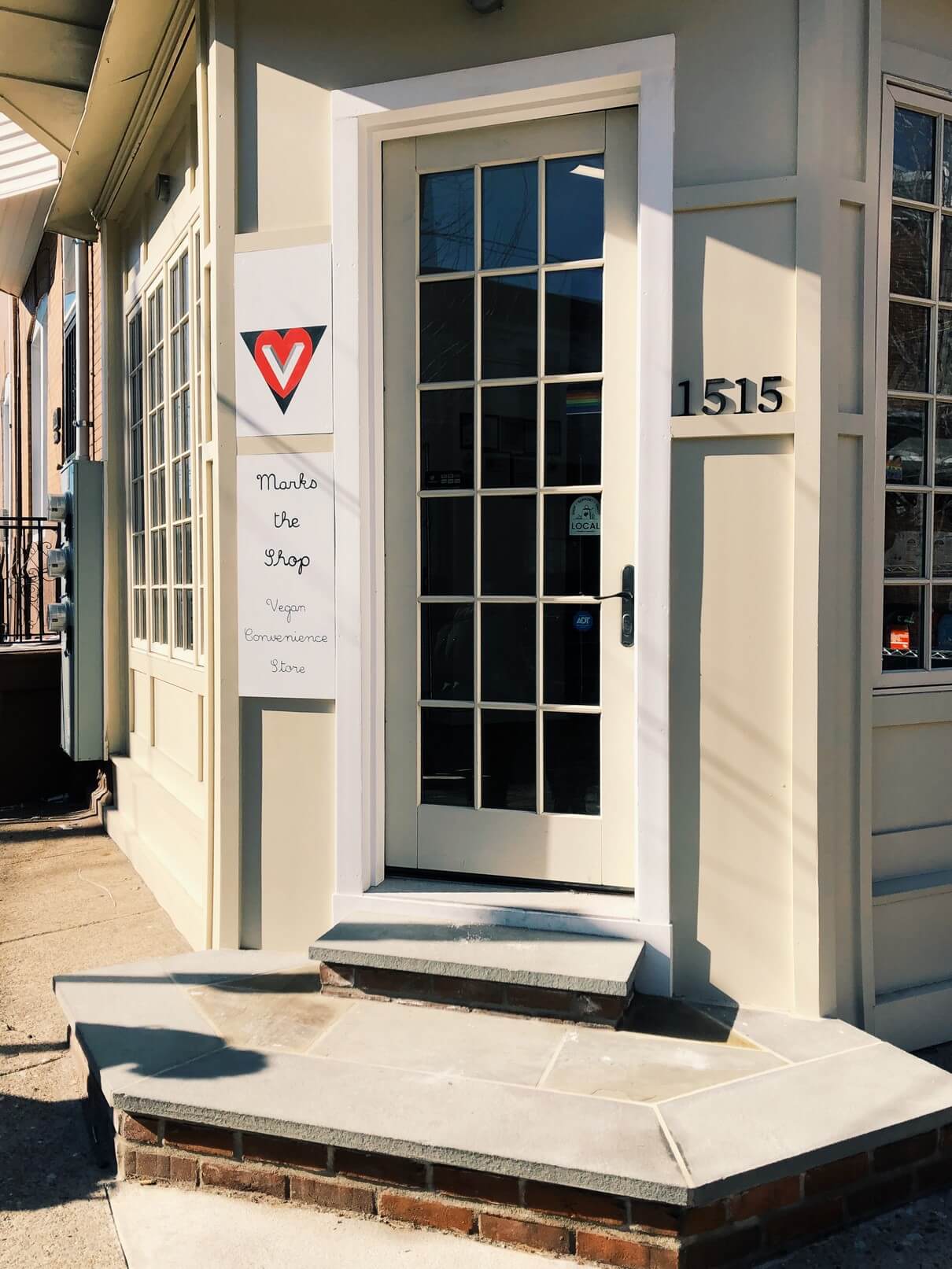 V Marks the Shop
1515 McKean St, Philadelphia, PA 19145
website | facebook | instagram | twitter
I have talked on this blog about a bunch of restaurants, but kind-of shyed away from talking about vegan shops. There are two reasons- one was that some shops aren't 100% vegan, and it felt a little bit like I would just be featuring a bunch of health food stores. The second reason was that there weren't many shops to feature, they simply weren't around me. But fast forward to now, and I think there are enough shops opening to make this a feature on the blog. So these are any shop that are vegan, whether it be food, shoes, clothes, bath products, or a salon.
I start this with V Marks the Shop. The store is owned by Carlo and Carmella who have been working on the shop for years. They started with a crowd sourcing campaign and fell short of the target goal. But they kept working at it, working on many many popup vegan events. They often had events centering around holidays, fundraising, or spotlighting vegan POC business owners. They sold vegan products on their website, focusing on local deliveries. But they have finally been able to open a brick and mortar store.
Right now, they are JUST starting out. We went after they have been open from about a month or two, but it looks like they are still feeling out more solid hours. I strongly suggest checking out their instagram or facebook to make sure they are open. They also seemed a little empty, but I have yet to go to a brand spanking new store and it not feel a little bare. Not to mention, I think they are selling out pretty fast with a lot of their products. When I visited they had mostly just food, but they will soon be adding books and clothing.
Even if you are just visiting Philly I suggest you check this place out. There are tons of fun products that are local or just a little harder to get, even at your local vegan market. I also would follow their social media platforms to keep up with any future pop-up events, as they love working with other vegan companies.
Pros:
Lots of local companies. Just to name a few featured at their store, Fat Badger (packaged cookies PA), Philly Bread Co (fresh baked goods, PA), Crust Bakery (bakery, PA), Batter and Crumbs (bakery, PA), Baba's Bucha (kombucha, PA), Nutty Novelties (nut butters PA), Om Sweet Home (vegan butter NJ), Freakin Vegan (prepared foods NJ), Miss Rachel's Pantry (prepared foods PA), Blackbird Pizza (seitan and pizza PA), and FINALLY Soy Cafe (prepared foods PA).
Comparable prices! I was a little afraid I was going to get there and not afford anything. The profit margin of grocery stores are small, so I figured they would be several extra dollars for products. Not the case, as more food items were the same price as big box stores or were only 50 cents extra.
Events! They are still keeping their business model of keeping engaged with the community over ad space. They appear to be still working frequently with Tattooed Mom. Plus every Saturday they feature Sumthin' Saturday in the store. That means every Saturday they will be planning something, whether it be demos from another vegan company, micro pop-ups, games, crafts, or speakers.
A wide range of products, shelf stable, fresh, frozen, etc. As you can guess from the list of companies above, there are some fresh made bakery products at the shop. There are also pantry staples and frozen goods like fake meats. But more surprising is that they have fresh vegan meats from The Herbivorous Butcher which I need to go back for their pepperoni!
Cons:
Not all chocolates are on the F.E.P list. It looks like almost ALL are from there, but there are a few stragglers, mostly just novelty stuff like Go Max Go and No Whey! If you must, they do carry Moo Free which is on the list, while still making some novelty chocolates.