October 12, 2015
I love Halloween. I try to watch as many spooky movies that I can during October. Oh, and I also try and watch as many halloween themed TV episodes. I know my husband personally loves to watch the old Goosebumps series, but truthfully they are too painfully 90s kid for me. But the problem is that sometimes it is hard to filter through the horror reviews. As I flip through Netflix, I see such a large range of reviews, some giving 2 stars for movies that are pretty good! So I'll be posting my reviews for the week of what I thought of the films I saw, and to give viewers a heads up about what they are jumping into. I think most "bad" reviews are because the viewer expects one thing, and gets another.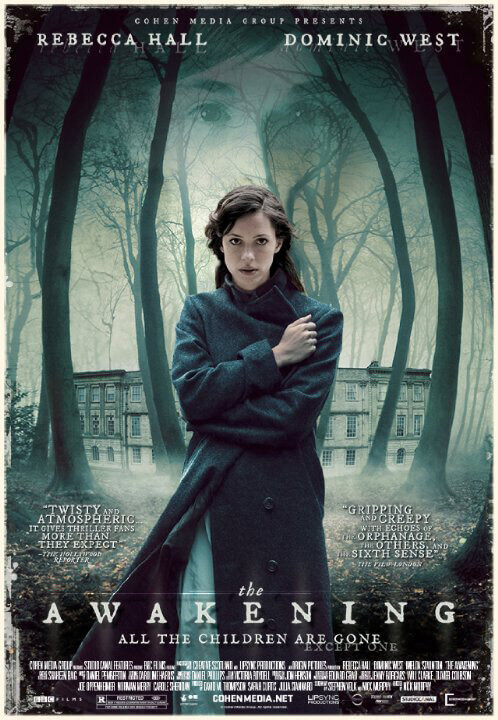 The Awakening
Year: 2011
Directed by: Nick Murphy
Rank: 7/10
Spooky Type: Ghost/Haunted House
Watch: Netflix
Plot: A surge of followers of the spiritualists movement has motivated Florence Cathcart to expose frauds. She becomes the expert in her field, even though she is a woman in the 1920s. She is contacted to help out with a ghost sighting in an all boys boarding school. It seems that Florence had wrapped up all the loose ends of the so called "ghost sightings" but something bothers her that keeps her at the school a little longer, giving the school enough time to expose it's true colors.
Review: The Awakening's strong points are the visuals. The cinematography is beautiful, the tone is great, and everything is visually spectacular. Pretty much all the aesthetics are perfected, from sound, to editing. It is easy to fall in love with the movie because of this. Sadly the plot was a little lacking. Truthfully, ghost movies are hard to do, since they are one of the oldest horror genre. But there were enough red herrings in the film to distract the viewer and have a surprise ending, or rather an ending that you didn't guess ALL OF the facts. There were lots of themes that seem to of been tossed into the story but had no real deep meaning, influenza and the World War.
My other beef with the film was the historical aspect. Setting films into the past is a great way to remove ourselves from our connected world. It is so easy to get data, make a phone call in emergencies, research history, that sometimes it makes the plot too easy to solve by the protagonist. So having a movie take places in a huge mansion with little light and stone cold walls can make a creepy setting. Unfortunately if you know some things about history, you find errors. Florence's character was a little too modern for the time period, which seems intentional, but a little too overdone. The historical inaccuracies aren't glaring, but if you are a history buff, you might not want to watch the film.
Overall: It's a good watch, and would recommend watching for a good ghost story.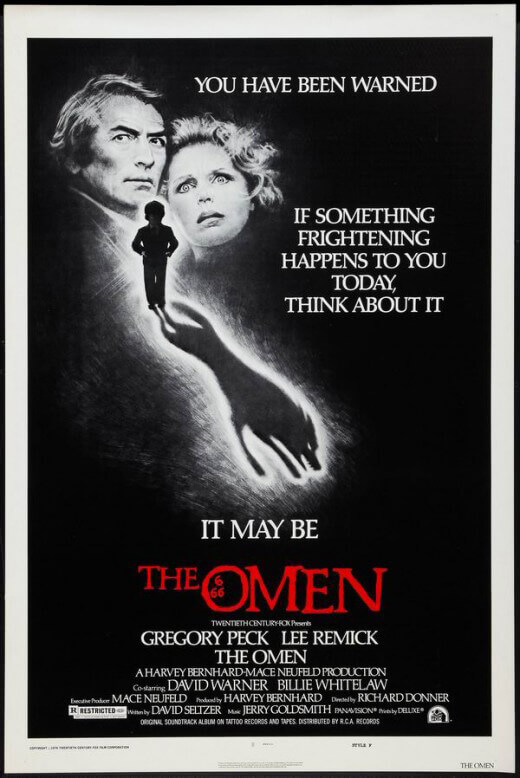 The Omen
Year: 1976
Directed by: Richard Donner
Rank: 5/10
Spooky Type: Demon Child
Watch: Netflix
Plot: Robert Thorn is an American ambassador in Great Britain. His wife Katherine has a stillborn baby during childbirth. The hospital happens to have a healthy baby that had it's mother die. So a priest suggests to Robert they switched the babies around. Katharine is unaware of the switch and raises her child as their own. Strange things start to happen that make the couple question where their child came from.
Review: I had pretty high hopes for this movie. It is considered a classic, almost every horror movie buff have seen it. I remember having a hard time finding someone to watch it with me. I figured it would be something I love. The Exorcist is awesome, 70s witchcraft based horror films are excellent, and Gregory Peck is a dreamboat. So it seems to make sense that this film would have it all.
But everything that I loved about those films were pretty much missing from The Omen. There wasn't a mystery of trying to find out that the son was the devil. Spoiler alert, he is a demon child. Actually it isn't a spoiler, all synopsizes say he is, so do trailers, and posters. You find out pretty much right away. Trouble follows as Robert Thorn tries to solve the problem, but it doesn't have the stalking qualities that so many witch movies have. There are no hints of occult activities, or witchcraft. Just a boring kid, who doesn't act evil or creepy.
So why is this a classic? I don't get it. Maybe it was a product of the times, but wasn't too gory or tacky to be dismissed by mainstream culture. The film is overall polished, great acting, direction, writing etc, but it doesn't take the viewer to horrifying world. Some people present the argument that the viewer shouldn't know if the characters are just paranoid, or if child is truly the devil. But I think the story presents too much evidence that would support the story that the child is the demon, especially since some of the evidence isn't ever revealed to the Robert Thorn character. Lacking spooks, and lacking a deeper meaning.
Overall: Pass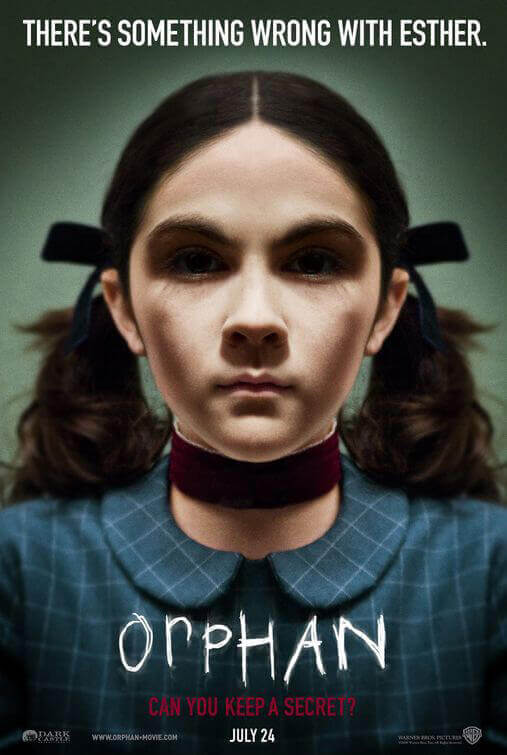 The Orphan
Year: 2009
Directed by: Jaume Collet-Serra
Rank: 7/10
Spooky Type: Demon Child
Watch: Hulu Trailer
Plot: Kate and John are a married couple with two children. Their second child was born with a hearing complication, leaving her almost deaf. Their third child resulted in a still born, leaving the couple with the decision to adopt a child. At the orphanage, they meet Esther, a quiet girl who is exceptionally great at painting, has an old fashioned taste in clothing, and has excellent English despite being born in Russia. But Kate starts to notice trouble follows Esther around, leaving her to try and find out what Esther's history is.
Review: If you are looking for a scary movie with lots of gore and scares, I would recommend this movie. Within the genre of scary movies, I think this is really good. The ending is unexpected, I was on the edge of my seat to see what would happen, and there were was an eerie atmosphere. But… the movie has it's flaws, but not in ways that would take away from it's fun horror gimmicks. Everyone did a great job acting, many small details are well paid attention to, and nothing seems super tacky. But if you picked up the script you would probably say it was a okay suspense film, most of the "horror" is built up by filming techniques.
The director gets too caught up in the style of editing, and sound production, making things "scary" when it makes no logical sense to. Spoiler Alert here- Esther makes enemies with a girl at school. So while the girl is playing on a jungle gym, there are editing styles that make the whole experience seem like the girl is on edge.. but why? Because Esther stared this girl down on the playground? If this were to happen in real life, the girl would have no reason to be scared, and I think the filming techniques should of reflected this.
Looking back at the story, most of the actions from the character are irrational, or over the top. And I get it, but it leaves me with the conclusion that this film is just a horror film. And that is okay. I think it is well produced for a late night scare. Though it is disappointing to not have a story with a deeper message about society. To put it this way, I liked this film, but I don't think I would watch it again.
Overall: Good scary movie, but not a solid message.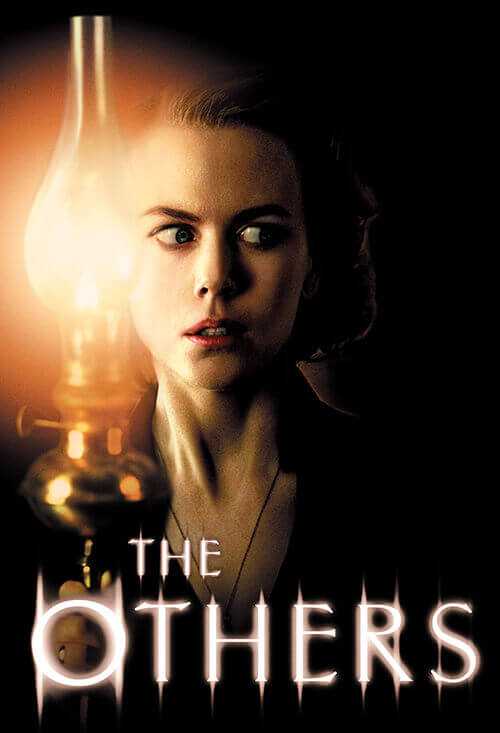 The Others
Year: 2001
Directed by: Alejandro Amenábar
Rank: 8/10
Spooky Type: Ghost/Haunted House
Watch: Netflix
Plot: Grace lives all alone in a mansion in Jersey with her two children. She hires three new house keepers as the previous staff got up and left mysteriously. The house is a strange one, there are strict rules about closing doors and locking them since her children are diagnosed with xeroderma pigmentosum, an extreme sensitivity to sunlight. The children start talking about people they see around the house. Grace first assumes they are just making up stories, but strange things start to happen making her believe them.
Review: This movie is very aware of it the tropes of a Haunted House film. Rules are put into place, all doors must be closed before entering the next room. Doors must be locked, curtains must always be closed. All for the sake of the children. Which made me think right away of House on Haunted Hill, or other haunted house films, there are always specific rules for the house. But unlike those films, messing up those rules doesn't bring upon the ghosts. The story has been described as almost a remake of The Innocents.
Although I enjoyed the film, I think I "solved" the mystery halfway through, but then doubted myself, then knew I was right all along. Is it painfully predictable? Maybe if you are a huge ghost film fan, but anyone who is a general horror or movie fan might get stumped. That aside, I think the story is fairly solid, well researched for accuracies, and believable characters. I think the only thing that bothered me was the "backstory" of the maid who couldn't speak. It really made no sense.
Oddly I remember this movie being a bust when it came out. I guess I just remembered the high profile divorce with Tom Cruise and Nicole Kidman, which happened during the release of the movie. I think the movie got compared too often with The Sixth Sense, which was released two years earlier. So watching the movie today, out of context of pop culture really lets the viewer enjoy the movie.
Overall: Highly underrated ghost story. Great throw back to the old movies.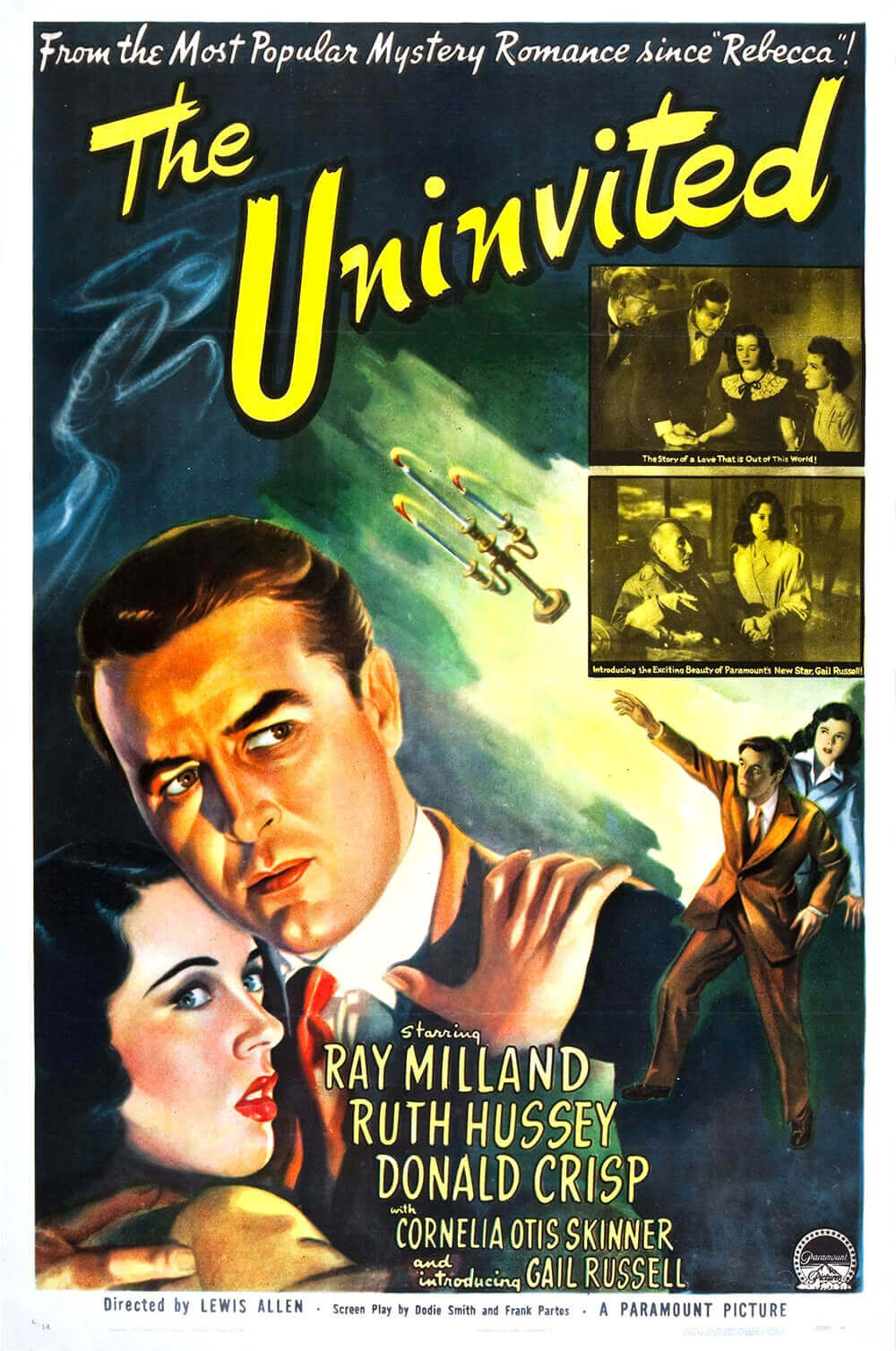 The Uninvited
Year: 1944
Directed by: Lewis Allen
Rank: 9/10
Spooky Type: Ghost/Haunted House
Watch: Youtube Trailer
Plot: Ray and his sister Ruth discover a beautiful abandoned house while vacationing in Maine. They are able to buy the house for a steal, but find the original owner odd. The owner's granddaughter Stella befriends Ray and is excited to explore the home. But Stella seems to experience a panic attack in the house, and while they try and nurse her back to health, strange things happen around the house.
Review: As a horror film, this is much slower paced that what most modern viewers are use to. The movie tries to focus on the story and relationships between characters as the history of the house is revealed. And it is tempting to try and "guess the surprise ending" like with so many ghost/haunted house stories, but you really do need to focus on the dialogue, especially towards the end.
I loved this film and would recommend that viewers take a few notes of what to expect when watching. The film doesn't pull a lot of hokey stuff, so I think it makes it very classic to watch. It isn't like watching old Frankenstein films, where subtleties are ignored. But the film does take awhile to get the "spooky" ball rolling. There are some transitional things, crying in the house, spooked pets, etc, but no filming stylistic choices to get viewers at the edge of their seat. But what holds together the movie is the story, as you will find yourself wanting to solve the mystery of the house.
The special effects are actually quite good for the time. The ghost was pretty haunting, and pretty convincing. Pretty much this is the horror film for film fans, and fans of classic horror films. Yes it is a little melodramatic, but heck I love that. The merits of this film is well known, as it is part of the Criterion Collection.
Overall: Watch, but be aware it is older and dialogue driven.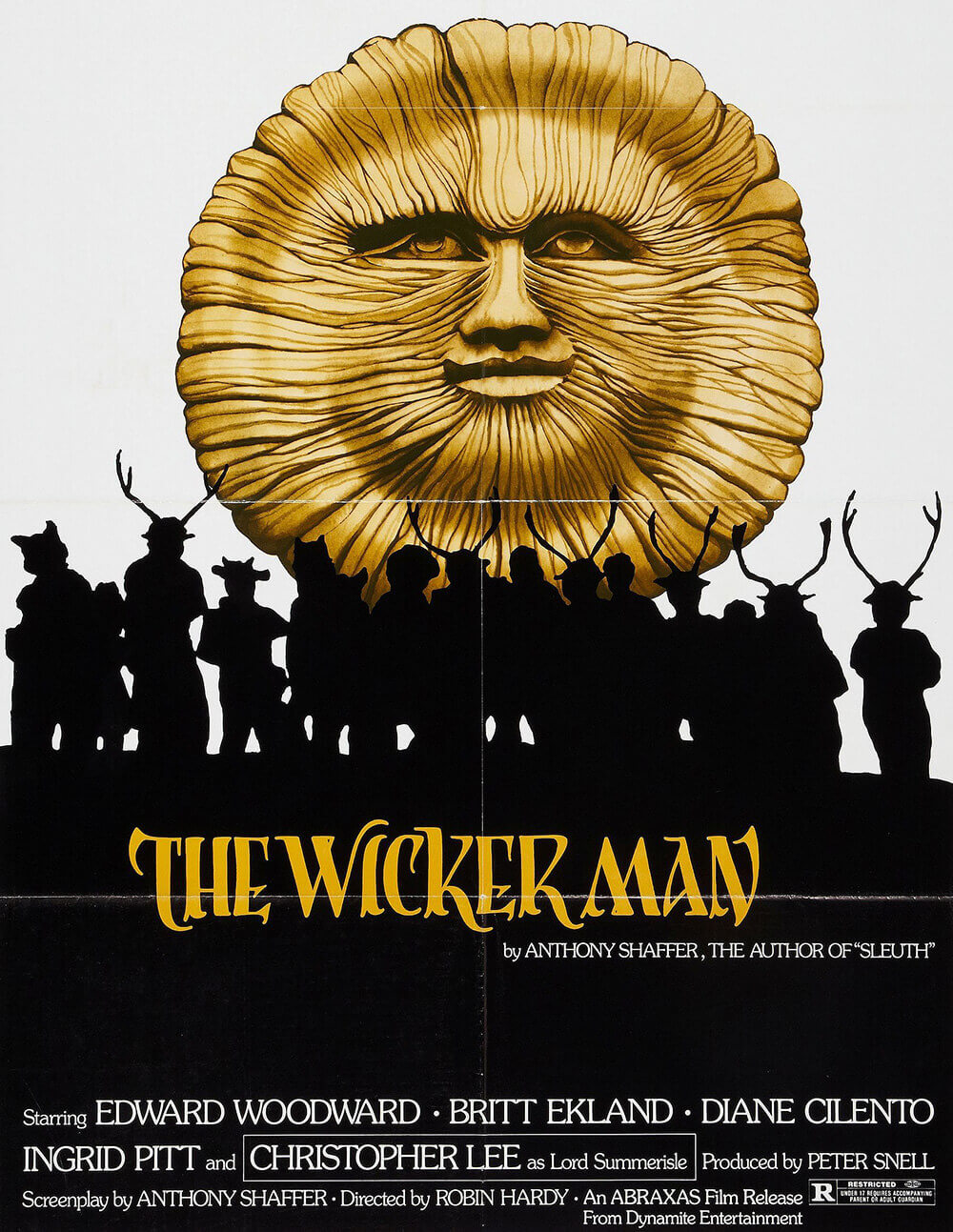 The Wicker Man
Year: 1973
Directed by: Robin Hardy
Rank: 8/10
Spooky Type: Witches
Watch: Youtube Trailer
Plot: Sergeant Howie arrives on a small island in Scotland called Summerisle to investigate the death of a young girl, Rowan Morrison. Once at the island, no one seems to know who this girl is, which is perplexing since everyone seems to know each other in the town. When night falls, it seems all the locals are crazy, naked women crying at graves, orgies, singing (my god so much singing), and a women trying to seduce him. But as Howie finds out more about Rowan, the more lies are uncovered, leaving Howie racing to be the clock to discovering Rowan before it is too late.
Review: This is kind-of funny contrast to The Orphan. This is probably a movie that doesn't fall very well into the "horror" genre, as there aren't that many editing, visual, or sound choices that enhance the spooky environment. But there is a lot of theme going for the film. Xenophobia, classes, power struggles, lawlessness, and religion is scattered throughout the film, giving the viewer a lot of think about.
The story is well researched and thought out. Every scene has importance, and all stories are fairly true to wiccan practices. Sure somethings are played up, like all the sex, which is to manipulate Sergeant Howie. Some things are just done to make things more cinematic, like creating music to the wiccan chants. Unlike many witch stories during this time, there isn't the feeling of supernatural stalking, though there is a big brother sort of watch by the community as a whole. In fact this much more realistic true to life feel gives a different creepy feel. There nothing unrealistic about anything that happens.
This is defiantly a horror film for a lover of story and conversations. It isn't full of campy spooks, although here is plenty of nudity which is kind-of a given for any 70s horror. But if you are looking for a late night scare fest, this might not be the best film.
Overall: Great film, but a little predictable because of it's prevalence in pop culture. Low on a the "spooky" factor, but the realism does add to the unnerving tone.