September 22, 2015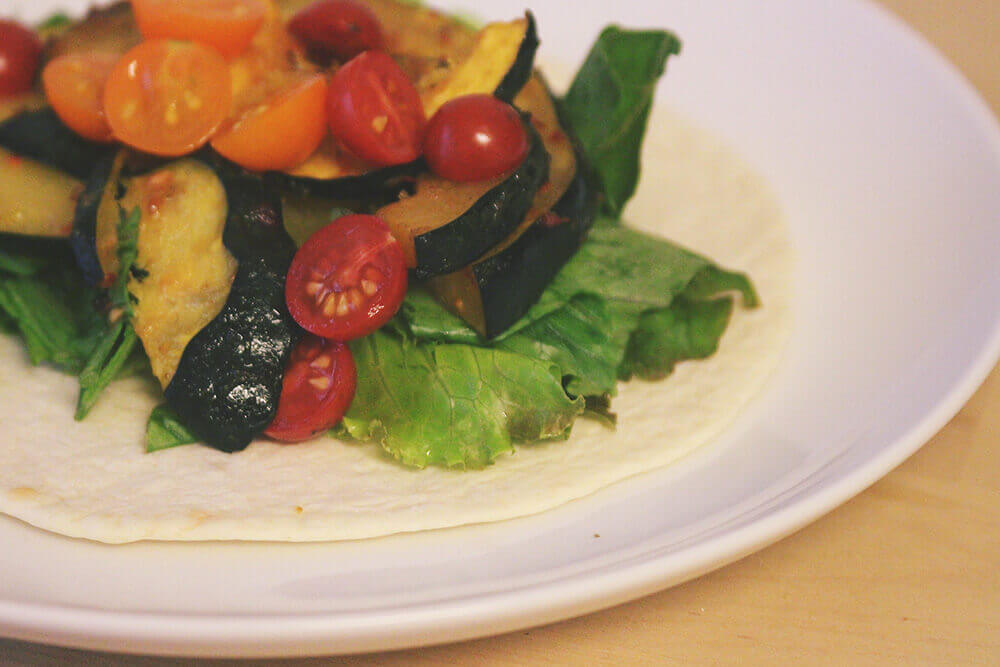 This was kind-of a weird prompt since I pretty much eat "seasonal" all year long. Why? Well my CSA gives out a LOT of food. Unlike most CSAs that just give you a basket full of food, my CSA is only one farm, that we go to each week. There they have some pre-picked foods and some we need to pick ourselves. There is a big board that says how much we are allowed to take. Some of it is a "pick and choose whatever fills this bag" sort of deal, others are you can pick one of various foods (for example I could of taken two heads of lettuce this week, two bundles of chard, or one of each), and some is take x amount of food. There are also other foods we can buy from other local producers, like pickles, coffee, meats, veggie burgers, and cheeses. Sometimes with the food we are allowed to pick we can take as much as we can if the produce is super abundant. And sometimes they sell some of the extra produce.
We get so much shelf stable food at the end of the year that we usually still cook with it in November and December. So I guess I stop eating seasonally from January to May when I don't have any incoming produce. I could sign up for their winter produce sales, which I think they just store some of the fall crops but I usually just want to relax and skip it. For todays prompt I tried my best to use 100% all food I got from CSA. I used some other foods, but hey, it probably would be impossible otherwise, right? I mean outside of something like a salad.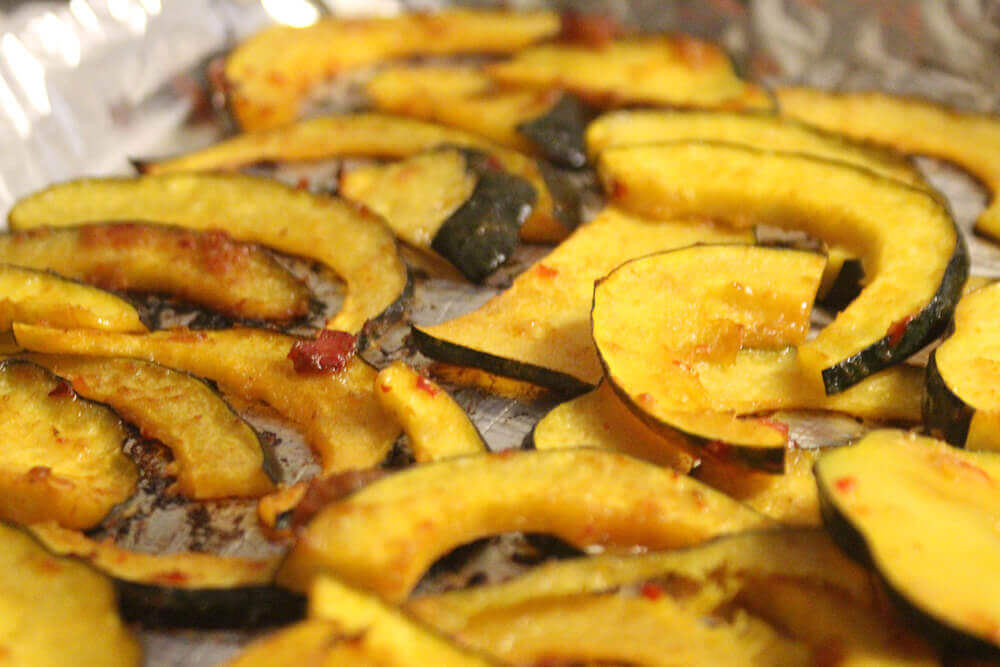 So this dinner is a nice mix of crops that are on their last legs, and crops that are just coming in. I started by making a freaking harissa paste with a bunch of red jalepenos. I used the recipe from Terry Hope Romero's Vegan Eats World cookbook, but you can get the recipe off of her blog. Pretty much you just roast some peppers, peel them, and puree them with some spices, tomato paste, lemon juice, and garlic. So the tomato paste, lemon juice, and garlic aren't seasonal. No biggie right?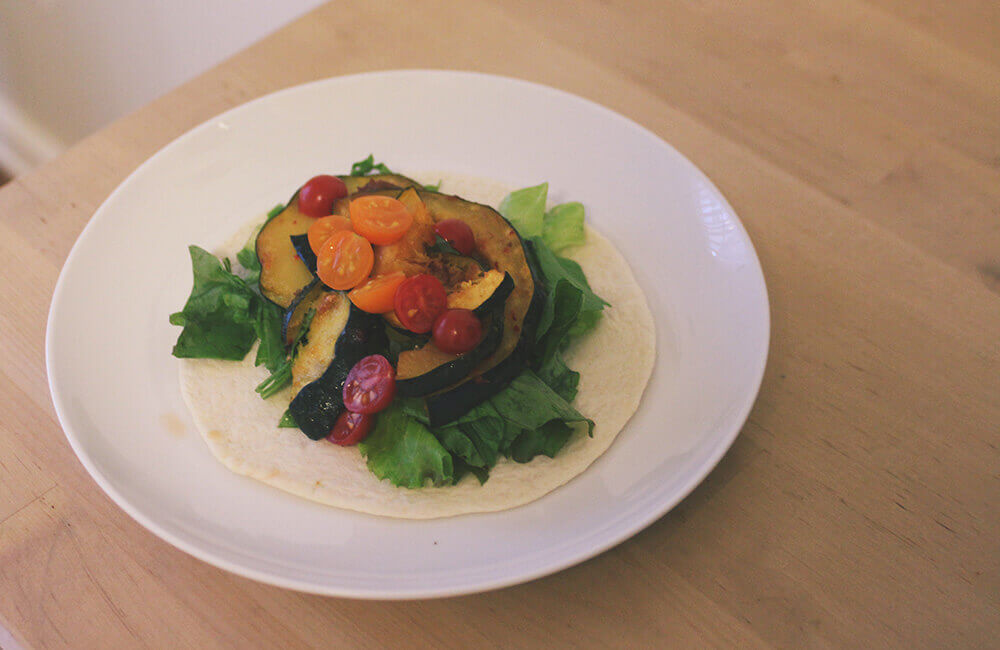 Then I proceeded to mix the harissa with some miso and olive oil and toss it in some acorn squash. It seemed a little early this year, but they were so cute and small. I grabbed three. I roasted them along with some peppers and onions (both were from this week at the farm!). I placed them on a flour taco wrap with some lettuce and cherry tomatoes. The tomatoes are pretty much on their last leg at the farm, which is nice and frustrating because they keep popping open! Ack! The lettuce isn't something that is normally grown in the fall, but you can trick plants into growing.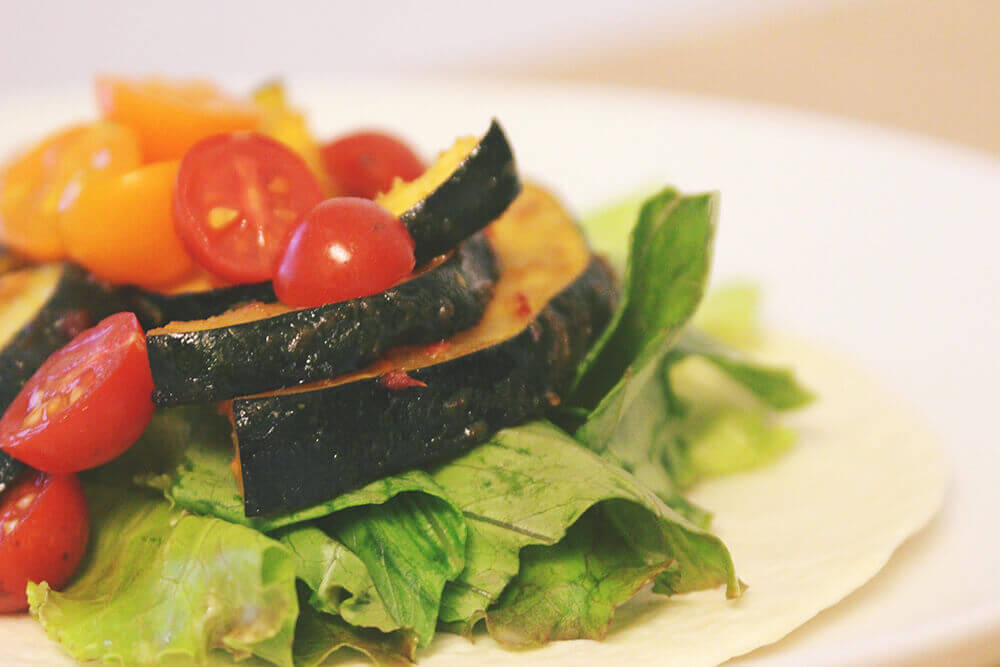 And I think that is what we all need to remember when buying local and seasonally. Sometimes you can trick crops and still get great results. I remember first learning about this when I was reading about growing peas. Sites suggested that you can grow them again in the fall by planting seeds and constantly spraying the seeds with cold water in try and "trick" the seeds that it is early spring. There are also foods that we don't think about getting "fresh" like onions, garlic, and roots. And it is true, they don't NEED to be fresh exactly. But my CSA divides these up through out the year. For example we get spring beets then again in the fall. We get a few heads of garlic when the pick them from the ground, then we get them again in the fall once they are done curing. Oh and the garlic scapes too!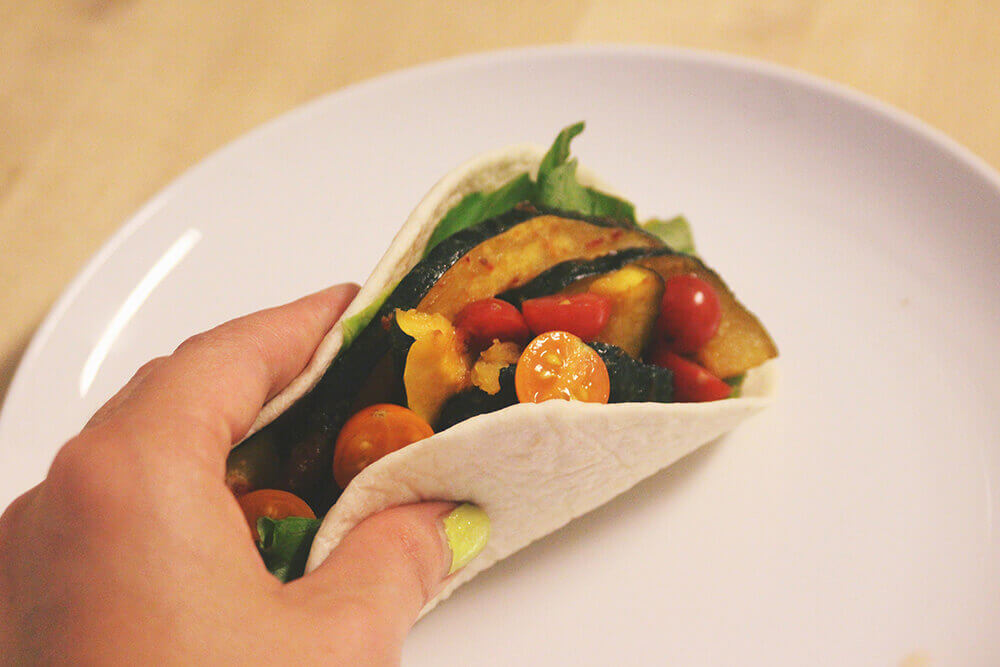 This dish was insanely easy and I was really excited how tasty it was! I will happily make this again (next week even if I get more peppers!) You can easily wrap it up in a burrito with some brown rice too!
So to sum it up, these are what I used that AREN'T seasonal produce
flour tortilla wraps (you could probably make raw corn tortillas though!)
1 tbsp miso
1 tsbp olive oil + some more
salt & chili powder
lemon juice + garlic + spices for the harissa